the Piperlain sound ....
alternative acoustic folk/rock/pop and electronic styles coupled with emotive, passionate vocals.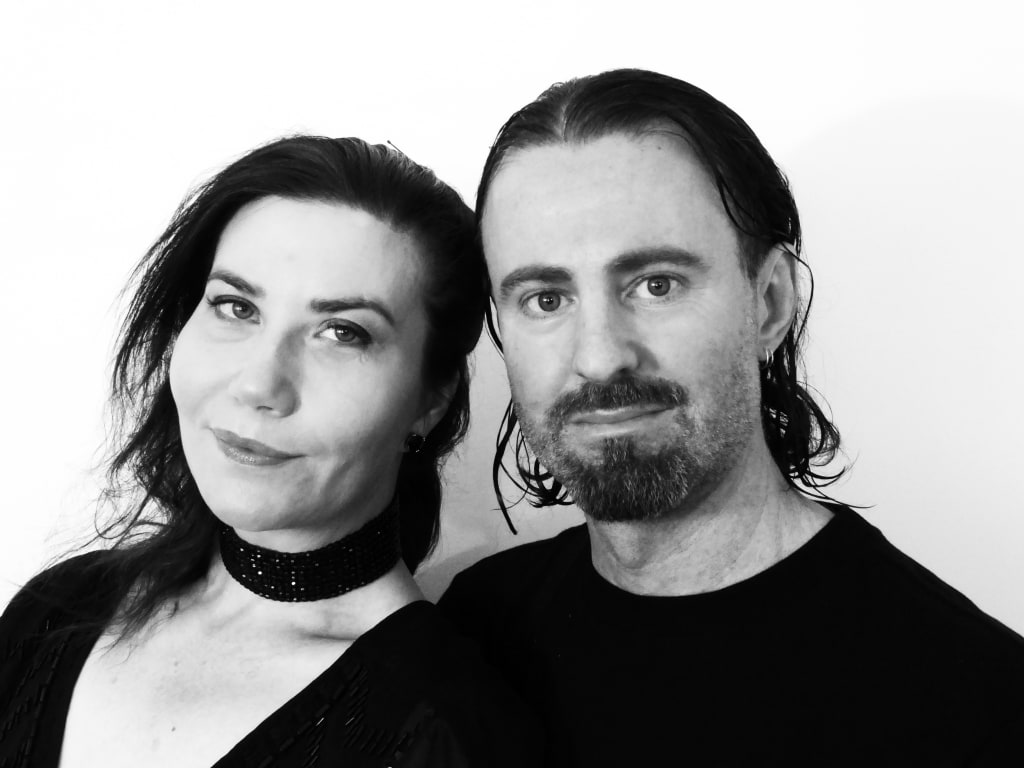 Formed by singer/songwriters Benjamin Knight and Rebecca Voorn-Knight and based in The Blue Mountains, the Piperlain sound has been described as "poetic" and "quirky" by The Grove Studios and "emotive" with "layers of depth" by Sony.

Bloom is the first single from Piperlain's upcoming EP Shine on You (to be released on February 24th).
Enjoy our interview with one-half of the duo, Rebecca Voorn-Knight.
How long have you been creating music together?
Piperlain started releasing music in 2015, but we were already creating music together for a few years before that.
May I ask how you arrived at your band's name?
It's a combination of a street that we lived on and an animation.
Do you have a preferred genre?
Folk/rock/pop
I became a fan when you released your EP 'Time'. I am excited to see you have released a new single "Bloom" … what inspired it?
Bloom is inspired by people moving away from the city to rural areas following the height of the Covid-19 pandemic. I was inspired by people moving away from the city to rural areas and stories about how people were slowing down, changing pace and reconnecting with what matters most to them.
Bloom is the first single from our upcoming EP Shine on You (to be released on February 24th).
Do you have any other plans relating to this release? A video? A special show?
We have a video clip that has released on our official YouTube channel and VEVO.
Could you describe your creative process? Where do the ideas come from; how do you refine these beginnings into the finished song?
An idea can come from how you're feeling in a particular moment or what's happening in your life or around you. A lot of the songs that we've written have been inspired by events that have happened in our past.
We often will write part of a song separately, either a chord progression with a melody line or riff and then we come together as a duo to work on making the song more dynamic and improving the structure. Sometimes we'll have a jam and through that process come up with a cool riff or song part to develop from.
Are there any challenging aspects to writing and/or recording your music?
We have different writing styles and musical influences, so we often need to compromise to bring the sound together into the Piperlain sound.
Has your musical journey had a deliberate direction, or did it simply evolve in whatever direction it found?
It evolved from more of a rock/electronica sound to a folk/rock/pop sound. As we started to have more success combining the sounds, so we have gone more towards this eclectic mix.
What is the best song you ever released and why?
Deceived was released on the Time EP. It has had a few iterations and the version of the Time EP is the centrepiece of the EP. The song builds up to a big, dramatic ending and we just love how it does that.
Do you create music for yourself or for fans?
We are motivated by what inspires us and in particular we want to get the emotion into our songs. We hope fans like it and we remain true to writing in our style rather than being pressured to write a certain way.
What song do fans seem to favor?
They really like Taken, Time and Bloom.
Do you, or would you like to, perform live?
We love performing live and whilst we took a break during the Covid-19 pandemic, we'll be looking at performing live again in future.
Which of your songs is, or do you think would be, fun to perform live?
Time is fun to perform live. It has a lot of energy and we always had a lot of positive feedback and even people dancing to Time.
Share a funny moment or positive experience that has happened during your career.
Having Sony give us positive feedback on our songwriting at one of our live performances, and describing our music as having "layers of depth" was pretty cool.
Are there any musicians who inspire you? What qualities do you admire about them?
Ben and I both have different musical influences, including Pink Floyd, The Cranberries, The Doors, Led Zeppelin, Tool, Pearl Jam, Radiohead, Evanescence, Garbage and Blondie.
Mostly I'm influenced by more quirky folk, pop, rock, including a lot of 60s music. Ben is more influenced by big sound, dynamic rock bands like Pink Floyd, Tool, Faith No More and bands from the 90s.
We both like musicians that write emotionally driven songs delivered passionately and with dynamic structures and layers throughout their music. We like artists that have depth and darkness but can also be light and write upbeat songs or energetic songs.
What is your favorite/best outlet to connect with your followers Instagram, Spotify, FB, Twitter, iTunes? How would you want them to follow?
Instagram and Facebook are the best outlets to engage with us and Spotify if they want to listen to all of our songs.
Are you currently working on any projects we should look out for?
We have an EP coming out on February 24th called Shine on You. Bloom, the first single from the EP, was released on January 20th.
Is there something you would like to say, that I didn't cover?
In 2017 we put out a concept album called "Mother Mourned" which recounts the personal and emotional journey of two people growing up with and caring for mothers with serious illnesses. It received positive industry reviews and was nominated for an AIR award (Australian Independent Record Labels Association).
This album, Shine on You, is very personal to us as it follows our own journey as young carers. It's an emotionally heavy album, but it's one that we needed to express and has brought us to this point in our careers where we can explore music that is driven by positive experiences as well as darker ones.
Reader insights
Be the first to share your insights about this piece.
Add your insights