The Observatory OC: Why It's the Best Small Venue in SoCal
No other venue can put on such a show...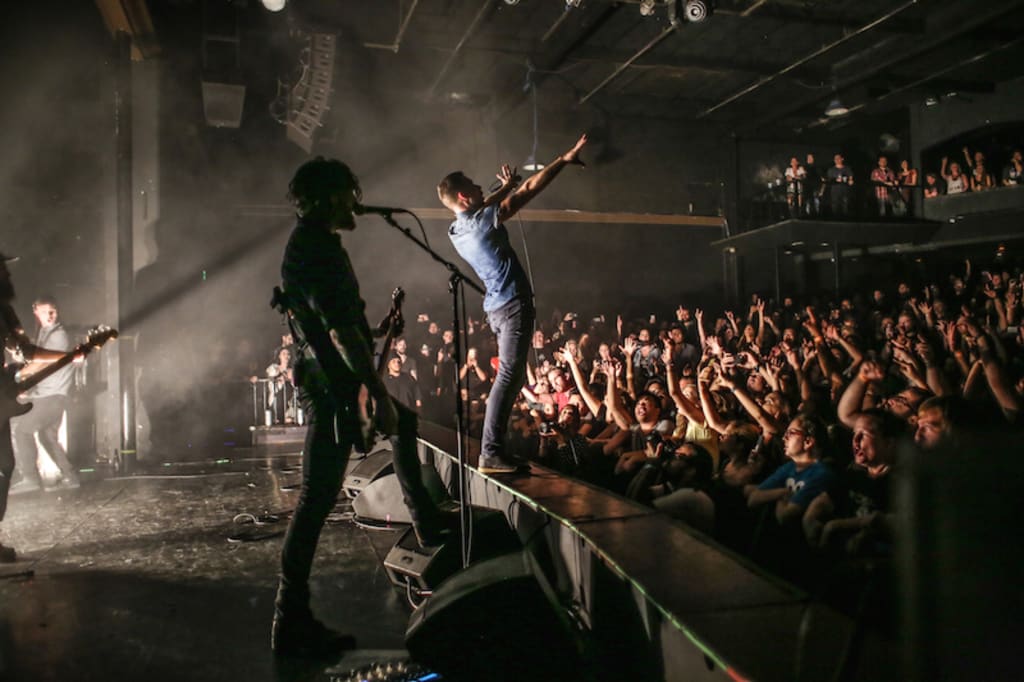 Without the Observatory OC, located in the Santa Ana/Costa Mesa area off Harbor Blvd., my love for live music would not be at the strength it is today. Starting at the age of about 15, I have been seeing live shows anywhere from famous DJs to watching kids I went to high school with play. The amount of genuine love, passion for music, and laid-back atmosphere top so many other small venues all over Southern California.
In 2011, the run-down Galaxy Concert Theatre transformed into the two room venue is it today. The main stage can fit about 1,000 people includes a bar, booth seating, and stadium-style standing with rows that lead down into the pit, as well an an upstairs level for an aerial view of the stage. There is also a smaller one-level room with no seating called the Constellation Room, which is much more intimate and great for smaller shows. This room also has a bar in it. There are two different smoking patios on each side of the venue, as well as outdoor seating for their restaurant and a spot to grab a bite to-go.
The atmosphere of the Observatory is probably what gets us all hooked. I have never felt unsafe at any time there at all, the staff is incredible and organized and I have never had a worry while I was there. And yes, they recently started letting us all bring our weed in without having to hide it in our pants and shoes. We quickly learned that is not the case at all places when we started going to concerts in other small venues in SoCal and trying to smoke our joints during the shows. Pretty much every genre plays here. I've seen EDM shows, DJ sets, rappers, indie bands, and so many more at this amazing little piece of heaven. They even host many small multi-day music festivals, such as "Beach Goth," "Burgerama," "When We Were Young," and many, many more. And let me tell you, these lineups are no joke.
They have both early and late night shows, early ones going from about 8PM-11PM/12AM, and the late night ones usually last from 12AM-2/3AM. The ticket pricing is extremely reasonable and makes it easy for young adults to be able to enjoy live music without breaking the bank. Sometimes, there are even specials for smaller bands/artists like $5 and $10 shows. They are not overly strict on stage diving, moshing, or other, typical concert shit. They let you have FUN!
The bands that play at the Observatory play because they love to share their live music. My all-time-favorite show there was when I saw Cage the Elephant a couple years ago, where the lead singer Matt Shultz literally climbed up the banisters to where I was and I actually could touch him. This venue does an immaculate job of bringing local bands just starting out into the spotlight and giving them the exposure they need to get into the industry. When I was still in high school, I literally got to go watch a guy in my junior year ceramics class open for a band in the Constellation room with his buddies he started a band with just a year before. The show costed me $8 after the service fee, and it wasn't even a shitty band. Many teenagers don't get that opportunity, and I think it's important to encourage the younger generation to keep producing and listening to live music.
Let me just tell you, their food is literally to die for. It is a little more on the pricy side, but the same goes for any other concert venue. It is all made to order and I cannot even describe how great it is to enjoy one of the best tacos of your life after a concert. There are often food carts that post up on the street outside the venue after shows, so you can always grab a hot dog for cheaper on the way out.
If you are ever in the Southern Santa Ana area and/or are considering attending a show at the Observatory OC venue, 100 percent go for it. They are a wonderful place of entertainment, and I have never been disappointed by a show they put on. The atmosphere, attitude, and appreciation for live music beats any other venue I have ever gone to. The Observatory has my heart, and I think anybody that has gone would say the same. I have truly been blessed to live just a couple miles away from this magical venue.