The 'List: Paul McCartney
My Buddy Oates's Tribute to the 'Handsome Beatle,' with an Actual Dueling 'List of the Best of His Solo/Wings Work!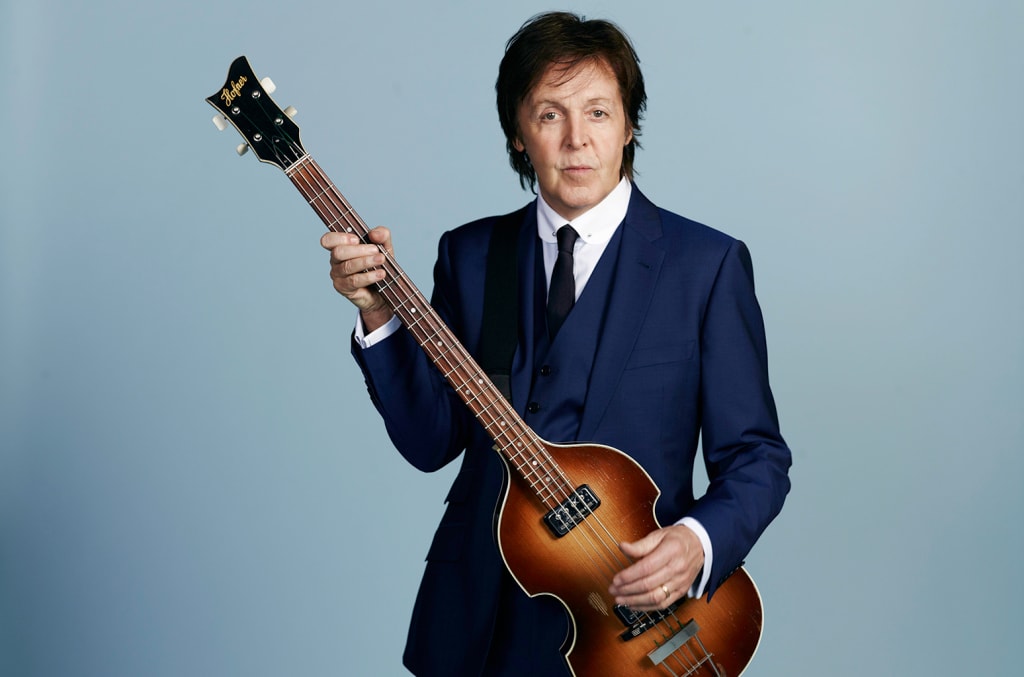 Recent photo of McCartney circa the '10s.
Hello, one and all.
My buddy Calvin Cherry has written a tribute to one of his favorite artists. He was one of the founders of one of the greatest rock bands out of the UK. Then, in 1970, the Fab Four went their separate ways and one of the four would forge an enduring career solo, with a group, with fellow artists, and even his late wife, Linda. My friend has the floor—introducing the handsome ex-Beatle known as Sir...
McCartney—Calvin Houston Cherry
There are not many artists' music that quite grabs me like Sir Paul McCartney. His musical genius and contribution to the world as a member of the Beatles was overwhelming in itself (13 studio albums in their eight years together); however, his 48th year as a solo artist has proven he had plenty more to "say, say, say" (pun intended). Indeed, with 77 singles to date spanning over 24 studio albums, there are very few artists that has reached this pinnacle of success and longevity.
I have been asked several times over the years why I get so emotional when I discuss McCartney and his music. For starters, he is one of the most successful composers ever. His song "Yesterday" has been covered more than 2,200 times, making it one of the most recorded songs in popular music. He is also one of the most talented and versatile musicians in the world, sometimes playing all the instruments on a track or entire album. He was self-taught and drawn to music's formal and mechanical aspects by intuition.
Ian MacDonald, a musicologist, referred to McCartney's talent as so: "[he] produced technically 'finished' work almost entirely by instinct, his harmonic judgement based mainly on perfect pitch and an acute pair of ears ... [A] natural melodist—a creator of tunes capable of existing apart from their harmony".
Likewise, many of McCartney's most popular songs feature the great orchestral arrangements of Sir George Martin that builds the composition while adding a layer of almost classical complexity to the song. I argue that this level of song writing is extremely rare and practically missing in today's music.
McCartney is one of the most energetic, charismatic and entertaining performers to see live. He is well recognized for his versatility and belting power as a singer, with a wide tenor vocal range spanning over four octaves. In an industry today where music and vocals are heavily computerized and live shows lip-synced we need veteran artists like Sir Paul to challenge this generation and keep things real and organic.
Finally, Sir Paul McCartney's achievements are staggering. He is one of the few artists to be inducted into the Rock and Roll Hall of Fame twice—first in 1988 as a member of the Beatles and a second time as a solo artist in 1999. The Guinness Book of World Records referred to him in 1979 as the "most honored composer and performer in music," backed by 60 gold discs (43 with the Beatles and 17 with Wings). He has sold over 100 million singles and 100 million albums. He has written 43 songs which sold a million plus records. Having written or co-written 188 charted records, he has been declared the most successful songwriter of all time. Of these songs, 91 reached the top ten and 33 made it to number one. Not bad for a self-taught lad from Liverpool who just wanted to play his guitar for people and sing like Little Richard.
Cherry Picks:
This number one track was an international success and has become one of Wings's most popular songs. Like several of McCartney's solo songs (and compositions with the Beatles) it is a three-part medley, beginning as a slow ballad, transitioning into a funk rock number, and then closing with a country-esque movement. However, the entire lyric keeps to the theme of escaping. The line "If we ever get out of here" came directly from George Harrison as the Beatles were all sitting at Apple Records growing increasingly frustrated over the ongoing business problems that eventually led to their parting with manager Allen Klein.
Oddly enough, the original demo for the entire Band on the Run album were stolen by a group of thugs on the way to the recording studio to cut the record. When Sir Paul was asked about this misfortune, he responded: "It was stuff that would be worth a bit on eBay these days, you know? But no, we figured the guys who mugged us wouldn't even be remotely interested. If they'd have known, they could have just held on to them and made themselves a little fortune. But they didn't know, and we reckoned they'd probably record over them."
A power-pop/rock song named after McCartney's pet Labrador Retriever puppy. It was the first single released off the Band on the Run album, which went to number seven in the UK. and US. The song has been referred to as a "grand pop confection" whose lyrics has been somewhat of a mystery over the years. Sir Paul later explained that the lyrics were inspired by meeting Linda's dad for the first time, feeling slightly intimidated. McCartney has commented over the years about how the song has resonated with people. "I remember Richard and Karen Carpenter ringing me up to tell me about 'Jet' – they were like the last people on Earth I thought who'd like 'Jet'! But they were like, "Oh, great record, man!" The sentiment continues today for the Australian rock band Jet was named after the song title.
This track continued the band's international success, reaching number three in the US and sixteen in the UK. It was the last McCartney single to be released on Apple records. Written with Linda, the song was originally released as a non-album single as it was recorded after the Band on the Run album and before Venus and Mars. The track was engineered in Nashville, Tennessee. While recording there, the band stayed at the Lebanon farm of Curly Putman, Jr., for which the title was named. The line "Take me down, Jimmy" refers to the late Jimmy McCullough, who played the guitar solo.
A musical "tour-de-force" often described as "symphonic rock." The song is the theme song to the James Bond film of the same name and written with wife Linda McCartney, reaching number two in the US and nine in the UK. Sir Paul reached out to Beatles' producer Sir George Martin who not only agreed to produce the song but arranged the orchestral bits. Elton John percussionist Ray Cooper added his talent and flair the original recording. Indeed, the song has stood as one of the most successful Bond themes ever and has went on to be covered by several other bands, most notably Guns N' Roses. The gem is a staple at McCartney shows, often accompanied by pyrotechnics and fireworks every time the title line is sung. Sir Paul was awarded the Million-Air Award in 2012 for more than four million performances of the song in the US.
This song was released as a double A-side single with "C Moon" and peaked at number ten in the US and five in the UK. The song was banned by the BBC—interpreting the lyrics as sexually suggestive and drug related. McCartney has corrected the apparent phrase, "get you ready for my body gun" as actually being "get you ready for my polygon."
Named after Linda McCartney's Land Rover, this balls to the wall, chugging electric driven guitar rocker peaked at number ten in the US and twelve in the UK. It features Linda on the Minimoog synthesizer and strong backing vocals, counting down the ending to a lively (and slightly disjointed) tongue-in-cheek "Bye Bye!"
Released from the Ram album (a year before the formation of Wings), the song topped the Billboard Hot 100, making it the first of a string of post-Beatles, McCartney-penned singles to top the US pop chart. The first gold record as a solo artist, the track – like Band on the Run – is made up of several unfinished song fragments stitched together. The record uses many sound effects, including a thunderstorm, telephone, birds and wind, with strong harmonies by Linda during the bridge and Admiral Halsey section of the song.
Sir Paul had an "Uncle Albert," commenting [that] "He's someone I recall fondly, and when the song was coming it was like a nostalgia thing." Admiral Halsey was based on the U.S. Fleet Admiral William "Bull" Halsey (1882-1959). The Uncle Albert part of the song was written as an apology from McCartney's generation to the older generation, while the Admiral Halsey portion was a salute to an authoritarian figure.
McCartney was accused by music critics in the mid-70s of writing too much sentimental, soppy, slush. So, Sir Paul rebutted by writing another one with the clever line "So what's wrong with that?" which went straight to number one in several countries.
From Wings's 1976 album Wings at the Speed of Sound, the purely pleasurable pop phenomenon surprised many with the horn section – which the singer gave full freedom to play whatever they felt – and the disco overtones. The song received a resurgence in 1984 when it was re-recorded and used for McCartney's Give My Regards to Broad Street movie soundtrack. It experienced a third revival when the television show Glee gave it an all-male a cappella makeover in 2011. Love isn't silly at all.
Who else could write a five-minute song about answering the doorbell (and listing out all the possibilities of who it could be) and make it a number one hit? Sir Paul, that's who. This track is also from the Wings at the Speed of Sound album and features a vibraphone at the beginning to signify a popular doorbell sound. McCartney's paternal aunt Gin and brother Michael came calling, as well as Linda's brother John. Phil and Don were a salute to the Everly Brothers, along with the historical Martin Luther. Uncle Ernie was the Who's Tommy character which Ringo Starr sang in the London Symphony Orchestra's recording. The song is noted for the fake fade out - which becomes very loud for the last two notes – and the great harmonies by Linda and the remaining members of Wings.
A fantastic track off the Tug of War album, featuring fellow Beatle Ringo Starr on drums and producer/orchestral arranger Sir George Martin on electric piano. Though this song did not reach number one, I believe it is a prime example of what great song writing, stellar production, fine musicianship and strong harmonies can achieve. Something tells me The Carpenters fancied this one too, because the ending vocals are very "Carpenter-esque."
A lesser recognized McCartney jewel from the Pipes of Peace album. I must admit that I thought this song was sung by a female the first time I heard it as Sir Paul certainly pushed his tenor vocal range to the nth degree. Like the previous track, this gem features Ringo on drums and Sir George Martin as producer. Simply written and produced, this single proves that sometimes less is more. As far as I am concerned, I argue that this is probably Sir Paul's most underrated single that should have performed much better than twenty-three in the U.S.
My (Honest) Picks
A sweet, smooth ballad by Paul, who I imagine had dedicated it to his wife, Linda; and probably the song that got him in trouble with critics for being too maudlin and saccharine—enough to inspire "Silly Love Songs!" No matter. It still went to the top of the pop charts.
You'd think the former Beatle and the Saginaw, MI, musical genius and their smash teaming would be the most enduring and beloved song of all time. While it did hit number one and stay there for seven weeks and made an attempt to shed light on racism and bigotry, it is still one of the most maligned pop songs to this day. I personally love the melody; but sadly, even I'm on the fence about it's treacly, mawkish lyrics.
This was a tit-for-tat hit that gave Jackson another smash hit with the former Beatle/Winger. The first was the largely forgotten "The Girl Is Mine" from "Thriller;" which was the first single off that album. This cut was from McCartney's 1983 album Pipes of Peace. It was a throwback disco hit that became a smash well into 1984 and had a, needless to say, strange, yet popular MTV Bob Giraldi-directed video channeling vaudeville, Lucille Ball's "Vitameatavegamin" comedy product and even featured Linda and Michael's sister, LaToya...as the target of his brother's affections [?]
A killer rock track off a movie soundtrack of McCartney's own movie misfire, Give My Regards to Broad Street, which featured Pink Floyd's guitarist David Gilmour on solo. Builds a killer crescendo to its chorus every time, reminiscent of Night Ranger's 1984 power ballad, "Sister Christian."
A largely forgotten pop/rock hit and was McCartney's 37th top-40 hit. Didn't go as high as number 21, but had a fun video set in the London Underground subway train.
It was Wings's last number one in the 70s and the lineup boiled down to a trio. A largely synth-pop ballad that in its original album version, lasts a good five minutes with many instrumental interludes, which adds a more progressive rock feel than the single radio edit. A favorite of mine and still heavy on my 70s mp3 'list.
McCartney gone disco! 'Nuff said!
So, it seems that me and my bud love the same Wings hit from the bicentennial year—and yeah, what else is there to say?! Ballads and romance can never go out of style, and neither can great music! Mooooooving on...
A song that hearkens back to the days of McCartney's own Wings heyday. It's the B-Side to "So Bad" and was the title track off the album that gave us "Say Say Say" with the late Michael Jackson.
Before I get accused of a boo-boo, yes, there's another Wings song that went to number one, but strangely enough, it was listed as a strictly McCartney composition. It was B-Side of a live recording from a concert in Glasgow, Scotland. His late wife, Linda, sang co-vocals on the track.
A hit for McCartney solo and reminiscent of his early work with the Beatles. It went top five on the charts. Lastly...
As many songs by McCartney would delineate; many would know that his late wife, Linda, who passed away from breast cancer in 1998, was his one-and-only muse. This song was originally recorded back in 1970 as a post-breakup Beatles song and clearly was a love letter to her as he dealt with the breakup.
Another interesting fact is that McCartney (despite his induction as a solo act and with the Beatles) and his band Wings have yet to be inducted into the Rock n' Roll Hall of Fame. Let's see about changing this in 2019!
Next 'List Pending.

Carlos Gonzalez
A passionate writer and graphic artist looking to break into the BIG TIME! Short stories, scripts and graphic art are my forte! Brooklyn N.Y. born and raised. Living in Manchester, Connecticut! Working on two novels now!
See all posts by Carlos Gonzalez →