The 'List: 80s Movie Hits
The All-New Playlist! Today, we spotlight our favorite movie themes from the 80s!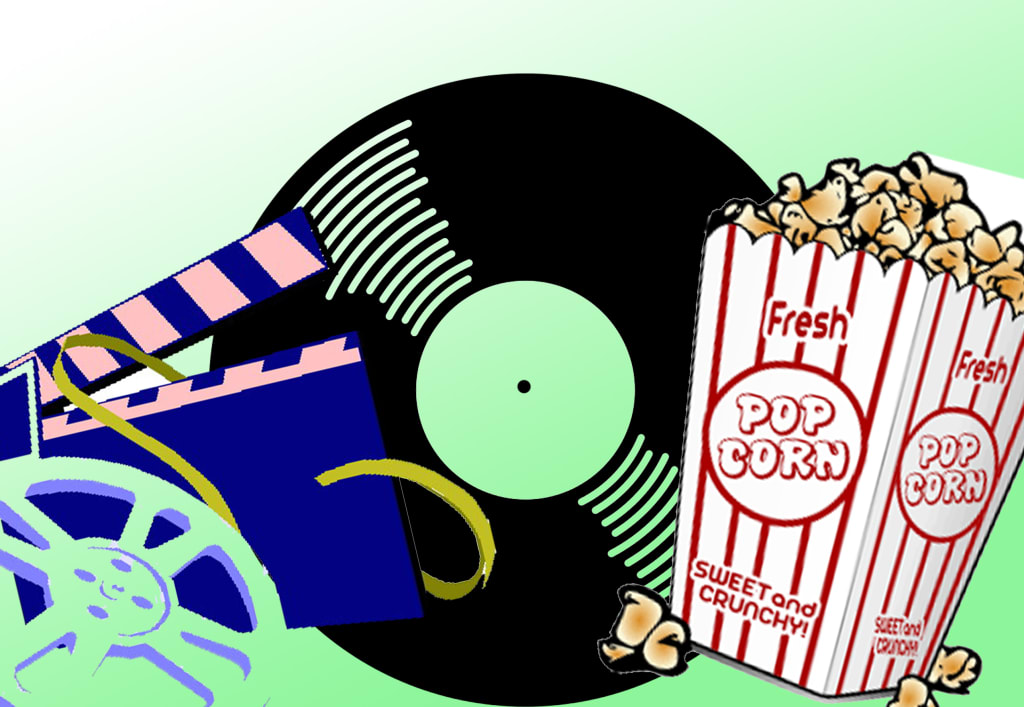 Music clipart design by CJG.
Hello one and all.
So, here we are! A "new" 'list. My buddy Calvin 'Oates' Cherry and I have been forthright about our passion for music and here is a new format now. In this 'list, we won't just profile artists of the 1980s, or any singular decade in one extended entry posting. This is a 'list that will now encompass artists, groups, and even musical genres of all decades and yes, even specific set years. Here's the first of the list that highlights a once popular staple of the Cabbage Patch Kid/ Rubik's Cube/ Pac-Man decade: The movie soundtrack.
Since the 1950s all throughout the 1980s, even the 1990s, Hollywood has always used FM radio to help promote potentially smash hit movies in order to boost sales of box-office tickets. The 1970s saw films as diverse as, The Poseidon Adventure, The Exorcist, The Way We Were, Rocky, Star Wars, Saturday Night Fever, Grease, and Thank God It's Friday, to name a few, benefit from songs that were on the soundtrack album becoming hit records on radio. The 1980s, however, were the Mt. Rushmore of movie radio hits, as films that even incorporated dancing in their plot-lines got massive radio airplay and helped propel their soundtrack albums into big sales. Brief examples include:
Fame (1980)
Arthur (1981)
Endless Love (1981)
For Your Eyes Only (1981)
Flashdance (1983)
Beverly Hills Cop (1984)
Footloose (1984)
Ghostbusters (1984)
The Breakfast Club (1985)
St. Elmo's Fire (1985)
Back To The Future (1985)
The Karate Kid Part II (1986)
Top Gun (1986)
Pretty In Pink (1986)
Beverly Hills Cop II (1987)
Dirty Dancing (1987)
Batman (1989)
Each of these soundtrack albums had one or more singles on the pop charts and even won major awards when Grammys and Oscars came calling. My buddy and I have assembled a few of our absolute favorites for your office work day. If it helps any—none of these are ever set in stone. Anyone can come up with their own day-long movie playlist. And... here we go.
And we're keeping the 'list as one big Cherry Pick! Enjoy!
Cherry Picks
The Cleveland, OH native; a one-time member of The Raspberries and who savored 70s success with "All By Myself" solo, had a major comeback in the late 80s with his soundtrack hit off the Patrick Swayze sleeper hit set in the Catskills in the 1960s. Despite its obvious 80s pop flavor, the song's mid-tempo vibe still keep us moving to the beat.
There were too many to choose from from Prince's seminal 1984 soundtrack to his hit musical movie, "Purple Rain." Sure, "When Doves Cry," his most iconic smash would be the obvious choice, but this headbanging dance/rock overture to his movie, got the blood pumping from the start. It was the late iconic superstar's second number one smash!
This was the second Kenny Loggins hit to come out of the 1984 musical drama that starred Kevin Bacon as a lone rebel going up against a preacher's law to forbid dancing in his small town. This was my buddy Oates' pick. Me? I went for the clincher! Read on.
After hits with his band Raydio and on his own, this Detroit, MI native scored a number one smash with his theme song about NYC paranormal exterminators. It did however, raised some controversy as the band Huey Lewis & the News accused Parker of plagiarizing its synth track from their hit song, "I Want a New Drug". Controversy aside, it helped aid the ticket sales of this spirited horror/comedy.
The Worcester, MA band known for their smash hit, "Centerfold" in 1982 contributed an album cut for the 1985 horror comedy starring Chris Sarandon as a very persuasive vampire. Lead frontman J. Geils passed away early this year.
The iconic superstar had a comeback year in 1984 which led to also some movie roles, most notably as Aunty Entity in the 1985 dystopian thriller with Mel Gibson: "Mad Max Beyond Thunderdome" which she even recorded this theme song and another track, "One of the Living." It would be a summer smash and keep the star's white-hot streak going.
German producer/instrumentalist gave us the only instrumental 80s hit with his bouncy synth-dance hit which was Eddie Murphy's character's theme in the 1984 action-comedy. It went all the way to number three on the pop charts and was one of many hits off the soundtrack album. Hits by Glenn Frey and Patti Labelle would chart also.
This German/American rocker scored a smash hit from this 1980s high school comedy which had Sean Penn playing the iconic school stoner. It also boosted the careers of Jennifer Jason Leigh, Judge Reinhold, and Phoebe Cates. It didn't hurt Browne's career, either.
This Bronx, NYC native scored two major soundtrack smashes in the decade. "Flashdance...What a Feeling" would be the triumph earning an Oscar, a Grammy, and six weeks atop the Billboard Hot 100. But this one's the most special. It's the theme song from a 1980 film about the students at the prestigious High School of the Performing Arts in NYC—my high school alma mater, by the way!
The smash theme by the one-time half of Loggins and Messina, would be his most popular track and cement him as the Soundtrack King contributing to such films as Caddyshack, Top Gun, and Over the Top. Other artists like Deniece Williams ("Let's Hear It For the Boy") and Bonnie Tyler ("Holding Out For a Hero") would savor chart success, also.
The Australian band along with this UK rocker contributed to this vampire horror movie that featured Kiefer Sutherland as the head of a gang of teenage vampires. This was a choice made by my buddy, Oates—just in time for Halloween!
Philadelphia-born songwriter/musician scored a number one smash, along with Irene Cara from this popular romantic/musical drama that starred Jennifer Beals as a welder/barroom go-go dancer who dreamed of a career in the ballet. Rumor was the song was written as an ode to a 1980 slasher movie, but was tweaked to fit the film's storyline. Stranger than fiction is the operative phrase here.
The only number one smash from the Tom Cruise action-drama was by a new wave band from Los Angeles, fronted by hair-dyed lead singer Terri Nunn. It won that year's Oscar for Best Original Song.
Having already won the Grammy for Best New Artist in 1980, this San Antonio, TX native scored his second number one with this movie theme that had four songwriters to its credit. It was from the Dudley Moore-Liza Minnelli romantic comedy about a drunk billionaire playboy who must choose between his heart and an arraigned marriage that would secure his fortune. It won the 1981 Oscar for Original Song.
The Franco Zeffirelli romantic drama with Brooke Shields may have bombed, but this superstar weepie ballad duet would cement them in the annals of 80s pop music history. It was one of but a few smash hits from movies that didn't do well at the box-office.
Here's another one. This Aussie superstar actually starred in this musical turkey about a muse who helps an artist create a roller-discotheque. Still, this disco-flavored gem scored the star her fourth number one smash.
This Scottish band took this movie song to number one back in the summer of 1985. It was the theme to a popular John Hughes comedy/drama about five teenagers forced to spend a Saturday in detention together. It is rumored that the song was submitted to Billy Idol, who rejected it.
Finally...
A one-time Righteous Brother and a popular 70s soft-rock singer scored one out of the park with this duet from the popular romantic drama starring Patrick Swayze and Jennifer Grey as a dance teacher and his student in the Catskills in the 1960s. It's a pure 80s song—but there's no need to deny its magic and its power.
Just for fun...
Prince plus sound bytes from the Jack Nicholson/Michael Keaton movie blockbuster plus a ton of Vicki Vales equals killer movie trailer jam!
Thank you all. The next 'list is pending...
About the Creator
A passionate writer and graphic artist looking to break into the BIG TIME! Short stories, scripts and graphic art are my forte! Brooklyn N.Y. born and raised. Living in Manchester, Connecticut! Working on two novels now!
Reader insights
Be the first to share your insights about this piece.
Add your insights