The 'List: 4th of July
A Quick Little 'List of Songs That Celebrated (What Else?) Freedom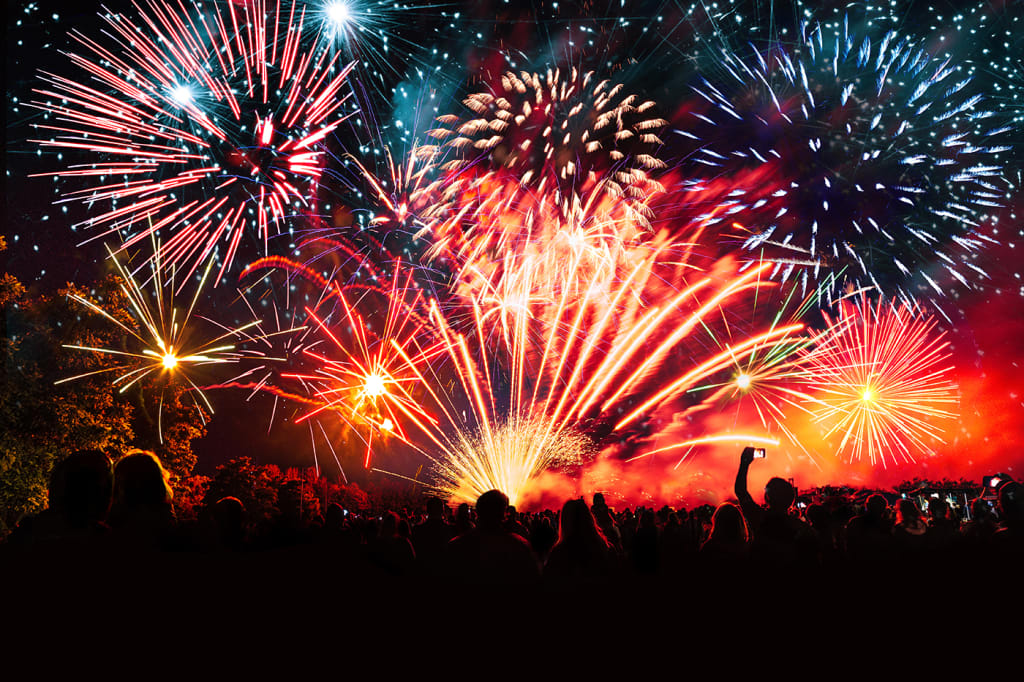 Celebrating this country's birthday...and a hint as to which song best embodies the holiday!
Hello one and all.
Barbecues, fireworks, beaches, picnics, blasting really good music, family and friends having fun - all mainstays of Independence Day; the holiday we celebrate every July 4th. How this holiday came about of course, was when the Declaration of Independence was signed by our founding fathers in the year of 1776.
Now, in this very bizarre and now questionable political climate, one begins to wonder about the meaning of this holiday. I certainly don't want to rain any political agenda on this parade, but whether you're for or against this particular administration, it seems almost dubious to think this holiday upholds the very meaning of the freedom that we often take for granted.
But, for now... we still have the relative freedoms we have currently, so let me extend a nice 'list (of course, you can create your own) for this country's birthday and celebrate with great music.
The Cherry Picks are...
One would never believe that this song had some political affiliations in its time, but this NJ funk supergroup had their song played when the U.S. ushered the 52 freed hostages that were held captive in Iran. The song has pretty much been a staple in everything from parties, proms, homecomings, picnics and barbecues, graduations and yes, I'll even bet churches! It's the band's only number one smash - but... still remains their signature smash! Even used in a McDonald's commercial featuring the band!
The late pop superstar did some soul searching in his smash solo hit from "Listen Without Prejudice Vol. 1" in which he grappled with his identity, his fame and what it all meant. It may have even indicated that he was ready to come out as a gay man. But, whatever the reason for the song; he created a universal anthem and that is the freedom to be one's true self. Song added the year so as not to be confused with his hit with "Wham!" in 1985.
The reason I chose this UK band's hit is that through its lyrical content, I sense it speaks about the freedom we feel when we are truly loved by someone. A bit of a throwaway choice, but, hey - love is free. Mushy yes, but so true!
Wasn't a major hit like the Everett, WA rocker's theme to the movie this comes from: Footloose. But to allude to the Christian tenet: "The Lord helps those who help themselves." A rare religious sentiment from a pop/rock record - but then again, the movie was about fighting for the freedom to dance (and be happy).
This soul singer's group was a song that celebrated the freedom of just - being free! Confused? Well, this song was recorded during the civil rights era during a time when there were many riots and cruelties against African-Americans and Native Americans. I sense that the joy of celebration is our basic fundamental right. There was this version and then...
A more "rock-ified" cover by the late glam rocker/entertainer and the lead Rolling Stone-er would reiterate the statement. This time it was to promote the plight of Ethiopian famine through the Live Aid concert. Many versions were recorded, but these two stick in my mind as the definitive song and cover.
Another cover makes this list - recorded by the late disco queen. This was originally a Jon & Vangelis composition from 1981 that was reinvented by super-producer Quincy Jones. Many have interpreted the song as a more spiritual song which had an all-star chorus. It may have spearheaded the U.S.A. for Africa song 'We Are The World."
The Gnarls Barkley lead singer scored his one and only major solo hit about... the freedom one feels when they exit a toxic relationship. Obviously the "cleaner" version is the one most lauded and even used in "family-friendlier" events. I posted the profane titled version - sorry, personal preference!
One of the UK pop megastar's seminal hits in the budding year disco was gaining momentum and yes, it seems to feel like it was a 1970s mainstay in many picnics, beaches and barbecues. The song seems to reverberate the very joy we feel in being free. The next one; pretty self-explanatory!
This sexy CA siren's empowerment anthem compares the freedom to be unique and live their truth as the actual fiery color display we enjoy in the sky every July 4th. It seems to me to be the main Independence Day anthem we can all relate to. Whether this one is even worth your 'list is totally within your choices and tastes in music.
Just as a reminder...
Have a safe and joyous 4th and yes, we are still FREE to be whoever we want to be!
Next 'List Pending.

Carlos Gonzalez
A passionate writer and graphic artist looking to break into the BIG TIME! Short stories, scripts and graphic art are my forte! Brooklyn N.Y. born and raised. Living in Manchester, Connecticut! Working on two novels now!
See all posts by Carlos Gonzalez →