The Gift of Our Aging Rock Stars
Depeche Mode--We Are Lucky to Celebrate with You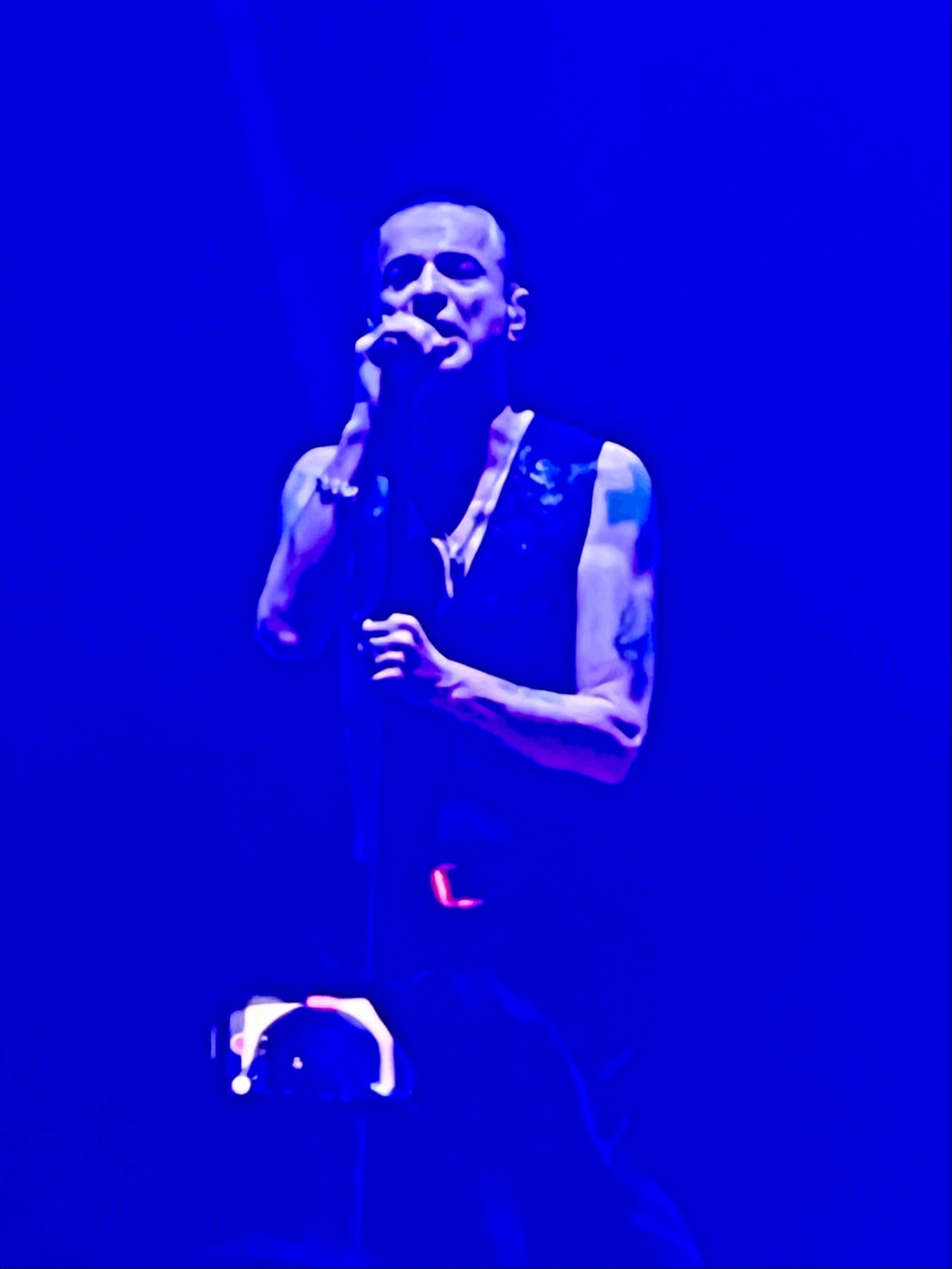 Back in 1990 at OSU, I asked my roommate Beth if it would be okay to put a Depeche Mode poster up in our college dorm room. It was from the Violator tour, and had all four men crowded in: Martin Gore's blonde trademark curls, David's sexy pout. All had sunglasses on if I recall correctly. As it turned out, the poster was oversized and was more like wallpaper. One could look up at Taylor Tower from the side street and know that it was Depeche Mode. I told her I was sorry, but did she have a smaller Queensryche poster to hang up?
33 years later and we are at the Rocket in Cleveland, maybe 10 rows back, floor seats, and I am feeling nostalgic, college-ish, excited. Depeche Mode, I think for many Gen-Xers, represents a very special time in our lives that one can put brackets around. Every generation has music that does that for them. I can hear "Strange Love" and remember written letters to my army boyfriend and we related to each other on a teen-level through Depeche Mode lyrics. "Darling, why would I want to give you pain? And don't return it! I don't want your pain..." When "Songs of Faith and Devotion" came out, I remember the sensual lyrics of "Rush" and how I'd dial Shawn's number on that old, wall-attached phone. "Hey, I was thinking of you. Can you come over?" We'd been dating for a long time.
Beth had introduced me to Shawn. She had to stay behind to take an exam while he and I and a whole bunch of other people went to Richfield Collesium to see "Songs of Faith and Devotion". Last night, she finally got to see Depeche Mode.
As much as I love hip-hop, I have little history to connect to it. When I hear "Ms. Jackson" or "Grinding", I think of being in my car, going to or coming home from work. I love you hip-hop, and I fell for you at the club. But my emotions for you do not run deep, and I don't think they are supposed to.
Back to the main thought that I woke up with this morning.
If we have the opportunity to go see our favorite rock stars and favorite groups, by all means...we must go! The line-up will be different, and not every song you love will be played, as there are too many. To be in the company of wall-to-wall people in your generation: everybody at different levels of aging; gray hair, glasses, wheelchairs. Baby, who cares? I bet that I was not the only one feeling so lucky to hear music that I once loved so deeply--and still love, but as we evolve we often gravitate to other sounds. Our tastes change.
We change.
I love the courage and confidence of our older rock heroes getting back up there, on that stage, life-battle scars and all. Strap on that guitar! Not trying to look 30, heck, not even 40! Thank you for having wrinkles, aging all the while, and being fit as all get out. Growing old and listening to songs from long ago is a privilege. Thank you, Depeche Mode, for turning this black celebration into something I am more grateful for now than when I snuck out of the house in those cheap, hand-cut micro shorts to see Violater, sing-yelling "I just can't get it up! I just can't get it up!" acting like I'm the first to have thought of that, along with my friend Dawn who was dressed as a goth-bride.
Witness your rock-loves while you can, whatever your age may be. You never know when the opportunity to see a band you love is your last!
And Andy Fletcher...may your creative soul rest in peace, your spirit is present in these concerts. We were blessed to hear all of your contributions last night, and your gift will continue to carry on.
About the Creator
Hello! Like so many of you, I love to write. In 2018, I self-published "Sebastian's Due". In 2022, I published the sequel, "Room for Sebastian". Can't wait to read the content on Vocal!
www.jenniferlosborne.com
Reader insights
Be the first to share your insights about this piece.
Add your insights