The Cultural Impact of the Beatles - The Albums
The growth the Beatles experienced from "Rubber Soul" onwards to "Let It Be" is incomparable and diverse enough to never tire of.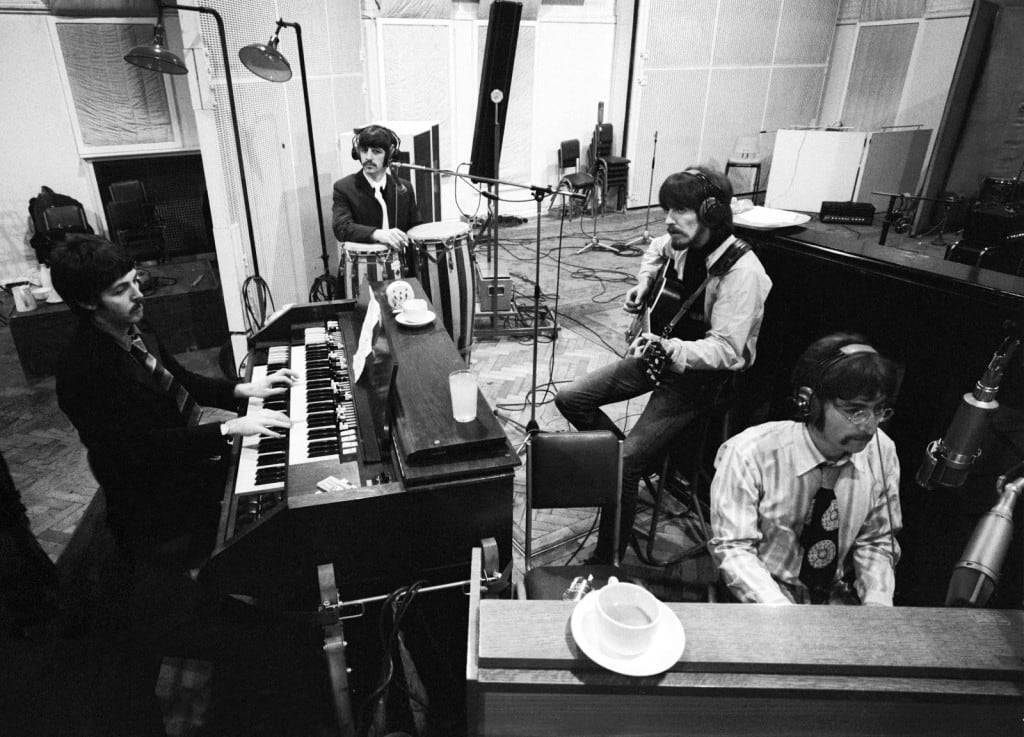 Is there any other band in the world that has a music catalogue as extensive and diverse as the Beatles? Discovering that Revolver, Sgt. Pepper's Lonely Hearts Club Band, The Beatles (the White Album), and Abbey Road all came from the same band not only shows off their versatility as songwriters and musicians, but the longevity of their popularity.
The Early Years
Family played a big part in every band member's start. Paul's father was in a band that constantly filled the home with dance hall music. Before he picked up the guitar, Paul was taught originally how to play trumpet and piano. He later realized he could not sing while playing trumpet and traded it in for a guitar. George's music-centric family was always encouraging him to play, while John learned how to play banjo after reconnecting with his mother.
Ringo was last to join the band in 1962 after replacing Pete Best on drums. He first learned how to play when he was hospitalized with tuberculosis as a young child. The staff would occupy their patients by having them play instruments together, which is where Ringo discovered the drums.
The band's early beginnings derived from black rock and roll artists, rhythm & blues, girl groups, and skiffle. They bonded at an early age over their love of Elvis Presley, Chuck Berry and Buddy Holly. With the Beatles' hometown of Liverpool being a port city for new records coming in from America, the band had a constant stream of new material to cover.
Bands from Liverpool established a signature sound called "Mersey beat" in the early 1960s. Beat music developed in areas along the River Mersey and most bands played pop and rock music. Stu Sutcliffe, bandmate at the time and friend of John's thought of using Buddy Holly's "Crickets" as a start and add John's witty play on words to create their name: the Beatles.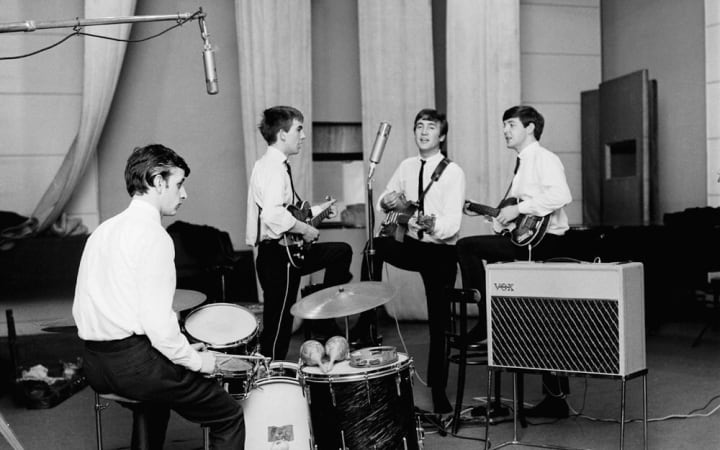 Moving on towards the peak of Beatlemania, the Beatles were required to release new music every six months. With their constant touring, there was only a minimal amount of studio time to write and record an album. They recorded their first album Please Please Me in 13 hours. John's voice was so damaged after the long studio session that he could record just two takes of "Twist And Shout" before it completely gave out. They did receive slightly more studio time to record other early albums, but it was only after the release of Rubber Soul in 1965 that the Beatles sound truly came to fruition.
In The Studio
The leap in sound between Help! and Rubber Soul is a subtle yet significant growth that had flourished. Both albums teetered with a folksier side of the Beatles that had never been seen before; Rubber Soul begins a journey of experimentation with more instruments. George learned how to play the sitar and included it on "Norwegian Wood," making this the first time a sitar was used on a Western pop song. They would use the instrument again on later tracks "Love You To" and "Within You Without You," introducing the globe's Eastern-based sound into Western culture and making it recognizable across Europe.
Revolver instigated several new ideas in recording, most notably the tape loops on "Tomorrow Never Knows." Although most assume with how bizarre the song sounds that it was recorded last, it was actually the very start to the Revolver recording sessions. After reading The Psychedelic Experience by Timothy Leary, John came up with the idea of a guide-track for the LSD experience. Paul was already experimenting with the avant-garde in his spare time and brought in several sets of tape loops with various sounds. Six tapes were inevitably used on the final mix of Paul's distorted laughing, an orchestra playing a B-flat chord, notes played on a Mellotron's flute setting, a second Mellotron on its violin setting, a finger rubbing the rim of a wine glass and a distorted sitar.
The Beatles along with multiple engineers spent a five-hour recording session creating a live mix of the tape loops. Their producer George Martin said,
"We did a live mix of all the loops. All over the studios we had people spooling them onto machines with pencils while Geoff did the balancing. There were many other hands controlling the panning. It is the one track, of all the songs the Beatles did, that could never be reproduced. It would be impossible to go back now and mix exactly the same thing: the 'happening' of the tape loops, inserted as we all swung off the levers on the faders willy-nilly, was a random event."
As for John's voice, he wanted it to sound like a chorus of Tibetan monks chanting on a mountaintop. To recreate this effect, the engineers manually double-tracked John's voice and ran it through a revolving Leslie speaker. More commonly found inside Hammond Organs, the effect resulted in an eerie distance to John's voice that could not have been captured by just multi-tracking. "Tomorrow Never Knows" was a sign of things to come and Revolver became their most experimental work before the release of Sgt. Pepper's Lonely Hearts Club Band.
"Sgt. Pepper's Lonely Hearts Club Band"
As the Beatles music morphed into a psychedelic frenzy, the youth surrounding that era followed suit. Sgt. Pepper's Lonely Hearts Club Band is the pinnacle for albums as it became a musical representation of a generation. The album was an unmatched journey of sound, art and an innovative concept that had never been seen before.
Paul came up with the idea for Sgt. Pepper's Lonely Hearts Club Band on a flight back to London in late 1966. The concept was built off the Beatles' exhaustion of being themselves. Now, they did not want to be seen as the four young mop-top boys but as more mature artists. Creating alter egos let them show the public their own projected image. If the Beatles themselves couldn't go on tour, why couldn't one of their albums?
Studio sessions began November 1966 to record the double A-sided single "Penny Lane" and "Strawberry Fields Forever." This initiated the Beatles' attempt to create their most experimental album yet. In total Sgt. Pepper's took approximately 300 hours to record and cost over $75,000, venturing into a sound that had never been created before.
The Beatles were always known for challenging the conventions of popular music even before Sgt. Pepper's, which also translated to their album covers. Starting with Rubber Soul with its slanted typeface and Revolver, where they enlisted the help of their friend Klaus Voormann to design the artsy, out-of-the-box cover. The Beatles were leaders in increasing the album covers function from a tool to a work of art on its own. Sgt. Pepper's is the holy grail of all albums. Before even hearing a single note, the album cover alone invites you to ask questions. Who are these characters the Beatles have included? And why do the Beatles themselves show up on the cover not once, but twice?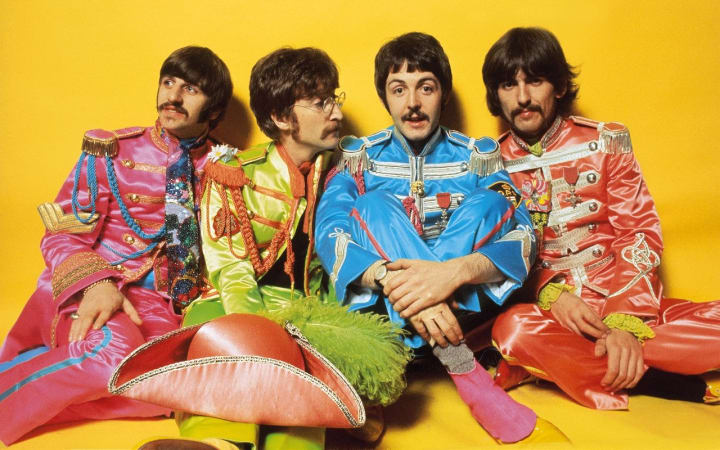 Although Rubber Soul and Revolver offered us a glimpse into where the Beatles sound was headed, no one was expecting the band to have changed that much. Gone were the mop-tops, matching suits and almost constant recordings and welcomed were these intelligent musicians that were frowned upon by the media not long ago. Once the Beatles had stopped touring, the media attention doubled with the anticipation of what they were going to do next. In an article for Rolling Stone, Paul said,
"They'd say, 'Oh, they've dried up.' But we knew we hadn't. It was kind of cool – behind the scenes we knew what we were making, and we knew we were very far from drying up. Actually, the exact opposite was happening – we were having a huge explosion of creative forces."
This was about to become John, Paul, George and Ringo at their most fearless. All caution was thrown out the window as the bridge between the cultural divide, popular music and art finally met. Sgt. Pepper's embraced the youth culture of the late 1960s with open arms. Who would have ever imagined that this mess of loud colours and prints, lyrical fantasies, and bizarre instrumentation that shaped the "Summer of Love" could be captured on an album they started recording several months earlier?
Sgt. Pepper's welcomed firsts. The birth of the mainstream concept album took shape when they welcomed the fictional Pepper band, and included interludes "Sgt. Pepper's Lonely Hearts Club Band" and its reprise.
The Beatles having a particular theme cycle through the album shaped the origins of the concept album. It can be noted that The Beach Boys Pet Sounds and the Mothers of Invention's Freak Out! were both released in 1966 and have more of a set mood that translates through the album. Sgt. Pepper's made the idea of the concept album more convincing to wider audiences. Some of the biggest concept albums were created with Sgt. Pepper's in mind, including Dark Side of the Moon, Tommy and The Rise and Fall of Ziggy Stardust and the Spiders from Mars.
They debuted the eight-track recording by using two four-track machines in-sync. There were so many instruments and double-tracked vocals that they needed more space in order to fit everything they wanted on a track. Also, by printing the lyrics on the album it allowed the general public to analyze the lyrics for themselves.
Most importantly, this was the first time the conventions of popular music were challenged. No other band at that time was incorporating Indian music into a pop song, and certainly no one had the thought to put two unfinished songs together. "A Day in the Life" was another stepping-stone breaking musical boundaries. With the addition of a 40-piece orchestral build along with a 42 second piano chord that would make a lasting impression on people 50 years later and you have one of the greatest rock songs of all time.
Growth is what the Beatles were experiencing. They were developing into a new level of an artist no one could possibly reach. Always challenging the conventional and changing the way music is conceived. As listeners hear Sgt. Pepper's today, it still sounds as fresh and whimsical as it did in 1967. No other album since has made such an immediate impact and lasting impression. Sgt. Pepper's Lonely Hearts Club Band is the greatest rock band at the pinnacle of inspiration.
50 years later and it remains one of the most renowned and critically acclaimed albums of all time. Released on June 1st, 1967 it spent a total of 27 weeks at the top of the U.K. albums chart, 15 weeks at number one in the U.S. and has sold over 32 million copies worldwide, but no amount of sales figures could ever match what Sgt. Pepper's Lonely Hearts Club Band has accomplished culturally. It is a bright, in your face, hallucinogenic experience that effortlessly suited the "Summer of Love" and defined a generation perfectly.
The Beatles Growth
The growth they experienced from Rubber Soul onwards to Let It Be is incomparable. Each album shows off a different side to their writing and recording skills. Where Rubber Soul is folk-rock, Revolver is edging the line of what is expected. Sgt. Pepper's is full force psychedelic rock set up to define the generation, whereas The Beatles is mainly slowed down and acoustic. Abbey Road is their greatest transitional composition and Let It Be is back-to-the-basics rock and roll that they grew up playing. Their full discography takes the listener on a journey from rushed recording sessions to crafting a piece of art in the blink of an eye, making it diverse enough to never tire of.
Legendary icons in music like the Rolling Stones, Queen, and Oasis are just a handful of artists inspired by the Beatles over the many decades since their forming. Each band helped shape a generation in their own way, using the Beatles as a guideline for creativity. The Beatles musicianship was ever-changing, which – from the outside looking in – allowed any band at any stage of their career to draw from the Beatles music.
The Beatles may have started writing songs solely based on their teen girl fan base by using "I" and "you" to be more relatable, but they knew how to mature their audience with their music. They offered a versatility to seamlessly make each genre their own. As a band, they knew how to grow and the first step was viewing themselves as artists and not just as performers.
About the Creator
History lover, music nerd and sports fanatic. | Instagram & Twitter: @shandipace, YouTube: https://www.youtube.com/shandipace
Reader insights
Be the first to share your insights about this piece.
Add your insights