The AliveRECORDS concept and how it works.
Free music upload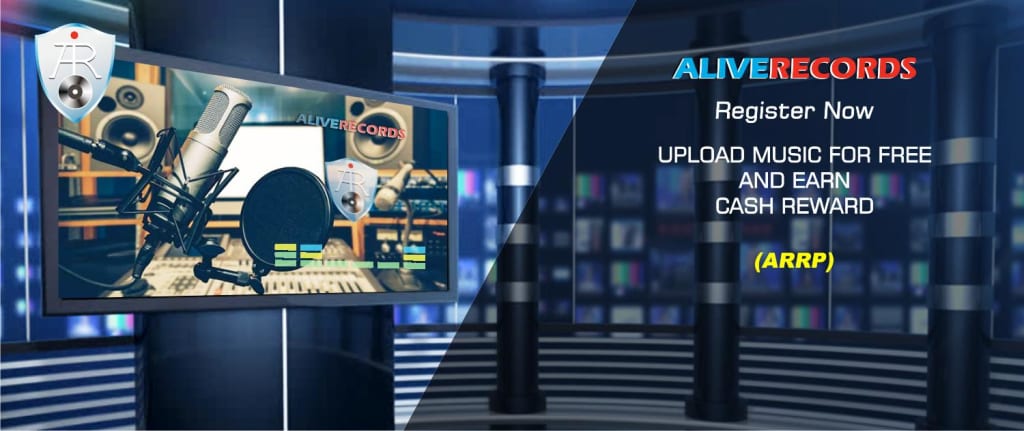 Do you want your music to earn you cash
Subscribe, upload music and earn cool cash. You absolutely have nothing to loose having an AliveRECORDS account.
Are you a beat maker, an artiste or a musician then Register now for free, Upload your music on free or premium promotion and start earning cool cash daily as new users selects you during their registration.
You absolutely have nothing to loose having an AliveRECORDS account but before we continue please ask yourself this questions.

How long have you been into music?
What have you done to earn from your music and promote yourself?
How many of the digital stores have paid you and how much have you realised if they did?
Do you want a platform were you can stream your music, connect with other artistes, gain popularity and earn cool cash?
Then if you are reading this right now you are in the right place.
We are creating a community where artistes can submit there songs for promotion, real review by artistes and fans.
Is your music earning for you?
You can start submitting your music for free or premium promotion and also earn real cool cash daily as new subscribers selects you for an AliveRECORDS Reward Point.
Advertising Space - After your Hub is published advertisements may be placed in this space.
Why AliveRECORDS Reward Point?
Most upcoming musician and artistes may not be able to afford a record label sign up fee so for the passion to help fellow musicians and artistes achieve their dream comes AliveRECORDS.

" Yeah! Sooner or later artistes would no longer need record labels as the digital world is taking over in a very speedy manner, artistes would need more collaboration, streaming and digital marketing would be much more important.
So you may need to take advantage of opportunities like AliveRECORDS.
Lets build a community where we can get connected with other musicians, artistes, producers around the world and also earn cool cash. "
On AliveRECORDS you only subscribe with NGN2,000 yearly and you can submit as much as 100 music content in a year.
"We have several music groups we work with on social media platforms globally with over 2million members and followers."
Once your submission meets our terms and conditions we will broadcast your content on our media groups globally.

Every new subscriber must select an existing account holder before they can register, it is called AliveRECORDS Reward Point - ARRP which helps you earn cool cash as new subscribers selects you for a reward point and Each reward point is equal to 10% of your subscription fee.
Build your AliveRECORDS Reward Point
Don't use your own money for distributions and promotions.
Rewards points are great ways to earn real cool cash which you can cash out or use it for a premium promotion and digital store distribution.
Register and Subscribe Now
Subscription cost NGN2,000 only for the one year amazing job we will be doing for you but you could make more than #100,000 in months. Small money right? Yes but you don't have to work for it, its just our way of making sure you earn for just having an account with us.
You can request to cash out or use your money for premium services like sponsored adverts or major digital store distribution.
You can decide to pay for premium major digital store distribution or any of our sponsored adverts.
Reward points will also qualify users to submit their music for AliveMEDIA Talent Search ALMETASE where users will contest online to win cash price and music contract deal via our online voting system.
So in all you have nothing to loose in anyway.
You can help someone by sharing our link so we could build a music community that is valuable.