That's Why Im' Here
James Taylor's mid 80s return to form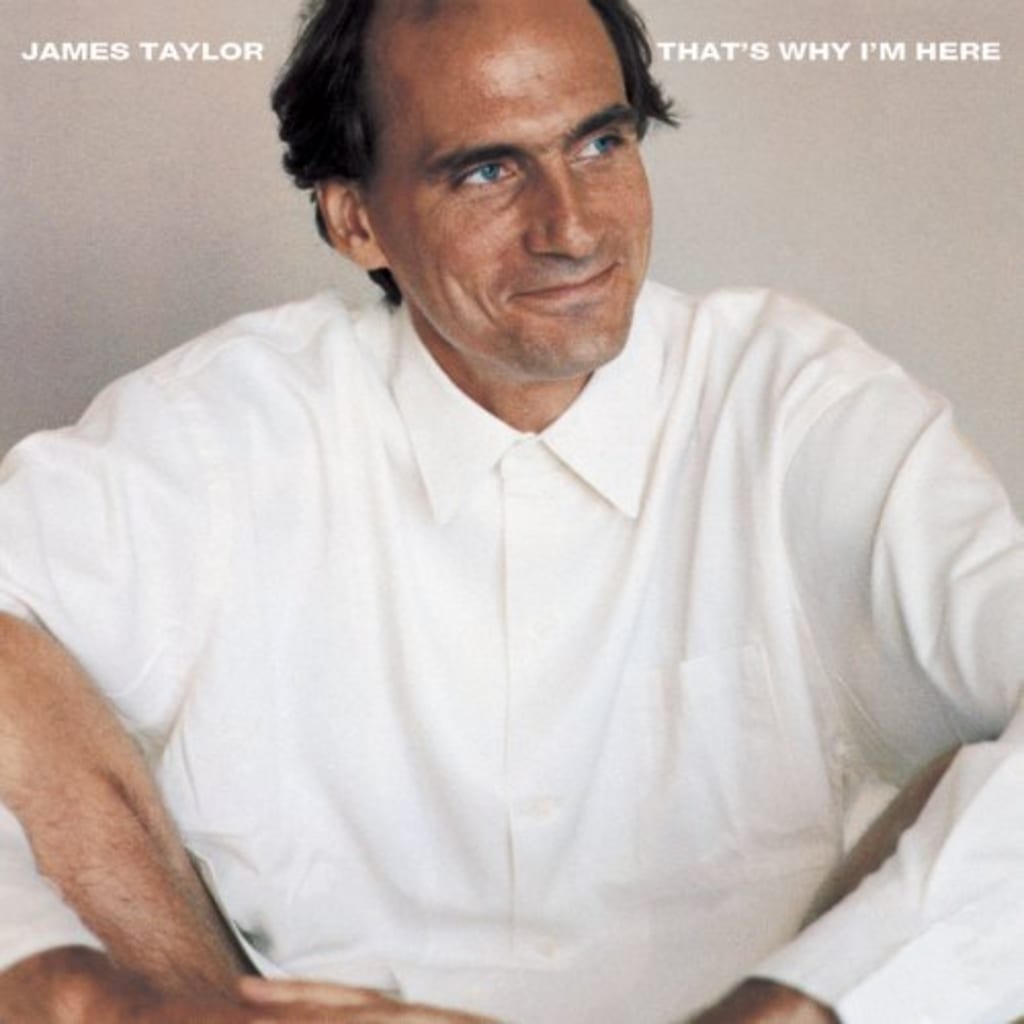 Photo by Andrew Brucker
James Taylor's eleventh album, That's Why I'm Here, was released in 1985, four years since his last longplayer Dad Loves His Work and two years after Taylor cleaned up from his well-publicized drug addictions. The album's title and demeanor suggest a new beginning for Taylor, and indeed Taylor decided to self-produce the album in collaboration with Frank Filapetti, a producer, engineer and mixer who would go on to win multiple Grammy Awards for his work on various Broadway albums, including Wicked, Spamalot, The Color Purple, and Elton John and Tim Rice's Aida. (Not to mention Grammys received for his production and engineering on Taylor's Hourglass, which will be covered when that album is assessed.)
That's Why I'm Here opens with the title track, which showcases Taylor's newfound sense of purpose in coming so people can hear "fire and rain again and again again." If that sounds cynical somehow the song does not; rather it turns to James grinning ear to ear that people still come out to hear him do the job that he loves. This song marks the recording debut on a Taylor album of keyboardist Clifford Carter who would become a fixture in Taylor's band for many years.
"Song For You Far Away" is next, a simple Taylor song about, as near as can be figured, a far away love who takes him away from the day-to-day tumult repeated by the people in his inner circle. The song features Bill Payne of Little Feat on keyboards and Dan Dugmore's steel guitar.
"Only A Dream In Rio" was written after Taylor's experience playing the "Rock In Rio" concert in 1985 in Brazil, and features Portuguese lyrics courtesy of Jim Maraniss. Arto Moreira adds the various percussion parts and jazz singer Eliane Elias provides backing vocals that highlight Brazilian elements throughout the song. It's a rhythmic exercise that results in one of the best tracks on the album.
"Turn Away" is a song of unrequited love, a mid- to upper-tempo ballad providing another showcase for both Clifford Carter and Bill Payne's keyboards, and backing vocals from manager and previous producer Peter Asher.
The rest of the album features a number of covers, in a number not typical of a Taylor LP and especially surprising coming off the cover-free Dad Loves His Work. The first of these is "Going Around One More Time," written by James's brother Livingston, who was on the fading side of a music career of his own. and features the harmonica of Greg "Fingers" Taylor (who is no relation to the Taylor siblings).
"My Romance" is a song by Richard Rodgers and Lorenz Heart that did not appear on the original vinyl LP but found a "hidden" place on the CD release, which was a new format at the time of this album's release. This standard is simply and effectively done, setting the template for Taylor performances of the Great American Songbook, which would culminate in last year's American Standard album.
Next up, and starting Side 2 in the LP age, is the Buddy Holly cover "Everyday" written by Holly with Norman Petty. James's version managed to make it to number 3 on Billboard's Adult Contemporary Chart (and number one on its Canadian counterpart). Easy to sing along with, it's slowed down from the Holly version, which due to the simplicity of the lyric doesn't lend itself to repeated listens.
"Limousine Driver" is a horn-filled, uptempo tune with strong funky bass lines by Tony Levin. David Sanborn and Michael Brecker play saxophones. Barry Rogers plays trombone and Randy Brecker plays the trumpet. This is a nice example of Taylor's rock side, with the caveat that this side has always been second fiddle to the ballad James, which is where he has excelled.
The simple sentiment of "Only One" features the All-Star Backing vocal team of David Lasley, Don Henley, and long-ago Taylor love Joni Mitchell, whose vocal part steals the show in making the song the highlight of the album. Like "Everyday," this song is very much a sing-along special in part because of its repetitiveness. Still the song is so endearing and well-executed it's surprising it wasn't a wider hit, though like Everyday it was Top 10 in both the Billboard and Canadian Adult Contemporary charts, reaching positions 6 and 3, respectively.
"Mona" is about Taylor's onetime pet pig who ate rat poison and passed away. A novelty, albeit a pleasant one, Graham Nash adds backing vocals to the track.
Finally "The Man Who Shot Liberty Valance" is a tune by the then-upstart, now legendary songwriting team of Burt Bacharach and Hal David, written in the same year (1962) as the John Wayne/Jimmy Stewart film of the same name: the film most memorably the last line "When the legend becomes fact, print the legend." Well the legend on this is that the film was rush-released while Gene Pitney was still recording the song on the film company's dollar after Pitney said it was supposed to be in the film. However that went down, Pitney's version of the song became a giant hit with a considerable afterlife as a Western classic. Bacharach and David went on to become possibly the top songwriting team of the 60s and very early 70s.
Taylor acquits himself well on this version with Graham Nash once again backing James on vocals for the song. David Sanborn adds saxophone.
Ending the album is a short reprise of the title track, which adds little. The end result is a feeling that while That's Why I'm Here had its highlights, and had very few missteps, there was no song or consistent section of the album to really hold interest and sales were not particularly strong. The success of its two adult contemporary hits notwithstanding, this was not an album to move Taylor forward as one might have hoped. The well was clearly not completely dry and there was nothing here to diminish Taylor as a consistent concert draw. But none of these songs would achieve the status of "Fire and Rain" as a song to be played "again and again and again."