That'll Be The Day - David Essex's Musical Genesis
My Introduction To David Essex via A Misogynistic Film Role And Two Stunning Singles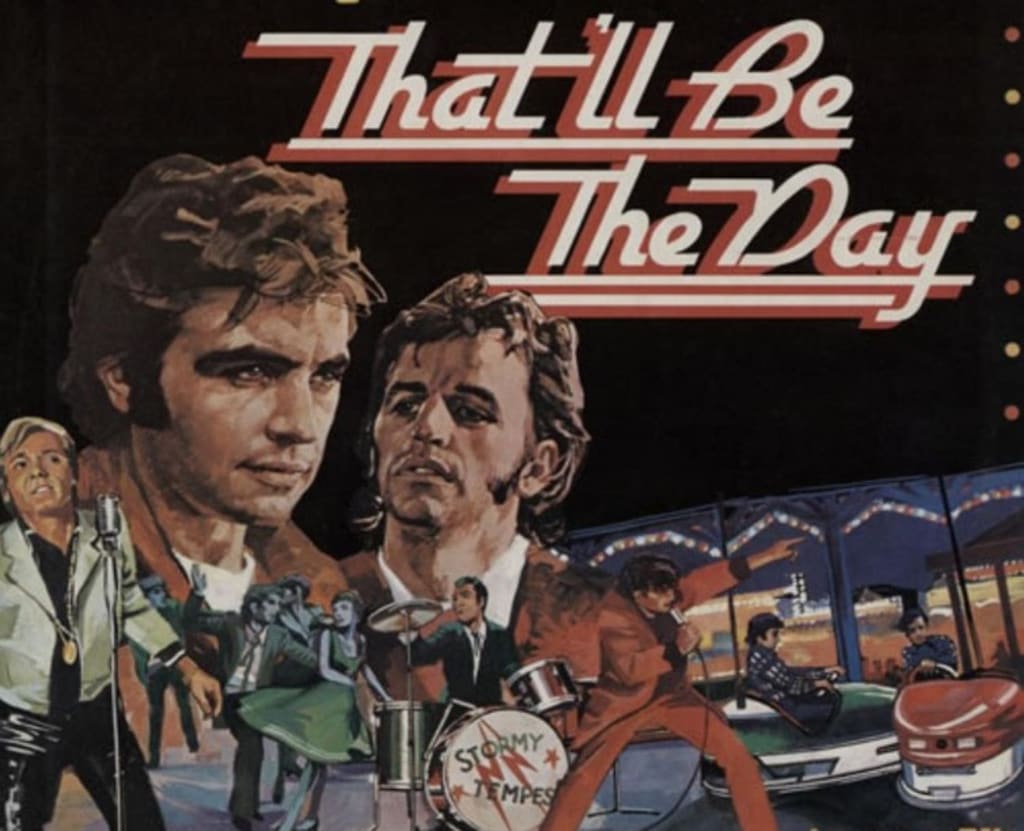 Detail From The Soundtrack Album Cover
Introduction
I think I was first introduced to David Essex as a despicable fairground worker and eventual megastar in the film pair "That'll Be The Day" and "Stardust". The first being set in the 1950s the second in the 1960s. I worked for three days on a fairground on Moor Park in Preston and was nothing like the Jim Maclaine in the film. You can read about it on Wikipedia here.
So David Essex The Artist
I thought the two films were a great evocation of the time and it was the soundtrack of "That'll Be The Day" that starts off the reason for this article.
The music is all nineteen fifties rock and roll, but the fourth side comprises music from the film which is mainly Billy Fury covering some standards and "Long Live Rock" which is a seventies Who song, plus two which were specially composed for the soundtrack, Viv Stanshall's "Real Leather Jacket" and our first song from David Essex.
"Rock On" from "That'll Be The Day" and the title track of his debut album
"Rock On" features a slow-tempo vocal performance in C# minor, along with a minimalist, rhythm-driven instrumental accompaniment to David's vocal performance. The song makes a lot of references to early rock and roll, with lots of name-checks.
The distinctive stripped-back musical arrangement was devised by producer Jeff Wayne after hearing Essex's original vocal demo. Although I liked bits of Jeff Wayne's "War of the Worlds" and to many people, it is a defining album from their teenage years and used to be always playing in the Skipton Sound Bar every time I went in, but his work on these two singles has elevated him considerably in my opinion.
David Essex was one of many guest stars on "War of the Worlds".
The bassline is played by Herbie Flowers and he was paid £12 for the session, however, he doubled it to give the song a dub feel and therefore was paid for a second session and got £24. He was also responsible for the bassline on Lou Reed's "Walk On The Wild Side" and did a similar doubling there as well to get his £24.
I think that David Essex and Lou Reed made a lot more money than Herbie Flowers from these two records.
"Lamplight" from "Rock On"
I bought this single from The Beehive in Alnwick and noticed that it said it was produced by Jeff Wayne on the picture cover.
The running brass breaks make me think of thirties trad jazz and this does move a lot faster than "Rock On" but is still an unexpectedly impressive single in my opinion. I wasn't sure about buying it because I thought it might be on the "B" side of my 12" copy of "Rock On", but when I checked out home it was just "Rock On" remixes.
The thing is, these two singles just seemed to me anything but teeny-bopper chart material but they were both hits ao maybe I was misjudging the market at the time.
"Hold Me Close" single
This is the David Essex that most people know, a great but safe pop single. I bought this for my first girlfriend (girls only wanted me to talk to, but I was starting my first rehearsal with a rock and roll band so maybe that had something to do with it. The rehearsal went badly as my red stratocaster exploded when I used the tremolo arm on "Apache")
A Few More Observations
These are two stand-out records which are nothing like David's mainstream output and nearly fifty years on they still impress me.
Reader insights
Be the first to share your insights about this piece.
Add your insights