Summer playlist. (Sad Girl edition) :
Top 10 sad girl summer playlist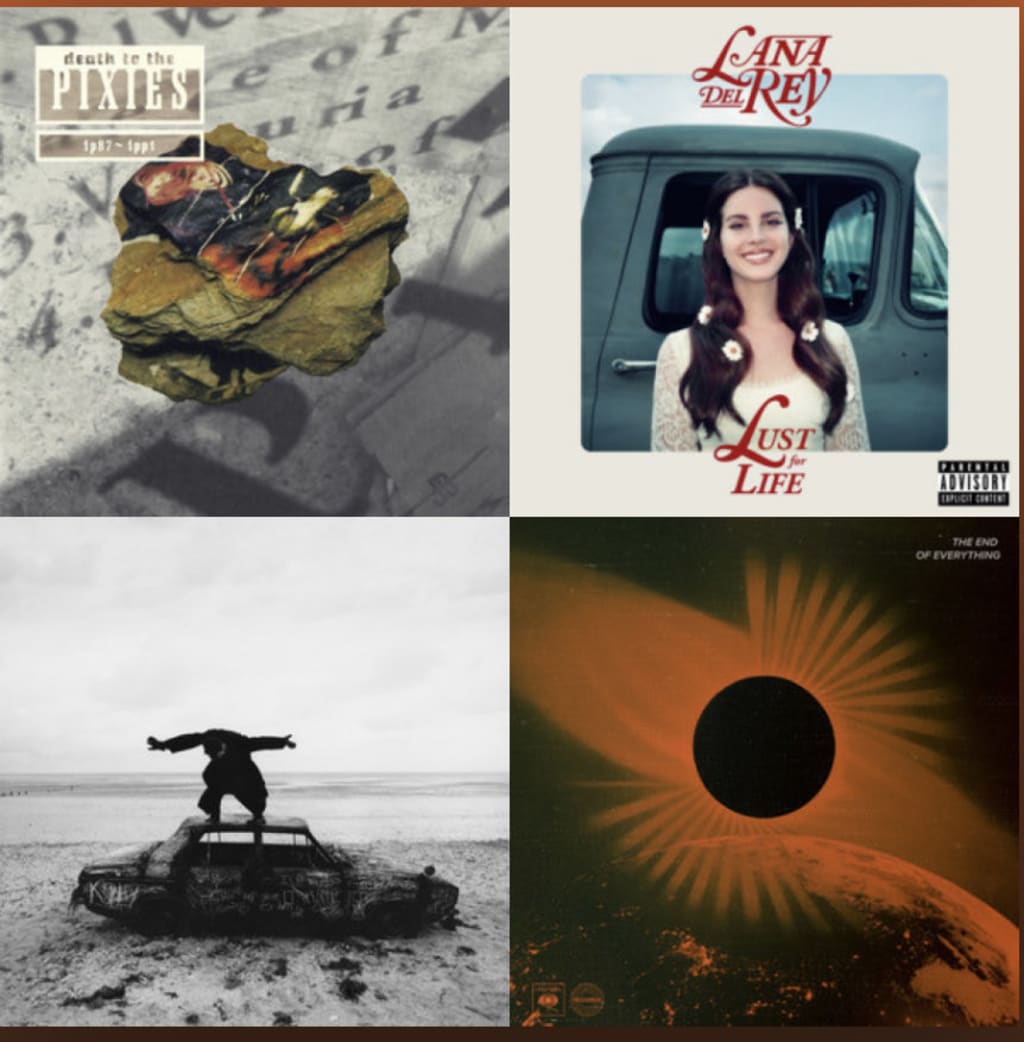 10.
Summer is great!
or it's not. this playlist was made when I was dealing with a lot while the nauseating scent of summer was reeking of my friends. they all loved the hot long days and they mostly stayed out all night. I, on the other hand, had to work at the coffee shop during the hot days, and by the night I was completely exhausted. Days started to blend, and I often catch myself in numbness. it was this very song that got me to ask myself: Where am I? What am doing with my life? or better where is my mind?
where is my mind - pixies
9.
the weight of the world can make your shoulders feel heavy when you're young. until you realize that you should let go of the future and focus on the present. No matter how shitty it is now, you should try to enjoy it. You are young only once and this summer will never be the same as the one to come, or the one before this. so, ...
" It doesn't matter if I'm not enough.
For the future or the things to come
Cause I'm young and in love."
Love - Lana del Rey
8.
Once you let yourself get comfortable with the sadness you realize it will just be temporary and this shall pass......
that's when even sadness becomes beautiful and there is just something about it like that girl on the train in "About You." you just can't stop thinking about it causes it's your safe place now. no one can hurt you here.
About you - the 1975
7.
there is this one line in this song that captured my attention.
" you remind me every day.
I'm not enough, but I still stay."
by: Noah Cyrus
the prospect of not doing enough, or not being enough is the main theme of being young and in your 20s. You may fake it with hopes of the day that you will make it but along the way, some toxic people may tell you that you are not enough. for that July is a great song.
July - Noah Cyrus
6.
speaking of toxic people, this is for any girl that fell for that stupidly attractive boy, who had commitment issues and played with her heart. for you, it was love. for him, he was running from his real girlfriend. she is beautiful, and you may know her, they all call her Betty. but for now, it's August and he is all yours at least until he goes back to Betty in the fall.
August - Taylor Swift
5.
This one is for you to ask yourself: Are you lucky to be alone? or are you so far from anyone that they can't see the real you?
Island - Miley Cyrus
4.
I don't think there should be any reason as to why this song it's on this playlist. I'm aware that these songs are starting to sound a bit upbeat but if you pay attention to the lyrics, you can see that all along, I'm trying to get you to dance to your miseries rather than cry about them. it's just more fun that way.
Hight by the beach - Lana del Rey
3.
there is so much going on at the moment that this song fits right in. This is one of those pieces of art that there is no one perfect word to describe it. it's an experience and I hope you find it enjoyable.
Buzzcut Season - Lorde
2.
if by some miracle you find yourself in the club with all your friends and in the middle of the dance floor. there might be a chance that you feel as if there is no one in the world but you. The music will start to pulse in your ears and the best advice I have for you is to let yourself go. this song will help with that. it will leave you questioning. " What have you done to me? "
Black mascara - Raye
1.
life, or summer is meant to be cherished. this was never going to be a playlist that will end with you in the same state that you were in before you started listening. sadness could be fun if it's done right and with the right music. Without further ado grab a drink or not and put this on your ear and just dance to your mistakes and sadness.
Summertime Sadness - Lana del Rey (Cedric Gravis remix)
Spotify playlist:
About the Creator
Writing is a form of self-care for me. With that being said, I wish to create a pen that makes band aids. So, if you ever cut yourself on love, hate, or depression, just come here. let me lend you one. Hopefully, it will stop the bleeding.
Reader insights
Be the first to share your insights about this piece.
Add your insights