Soundtrack Your Zen
The soundtrack before the calm.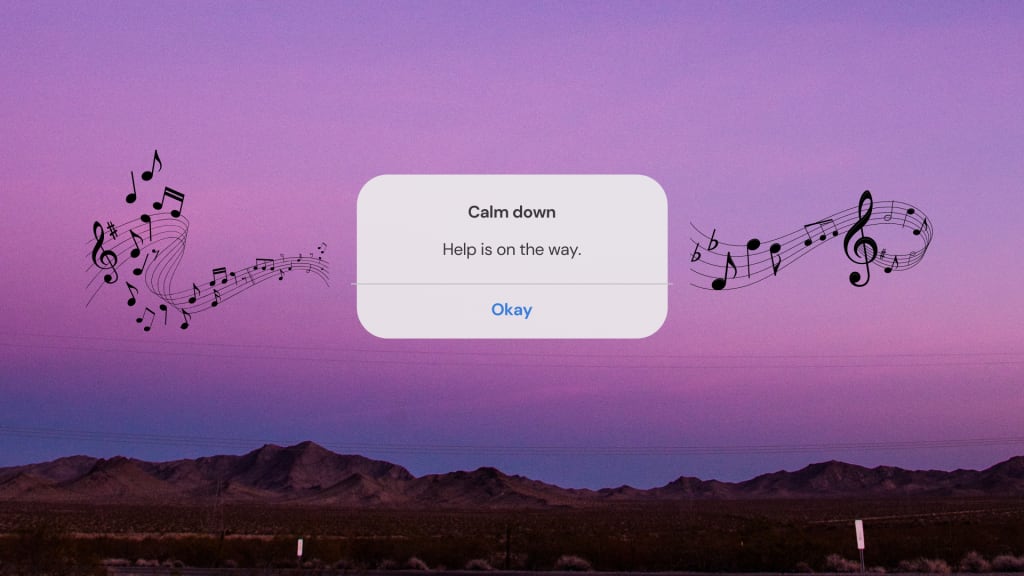 by Marketplace Designers (free for Canva Pro), edited by Marcel Grabowiecki
Whenever I feel anxious, there is no better way to calm my nerves than to listen to a good soundtrack. Either that, or pacing around while emptying the fridge. Or sometimes both.
The easiest way to make yourself feel calm and grounded is to do something you love. I love listening to music and watching films. So, listening to film soundtracks is like a double treat for me, although not every soundtrack or every tune on a soundtrack will make you feel the way you want. Music plays a crucial role in films. It has to emphasize the character's emotions, set the tone, and make the audience feel a specific way. It means that soundtracks are endless libraries of musical emotions waiting for you to listen and feel the way you need right now.
On a day like today, when I want to relax and prepare myself for a busy week, I need a playlist that will be both calming and inspirational. You might think that listening to Finding Nemo's theme song would not be the right choice when you want to get to a place of zen. But let me prove to you that it is indeed a perfect choice! I have been listening to this playlist for the past two days, and the results are incredible. I went from an emotional wreck to just emotional real quick. Just kidding. But it really improved my mood and provided much-needed chill and calm. So without a second thought, here's the playlist to get your zen on:
"Little's Theme" by Nicholas Britell
from Moonlight
It's crucial to set the right tone with an opener. Moonlight is one of the most appealing films made in the past decade, and the soundtrack resembles the beauty of its story and cinematography. It's a gentle intro to our playlist that will ease your mind and calm your worries.
When I think about Moonlight and hear the first few notes of this theme, my mind automatically teleports to here: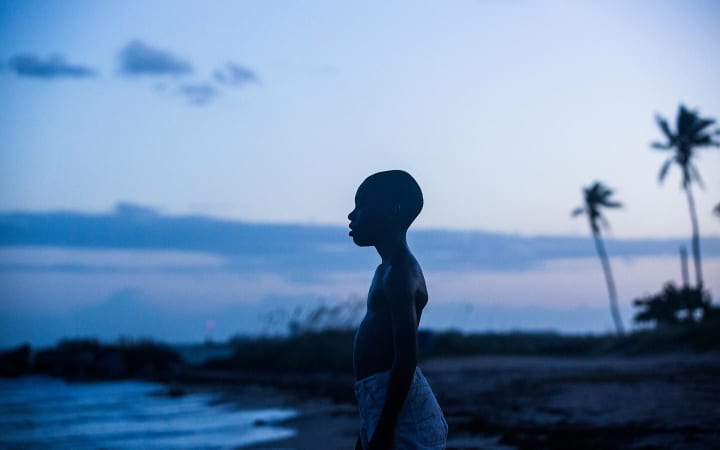 Visualisation is a powerful tool, so once the music starts playing, I picture myself somewhere I wish I was in that moment.
This song makes me feel peaceful. It's like, for a moment, there are no other sounds in the world. Even the loudest of neighbors who always happens to be renovating his apartment starts fading away (at least when you're wearing a good pair of headphones.) The song is short and sweet, and its calming piano sounds get you excited for what's to follow. And trust me! It's only getting better.
To picture while listening: It's a full moon, you're on the beach. A soft wind is gently caressing your skin. You can see a reflection of the moon on the calm ocean.
"Meditation / Return to Earth" by Trent Reznor & Atticus Ross
from Soul
Oh, Soul! If you haven't seen Disney's newest animation, do yourself a favor and watch it. But let's talk about the music, shall we? This tune is a perfect follow-up to Moonlight.
We hear piano sounds again but this time accompanied with what I imagine the universe would sound like if I happened to fly around the stars. What better way to ground yourself than to imagine you're floating in space for a while? In Soul, the main character gets to a Great Before where everything feels like a dream. So imagine that for those one hundred seconds, you're also in another universe.
This song makes me feel like I'm levitating. It soothes your nerves but at the same time keeps you interested. It's like a trip to whatever planet/dimension you'd like to visit today. It will remind you how much bigger the world is than our inner anxieties and worries and will take a load off your mind.
To picture while listening: You're floating above the Milky Way.
"You'll Never Know" by Alexandre Desplat (feat. Renee Fleming)
from The Shape of Water
I remember watching The Shape of Water in the cinema with my mom. One of the most magnetic qualities about it was the music. We didn't want to leave until the music stopped playing. It just made us feel like we were dreaming.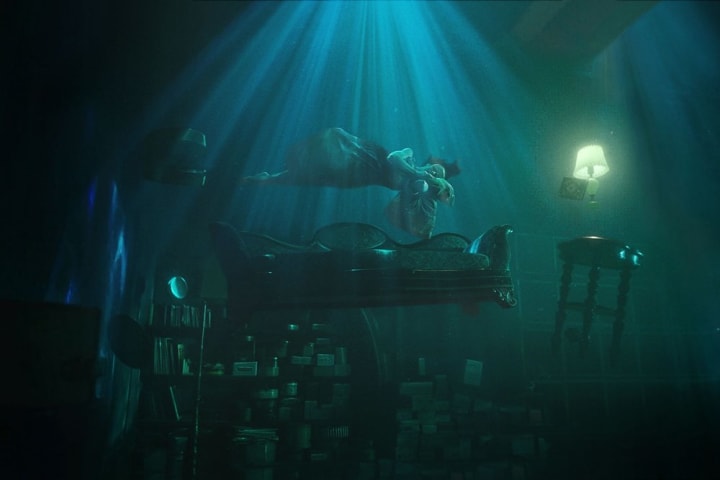 Yes, it is a love song, but it's not one of those cheesy, annoying ones. This one awakens your imagination, allows you to dream, and makes you feel like you're listening to an underground jazz band while sipping on your gin and tonic. It's got so much soulfulness and emotion to it.
To picture while listening: You're hiding from the rain in a cafe. Inside smells like your favorite coffee. You're watching the raindrops run down the windows.
"The War (Zero's Theme)" by Alexandre Desplat
from The Grand Budapest Hotel
Here we have another lovely melody from the great Alexandre Desplat. Although the title of the track is The War, it does not sound anything like a battle. It's light and fun. It tunes out all the excess noises and puts your mind at ease. Wes Anderson's movies always have great soundtracks.
The song makes me feel like I'm surrounded by cotton candy or [insert your favorite treat]. It also reminds me that I shouldn't be taking myself too seriously.
To picture while listening: You're in a hotel in the Alps. You're having a drink with your favorite snack by a fireplace. It's snowing outside.
"Nemo Egg (Main Title)" by Thomas Newman
from Finding Nemo
I know what you're thinking. Nemo? Seriously? What are you twelve, Marcel? Well, my 50-year-old mom is also a massive fan of this film, as well as Shrek and Ice Age. And she thinks that their soundtracks are full of straight-up bangers. But Finding Nemo's soundtrack is filled with many underneath-the-ocean types of melodies. Or at least relaxing tracks that you'd imagine hearing playing around while swimming with turtles.
Listening to this song makes me feel grounded and still. It also has a feeling of hope that calms your nerves and leaves you feeling weightless (even after a big meal).
To picture while listening: Imagine you can breathe underwater and you're swimming around the colorful coral reef. You can feel the rays of sunshine on your skin. You don't have to do or think about anything. You are just enjoying the view.
If you're scared of water, imagine flying above the clouds.
If you're scared of heights, umm... Okay, next song!
"Philomena" by Alexandre Desplat
from Philomena
Philomena is a great movie. Underneath the loveliness of the film's main character, there is also a lot of hurt. So naturally, the music tries to capture that. The theme of Philomena is as soft as it is secretive. There's a whole story behind those three minutes. But at the same time, it's light and easy on the ear. The tone of it stays the same throughout the track, making it a fabulous addition to our calming playlist.
Listening to Philomena makes me feel cozy and brings me back to Earth for a moment. I mean, there's only so much floating and outer space exploration that you can do. Philomena helps you balance reality with imagination. Also, because it tells a mysterious story, it keeps you invested and allows you to forget about personal worries.
To picture while listening: Imagine you're in a hedge maze full of blossoming flowers. Everything seems curious, vivid, and alluring.
"Married Life" by Michael Giacchino
from Up
Oh, this movie broke me right from the very beginning. I did not expect to be attacked like that. The song from the soundtrack that I've chosen is a background melody to the scene that made me feel very emotional. If you've seen Up, you probably know which moment I mean. If not, here's a little snippet to give you an idea of it: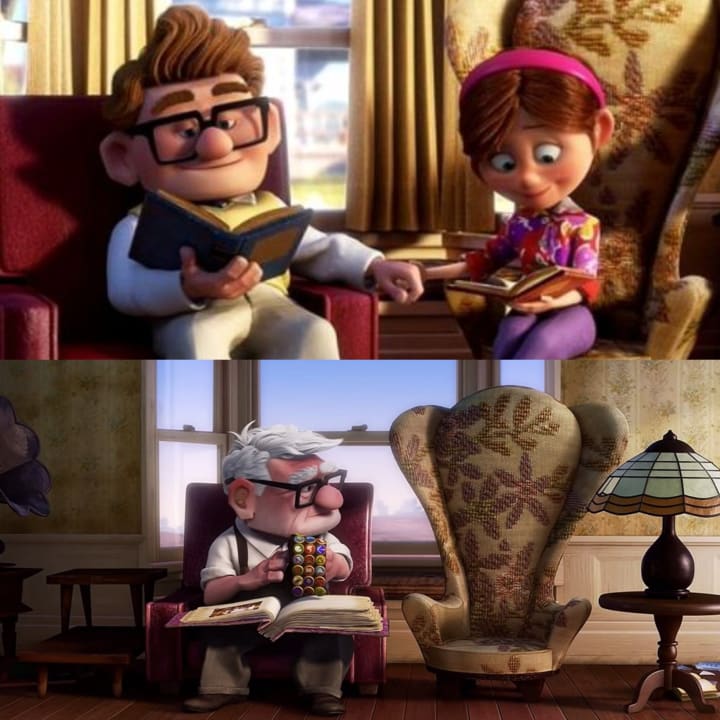 The Married Life track is a bit of an emotional rollercoaster. But sometimes, the best way to get yourself grounded and relaxed is to, first, let out all the emotions that are overwhelming you. This song makes me feel emotional, but it's the best kind of overwhelm, the kind that opens you up to a feeling of gratitude. This song will calm you down and remind you of things you should appreciate. See what I did there? We're switching our current troubles for appreciation of everything good we have. Let the warmth win.
To picture while listening: Think about your favorite person or your dog. Think about all your favorite memories with them.
"The Wardrobe" by Harry Gregson-Williams
from The Chronicles of Narnia: The Lion, the Witch and the Wardrobe
Sometimes when I'm really anxious, and there's just too much going on, I wish I was in Narnia. No, like, seriously, a cup of tea with Mr. Tumnus or having a moment with the dancing trees would be pretty grand. Oh well, Narnia doesn't exist (duh), and a film is just a film. (Plus, I'm sure James McAvoy wouldn't be thrilled to find me knocking on his door with some Earl Gray shouting: "Mr.Tumnus! Let's have some tea and talk about our problems!") So, I will have to use what I've got, which is the soundtrack.
The Wardrobe is a tune that accompanies young Lucy Pevensie when she discovers the magical passage to the outer world. We all need a bit of magic in our lives. So let your imagination go places with this song. When I listen to it, I feel blissful still. It helps me to get in the zone and brings me inner peace.
To picture while listening: Imagine you're in a fantasy world you always wished to visit. Are you at the Gryffindor House in Hogwarts? Or maybe you're on Avatar's Pandora?
"Ratatouille Main Theme" by Michael Giacchino
from Ratatouille
I immediately got hungry writing the title of our final song! This Anton Ego-approved track is a guaranteed relax climax. Remy's cooking cannot be bland, and that also applies to Ratatouille's soundtrack. This song gives you all the Parisian alley in the evening vibes. It's heart-warming, gentle, and intriguing.
Listening to this song makes me feel like I want to cycle around the park with some baguettes in the basket. It makes you want to have a glass of wine. It leaves you feeling dreamy, calms your anxiety, and soothes any worries.
To picture while listening: It's the golden hour in Paris. You're watching the sunset while strolling down the river Seine.
P.S. I hope this playlist will leave you feeling as relaxed and calm as you wish to be. Whether you need a break from answering emails with yet another passive-aggressive "Kind regards," or if you feel like the world is just a bit too much to handle today, put the Soundtrack Your Zen playlist on and vibe away!
playlist
Look at you doing what you once thought you couldn't do.
Actor / Writer
@marcelgrabowiecki on Instagram
Receive stories by Marcel Grabowiecki in

your feed