Solar Plexus, Music And Me
Finding my chakra through music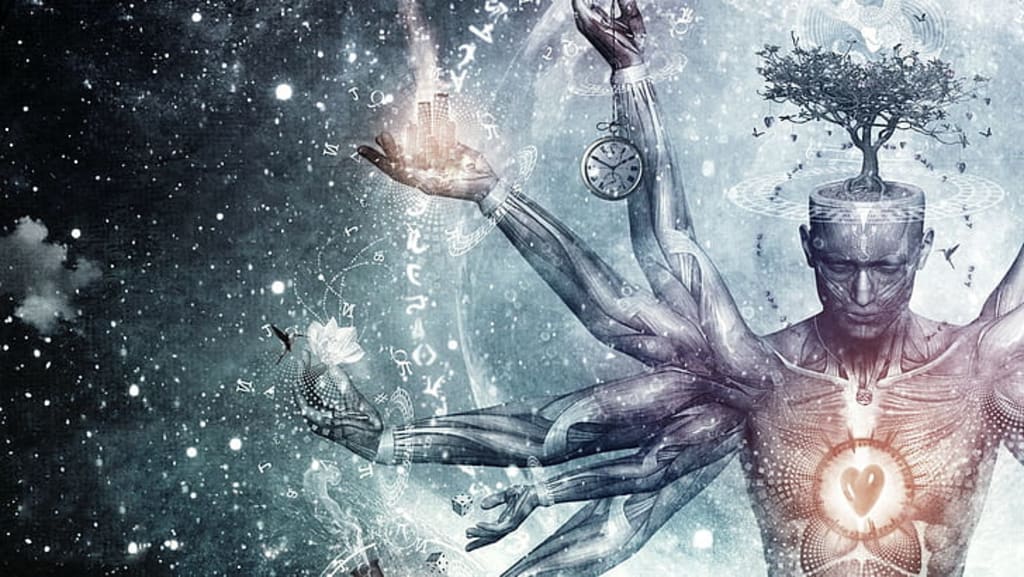 https://images.app.goo.gl/nAwW1JujKF3r1kze9
Being somewhat of a self-proclaimed green witch, I have used herbs, spells and music to help soothe and calm my inner nerves and anxiety for many years. From the use of essential oils when a headache occurs to performing a spell to help me pass my exams as a teenager. In my adult years, however, I started to truly practice the art of meditation.
While I use to practice meditation in somewhat small doses as a child, as an adult I found a new love for sheer silence to help me balance my thoughts and feelings.
Music is another passion of mine and something that runs in my family. We have singers, pianists, guitarists, dancers and even an accordion player. I have explored all aspects of music and I love every category. From my first Westlife concert at aged 10 to countless rock concerts in my teens.
I would wake up every Saturday and see my Mum dancing around to Whitney Houston 'Dance with somebody', polish in one hand and duster in the other. Then, on a weekday I would get taken to school and blast Phil Collins or Pink Floyd in my Step Dads car. My life was full of variety and now I listen to an array of music every day.
Music has always helped me to channel any thought and feeling I may be expressing and as I went from teen to adult, I mixed music with meditation and yoga and it truly helped me balance my emotions; especially on the days where I needed to ground myself to move forward.
Depending on the day that I am having, will depend on the music that accompanies me. So, I have compiled a list of different music that I highly recommend, to match the emotions and level or lack of anxiety you're feeling that day.
Happy
So you have woken up, your mind is clear and you're full of spring. It's time to clean, work out or simply have a dance. Some of my personal favourites include the much loved Pharrell Williams- Happy
Sure to put a spring in your step and keep you bouncing through the dusting.
Then we have Queen- Crazy little thing called love for the rock lovers out there. And even if you're not, who doesn't love a bit of Freddy? Sure to put a bounce in your step as you push through your third set if morning jumping jacks and telling yourself,
"Freddy was always full of energy, I can do this"
Then we have a little taste of metal. Not to everyone's taste I'm sure but definitely a favourite of mine. Even if you're not a fan of metal music you have to appreciate the talent that makes up a band. And, in the case of Tenacious D, there is a lot of talent to be seen.
A personal favourite of mine, Tenacious D- The Metal
So tomorrow you wake up and you no longer have that big spring in your step. You feel a little crappy and down and want to simply sit with a cup of cocoa and connect with yourself.
Some people may suggest happy music to pull you out of that pit and if that's your thing, try a suggestion above. However, when I feel low, I like to listen to music at that level. So my personal suggestions are now yours.
Sad
Pink Floyd- Wish you were here
A real winner to me and someone I can listen to, no matter how I feel is Pink Floyd. However, this is the perfect song for those down days. Its mellow tone helps you to calm but also relax. Maybe it sparks childhood memories of being in the car with my step-dad but one thing is for sure. It definitely helps.
When you're feeling down from a break-up or maybe an end you know is on its way but hasn't happened yet; turn to Al Green.
An absolute legend of soul and love and someone I spent a lot of time listening to at my lowest point of early adult life. He helps you cry before you feel reborn into something just a little brighter and a little lighter.
Al Green- For the good times
Now to a song that hits home. A song that resonates with me on many levels. This song not only reminds me of my partner but also reminds me that one day I will be without him and him without me.
While we of course hope that day is far in the future, the truth is life goes by in the blink of an eye so enjoy every moment with those you love while you can.
Des'ree- Kissing you
So we all have days where we feel happy or sad. Every day at some point you will probably feel both of these emotions. But, we also have some days where we are angry. Sometimes, we don't know why and on other days, we know the exact cause.
I'm thankful that my angry days are few and few compared to when I was younger. Music helped me balance my emotions and combined with meditation and/or yoga over the years, helped me even more.
Angry
Anger, something we all feel and if there ever was a time for the heavy stuff, this is it. Bringing me to my first suggestion and a better alternative to smashing your stuff up (although this song may tempt you, please don't).
Slipknot- Psychosocial
If the heavy stuff really isn't for you after many attempts (please do attempt) then sometimes a calmer approach is vital.
Most people associate anger with something that is happening personally to you right now. A break-up, an argument, a death of a loved one. But, sometimes we get angry because of other issues.
Right now, the world is in turmoil fighting for the rights alongside BLM, standing up to the face of sexual assaults by supporting the MeToo movement and listening closely to the issues Sir David Attenborough opens up about when it comes to global warming and what we're doing to our environment.
Whatever your issue in the world, this song is sure to both fuel and then calm that anger. Very much helping you connect with the issues of the world; most of which are created by humans.
Nahko- Warrior People
Sometimes, mainstream music can help the mind. Having a young daughter myself, I know that her favourite music comes from YouTube and TikTok and it truly does help her to calm herself when she is angry.
She usually does a little dance, has a little cry, maybe screams into her pillow but she always feels a little lighter after. So my mainstream suggestion:
Melanie Martinez-Mad Hatter
So, the basics have been covered and while I could sit here and write for days with hundreds of suggestions, music really is about you. While I stand by every suggestion and truly hope that these songs resonate with you as much as they do me, they're simply that. Suggestions.
The human race is capable of hundreds of emotions but the basic Happy, Sad and Angry is something we all feel at some point in our daily lives.
Combine your music with 30 minutes of relaxing yoga in the morning, a cup of lemon tea and some loose clothing.
Pour yourself some lemon and lime water on a hot summers day (or a cheeky merlot) and have a dance around the garden.
Or, simply grab some hot cocoa, a fluffy blanket and steam up those glasses with 30 minutes of crying on the sofa to a soppy song. I promise you will feel a little better after.
Just remember to connect with your emotions because they're what makes us human and they're what makes us alive.
Sia-Alive
Thank you for getting this far and reading my work. If you connect with what you have read, I would appreciate the love and even a tip if you're feeling extra generous.
Your support is what makes me wake-up every day and want to write. Thank you for pushing me forward.

Kayleigh Taylor
Kayleigh Taylor is an award winning poet and published author with a love for writing the raw reality of topics including sex, parenthood and politics.
Kayleigh enjoys literature, music and creating items which she sells on her Etsy store.
See all posts by Kayleigh Taylor →