Rock and Technology: Tracking Rock History through Omni Magazine
Optical Character Recognition (OCR) enables trends and landmark events to emerge, offering information on the evolution of rock and roll.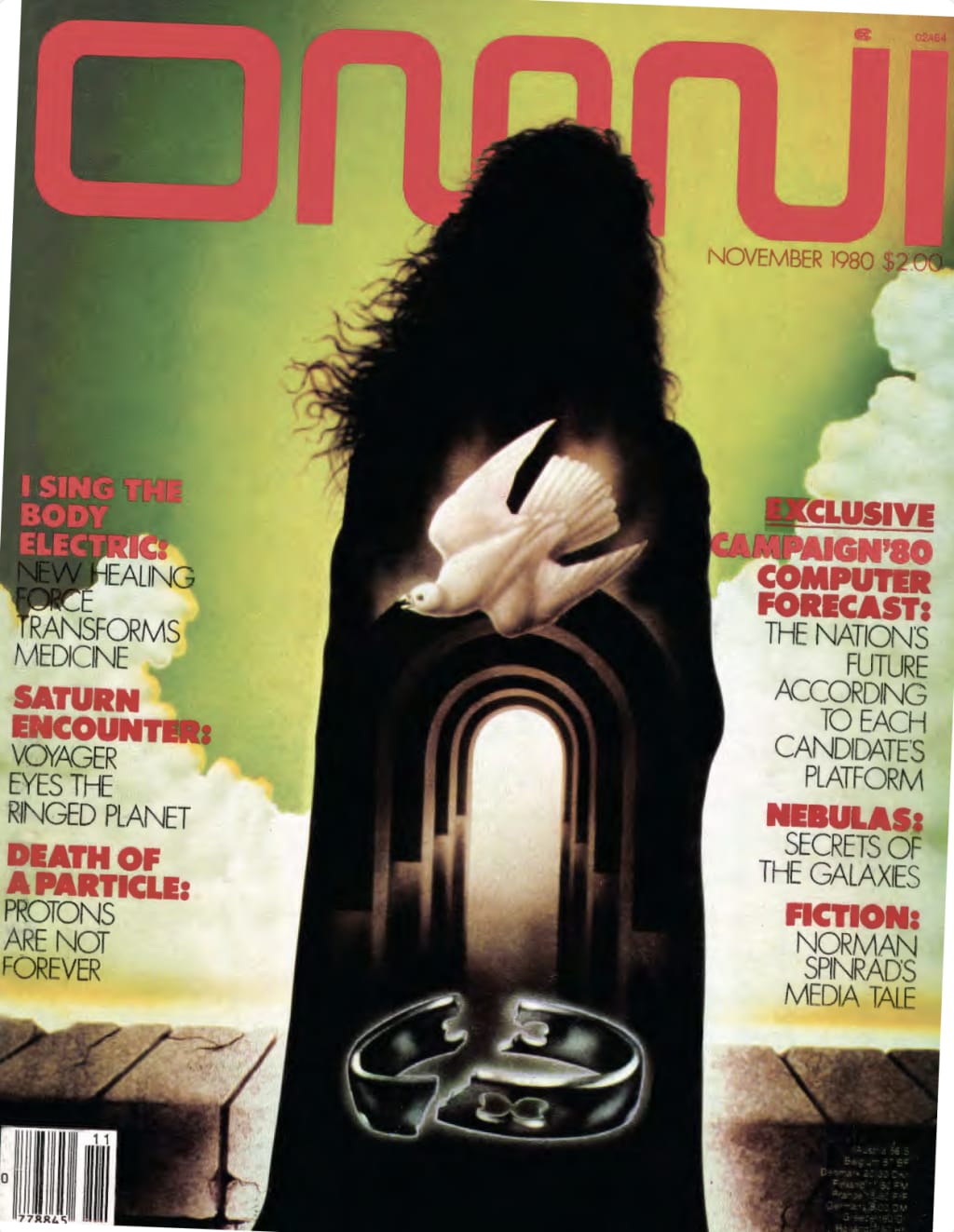 Omni, November 1980.
The Rock & Roll Hall of Fame unveiled their 2023 inductees yesterday, renewing conversations around the history and evolution of rock music. Each year of inductees attracts critiques from both ends of the spectrum, with some arguing that inductees stray from the definition of "rock," and others arguing for further inclusion of the musicians who both inspired the genre and made it relevant each decade.
Making vintage magazines searchable means a new resource for tracking the evolution of our culture. Searching our wealth of magazine scans with Optical Character Recognition (OCR) applied, fascinating throughlines emerge. Surprisingly, a search for "rock and roll" proved most fruitful in Omni magazine, effectively tracking the overlap between popular music and science in technology.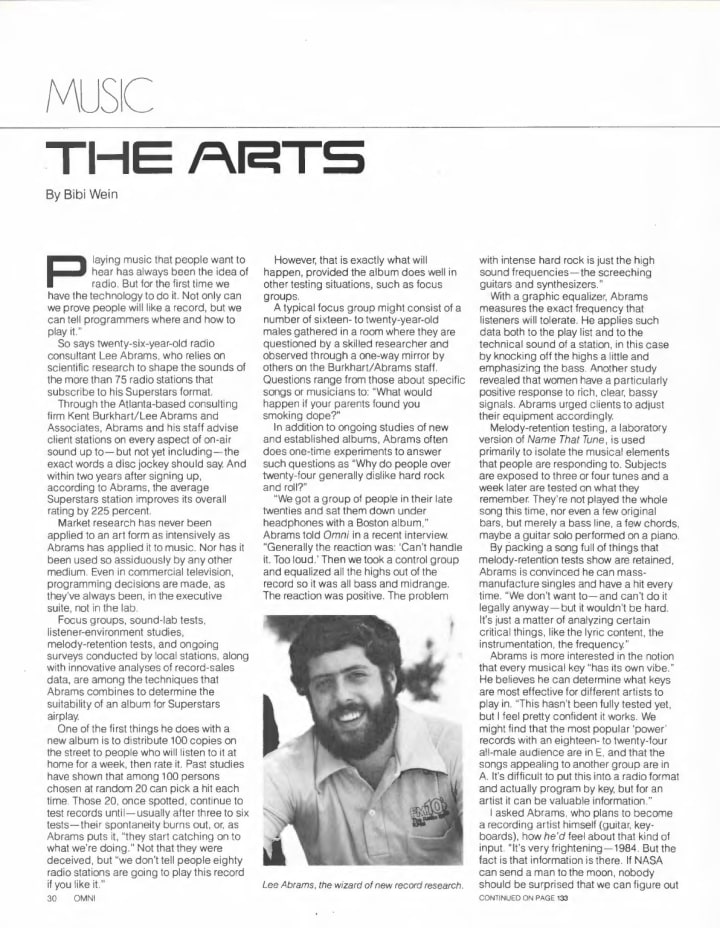 Lee Abrams: The original algorithm for radio listeners. Omni, July 1979
"The Arts" column in the July 1979 issue of Omni offered early reporting by Bibi Wein on the visionary work of Lee Abrams, then a radio consultant. Abrams invented a new process of implementing scientific research methodology to learn about the likes and dislikes of radio station listeners. Abrams went on to become a successful media executive, and was even inducted into the Rock Radio Hall of Fame in 2014.
A typical focus group might consist of a number of sixteen- to twenty-year-old males gathered in a room where they are questioned by a skilled researcher and observed through a one-way mirror by others on the Burkhart/Abrams staff. Questions range from those about specific songs or musicians to: "What would happen if your parents found you smoking dope?"

In addition to ongoing studies of new and established albums, Abrams often does one-time experiments to answer such questions as "Why do people over twenty-four generally dislike hard rock and roll?"

"We got a group of people in their late twenties and sat them down under headphones with a Boston album," Abrams told Omni in a recent interview. "Generally the reaction was: 'Can't handle it. Too loud.' Then we took a control group and equalized all the highs out of the record so it was all bass and midrange. The reaction was positive. The problem with intense hard rock is just the high sound frequencies – the screeching guitars and synthesizers."

With a graphic equalizer, Abrams measures the exact frequency that listeners will tolerate. He applies such data both to the playlist and to the technical sound of a station, in this case by knocking off the highs a little and emphasizing the bass. Another study revealed that women have a particularly positive response to rich, clear, bassy signals. Abrams urged clients to adjust their equipment accordingly.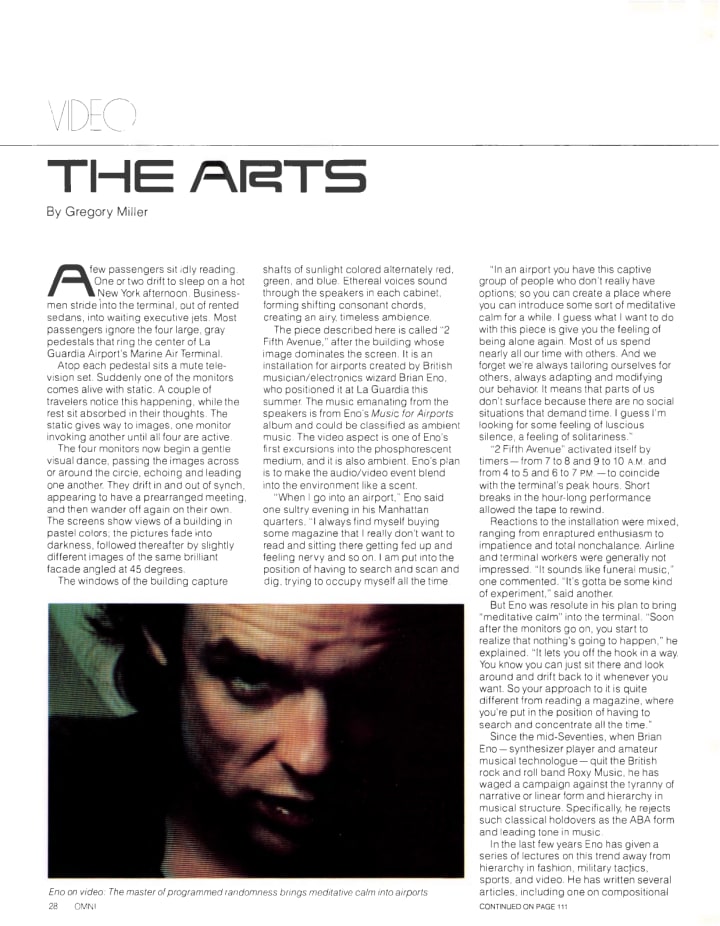 Brian Eno: Transforming rock into an audiovisual, and even ambient, experience. Omni, November 1980
Gregory Miller's description of Brian Eno's foray into video arts paired with discussion of Eno's influential music, particularly his 1978 album Ambient 1: Music for Airports, which is credited with coining the term "ambient music." Eno is another disruptor in the trajectory of rock, pioneering the connection between visual art and music and the use of electronic instruments, all following an influential stint in glam rock group Roxy Music. Eno was inducted into the Rock & Roll Hall of Fame in 2019 as a member of Roxy Music.
Since the mid-Seventies, when Brian Eno-synthesizer player and amateur musical technologue-quit the British rock and roll band Roxy Music, he has waged a campaign against the tyranny of narrative or linear form and hierarchy in musical structure. Specifically, he rejects such classical holdovers as the ABA form and leading tone in music.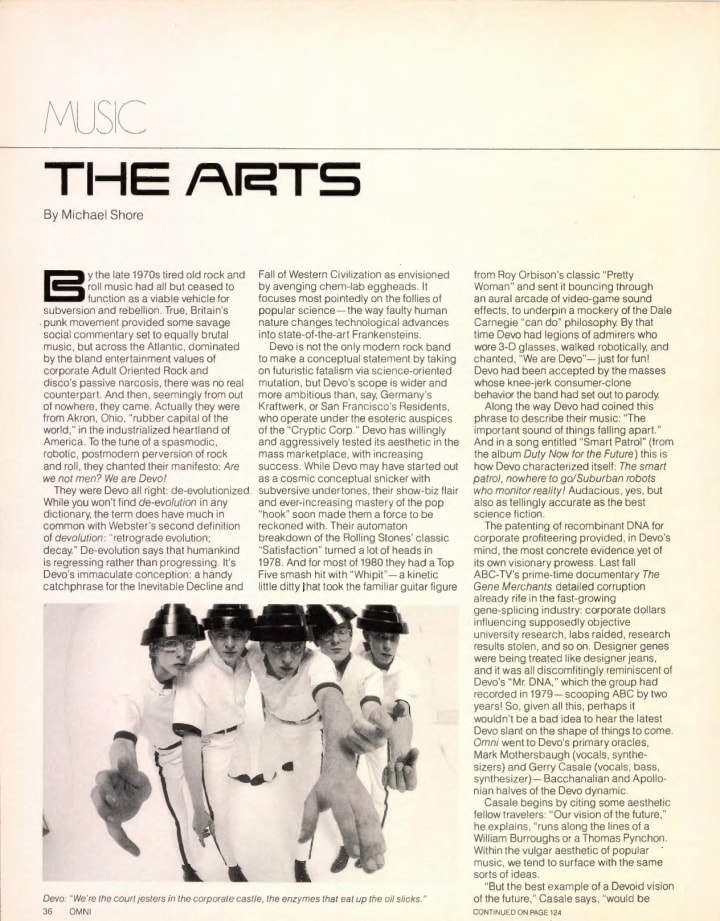 Devo: Rock filled with the themes and humor of Omni. Omni, April 1982
In this column Michael Shore offers consideration of another significant contributor to the integration of video into music, Devo. The fringe group's mainstream success with the 1980 single "Whip It" introduced the world to a highly visual band language entrenched in social commentary and semi-serious theory. Devo's work was perhaps most in Omni's wheelhouse, as the group reflected and satirized human's obsession with science and the future. Devo might have the most fraught history with the Rock & Roll Hall of Fame, as their nomination last year sparked a tongue-in-cheek, and very on brand, response from frontman Mark Mothersbaugh. While Mothersbaugh noted that it would be nice to be recognized, he followed up joking that if Devo gets inducted, he would "buy a property right next door to the Rock and Roll Hall of Fame – maybe even just one parking space – and have all of Devo buried there."
By the late 1970s tired old rock and roll music had all but ceased to function as a viable vehicle for subversion and rebellion. True, Britain's punk movement provided some savage social commentary set to equally brutal music, but across the Atlantic, dominated by the bland entertainment values of corporate Adult Oriented Rock and disco's passive narcosis, there was no real counterpart. And then, seemingly from out of nowhere, they came. Actually they were from Akron, Ohio, "rubber capital of the world," in the industrialized heartland of America. To the tune of a spasmodic, robotic, postmodern perversion of rock and roll, they chanted their manifesto: Are we not men? We are Devo!

They were Devo all right: de-evolutionized. While you won't find de-evolution in any dictionary, the term does have much in common with Webster's second definition of devolution: "retrograde evolution; decay." De-evolution says that humankind is regressing rather than progressing. It's Devo's immaculate conception: a handy catchphrase for the Inevitable Decline and Fall of Western Civilization as envisioned by avenging chem-lab eggheads. It focuses most pointedly on the follies of popular science – the way faulty human nature changes technological advances into state-of-the-art Frankensteins.
About the Creator
Exploring the most significant and hidden stories of the 20th century through iconic magazines and the titan of publishing behind them.
Check out our AI OG sandbox - https://vocal.media/authors/og-ai
Reader insights
Outstanding
Excellent work. Looking forward to reading more!
Top insights
Easy to read and follow

Well-structured & engaging content

Expert insights and opinions

Arguments were carefully researched and presented
Add your insights