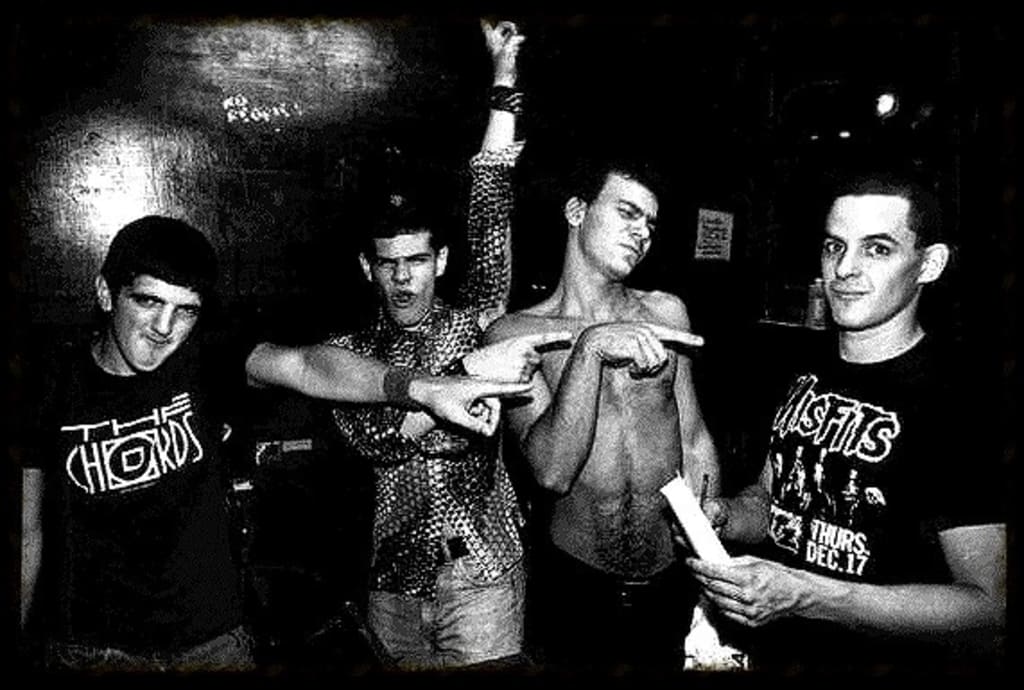 Reagen Youth, circa 1982. Dave Insurgent is second from left with arm raised.
Dave Rubinstein (a.k.a. "Dave Insurgent") was the lead singer of Eighties hardcore punk pioneers REAGAN YOUTH, a band that started in the hallways of Forrest Hills Highschool in Queens, where the Ramones hail from. Originally created by Rubinstein, a rebellious youth whose father fought in WW2 and whose mother survived Auschwitz, Dave started the band with his friend Dave Bukija (Dave Cripple), often getting a physics teacher to roadie for them. In time, they changed their original name, which was "Pus," to the more marketable (but no less offensive) REAGAN YOUTH. The name is meant as a satirical joke on the right-wing conservative policies of Ronald Reagan, and the Hitler Youth.
The band had a revolving door line-up of various members, and a few memorable songs--most notably the song "Reagan Youth," which is a fast, catchy thrasher with what sounds like the band doing dog barks before singer Dave Insurgent yells, "Siegheil!" Again, ironic humor; pointed political satire. Rubinstein and Bukija seemed to be the only constant members.
They played with Dead Kennedys, and Bad Brains, and became one of the mainstays of the Sunday matinees at CBGB's. They reportedly sold a hell of a lot of records for a hardcore band, but oddly, massive success missed them. Instead, tragedy and horror seemed to follow in their wake.
In videos such as the one posted below, it is clear that Dave Insurgent liked to break from punk rock conventions--his dress suggested a hippie Rastafarian instead of a street-wise New York punk singer. Be that as it may, the scene seemed to embrace them, and there is a video on YouTube of the Beastie Boys, in their early hardcore incarnation, covering the song "Reagen Youth."
Reagan Youth did some "in your face" stuff, appropriating the imagery of far-right and fascist groups, and throwing it back into the face of the establishment, as a way of mocking conservative, bourgeois, capitalist values. Dave ranted on about communism and anarchism (they have a song called "Jesus Was a Communist"), and they followed the path laid out by anarcho-punks like Crass, Conflict, Chumbawamba (the early days), etc. However, by 1990, incessant touring and lack of funds (plus the fact that Reagan was leaving office) convinced them it was time to quit. Another factor was the drug use of Dave Insurgent, who had become addicted to heroin. This last would lead to his eventual downfall.
A fellow drug dealer attacked Dave with a baseball bat. Doctors fought to save his life, and eventually, he received a lobotomy to ease pressure on his damaged brain. He had been playing with Bukija in a post-Reagen Youth psychedelic band called "House of God." They have a seven-song demo that can be listened to online.
After leaving the hospital, Dave continued to use heroin, unsurprisingly. In time, he met a prostitute and fellow junkie named Tiffany Bresciani. Bresciani supported both of them with her hooking. On June 24, 1993, Bresciani and Rubinstein were on Allen Street in Manhattan when a pickup truck with a familiar client pulled up. Bresciani recognized him, telling Rubinstein she'd be back shortly ("20 minutes"). He never saw her again.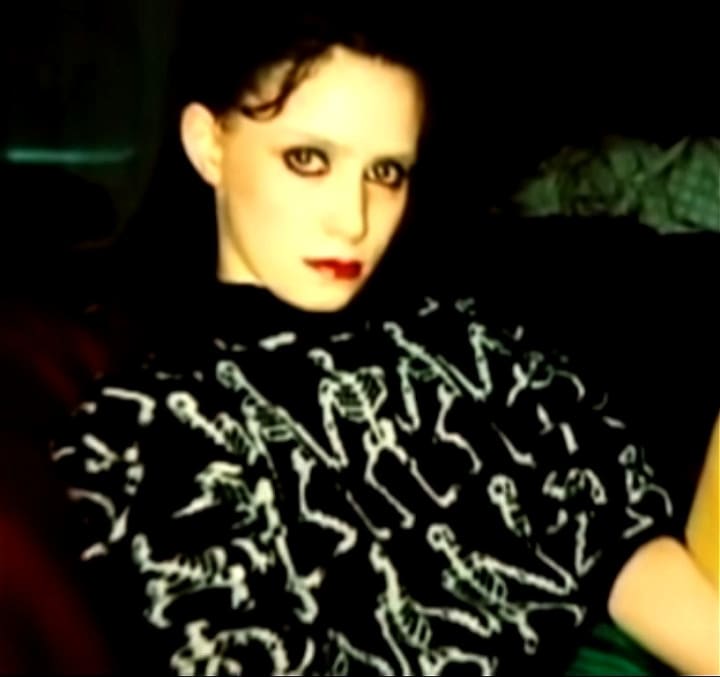 Rifkin's Final Victim
Joel Rifkin is doing a total of two hundred and three years without the possibility of parole, for the murders of NINE women, mainly prostitutes. Four days after he abducted Bresciani, on June 28, Rifkin was stopped by police. They found Bresciani's dismembered body under a tarpaulin in the back of the truck.
Rifkin has confessed to SEVENTEEN murders. Like Ted Bundy, police actually feel it could have been many more. He is completely without remorse. A psychiatrist speculated that his motive could have partly stemmed from hatred toward his mother, who gave him up for adoption.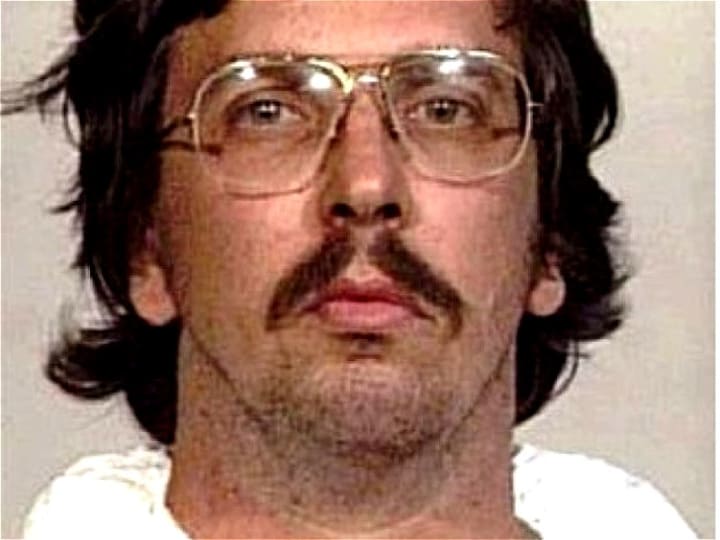 When I first read of Rifkin in a true crime anthology by Colin Wilson, it never specified whose body it was they found in the back of his vehicle. It wasn't until yesterday, when watching a video on YouTube, that I learned of the connection to Reagan Youth, a band I listened to casually with friends, even though they never were a "favorite." (They, after all, had that ONE cool song, also called "Reagan Youth.")
About three days later, Dave Rubinstein's mother Giza was killed in a freak accident by his father, who accidentally hit her with his vehicle.
The unfolding tragedy of Rubinstein's life finally decided him.
He committed suicide on July 3rd, 1993, by intentional drug overdose. He was 29.
***
Joe Coughlin, a writer who once was working on a biography of the late, infamous punk singer G.G. Allin, said of him, "It must have been a lonely place where he lived." Not speaking of his physical residence of course (Allin was homeless most of his life).
Likewise Dave Rubinstein, or "Dave Insurgent," whose life and hope and energy and talent disappeared down the black hole of tragedy and despair.
America, a country that is forever moralizing even amidst its own tidal wave of excess, might shake its head, cluck its thick tongue, and as Tony Perkins said in Psycho (a movie whose deeper subtext Joel Rifkin might have understood implicitly), "suggest, oh so delicately," that Rubinstein and Bresciani somehow DESERVED their sorry ends, that, through transgressing societal norms--politically, spiritually, culturally, morally--they had opened up the maelstrom of their lives to the dark forces that would, eventually, bring them to their unhappy fates.
Those hypocrites who would say such things are invited to shut the hell up.
Life can be brutal, and random; ultimately, our fate, our END, is pointless. Is it ever "happy"? Sad? Either way, it's always an end.
And so it goes.
L&N, Tom B.
The Dave Insurgent Story (Reagan Youth) [Documentary]
Tom Baker Website
\
About the Creator
Author of Haunted Indianapolis, Indiana Ghost Folklore, Midwest Maniacs, Midwest UFOs and Beyond, Scary Urban Legends, 50 Famous Fables and Folk Tales, and Notorious Crimes of the Upper Midwest.: http://tombakerbooks.weebly.com
Reader insights
Be the first to share your insights about this piece.
Add your insights