Revisiting Jay-Z's '4:44': La La...No, Wait
Here's the fourth part of my miniseries "Revisiting Jay-Z's '4:44.'" So sit, enjoy the binge reading.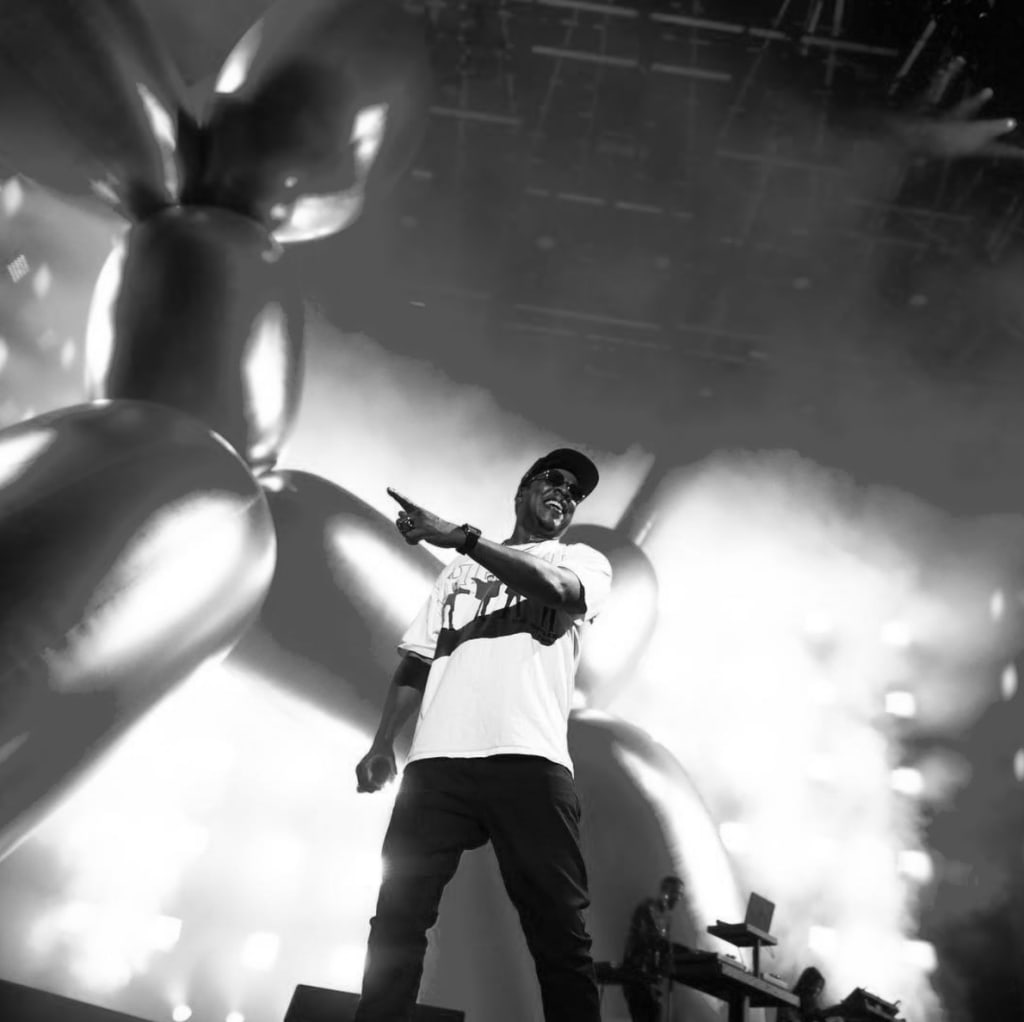 Instagram | @RavieB
In classic Shawn Carter fashion, it has been almost four months since the release of his thirteenth studio album, 4:44, and we're still talking about it.
"I gotta continue to tell the truth. I gotta continue to keep pushing forward. I gotta represent for us. I'm always going to represent for us." - pt 1
4:44 is filled with such dense subject matter and gems-galore, that I've made this a binge worthy miniseries. This is the fourth installment, of six, where I dive into "Moonlight" and use the Rap Radar interview for support. Click here to check out the rest of the series.
Jay-Z recasts the sitcom Friends with an all black cast for the "Moonlight" visual: Lakeith Stanfield (Chandler), Lil Res Howery (Joey), Jerrod Carmichael (Ross), Issa Rae (Rachel), Tessa Howard (Monica) and Tiffany Haddish (Phoebe). This visual of assimilation and taking over a classic white sitcom speaks volumes. The rendition of the '90s sitcom was brilliant, "wack" but its purpose was brilliant. The choice to recast the all white cast with black actors plays well as a visual to "Moonlight," a track, as Jay-Z says is "really a commentary on the culture and where we're going."
Before we get into the visual, let's dissect the song first.
"Stop walking around like you made 'Thriller'"
The premise of the song was inspired by the infamous moment when it was announced that the movie La La Land won Best Picture. But wait, then there was an error and Moonlight was actually the winner - awkward or nah. Alternative facts or just old and blind? That's not suspect at all, but I digress.
While there are messages of Black Excellence throughout the album, the song itself dives deeper into Hip Hop culture as a whole and the direction it's going. He comments on the new generation of artists who project themselves as reformers, rebels and "trill," but are constantly seeking approval from record labels. Cleverly sampling The Fugees' "Fu-Gee-La," he's noting that these new rappers are trying to redefine themselves and yet they making the mistake of signing deals. Lauryn Hill was sued by her own label - what does that tell you? Jay-Z had to pay, then CEO of Universal Music Group, Doug Morris 5 million to get out of his contract for his 2009 Blueprint 3 - what does that tell you? If you're going to redefine yourself and redefine the game, then learn from the old heads' mistakes. Learn from those who made the wrong choices in order to be smarter about the moves you make in the present for the future.
In the Rap Radar interview, Elliott brought up the controversy between 4:44 and Billboard. Many called it cheating the system when Jay-Z released a temporary link to download the album for free.
I'm an artist. This is my music. I can do what I want with it. That's the one thing I get. I get to present it to the world the way I like. And whether they get the count or not, is insignificant to me. It's still happening. - pt 1
Although the million "bootleg" digital copies weren't counted by Billboard, 4:44 still made No. 1 in its second week release by "their traditional rules." While Billboard counts the free streams on Spotify as regular sales, there was controversy over TIDAL releasing albums for free downloads in their "pre-pay wall." TIDAL making albums available for free streams is exactly what Spotify does "everyday," and yet "why does TIDAL take so much criticism when its the same thing as Spotify...its the same as Apple Music." Whether it's TIDAL and Spotify/Apple Music, or David Schwimmer and Jerrod Carmichael, there seems to always be controversy and conflict - "and you really have to think why that is."
"My head is scratchin' because that shit is backwards"
During a break in filming, Carmichael walks off set to ask Hannibal Buress his opinion on the show, and Buress bluntly calls it "garbage." Carmichael's response: "When they asked me to do it, I was like 'Alright, this is something like subversive. Something that would turn a culture on its head." Buress quickly dismisses it with, "You gonna do a black Full House next? Family Ties?" He also goes on to talk about a role he landed on a new Pirates of the Caribbean movie as a "parrot with a bad attitude but he has a heart of gold. It's terrible but its better than this shit."
In the interview, Jay-Z speaks on this type of self hate going on in the black community by using the example of LaVar Ball and his son Lonzo Ball who wanted to start their own sneaker company.
That man has a vision of his own. Why wouldn't I support him? He feels like he could move culture and his son has a big enough name and big enough brand that they could do it. Nike had to start somewhere. Why do we get so upset when we as a culture want to start our own shit, its puzzling to me. I sit back, this makes no sense. - pt 1
We are so quick to shut each other down for trying to do something to change the culture by stepping into "their" shoes, but we continue to do these small roles in their movies that only aids "them" rather than ourselves. Buress' small role is not an attempt to feed the culture, whereas Carmichael's attempt to remake a Friends episode is. With best intentions, Carmichael thinks this attempt will make a difference in the culture but it was quickly dismissed by a fellow black actor. Are we so small minded in thinking as minorities we cannot step into their light and perform their roles or start our own sneaker companies?
During their second round of filming, Carmichael separates himself from the others. After he spent his break listening to Buress degrade the show, you can see something change in Carmichael. While they continue the scene behind him, Carmichael has sort of an existential crisis: "Is this even worth it? What are we even doing?" Out comes Rae to lead him out of the scene to where he can sit out in the moonlight and cherish the actual win.
Here Jay-Z produces this all black episode of Friends, to say that it's not about assimilating to their culture, because that's "garbage." It's about not getting caught up in the idea of being "them," but making your own lane the way Moonlight did in this La La Land world. For the younger generation of artists, it's about not getting caught up in the fame because that feeds "them" rather than yourself and the culture. "We're stuck in La La Land," so it's important and vital to come together because "they're grass is greener / 'cause they're always ranking in more." Jay feels its important to not depend of the Lucians (Lucian Grainge, current CEO of UMG) of the world. As artists, they should get the last word in the decisions made for their careers. As artists, they should be making the moves rather than depending on these non-artists executives that are driven by money rather than the art itself.
Go ahead, check out the next visual offering from Jay-Z.
About the Creator
I'm a 20-something year old who's obsessed with music, and sometimes I write about it. I hope you enjoy my ramblings.
IG: @writtenbysade
@thelyricalfixpod
@checkit.openmic
Reader insights
Be the first to share your insights about this piece.
Add your insights