Playlist Eclectica - Vol. 3
I don't know if "eclectica" is really a word -- but I need something to summarize the crazy mess I put on playlists - and now there is more of more....
Sometimes you need to do something to occupy your time. Something that doesn't put a strain on you. Something that will actually wash the stress away. I do that by surfing YouTube and as I flow organically from one thing to the next, I end up with these very eclectic playlists.
The reasons for the things that end up on my playlists are as eclectic as the list itself. It can be because it's visually appealing, or soothing, or bizarre. It can be because the music brings me up, or down, or zens me out. Drums, flutes, music only or with vocals. It can be serious, parody, soulful, or vibrant. It is as though it is life itself in all its many forms flowing from note to note, highs and lows, all the variations of beauty.
I like to share them because it is like having a friend along for the evening. Someone to share the things that move me, sometimes to tears, other times to laughing histerically. Others just peacefully being together. I write at night so I have to get my listening in before my husband comes to bed. My writing spot is the bed. That's a whole story by itself how that came to be. Someday, I'll write that story. But tonight, we write, Playlist Electica - Vol. 3.
Playlist Electica the First
Playlist Electica the 2nd
**************************
And here begins my new Playlist Electica the 3rd!
A touch of nostalgia on this one. I was a teenage moon-eyed girl over these guys. Bay City Rollers. I so very much wanted to be British. I tried to perfect the accent. I think one of the things that really touched me about these guys, besides being cute in the eyes of a star struck girl, was the story about their clothes and how they extended their pants. --- Now my husband's take on this song is much different. It seems his sister was as star struck with these guys as I was. And she played this song OVER AND OVER AND OVER AND OVER AND OVER. It took my husband to the breaking point. When demands to CEASE AND DESIST playing this song were ignored, he flew her into her room like a "Raging Bull" and destroyed the record player. Fireworks flew after that. Ahh, the delights of sibling rivalry.

*********************************
And who doesn't "Owe [their] soul to the company store?" Banjos. Bluegrass. I can't help it ya'll. Yep, I'm southern. Bluegrass and folksy country songs will always have a place in my soul. This is really nicely done.

*********************************
Arrrrgh! We got to have some shanties, maties. I do love me some Irish Rovers. My husband tolerates my tendencies for these songs as a nod to his Irish heritage. That reminds me, Talk Like a Pirate Day is coming on September 19, 2021. (Check out it out here)

*********************************
The Last of the Mohicans is a favorite movie of mine. It holds a special place in my heart. It is a love story that brings me to tears every time I think of it. And this song unravels me when I have emotions that I can't quite express. This song lances them and I cry freely. It is also a movie that my husband and I bonded over early in our romance.

*********************************
J.R.R. Tolkien was so ahead of his time. Not only did he write fabulous stories, but he made languages for them and wrote songs. The Hobbit and the Lord of the Rings are more nostalgic memories for me. I found the Hobbit when in the 7th grade. I was head over heals hooked. I had an old red hooded coat given to me from a trunk of cast offs by my Aunt. I wore that thing all the time playing Hobbits. LOL I started the Lord of the Rings but quit when Gandalf was destroyed by the Balrog. I had already been through so much grief with the Hobbit - I literally cried for days over the deaths of the Dwarfs. When the Balrog got Gandalf I decided I could stand no more. I refused to read it. I was 40 before I was urged to go back to the Trilogy and read it. I was promised it would be worth it. And it was. Then all the movies came out. I was beyond over the moon. --- I did tell you that a child is trapped inside of me that never grew up, right? True story.

Snip from the video description:

"Far Over The Misty Mountains Cold" Credits: "Far Over The Misty Mountains Cold" was written by J.R.R Tolkien and the melody originally appeared in the film "The Hobbit: An Unexpected Journey". Both are great, but I HIGHLY recommend the book.

*********************************
I'm a freak for a Ren Faire. I picked the current place where I live partly because there is a Ren Faire here. Once upon a time I was a living history performer for a place I lived prior. It was a small fair that struggled to survive. I miss that fair. I miss my fair family and the good times we had. My bottle house I was building that never finished. Music like this transports me back to those days.

********************************
The oddity of the music, the video itself, and my love of Halloween and all things occult puts this on my list. I found it years ago and when it suddenly was replace with that wonky video not available message, I panicked. I searched for days and couldn't find it. A friend actually found this version for me. So, it is now snugged back into my play list. I like that they give a disclaimer that it isn't an accurate representation of the Voudon Religion. Having known some on that path during my time in New Orleans, they appreciate that respectful distinction.

**********************
I know my lists are odd collections. But I, myself am an odd collection of events, experiences, thoughts and feelings. This is just my way of sharing some of the mind salad that goes on inside of my head. And to reveal to you an often not seen side of me.
**********************************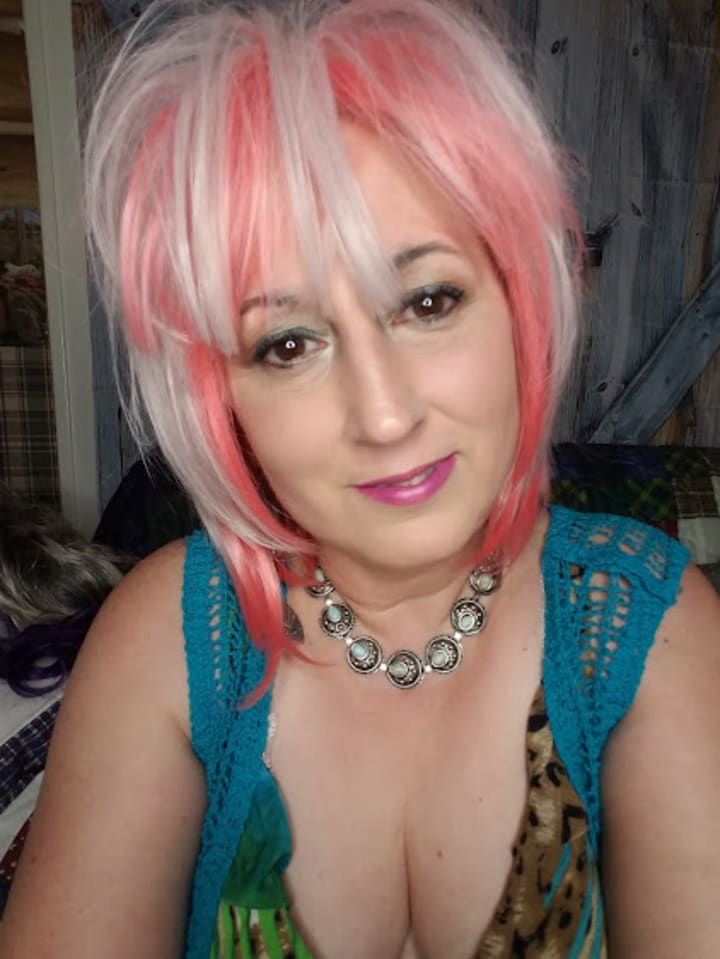 If you're wondering just who exactly wrote this piece, you can find more about me here. If you're intrigued to see what else I've written, more stories by me can be found here. (On photos I put with this blurb, I always try to share a different photo of me so that if you read my stuff often (fingers crossed) you'll get to see the many mes.
On the off chance you appreciated this piece, a heart would be appreciated. It is inspiration to keep moving forward on this writing journey. There is also a tipping option for those who may want to part ways with their hard earned money and for some odd reason impart it to me.
Other Stories by Me:
playlist
Stifled wordsmith re-embracing my creativity. I like to write stories that tap into raw human emotions.
Author of "Bristow Spirits on Route 66", magazine articles, four books under a pen name, technical writing, stories for my grandkids.