North Shore Music Theatre's Jersey Boys Is a Blast from the Past!
'Jersey Boys' is a well acted, head-bopping, and nostalgic show for all audiences.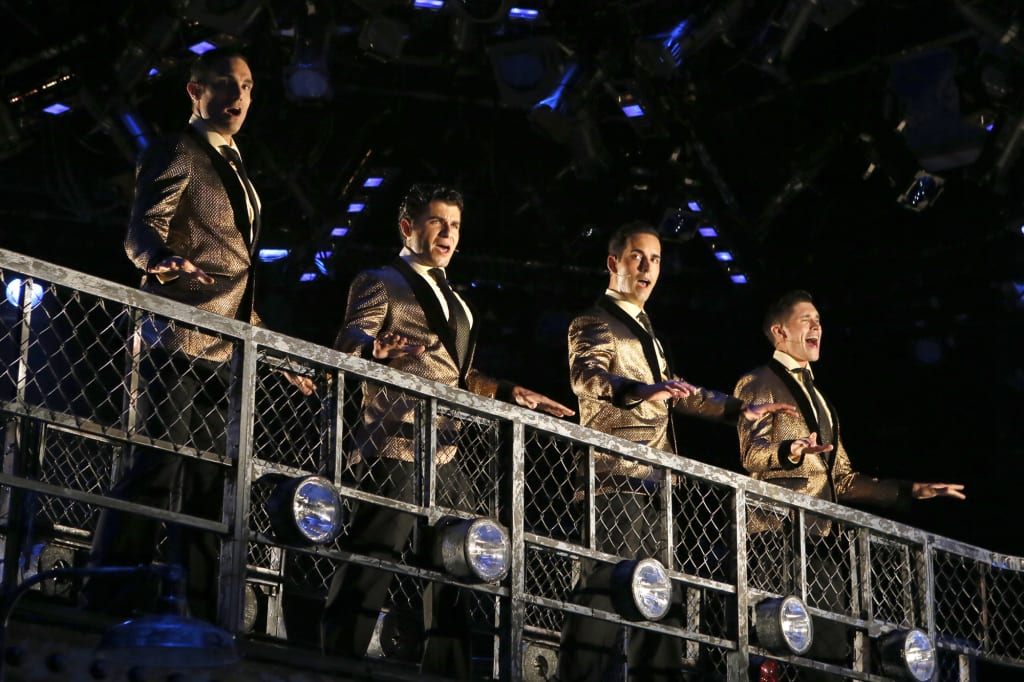 The Jersey Boys, Alex Puette (Nick Massi), Jonathan Mousett Alonso (Frankie Valli), Andres Acosta (Tommy DeVito), and Luke Hamilton (Bob Gaudio) rock the stage at North Shore Music Theater. Photo Credits to Paul Lydon.
Join Frankie Valli and The Four Seasons on their tours around the world. Their music is an instantaneous hit that meets the ears!
North Shore Music Theater's latest production Jersey Boys is about the life of Frankie Valli and how The Four Seasons emerged to stardom. Spending countless hours in recording studios and on tours, drama plagues the four singers. Getting a personal look into the groups lives audiences watch as the story unfolds from the beginning.
I never knew a lot about Frankie Valli and The Four Seasons so the show was a fresh look in my eyes. Jersey Boys is a well acted, head-bopping and nostalgic show for all audiences. I felt like I was sitting at a real concert of The Four Seasons! Told as narrated stories by Tommy DeVito, Jersey Boys is unique compared to your typical theater show.
Jonathan Mousset Alonso (Frankie Valli), Andres Acosta (Tommy DeVito), Luke Hamilton (Bob Gaudio), and Alex Puette (Nick Massi) are spectacular as the members of The Four Seasons. Portraying a living figure is tough but the actors did a terrific job singing, dancing, and providing a memorable dramatic performance.
Alonso was magnificent as Frankie Valli! He had the incredible honor to fill Frankie Vallie's shoes. He most definitely deserved a standing ovation after the delivery of an outstanding song right in the middle of the show!
Acosta delivered a wonderful narration in a strong Jersey accent. He too had an amazing singing voice, standing out with an incredible stage presence.
A small ensemble lifts the show to its feet. It never matters how small your part is. Whether you're a dancer, have a solo, or you say a line that has the entire audience laughing every part in the theater is important.
I especially have to give a shoutout to ensemble member, David LaMarr. LaMarr performs as a few characters and delivers one of the funniest lines in the entire show!
The set for Jersey Boys is a phenomenal work of craftsmanship. Set upon the stage an entire rustic iron structure resembling a city apartment fire escape was designed to rotate around the stage for all audiences to witness the action.
Whether it represented a room, an alleyway, or even a car, the set was remarkable! I applaud all those, especially actresses in heels, who have to run down the spiral staircases even when the set was in motion!
Props to everyone who had a hand in building the set! Jersey Boys would not have been brought to life without an excellent crew who dazzled the stage with brights lights, provided the best sound, and for the show to run smoothly.
Speaking of which, a live orchestra led by Milton Granger is present right underneath your feet. The songs are glorious flashbacks into the sixties. To name a few, "Big Girls Don't Cry," "Walk Like a Man," and "Can't Take My Eyes Off You" are instant show stoppers. Literally! Audiences are so taken by the authenticity that applause goes on for an entire minute! And it's only a theatrical performance!
Director, choreographer, and Artistic Director of North Shore Music Theatre Kevin P. Hill did an astounding job bringing a fun story about the lives of four band members to life. History cannot be forgotten. Jersey Boys message is very important. Although the lives of those who we cherish shine onstage we all have darkness plaguing on the inside. We all have a story to tell.
One of my favorite parts about the show was the nostalgic energy among every member of the audience. Jersey Boys was before my time but witnessing an audience howl in approval made my experience worthwhile. For those who have grown up listening to the Jersey Boys, North Shore Music Theatre's phenomenal rendition is a blast from the past!
Jersey Boys is playing at North Shore Music Theater from August 6-September 1. Buy your tickets before they all sell out. You don't want to miss this blast from the past!