Bust a Rhyme
Nipsey Hussle - 'Victory Lap' Review
Has his marathon caught its second wind?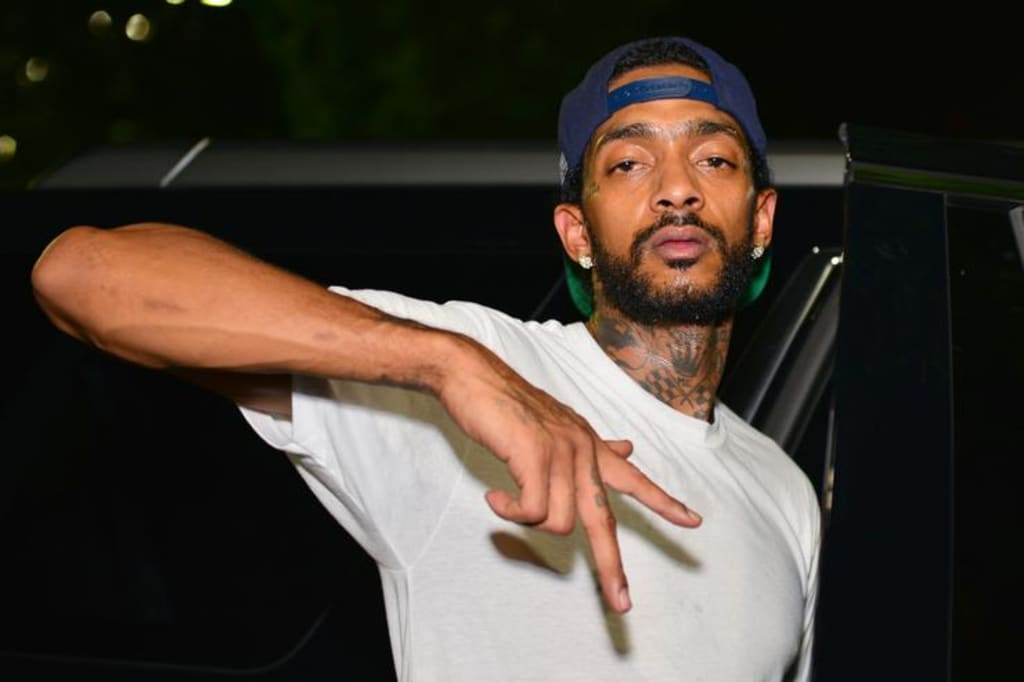 "I'm a master of my fate, plus I'm the type of [...] own the masters to my tapes."
Los Angeles California rapper, Nipsey Hussle grinded for the prolific career he enjoys now. It's been a tumultuous ride filled with highs and lows; triumphs and obstacles. Yet through it all, he's been able to sustain longevity.
Hussle's determination to control his destiny and be the captain of his own ship has made him a compelling MC and entrepreneur. The intrigue of his rags-to-riches story, and the tenacious drive that seeps through his music is what made Jay Z buy one hundred copies of his Crenshaw mixtape, and what made Gary Vaynerchuck gravitate towards him.
In 2017, he was finally able to open his own store in the middle of his hood. This business venture underwent years in the making, but failed to see the light of day repeatedly. It's now an inspiration to Crenshaw's community and helps to jump-start the new lives of former prison inmates.
Nipsey Hussle has been a champion of the streets for so long, that the arrival of a "debut album" in February of 2018 sounds odd. After all, he's had numerous mixtapes; so Victory Lap really feels like the beginning of something else: the next chapter in Hussle's career.
One that may be marked by heightened commercial success and bolstered media attention. For many, this album will be the first time they've listened to Nipsey Hussle. Whatever the case, those outside of LA won't be able to ignore him any longer.
The chip on his shoulder, and the intensity of his ambition is what makes this album so liberating and inspiring. You can't listen to this album and not be motivated by this contagious energy. It's what makes Kendrick Lamar show admiration for his hustle on "Dedication."
It's why when he's ultra-overt in distinguishing himself from other artists on "Rap Niggas," it feels like a well-deserved declaration. Or why his braggadocio on "Last Time That I Checc'd" plays like a fact checklist.
He's transparent about his grueling climb to the top on "Grinding All My Life," and encourages his listeners to, "Try and do what we done" on "Million While You Young." Track after track, bar after bar, this album is a soundtrack for Nipsey's accomplishments, as well as fuel for the everyday lives of his listeners.
If there's anything to knit-pick here or left to be desired, it's that the last four songs lose some of the momentum created by the first twelve songs. I would've liked to hear a collaboration with Vince Staples as well since they're both former Crips. It would've been consistent with this album's theme of "victory" since they were both able to escape LA gang culture and find success.
Essentials
"Keys to the City" ft. TeeFLii
"Last Time That I Checc'd" ft. YG
"Dedication" ft. Kendrick Lamar
"Young Niggas" ft. Diddy
"Succa Proof"
"Million While You Young" ft. The Dream
"Status Symbol 3" ft. Buddy
"Double Up" ft. Belly & Dom Kennedy
"Hustle and Motivate"
"Rap Niggas"
The Verdict
It's still too early to decide, but this album may make it onto the best rap albums of 2018 list for many people. Nipsey Hussle's one of a kind determination and willpower to grind through adversity has carried him far. If you're just now tuning into his music, there's a lot to revisit. But even more so, there's a lot still to come. Nipsey's debut album is a polished, cohesive triumph. Who knows what he'll do next?
Whatever it is, he has more than enough hustle left in him. Victory Lap is an A-.