Never My Call
The fallacy of thinking we know what it is that some else needs to hear.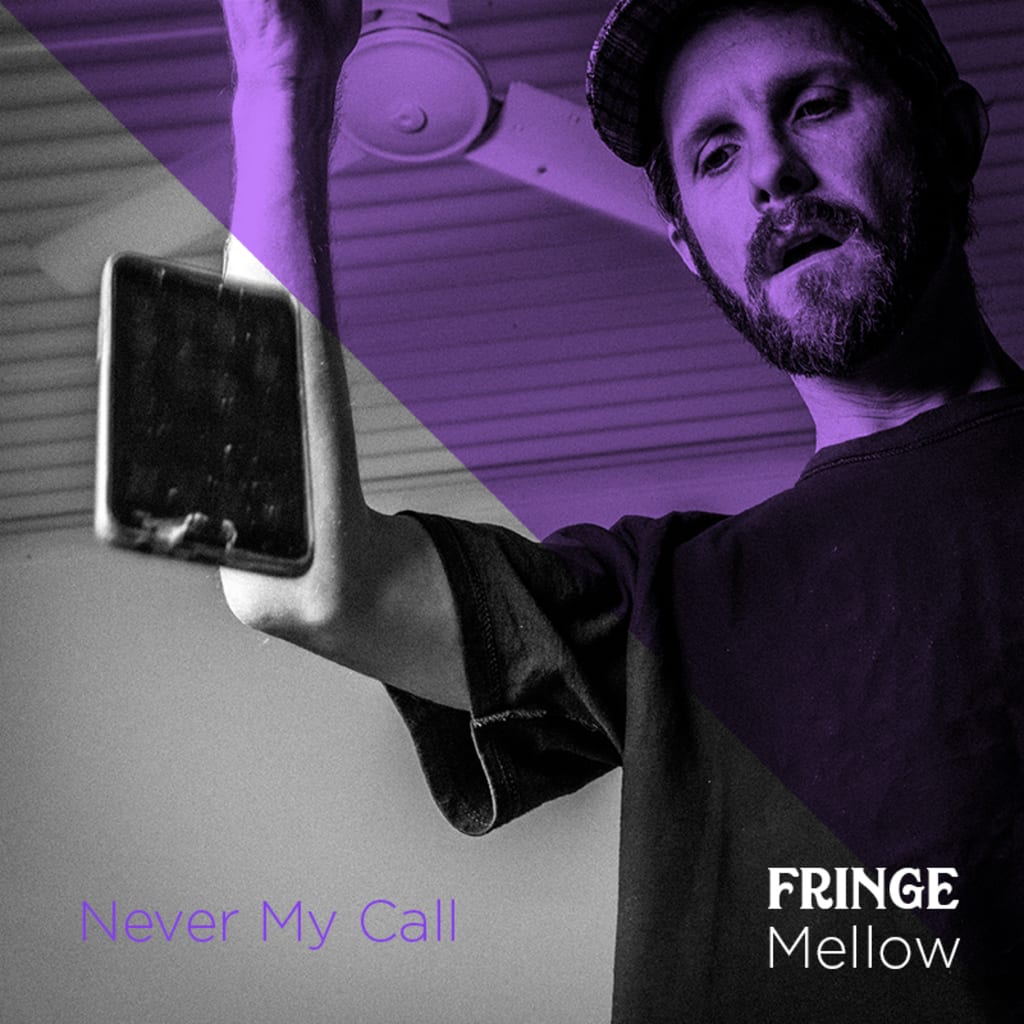 Single artwork for Fringe Mellow - Never My Call
"Never My Call" is about the realisation that being there for someone doesn't necessarily mean having the answers.
I wrote this piece with my relationship with my wife in mind. This song isn't a real account for any sort of drama we have sustained but it does speak of a maturing relationship. The first verse is about the prospects, the possibility, and the fantasy that new love can offer, and the second verse is about sustaining, accepting, and supporting.
This song found its feet in a quite bizarre way. Initially, henry began making the music while I wrote some lines that might fit the sound intuitively. I didn't know what I was saying at first, although I liked the conversation it sparked.
We talked about what it means to "have that right thing for you." From the outside looking in, we can often gather a good idea of what might be good for someone we care about. I don't think it's a negative thing, it's just something we tend to do. Kind of like looking out for someone. Sometimes we are so hung on fixing other people's dilemmas that it becomes an issue for ourselves. In this case, perhaps it's better to let it go and acknowledge that it's not your call.
Chorus - How many times have I called you and you won't call me back - I got that right thing for you, why can't you come and see - because I keep falling holding onto what you need, I should have let it go this was never my call.
Chorus Translation - How many times have I tried to get through to you and it doesn't get received. I know what's right for you, why can't you at least look at what I'm saying. I keep stumbling because I won't let it go, perhaps I should have let it go. after all it was never my call.
I started writing this piece using periods i.e. from the beginning to where we have come. I remember meeting my wife over a couple of drinks. Remembering the confidence and excitement I had in finding my match. When I wrote this song, I wanted to display a contrast between fulfilling our dreams and fulfilling our reality. At the beginning of a relationship discovering synchronicity with another person is a pretty rewarding experience, similar to riding a wave. We tend to dive in and go along with it dreaming of all the possibilities.
Verse 1 - I was seeing it all in neon lights - We spoke all night - spirit on ice. It was working out - I felt the vibe. Woke up next minute - I felt alive. The whole earth spinning - I took the ride - and never looked back - I took the prize. It felt so good - it could never be wrong. We were so well put - it wouldn't be long. Till we gave each other that special gift. Thinking as one an incredible fit. You did for me what I did for you and together we lived.
Verse 2 - I thank god we have love because together we can never have all the above. I made mistakes, I thought for you - you made some too. I tried to play in the same court as you - but we're not the same. Change comes we support, maintain, and morph - into something new. I was on your case. You didn't want it to come from me because you love my face. No! not from me - you can't take it. The truth is harsh and this house is sacred. I had the right thing for you... I wanted to believe - but I haven't got a clue.
Verse 2 suggests that we are more different than we realise. What we once viewed as perfection in the beginning later unveils the reality that we are floored individuals. We might idolize each other in the beginning but the truth is neither of us is godly. We fuss, we fight and we think we know what is right. The truth is harsh and it hurts me when I hear it from you because life is ugly but our reality is beautiful.
My favourite concepts to write about when making music are the concepts that people don't often talk about. Many artists boldly step into terrain surrounding relationships with concepts that drown in the ocean of what has been before. I like to look at the reality and finer dynamics that bring us together and speak from experience in the hope that listeners can relate.
Listen to "Fringe Mellow -Never My Call"
Never My Call Image Artwork
The artwork for the single is an image of me watching my phone drop. The phone was in black and white and I coloured purple. To suggest that something is black and white is to suggest that something is clear. This image suggests that I have let go of taking the call after having the realisation that the call wasn't for me. I suggested the use of the colour purple because this was the colour I associated with this song through my experience of synesthesia. The colour purple also can represent independence symbolizing the letting go of having to take a call on behalf of others. This image was envisioned and produced by Henry Glover Photography.
About the Creator
Fringe Mellow music is down to earth lyricism presented in a rhythmic spoken word delivery over house inspired beats and production. Fringe Mellow represents the experience of being human.
Reader insights
Be the first to share your insights about this piece.
Add your insights