Merengue Tipico; In My Heart and Blood
The timeless music of the corazon
Every Dominican knows there is nothing better than dancing. And what is dancing without music? The Dominican Republic, mi tierra. My birthplace. The land that birthed merengue and other beautiful things like Bachata, mangu, sancocho, and of course - my favorite - my entire family.
Smily Morning
One morning, I opened my eyes, and the first thing I noticed was the sweet aroma of coffee filling the air. I got up and walked towards the living room, my bare feet cooling as they may contact with the cold ceramic floor. I found my mother and grandmother sharing some coffee over a conversation. The morning was serene and still, yet it was strangely alive. Birds flew by, chirping just outside the window. It was as if they were singing a unique morning tune. I stopped for a second. I looked out the window, and the birds greeted me with their song. I walked towards my mother slowly to give her a hug.
" Buenos Dias!" She said, hugging me back with a semi sing-song tone. Her smile, bright as the morning sun, warmed my heart. I turned to my grandmother and wished her a good morning as well. She sat me on her lap and offer me some coffee and bread.
While my grandmother and I walked to the kitchen to get more coffee, my mom turned on the radio. An Anthony Santos song came on.
Every time I listen to this song, I am transported back, and I feel the serene air of that morning.
El Sol, La Playa, El Mar - The Sun, the Beach, The Sea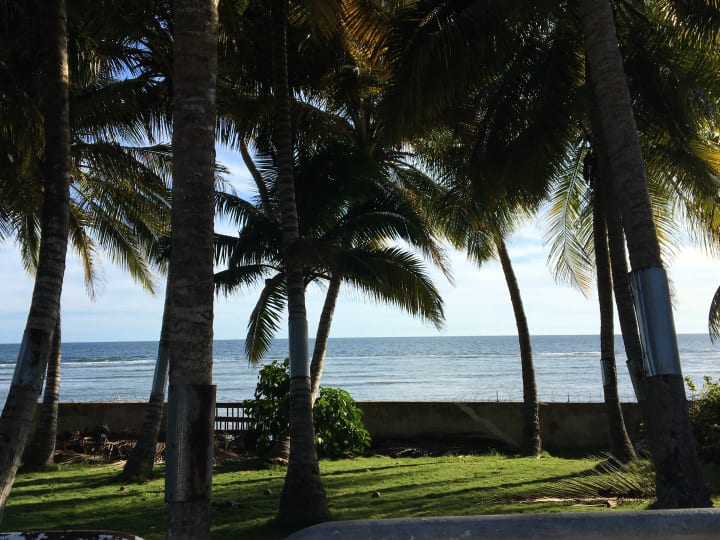 After ten years of living in the United States, I finally returned to my place of birth. I was just eleven years old when I first came to live in New Yor City with my dad. At first, it was all new and exciting; the trains, bodegas, and bus systems. It all felt like a new type of freedom. However, this feeling didn't last for long. You see, I came into this country in July of 2010, which was the beginning of summer. The weather was still familiar, similar to that of home.
In October of 2019, my mom finally became able to travel. As soon as I got the news, I started looking for airplane tickets. As I researched, my blood was pumping through my entire body. The idea of going back home was exhilarating and nerve-wracking.
When I first stepped out of the plane, I could feel my heart beating in my chest out of excitement. One of the first things in our itinerary was to visit the beach, which we did on the second day.
The blue skies and saltwater, the palm trees and fried fish, live music, and family time. I grabbed my friend, who had come with is to the Dominican Republic. I taught her how to dance merengue while we talked, and laughed. For a moment, I thought I was in paradise.
Liar
"I cheated on you."
Those words echoed through my being when I first heard them. My entire body started pulsating, as one giant heartbeat. My senses blurred, and I could no longer think straight. I looked around the room, looking for the air that had left my lungs. I lowered my head, and tears started rolling down my cheeks and into my pants. I finally looked up. Then I turned to my right. There he was.
After he left, I popped my headphones in my hears; I increased the volume if my phone to the maximum, and I played one of my favorite songs, Juan Luis Guerra's canto de hacha. The sweet rhythm of the music was like a spell; it made my body swing from side to side and shake my hips. I turned and danced all by myself, the same way I came to this world - alone. I felt the music infiltrating through my veins, the cells of my body absorbing the beat. I danced and cried until I could no more.
Every time I need a sweet dose of escapism, I use Juan Luis Guerra's music. As the music flows through my vein, I feel alive.