Kwame Prince Kese
'Family Matters' ... 12 Original Smooth Jazz songs on one incredible album.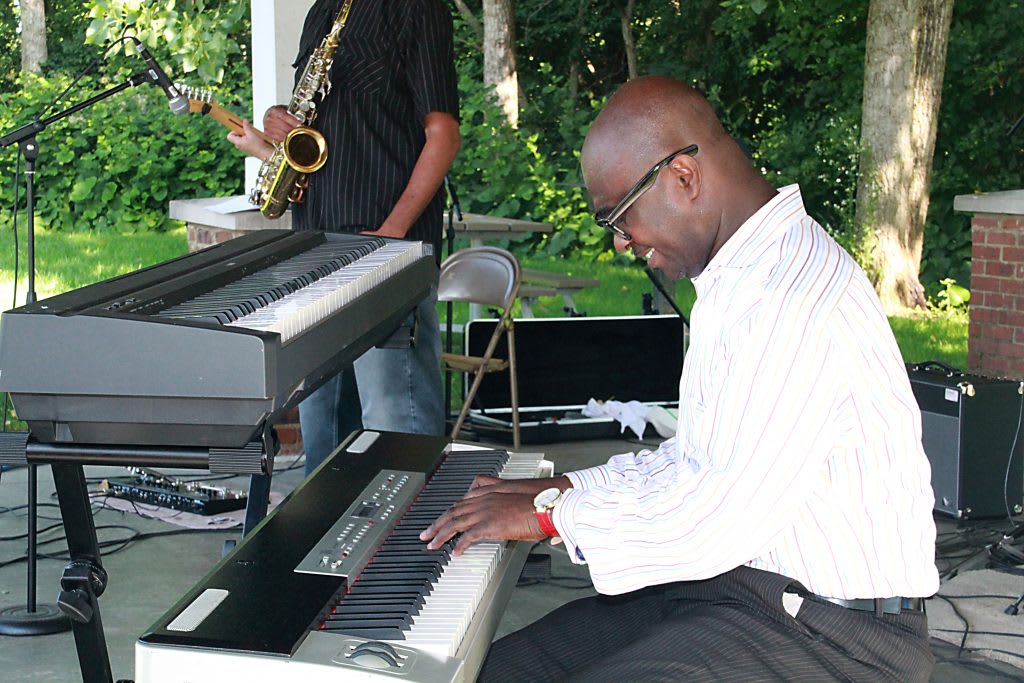 Kwame Prince Kese
Kwame Prince Kese is a professional. multi-instrumentalist who writes his own music.

HipHopMomma recently added songs from Kwame Prince Kese latest album, Family Matters, to two of our playlist R&B, Soul, Jazz from Around the World and Just Jazzin'.

Kwame Prince Kese took the time to tell us a little about his music.
What 1st drew you to music?
It's a gift in my family.
Do you have a preferred or chosen genre?
Smooth Jazz
Tell us a little about your newest single, ep, or album.
My latest full album, Family Matters, has 12 original songs.
Are there any challenging aspects to writing and/or recording your music?
Yes, about financial issue thats my challenge.
What is the best song you ever released and why?
I have 4 cd's available right now. My latest album entitled Family Matters songs contains like No Holding Back, Bold and Gentle, Hope Never Dies, The Best Is Yet to Come, & Family Matters.
What song do fans seem to favor?
All these songs ... No Holding Back, Bold and Gentle, Hope Never Dies, The Best Is Yet to Come, & Family Matters.
Which song, your song or a cover, do you think would be fun to perform live?
Absolutely.
Has your style evolved since the beginning of you career?
Yes.
What do you enjoy most about being a musician?
Creativity
Would you like to travel to other countries to perform your music? if so, what would be your first stop?
Yes.
Other than fame & fortune, is there something you hope to achieve through music?
Yes, I want to produce new people like a new artist.
Tell about a magical moment or positive experience that has happened during your music career.
I'm a producer and engineer for 35 years.
Who inspires you musically?
Brian Culbertson & Norman Brown.
If one artist were to perform at your party, who would get the call?
Brian Culbertson.
How do you feel the internet has impacted sharing your music?
Radio Airplay.
What is your favorite/best outlet to connect with your followers instagram, spotify, fb, twitter, itunes? how would you want them to follow?
What does the future hold for you?
I want to have my own record label in the future.
Did I forget to ask something? Something you would like to say, that I did not address.
No sir.
HipHopMomma will be sure to keep you up to date on this talented artist, Kwame Prince Kese.
Psssst... while we have your attention.
HipHopMomma has promoted emerging artists and musicians since 2013.

By focusing her specialized skills on a single goal, curator Kay Matthews (aka Momma Sez) created a centralized hub where artists can be heard, and listeners can access their music. This comprehensive online presence includes a blog, streaming playlists, curators network, social connections, and and affiliates.

This cutting-edge promotional service now seeks to include musicians and artists from all genres, expanding its artist roster and viewership.

HipHopMomma invites musicians of all genres to submit their music at the website. Submitting music is easy and fast, providing dofollow links that lead listeners directly to the artist's music for more exposure.

HipHopMomma encourages fans to visit and browse, listen, and discover new and emerging artists in all genres. Music fans can share their favorites or easily add the featured artist to their own playlist and continue listening once they leave the website.
IMPORTANT LINKS

HipHopMomma.com: the main website

playlist.HipHopMomma.com: features the top charting iTunes songs; as well as, the featured artists and musicians being promoted

Spotify playlist: several playlist to browse, with more to come

IG: connect with me on instagram

Linkedin: connect with me on linkedin

Twitter: of course, we will give shoutout to the artist
interview
About the author
Inviting music fans to explore new music from around the world
Hip Hop Momma supports and promotes seasoned & emerging artist of all genres ...
http://hiphopmomma.com