Bust a Rhyme
Kanye West 'Late Registration'
Review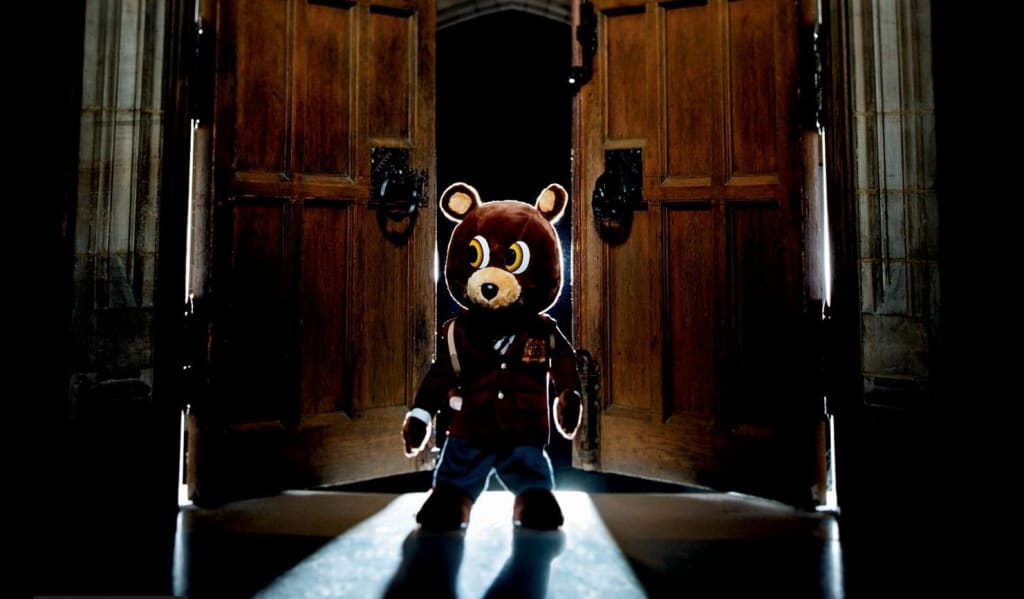 Opening Opinion: 9.25
I was very very excited to buy this album when it first came out. I'm pretty sure everyone was wondering could Kanye hit a home run again. And the answer is a resounding yes; even though his lyrics aren't improved from College Dropout. The beats are also different. This isn't necessarily a bad thing, but this album has a glossier sound than his debut album.
The album starts off with that teacher (yeah the faculty guy from CD) telling Kanye to wake up in his class. Then there's 3 great songs, "Heard Em Say" featuring Adam Levine (who was pretty popular at the time). It's a really nice laid back song. Then there's the explosive "Touch the Sky" which has Lupe Fiasco on it. Ah I had never heard of the Chai Town rapper before that song. "Gold Digger" is an anthem type song. Jamie Foxx is on the hook and the beat is very original.
After that there's a Broke Phi Broke skit, which is the first of 4 on the album. It's pretty funny. "Drive Slow" features Paul Wall and Consequence. The song is real laid back with a dope beat. Kanye goes first, and the other two rappers cannot steal the spotlight. Next is "My Way Home," which lets Common rap by himself. This verse is really good opposed to the bars he had on College Dropout. The song isn't all that great though.
The next song, "Crack Music," has Game on the hook. He doesn't add much to the song really. Kanye spits about how Blacks were oppressed and he talks about rap being… crack music, that real black music. "Roses" is a very personal song for Ye'. He talks about his Grandmother's passing. I love the chorus.
Brandy joins Ye' on "Bring Me Down." It's a pretty good song. The beat is nothing special as far as Kanye's beats go. Kanye takes jabs at unnamed rappers a lot in this song. The next song, "Addiction," is simple but it's one of my favorites. "Why everything that 'spose to be bad make me feel so good…" The song is about addictions to money and women mostly. This song continues to add to the glossy polished sound of the album.
Broke Phi Broke skit #2 is pretty funny. "Ain't got no money, Ain't got no clothes, Ain't got no cars, Can't get no hoes!" In an interesting move, Kanye puts the remix to his lead single "Diamonds" right here after the skit. Jay-Z is on the song, and in the words of Ye', he kills the track. For the first time on the album, a rapper steals the spotlight from Kanye. That isn't too surprising considering Jay is a top 5 rapper all time. The song is about Rocafella records being around "forever." The song is really really dope.
"We Major" is a long song, but it's really good. The lyrics are dope, the beat is glossy as hell, and oh yeah Nas, yes Nas is on it too. After that is a BPB skit, it's a nice set up for the next song, "Hey Mama." Kanye's ode to his mother (R.I.P.) is one of rap's best songs about a mother kinda like Pac's "Dear Mama." The song is good, but it's sample is a little corny. "Celebration" is a song I don't listen to that much, but it's hot. The beat is about as glossy as you can get. The song is really catchy.
The BFB skit returns for the last time here. This one is hilarious as Ye' is busted for "Eating everyday, and making beats on the side." Kanye cannot explain his new shoes lol. "Gone" is a great song. It features Cam'ron and Consequence. It's a great end to the album as Ye's spits the last bars. The bonus tracks are "Diamonds" and "Late." Both are great songs.
2nd Opinion: 9.5/10
While its not quite as great as its predecessor, Late Registration is a win for Kanye. He avoids the sophomore slump easily.
album reviews