Jay Z: From Worst to Best
Ranking Hova's Albums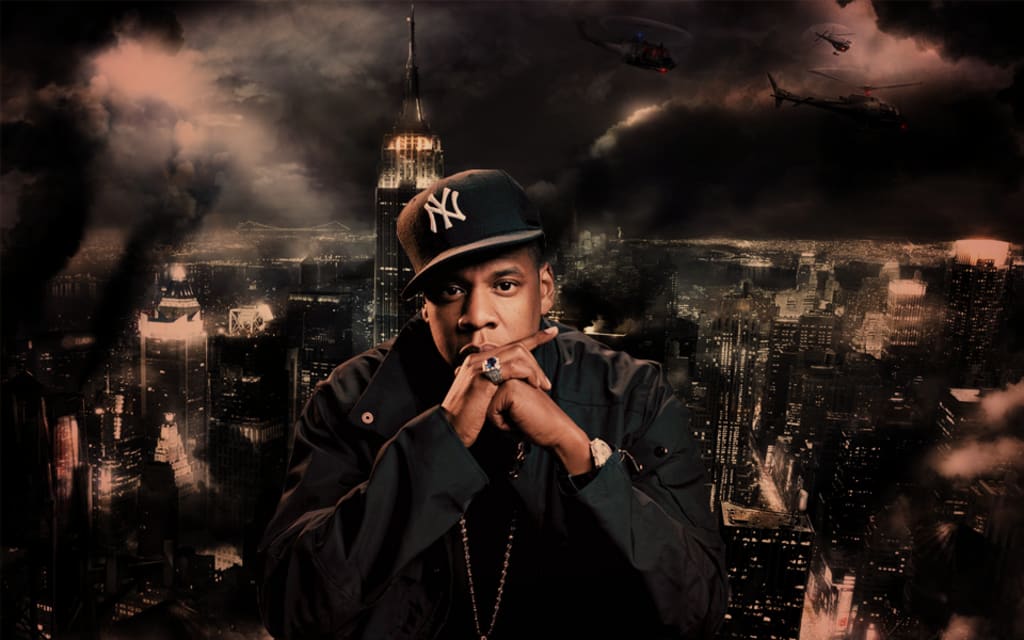 *Note this is up to date for 2017. Dynasty Roc La Familia is not included*
13) Blueprint 2-82:
BP2 is Jay's effort right after his masterpiece album. The production is solid here. However, Jigga was trying too many different things on here. Some were really effective like "03 Bonnie & Clyde" and others weren't. All in all his bars are not up to his usual standards…It is a double disc….so there's a lot of filler. Top Tracks: U Don't Know (Remix), 03' Bonnie & Clyde, Excuse Me Miss, Hovi Baby, The Watcher 2.
12) Kingdom Come-84:
Jay's coming out of retirement party is decent…..The production is flashy but not that cohesive as other albums from him. The songs "I Made It" and "30 Something" are highly skippable, but nothing is worse than "Beach Chair" one of his worst songs. Lyrically it's not that bad but again not up to Jay Z's incredible standards. There is also a good amount of guests, too. Top Tracks: Lost One, Trouble, Show Me What You Got, Kingdome Come.
11) Hard Knock Life, Vol. 2-87:
Yes, you read right, to me; Jay's most commercially successful album is one of his worst. Sure, it's got bangers on it, but outside of those it's a tad shallow. Only a tad though. I mean there's huge guest list and everybody seems to add something good, like Amil and Ja Rule on "Can I Get A". The production is really solid. This album is kind of the beginning of a new Jay Z compared to how he presented himself on his first 2 albums. TT: Hard Knock Life, Money Ain't A Thing, Can I Get A, Nigga What Nigga Who.
10) Vol. 3…The Life and Times of S. Carter-88:
This 4th Jay album is more of what we got from him on Vol. 2…but it's better lyrically. I really like just about every song. Also, there's "Big Pimpin" with UGK. The production is also really good, but not quite as good as it was on HKL. TT: Dope Man, Snoopy Track, Big Pimpin', It's Hot (Some Like It Hot)
9) American Gangster-90:
Depending on who you ask or talk to, determines how people feel about AG. Jay came back in lyrical prime after a somewhat disappointing showing on KC. The problem here is some filler tracks and some of the production. However, the album is fire. I love the theme too. Can't get this one on Itunes :P TT: Hello Brooklyn 2.0, Roc Boys, Ignorant Shit, Blue Magic.
8) Watch the Throne-91:
The rap duo album with Kanye West is really good. It sounds a little dated now, but that doesn't mean it's not great. The production is really solid. I feel Kanye more than holds his own with Jay Z here. They sound like associates, not friends here. Not all the songs are bangers tho. Can we get a WTT 2? TT: Niggas in Paris, HAM, Otis, New Day, Gotta Have It.
7) Magna Carta…Holy Grail-95:
A lot of people seem to not like MCHG, but I love it. In fact, from this point on there's just not a whole lot wrong with each album. The production is solid as is Jay's bars. Some of the songs are too similar and not all that interesting. However, it still has lots of catchy songs like "Tom Ford" and "Part II (OnThe Run)." As for me writing this, this is his latest work, and it was certainly one of the best albums of 2013. TT: Somewhereinamerica, Part II, BBC, Oceans.
6)Blueprint 3-95:
This is a really solid album. The production is top notch and Jigga spits hard. The production was mostly handled by Kanye's mentor, NoID. It's one of those albums where it's not easy to name the best song. I'm still not sure. It edged out MCHG but barely. Some songs like "Venus & Mars" have creative topics, but most of this is just well executed songs. My favorite track has to be "Run This Town". TT: Already Home, D.O.A., On to the Next One, Empire State of Mind, Run This Town.
5) 4:44-97:
Jay's latest album is really really personal and revealing. It's really short but dope as hell tho. The title track talks about his unfaithfulness to his wife Beyonce. "Kill Jay Z" is a terrific opener, but nothing is really as relevant as "The Story of O.J." The album has great production and lyrics…but not quite as legendary as the next album. Top of Tracks: Family Feud, 4:44, Kill Jay Z, The Story of O.J., Caught Their Eyes, Smile.
4) In My Lifetime Vol 1.-97:
Jay Z's second album is really underrated. One of the weaknesses though is its kind of like a more popish sounding Reasonable Doubt. However, Jay's lyricism is top notch here. There's a good amount of guest spots, too. The production ain't bad either. It's a very good record. TT: The City Is Mine, (Always Be My) Sunshine, I Know What Girls Like, Streets Is Watching.
3) The Black Album -99:
This is arguably my favorite Jay album, and the one I've heard the most I think. From a technical aspect, it's flawless. The beats are so varied and different (due to different producers), yet they sound pretty cohesive. Lyrically Jay spits hard bars. "Dirt Off Your Shoulder" and "Change Clothes" are two of his better songs and they're back to back! He was supposed to retire off this album, and honestly he could have. TT: Dirt Off Your Shoulder, 99 Problems, Change Clothes, What More Can I Say.
2) Reasonable Doubt-100:
This album grew on me. I didn't originally have it scored so high. The rhyming is complex and smooth. There's a good amount of guest spots, too. It's easy to see why Jay's career took off after this. "Brooklyn's Finest" with Biggie Smalls is a great song, as is the iconic "Dead Presidents II." Ultimately there's just nothing wrong with this album. It's not #1 however. Top Tracks: Ain't No Nigga, Brooklyn' s Finest, D'Evils, Dead Presidents II.
1) Blueprint -100:
Okay so this is it, the Jigga's magnum opus, and also a top 4 or 5 rap album all time imo. While The Black Album was a contemporary masterpiece and Reasonable Doubt was a classic, the first Blueprint is better. The lyrics are really on point. So damn good that Jay seems bored with how easy it comes to him. The production (from the likes of TImbaaland, Eminem, Just Blaze, and Kanye West) is amazing. Sure Eminem upstaged him on "Renagade," and "Takeover" wasn't as vicious as "Ether"….but this is the one he'll be remembered for. Top Tracks: Girls Girls Girls, Take Over, Izzo(HOVA), Heart of the City, Renegade, Song Cry.