How to Use Spotify on Denon DJ? Solved!
Understand how to use Spotify on a Denon DJ? Discovered that Denon DJ cannot import Spotify music that has been downloaded. Stay calm! This article demonstrates how you may quickly convert Spotify tracks to MP3 format for Denon DJ playback.
Table of Contents
Part 1. About Denon DJ's Partnered Music Streaming Platforms
Part 2. How to Convert & Download Spotify Music in MP3 Format hot products
Part 3. How to Import & Use the Downloaded Spotify Songs to Denon DJ
Quick Video Tutorial:
Part 1. About Denon DJ's Partnered Music Streaming Platforms
Additionally, as was just mentioned, Denon DJ has teamed up with a number of cutting-edge digital music services that have extensive music libraries, making songs available to Denon DJ users all around the world. Created for Denon DJ and Prime range devices, DJs now have access to millions of original tracks, mixes, and remixes. Denon DJ has begun integrating with various music streaming services, but it hasn't yet joined forces with Spotify. Of course, it's possible that this will occur soon. Nevertheless, the Denon DJ player does not yet support direct Spotify song playback. Here are several streaming partners that have been or are coming shortly.
* SoundCloud - The biggest open audio platform in the world, SoundCloud, will be included in this new connection. SoundCloud users may now quickly stream and mix the vast library of more than 200 million tracks from over 20 million creators utilizing a SoundCloud Go+ premium consumer membership thanks to solo streaming via the Prime Series.
* Tidal - Independent streaming on the Tidal platform gives DJs access to more than 60 million songs, providing a vast range of music to suit any crowd, dance floor, or occasion. DJs have easy access to their Tidal playlists as well as the platform's own carefully crafted playlists. containing a variety of tracks and exclusive material that spans all musical genres.
* Beatport - Beatport's new LINK technology, an innovative streaming service built specifically for DJs, will support standalone streaming on Denon DJ Prime Series hardware. It's also the first service of its kind to include an offline storage mode for public performances.
* Beatsource - Beatsource is a professional DJ platform jointly launched by Beatport and DJcity. This new platform will provide access to an extensive music catalog, genre-specific discovery, intuitive playlists, and expert picks.
If none of the aforementioned streaming services satisfy your demands, or if you use Spotify and want unrestricted access to Spotify tracks on Denon DJ, you should be aware that Spotify employs its own unique encrypted Ogg Vorbis codec, just like all other music and video streaming services. The upshot is that only the Spotify app will be able to read the files you download to your phone or computer using its download feature. So how can you get the unlicensed Denon DJ Engine Prime to recognize and use Spotify Music? Finally, before importing them into Denon DJ Engine Prime, you must convert these Spotify songs to their original formats and download them to your local computer. How is this accomplished? Read on for the next section.
Part 2. How to Convert & Download Spotify Music in MP3 Format
If you want to convert Spotify music into ordinary audio files, a powerful Spotify music converter is an essential tool. Among the many options, the TunePat Spotify Converter, a converter with a clean interface, no need to download redundant programs (including the Spotify app), and a high-speed(10X faster) conversion function, stands out. This is a well-designed Spotify downloader and online player that can be used by Spotify Free and Premium users. You can also play the downloaded Spotify Music directly within the TunePat program.
With this tool, you can get Spotify songs in different formats, including MP3, AAC, WAV, FLAC, AIFF, and ALAC. And the Spotify Music you get retains intact sound quality and ID3 tags simultaneously. In this way, you don't need to worry about not being able to manage your huge local music library reasonably and methodically. TunePat Spotify Converter has other and more user-friendly output settings to choose from. We will explain this in detail in the following step analysis.
Step 1: Log Into Your Spotify Account to Access Spotify Music Library
Install the TunePat Spotify Music Converter on your computer. After running, please click the "Open Spotify Web Player" button in the center of the screen to access the web player embedded in TunePat. You will see the instructions on the screen if you are a novice user. Then you need to follow it to go to the login screen to fill in the account information of your Spotify account.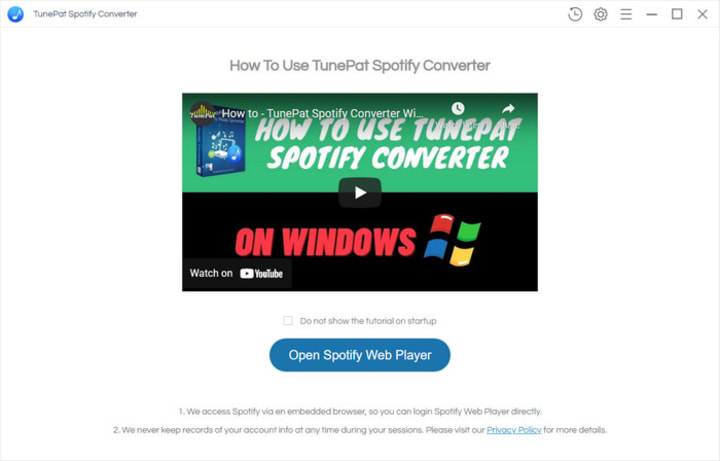 Step 2: Change the Output Settings As You Like
Before starting to select your favorite Spotify music for conversion, please click the "Gear"(Setting button) button at the top right of the screen and visit the Settings window. Here, you can customize the output format, sound quality, output filename, output path, and other parameters on demand. According to Denon DJ's official technical specifications, the supported audio formats include AAC/M4A; AIF/AIFF (44.1 - 192kHz, 16 - 32-bit); ALAC; FLAC; MP3 (32 - 320 kbps, VBR); Ogg Vorbis and WAV (44.1 - 192kHz, 16 - 32-bit).
Thus, Denon DJ is compatible with every output format that TunePat supports. Only the file size and audio quality—lossy or lossless—need to be taken into account. Closing the window will automatically apply all the selected adjustments after they have been finished.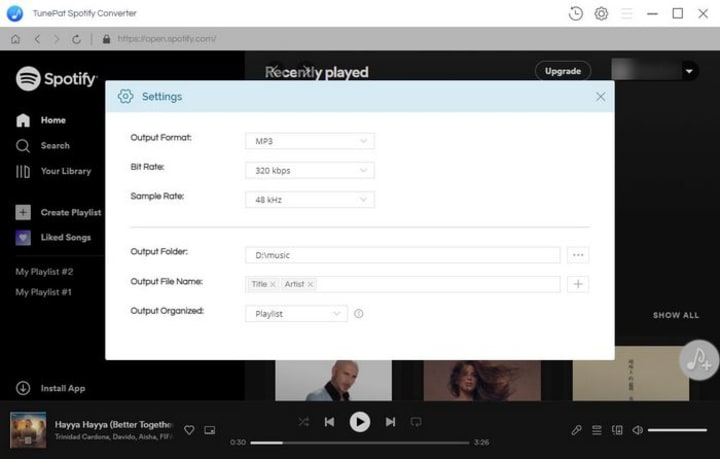 Step 3: Open Target Spotify Songs or Playlists
Please now locate or search for the Spotify music that you want to convert. To open an album or playlist, click on its cover. The "Add to list" button will then appear in the bottom right corner. The button will appear to the left when the mouse is moved over it. Please click this button to open a new window that contains every song from the selected album or playlist.
You can do one of the following according to your needs:
① Please click "Save to list" at this step if you wish to convert tracks from numerous different albums or playlists at once. This is to briefly store this music in the background. This is to temporarily store these songs in the background. When you are chosen, you can return to the previous level and keep adding more songs. In the upper right corner, please click the "Task list" symbol to finish. To start converting music, click the "Convert" button inside.
② If the songs you want to convert are already in the window, please click the "Convert Now" button to get all the Spotify songs in the list. Or manually check the items and click Convert Now to start converting.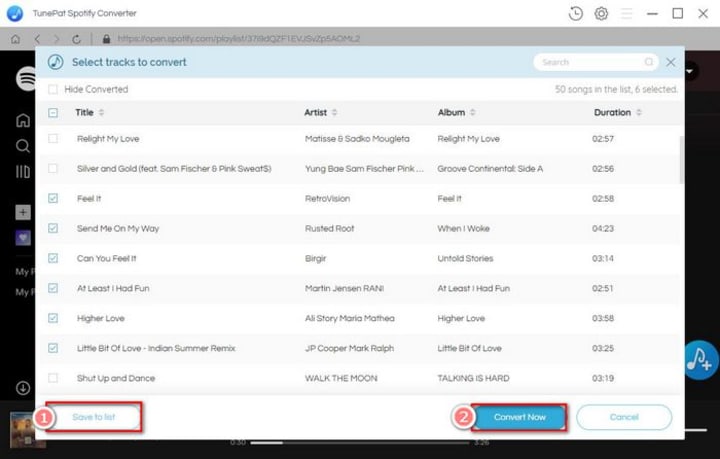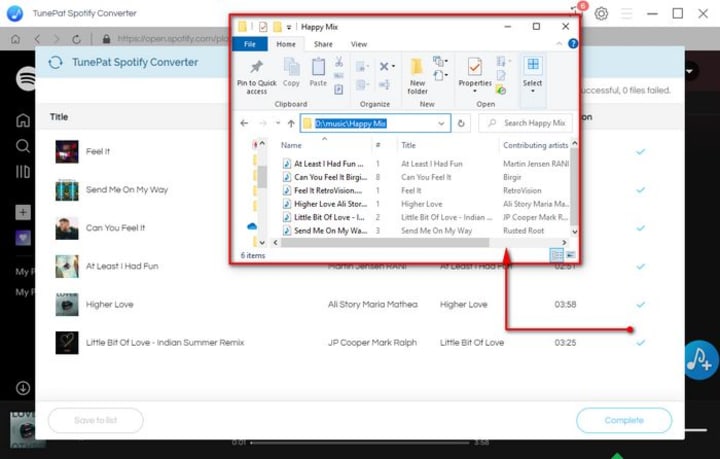 Part 3. How to Import & Use the Downloaded Spotify Songs to Denon DJ
The last part is to import the converted Spotify Music locally into Denon DJ Engine Prime for use.
1. Download the appropriate version from Denon DJ official. Then launch it.
2. You can see from the main panel that there is a column of toolbars at the bottom left. They are Apple Music Library, Serato Library, and File System Browser. That is to say, you can choose anyone as the source for importing songs. Since the Spotify songs we downloaded are stored locally on the computer, we click "File System Browser".
3. According to the output path you selected in the previous section, select the corresponding local disk and find the corresponding named output folder "Happy Mix". Then all songs in this folder will be displayed on the right side of the interface. Drag songs directly to the virtual Deck above to start using these Spotify songs!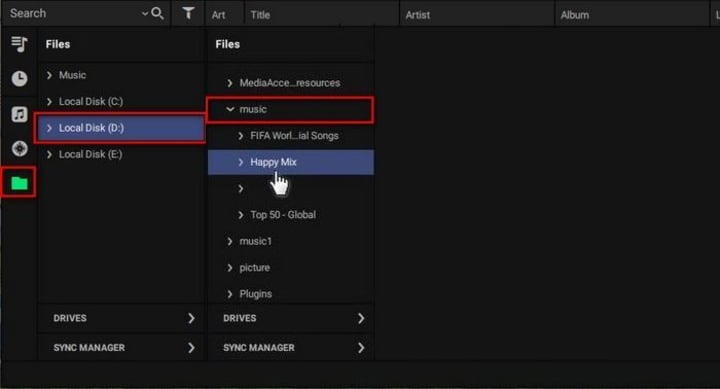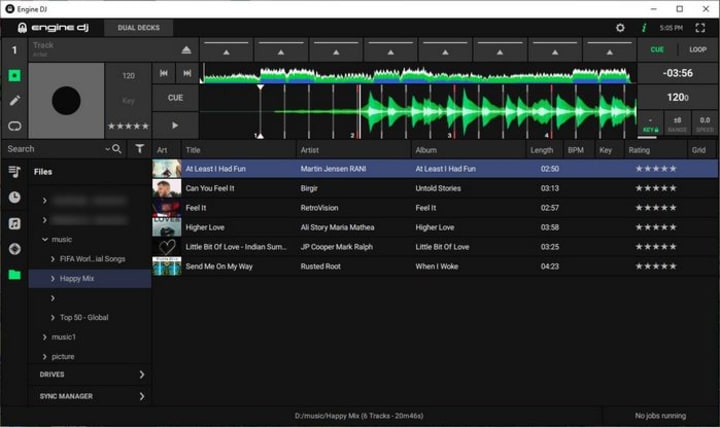 You now know how to use Spotify Music on Denon DJ Engine Prime. TunePat Spotify Converter is an amazing tool! you deserved. W this tool, you are free from ads, subscription accounts, playback devices, etc. Click this button to DOWNLOAD one now!
Reader insights
Be the first to share your insights about this piece.
Add your insights