Hot Chip (Concert Review) | Philly Music Vocalizer
Hot Chip at Brooklyn Bowl Philadelphia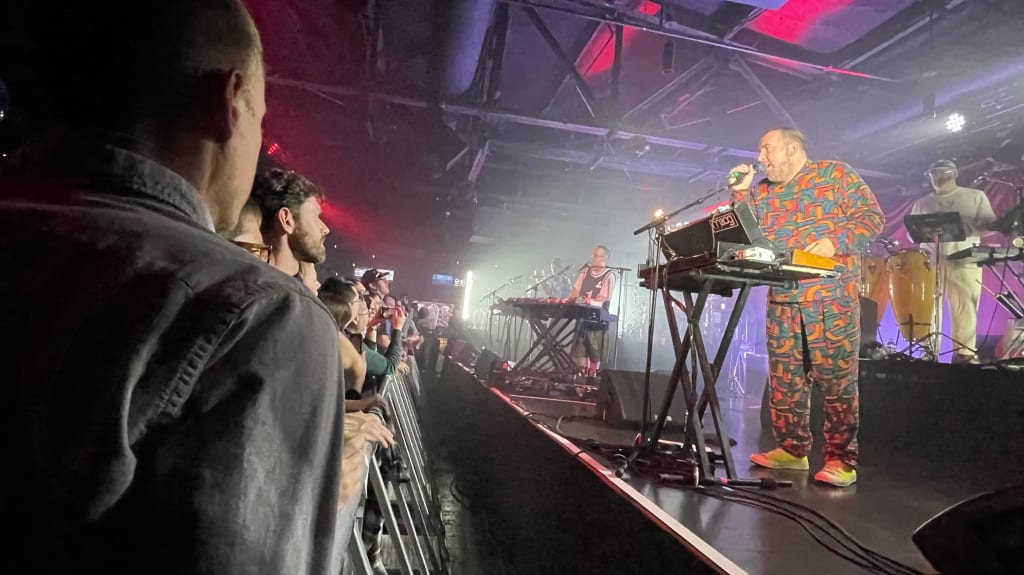 PHOTO CREDIT: Lauren McLean | Queen McLean Media
Synthpop party stars Hot Chip performed at Brooklyn Bowl Philadelphia this past Wednesday (on May 11th, 2022). Not only was it my first time at Brooklyn Bowl Philly (which just opened at the end of last year in fall of 2021), and my first time at Brooklyn Bowl with fantastic photog Queen McLean, it was my first time ever experiencing a crowd so uniquely and unabashedly their own. When I go to a show, I'm just as interested in the people at the show as the show itself. I'm interested in not just what the concert sounds like, but what the concert feels like. In other words, I want to know about the experience, as well as the experiencers.
We experiencers couldn't have been any more thrilled than with the opening song to the set. "Flutes," off of Hot Chip's smasher of an album In Our Heads (2012, Domino) is one of my all-time favorite indie house hits. Evidently I'm not the only one, as was indicated by the wallop of "Whooooos!" that rang out and around the top level of Brooklyn Bowl.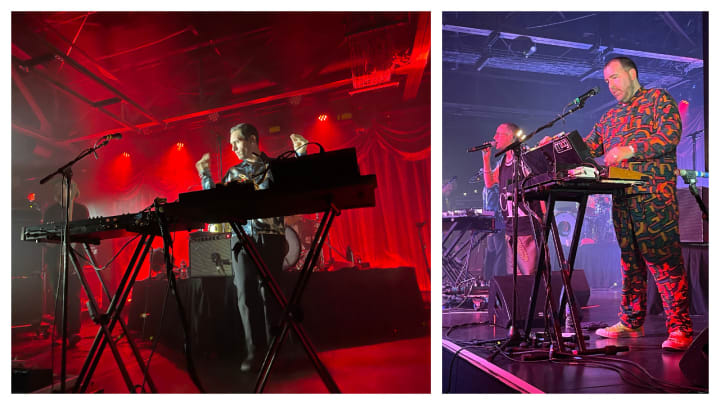 The next song, "Down," which builds off a sample of Universal Togetherness Band's "More Than Enough," did anything but. "Down" kept us in high spirits, even though this groovy galloper wasn't as well-known to most of us, since it's off of Hot Chip's yet-to-be released eighth studio album Freakout/Release (2022; Domino). It really is a testament to the coolness and musical crispness of this quintet of awesomeness when Hot Chip can keep the energy of a crowd up with a relatively unknown diddy. This statement is particularly true when said diddy, though indeed dandy, follows on the coattails of the hard-hitting frolicsome fan fave "Flutes." I will say, though, "Down" was a sensational strobe light accompaniment to Brooklyn Bowl and Hot Chip's dancey disco décor.
By the way, it's worth mentioning that the last time Hot Chip hopped over the Atlantic to tour North America was in 2019. This 2019 tour was in support of the English synthpop sensation's seventh studio album A Bath Full of Ecstasy (2019; Domino).
Hot Chip's 2022 North American tour is now wrapped up. Their last stop was this past Thursday (May 14th, 2022) in Chicago. Judging by the lots o' love from last week's crazy crowd of fun-lovin' fans in Fishtown, we're not going to want to wait another three years before Hot Chip fills our Philly hearts once again.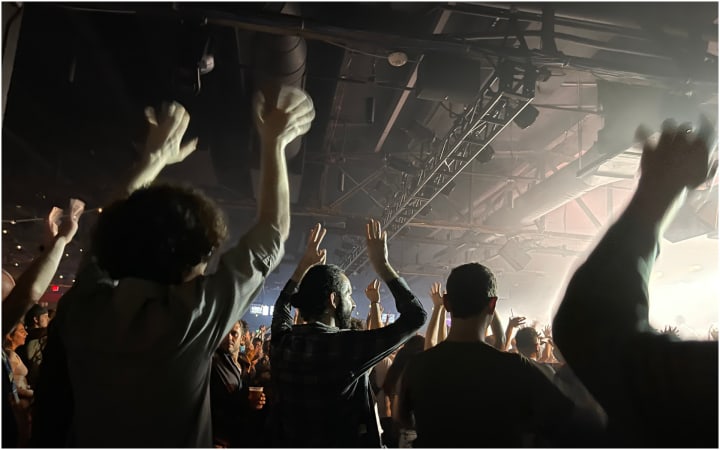 Towards the end of the set was the blissful bopper "Melody of Love," a standout from Hot Chip's last full-length A Bath Full of Ecstasy. It has a Cut Copy-esque vibe, à la the transcendent tracks from Free Your Mind (2013; Modular). It wasn't until the ecstatic earworm "Melody of Love" that I could really discern with whom I was dancing. During this sonic stunner, with its hands-in-the-air mania, I intently observed my fellow Hot Chipsters all around me.
I make the distinction between "hipsters" and "Chipsters" in the fact that Chipsters aren't pretentious. They're what hipsters would be if hipsters didn't care about being cool, which is exactly what makes Chipsters the cool ones. Hot Chip's music is for dorks who dance and Hot Chip's fans are dancin' dorks. I say that with all lovingness, as I'm a self-proclaimed dork who can't dance but dances anyway. I love us.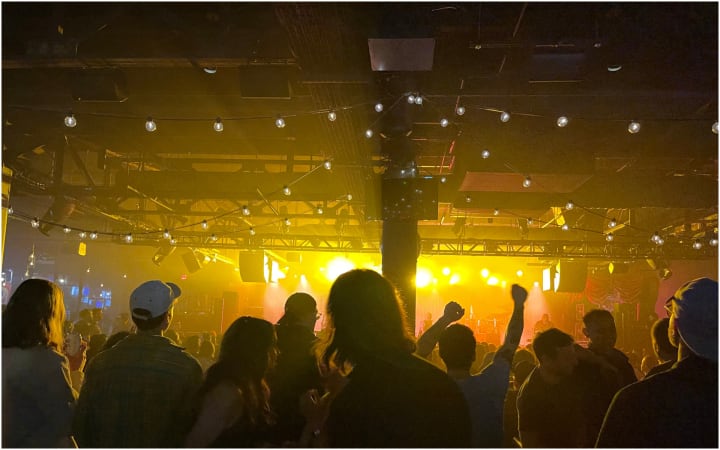 Another highlight of the night occurred about halfway through the set when Hot Chip performed "Freakout/Release," the self-titled track off their forthcoming album Freakout/Release (set to be released on August 19th, 2022). It's noticeably darker and more ominous than the majority of Hot Chip's other songs, which whether dark or light, are always expansive and focus on movement and space.
The set concluded with a four-song encore. That, for sure, made us scream for more, just like the old children's rhyme, "You scream / I scream / We all scream for ice cream!" So gimme a double scoop of music that's silky like cream, cool like ice, and Hot like Chip. We Chipsters can't wait to dig into our next Hot Chip fundae, or fun night, with our favorite indietronica dance fivesome.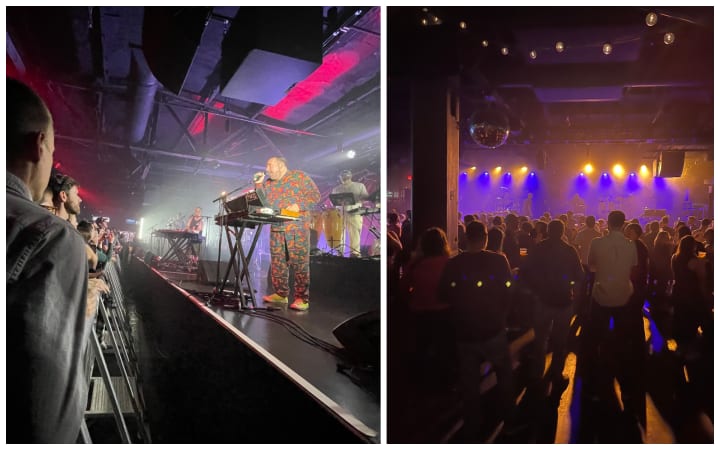 concert
About the author
Indie music lovers pride themselves on having an eclectic taste in music; so do I. But there are two differences between the pretentious masses and me. One, my taste is better. Two, I'm not pretentious.
(e): [email protected]
Reader insights
Outstanding
Excellent work. Looking forward to reading more!
Top insight
Expert insights and opinions

Arguments were carefully researched and presented
Add your insights