Holiday Gift Ideas for the Vinyl Enthusiast in Your Life
Instead of yet another vinyl record, get your music lover something different this year. These holiday gift ideas for the vinyl enthusiast in your life are fun, decorative, and ingenious.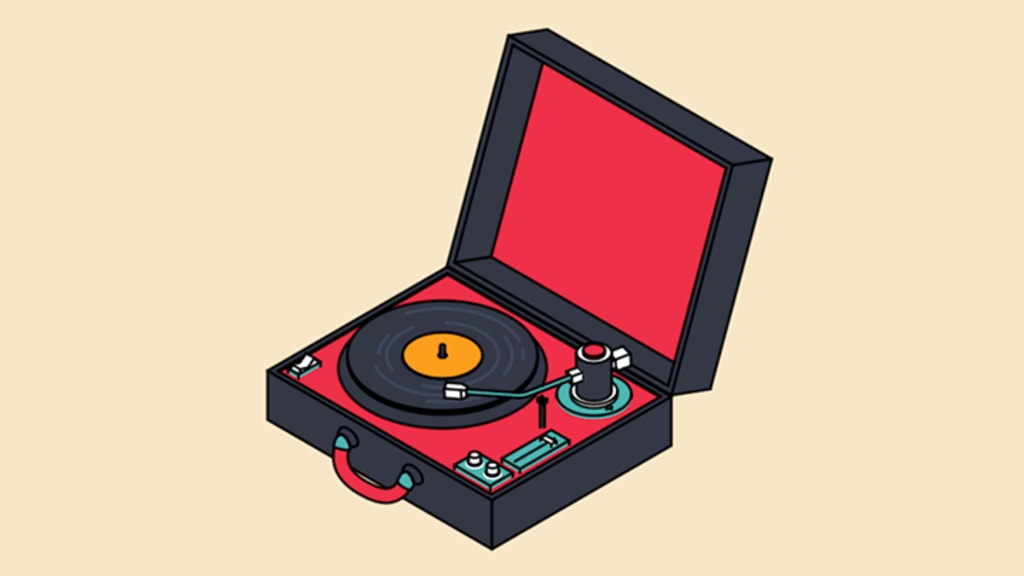 If you know someone or are someone who collects vinyl, you know the hobby doesn't stop at just the records themselves. Frankly, it's more than just enthusiasm—it's obsession.
But that's not a bad thing! To prove it, we've come up with some holiday gift ideas for the vinyl enthusiast in your life that will show you how many different ways they can include vinyl records in their life.
The average record player lays flat on its back — not so for this beauty! With this vinyl record player, your music lover can display their love of vinyl as decoration at the same time that they spin their favorite LPs.
But that's not all this wall mounted vinyl cabinet can do. It may look vintage, but it offers the contemporary feature of bluetooth so you can play music from your phone, tablet, or laptop from up to 33 feet away. This gift also features AM/FM radio and has the ability to play both cassettes and CDs. Basically, any music format is supported by this mahogany beauty.
Let your music lover show some love to their record collection by giving the gift of cleanliness. Because of the material, you can't just go around cleaning vinyl records with Windex. This vinyl record cleaning kit has everything your loved one will need to take care of their precious babies.
This kit goes in the "necessary" column of holiday gift ideas for the vinyl enthusiasts in your life. Not only will their LPs look better, but they'll play better. Anyone who truly loves their hobby knows that properly maintaining their collection is of top priority.
Record collectors love paraphernalia as much as they love the records themselves, so it almost goes without saying that getting creative in your gift search is a good idea. For example, did you know that LPs can be repurposed for other uses?
With a little bit of sculpting, an old record can be turned into a bowl! This gift allows record collectors to engage in their favorite hobby in another aspect of their lives. Hooray for creative kitchenware! Remember, vinyl collecting is just as much a lifestyle as it is an amusement.
Make vinyl a part of your vinyl enthusiast's style with a custom phone case! This particular case pairs with a Samsung smart phone, but there are many cases just like this one for other brands as well. This way, they will always carry a piece of their prized collection with them, no matter where they are.
Don't like this design? Don't worry! Like we said, there are a lot of other options out there. When you're searching for a vinyl-related phone case, you'll have plenty of graphics to choose from. This gift is easy to find, inexpensive, and thoughtful—a total winner for holiday gift ideas for the vinyl enthusiast in your life.
Because drinking is an American pastime, it's probably safe to say that a good portion of record collectors enjoy a cold brew or a sip of brandy while they spin their records. Instead of boring, old-fashioned cork coasters, give the nifty gift of coasters made to look like LPs. Make coasters, which are generally not a great gift to receive, the most clever objects your music enthusiast finds in their stocking.
If you want to get a little more specific with music-related coasters, you can do a search to see if any of the bands or artists your loved one likes have designed their own! You'd be surprised, but it's actually a savvy way that bands promote their music.
To be blunt, most welcome mats are either boring or stupid. They try to be witty, but they fail. So let's skip over that awkwardness with a personalized record doormat! This product will make your music enthusiast happy, but it will also give their friends something to smile at.
Before they even enter the house, they'll be put in whimsical mood. Not to mention, a personalized record doormat is also a great conversation piece. (What is it they say about first impressions, again? Oh yeah, they're important.)
Visuals aside, this would also be one of the best holiday gift ideas for the vinyl enthusiast in your life for an emotional reason. When your loved one comes home after a long, agonizing day, this doormat will instantly provide them with some comfort.
If your loved one loves music, chances are they also love art—so why not combine the two? The cool thing about any type of art form, be it music, the written word, or visual art, is that there are almost an infinite number of ways to play around with them. An artistic print or representation of their favorite object (i.e. a record or a gramophone) will make them feel inspired and at home.
Bookends, while practical, are also fun because they can be literally anything. If you're a bunny lover, you can have two rabbits holding up your books. But if you're an audiophile, what better way to keep your books in line than to use LP bookends!
Remember, the best holiday gift ideas for the vinyl enthusiast in your life will often combine necessity with ingenuity. Recycled vinyl products such as this one are a great way to add some playfulness to pragmatism.
This record clock would be a fantastic addition to any home bar. It's spunky, yet classic; useful yet charming. When you have a so-called "man cave" or a room in your house where you want to do some relaxing, you need to surround yourself with objects that make you happy. This record clock fits the bill.
If you don't want to buy your music enthusiast a generic record clock, make your own! Grab a record that you know they love and go the DIY route. They will be sure to appreciate the extra effort.
Music boxes are always touching, endearing, and charming gifts. They remind you of your childhood and captivate your imagination. In a word, they are spellbinding.
Give one of the best holiday gift ideas for the vinyl enthusiast in your life by getting an old fashioned gramophone music box! It's gorgeously crafted and can add class and novelty to any room in your house. While you're at it, put your favorite drink on your custom LP coaster and listen to its sweet song.
Reader insights
Be the first to share your insights about this piece.
Add your insights