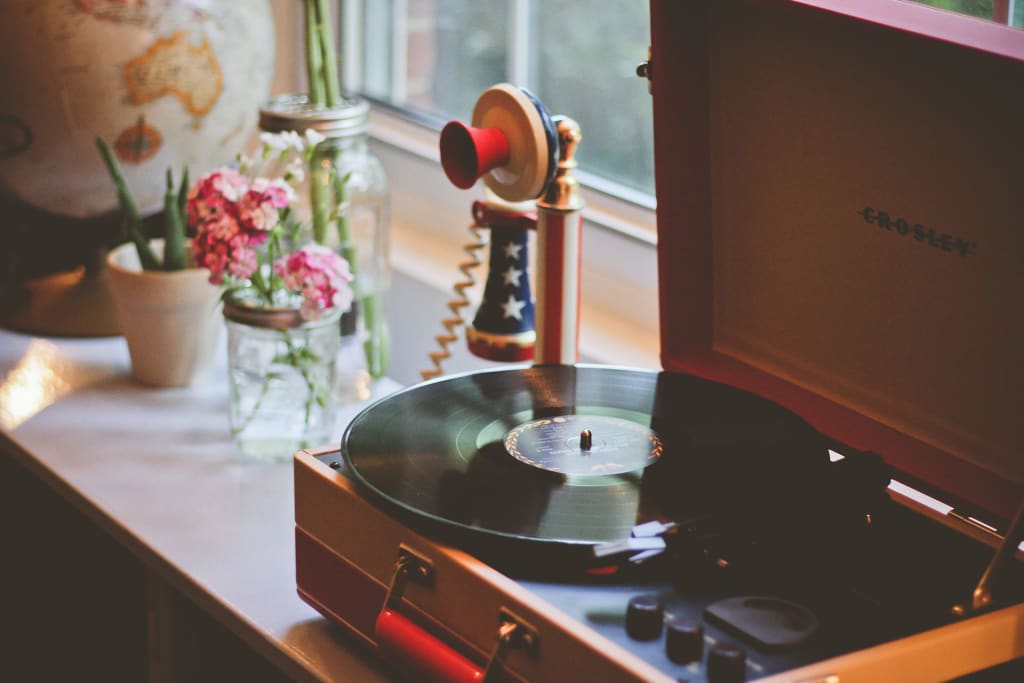 Photo by Emma Frances
For the long-time record collector and the novice alike, one of the most important decisions is buying a record player. From adjustability to size to weight to sound and compatibility with modern technology, there are many factors to consider when looking for the best record player. One thing to note is that many manufacturer specs aren't always accurate, so taking a look at some reviews is always a good idea, especially concerning speed accuracy. With that in mind, here are our well-tested recommendations for the best record players for record collectors.
Although it's certainly not the best on this list of the best record players for record collectors, it definitely can hold its own. And just because it's affordable doesn't mean it's cheap. This vintage-inspired suitcase turntable is portable and is the whole package. There's no need for a preamp or even speakers—this turntable comes with both, making it perfect for someone starting a record collection on a budget. Not only is it a turntable, but it makes for a great decoration piece. Besides its versatility and portability, the best part of it is that you can listen to more than just records. Connect any device via bluetooth for all-day jams anywhere that you decide to take this turntable with you, making it one of the more humble best record players for record collectors.
If the Cruiser isn't for you but you're still thinking about a briefcase turntable, then the Keepsake is one of the best record players for record collectors. For only a bit more money, you're getting a huge upgrade in terms of sound and quality. Just like the Cruiser, the Keepsake has built-in, full-range dynamic speakers and can be connected to your laptop or other device via Bluetooth. What sets it apart from other turntables is that the Keepsake runs at three speeds, has an RCA audio out, and comes in a classy wooden finish that lends it a refined, classy look.
It's hard not to be skeptical of a turntable that comes with speakers at such a low price, and with good reason. Sure, you'll give up a few knick knacks such as auto arm return and bluetooth capabilities, but that's what lends it its authenticity. And for the price, it makes a great gift for any budding record player enthusiast. The speakers are actually a huge bonus, because you don't have to invest in a comparable pair, this record player has been the gateway drug for many a record collector.
You're moving up from the lower end turntables and now entering the higher end. This record player is a great option for anyone that wants a high-quality turntable without the huge price tag. Sleek, modern-looking, and with a beautiful exposed glass plate, this turntable has a great sound and elegant look. Although U-Turn is a newer brand to the turntable market, the quality, price, and style are already turning heads. As a bonus it comes with a built-in pre-amp, making it so you save money and shelf space without sacrificing sound. When it comes to bang for your buck, this is one of the best record players for record collectors.
Although it's not as sleek as the Orbit U-Turn, the direct-drive Audio-Technica AT-LP120 USB Vinyl Record Player is a professional turntable that means business. Built with an internal stereo/phono preamp and a USB output for your computer, this record has everything but the speakers. Coupled with a great pair of speakers or played through your computer, the AT-LP120 will color any room with warm, deep bass via its professional anti-skate adjustable stylus. As a huge plus, this turntable has a quartz-controlled pitch lock, meaning no fluctuations in tone or speed when you listen.
This record player is hugely popular among record enthusiasts because it's just the basics, making it one our best records for record collectors. With this turntable, you're getting exactly what you'd expect. A no-nonsense, skip-the-frills two-speed turntable. It has all the essentials people have come to expect from a quality turntable without skimping on the quality: a fully automatic belt-drive, a replaceable diamond stylus, and as a bonus, a built-in switchable phono pre-amp. Available in several colors and extremely durable, this turntable is ideal for someone just starting to build a record collection.
This turntable is as much of a statement as it is a quality way to spin records. There is no detail overlooked on this deluxe turntable with a beautiful finish of your choosing. It has all the turntable standards, as well as a few bonuses. For instance, the first thing you've probably already noticed is the stylish chassis it comes in. In the turntable industry though, you can't survive on looks alone. With a manual belt-drive as well as USB output (for transferring your favorite records right onto your computer), this turntable emits a warm, fluid sound that, when mixed with the right sound system, will transfix you to your seat every time you flip the record. Undoubtedly classy. Undoubtedly worth it. Check it out and you'll see why this is on of our list of best record players for record collectors.
Meet the gorgeous high-gloss Music Hall MMF 2.2, a turntable made for record people, by record people. With dampening adjustable feet and a smooth, two-speed motor, this is a fantastic option for people who love their turntables as much as they love their records. It includes a low-noise belt and high-precision ball bearing assembly, keeping noise away from your record. There's no included preamp or speakers, which for most hardcore collectors shouldn't be an issue.
If you mean business about your record collection, then this is the turntable for you. It may seem pricey, but don't let that stop you—you haven't heard music until you've listened to a record through a Pro-Ject turntable. This is hands-down an amazing upper-scale turntable that provides great sound without fail at every rotation. The set up is seamless. The sound is perfect. And the price is worth it. Crafted using only the highest-quality and tested materials, this turntable has been getting amazing reviews since day one. Don't believe it? Just check out the Amazon user reviews: a perfect 5 stars.
Meet the cadillac of turntables. Undoubtedly the best of the best record players for record collectors, this beautiful, handcrafted turntable is anything but the standard. If the price doesn't put you off, this is definitely the turntable you should be looking at. Almost every component is upgraded from the older models, and those were premium as they were. Read some of the reviews and get it. One spin of your favorite record and you'll know right away it was worth every cent.
About the Creator
New Orleans raised, a retired self taught sax player who spends his time keeping jazz alive through his writing, reviews, and occasional show.
Reader insights
Be the first to share your insights about this piece.
Add your insights