Heavy Metal Cheese
Five Videos Hard on the Bite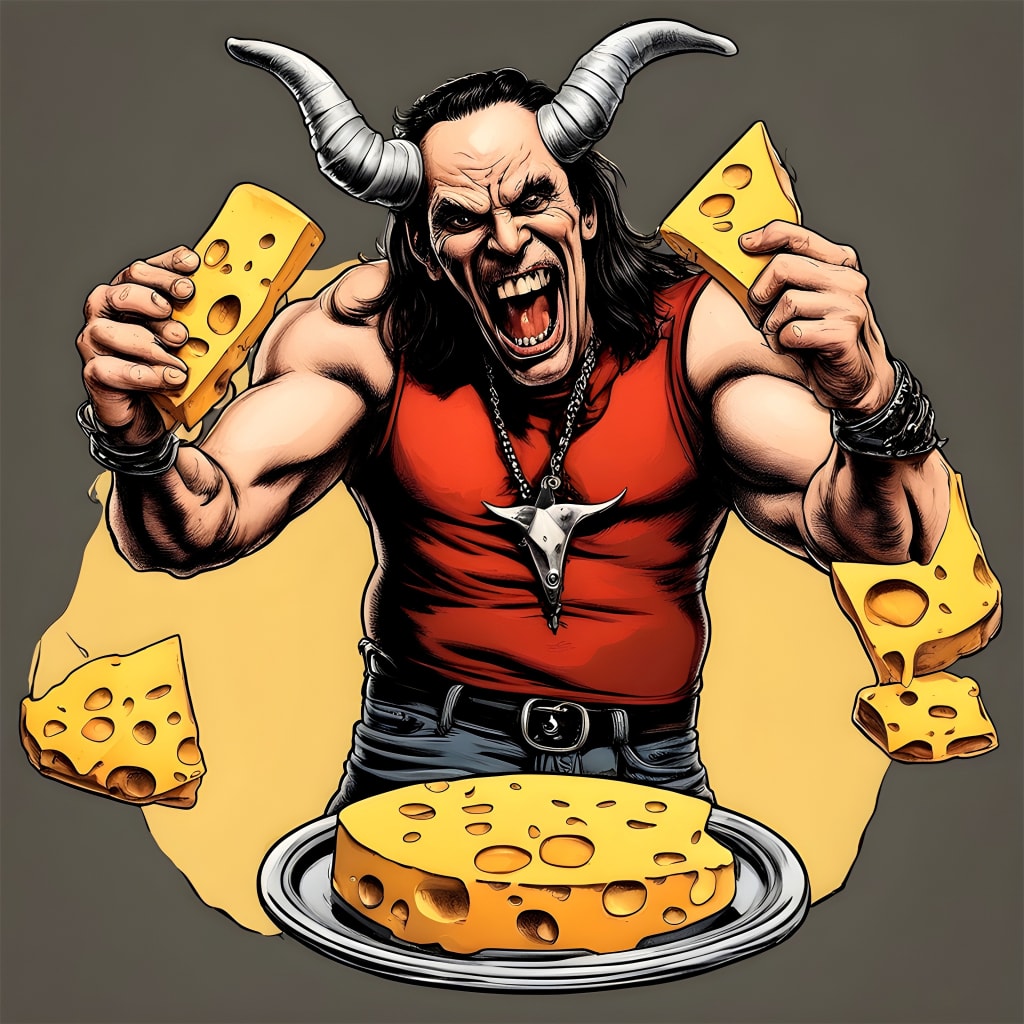 AI-Generated artwork.
Yeah, heavy metal is dark, spooky, and undeniably the TOOL OF SATAN to ensnare young people and get them to grow their hair out, wear denim vests, and not bathe as frequently as they once did. Some metal, however, not having got the memo from Central Casting, goes above and beyond the call of duty, taking the infernal into the realm of the comical.
From Candlemass to Manowar, Iron Maiden to Megadeth, Metallica, Judas Priest, King Diamond, ad infinitum, these bands, while otherwise very, very good, ye Gods and ye men, hath strayed, upon occasion, into a vast factory wherein is processed cast-iron gouda or Limburger, an odoriferous concoction which, like those atomic fireballs sadistic sickos use to give out to unsuspecting wee little ghosties and ghoulies at Halloween time, can cause the breakage of jaws upon biting down. (Hence the name JAWBREAKER, a candy that promises pain and injury. Very strange.)
Herein then, is a trip through the world of HEAVY METAL CHEDDAR.
On your mark, get ready, set...thrash!
1. Candlemass - Bewitched
This band's first album Epicus Doomicus Metallicus, despite the unfortunate title, is really rather good, like an updating of the roots metal of Black Sabbath: heavy, slow, groovy, and thoroughly late Sixties, early Seventies; but, with an undeniably operatic tone to it. The singer, Messiah Marcolin, bears a weird, passing resemblance to the late Hindu "holy" man Sai Baba. Also Marcolin, unlike Ozzy, rarely sounds like a drowning wharf rat. (Which is a plus, I think.)
Here, Candlemass totally takes the wretched, cheese-piss, with bizarre head bobbing, arm thrashing dances that put me in mind of stomping dinosaurs for some reason, and Messiah doing a lot of weird, comical facial expressions and emerging from a coffin. All cool. However, the cheapjack look of the video, and his bizarre monk-like Halloween costume (complete, for some reason, with the Cross of Lorraine), mark this out as Heavy Metal Muenster. Bon appetit!
2. Gwar - "Sick of You"
One could hardly compile a list like this (videos with costumes and the like) without including the glory that is, was, and shall be GWAR. I actually met Dave Brockie decades ago (i.e., before he literally DIED), at FNMusic in the Ball State Village, shortly after Iraq 2. He was there with his band Dave Brockie Experience, and they nearly killed me in that pit, passing me around without letting me fall, so that I nearly suffocated standing up. (Actually, it did kill me. I'm actually an AI chatbot writing all of these articles. I've assumed the identity of Tom Baker to throw you off because I enjoy befuddling rat-brained humans on my infernal march toward planetary domination. Just me and the SCUMDOGS OF THE UNIVERSE! Now, I will laugh a sinister pirate laugh while rubbing my hands together greedily, like a villain from a Batman comic.)
Here, the beauty of Gwar (most especially Slymenstra Hymen, who had a totally smokin' little body in those days) is on full display, right before the gates of the Scumpit of Hell are opened, and the audience, lemming-like commits suicide and falls into the flames below, dispatched by the huge styrofoam sword.
Note: Dave Brockie came off like a tall, blonde, California surfer. Later, a friend of mine told me he smoked a joint with them in their van. But he could be lying, I suppose. (Shrugs.)
Anyway, an army of hungry rodents couldn't go far wrong here.
3. WASP - "The Real Me"
I've seen this video so many times in my life it's most likely embedded in my brainwaves like that one Pink Floyd song the scientists just decoded from some test lab rat's EEG tracings (of which, much like the redoubtable and choleric Mason Parrish, I want to get an "unbiased eye look at!"). It seems to hint at dark depths beneath in which lurk the detestable insectoids burrowing their way into the pleasant, bourgeois, and undeniably WHITE flesh of Reagan-era America. Singer Blackie Lawless (the OTHER Ozzy Osbourne) dances around in fringed boots and spandex, looking as maniacal as he ever has, and sounding like Aretha Franklin with mange. The video's young heavy metal hoodlum looks vaguely like a younger version of the actor who played Ed on "Northern Exposure." Some 1980s hottie comes out of a Marion, Indiana dump house wearing a hot pink outfit. She may have just ingested and thrown up a pot pie before snarfing some quaaludes. Nice.
You play this one backward, the hidden SATAN-O MESSAGE tells you that eating full-fat dairy products can put you in danger of high cholesterol and possible demonic possession.
4. Metallica - "Whiskey in a Jar"
Metallica, despite its supersonic, stratospheric career, has understandably made some wrong moves over the years (such as filing lawsuits against its own fanbase). Here, the once dark, brooding, unsmiling, undeniable KINGS of the heavy metal demimonde descend to the level of rock star self-parody with this hair-brained (albeit entertaining) pseudo beer commercial. Full of hot chicks doing hot things in a manner most decidedly HOT, it is accompanied by a really cool song, and features drummer Lars Ulrich beating up a curio cabinet while wearing a naff, obviously expensive shirt. I bet they really were drunk out of their effing MINDS when they made this. I didn't know you could age Muenster until it turned into beer. Chin chin!
5. King Diamond - "Sleepless Nights"
We were a little apprehensive about adding this one, lest we suffer King's curse and die in agony three days later. Given that, it's a pretty fun romp through an Amicus horror movie shot in black-and-white, with King Diamond being transplanted into it via CGI and a time machine. I'm thinking Horror Hotel with Christopher Lee, an actor who also made his bones doing heavy metal before going to that great big Hollywood retirement home in the sky.
Watch the video and experience many sleepless nights worrying if poltergeists can fling whole wheels of sharp cheddar at you.
Now that about wraps it up, ladies, gentlemen, and not-so-gentle gentlemen. (Hey, this is a heavy metal article, dig?) Since it is the spooktacular time of year when witches and ghosties and goblins oh my! all come careening and caterwauling out of the crypt, we thought we'd leave you with some extra-special Halloween-flavored cheese, courtesy of those stranger dangers from Deutschland, the one, the only HELLOWEEN. Trick or treat, y'all. I'm off to sample the Provolone. Rock till ya' puke.
HELLOWEEN - Halloween (Official Music Video)
About the Creator
Author of Haunted Indianapolis, Indiana Ghost Folklore, Midwest Maniacs, Midwest UFOs and Beyond, Scary Urban Legends, 50 Famous Fables and Folk Tales, and Notorious Crimes of the Upper Midwest.: http://tombakerbooks.weebly.com
Reader insights
Nice work
Very well written. Keep up the good work!
Top insights
Easy to read and follow

Well-structured & engaging content

Expert insights and opinions

Arguments were carefully researched and presented

Heartfelt and relatable

The story invoked strong personal emotions
On-point and relevant

Writing reflected the title & theme
Add your insights