Harry Styles In Concert
Him & his show changed me.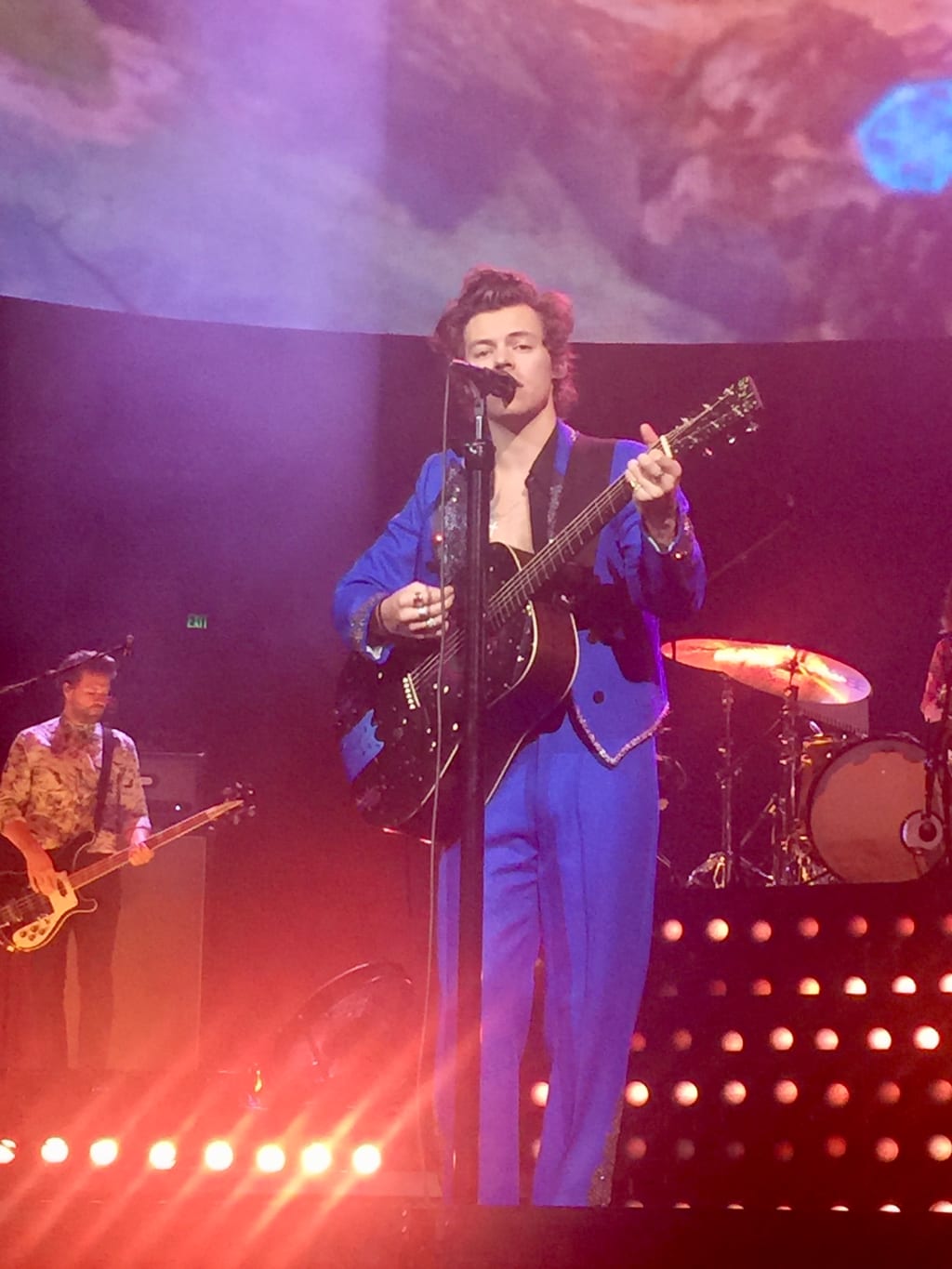 Harry Styles Concert Changed Me 
Back on the 12th of June, Harry Styles came to Nashville, Tennessee to perform live at Bridgestone Arena. Was I excited? Yes. Was I anxious? OH YEAH! See I have panic disorder along with other mental health disorders. But my anxiety is what gets the best of me.
It was a different day for me. Usually, I am up at 11:15 in the morning. I take my medication and vitamins. Go about my business through the day. I cook dinner. Then I work out a little after 9 at night. That is my schedule basically every day since January of this year.
But on June 12th, my day was all scrambled. I was already dreading it. Don't get me wrong, I was stoked to see Harry Styles perform live. It didn't hurt that I was going to be second to third from the stage. I got to stand in the pit.
But back to my scrambled day. I woke up at 5:45 in the morning. I had my bag packed the night before so I wouldn't have to scramble in the morning to get things together. My aunt picks me up and we head to Nashville. She had to work that day. So, I chilled at her work until it was time for me to go to Bridgestone to wait in line.
I was already freaking out but doing my best to hide it. Not only was do I panic disorder. But I was going to be at the concert alone. I wouldn't know anyone. I was seriously FREAKED.
So, I take my medicine early. I sit at a desk and read until it is time to go. But before I leave to go wait in line in the hot summer sun, I make a list. I made sure to put down the positives down to the two negatives I had going through my head.
See I was worried about 1. Being alone and not knowing anyone. 2. My panic disorder and how I would handle it. So, I wrote down positives.
1. The concert will be ace!
2. I can make new friends!
3. HARRY FREAKIN' STYLES!
4. The music!
5. May never get to go to a show like this again.
6. The beauty!
7. Mini vacation!
8. Concert was going to be more than ace!
9. Think of it as an adventure!
10. I need this!
Those positives were all right. Especially the last one. I hadn't done anything like this EVER. Finally, it was time to go. I changed into my concert clothes and left to go wait in line.
I waited from 1:30 in the evening until 6 something for the doors to open to get in. In the mean time, I talked to exactly five people waiting outside in line. They were all so lovely. Especially, the two girls and this really tall guy who was only eighteen. I thought to myself, I done it, I actually talked to some people and they didn't treat me bad or say rude things. That was a big problem for me when it came to social gatherings of any kind. Even with family, I was always afraid of what they'd say or what I should say. Which would cause my panic disorder.
I finally get in and we have to wait until eight at night for the show to begin. So, I decided why the heck not try to talk to more people around me. I turned to some people and asked how they were. Those people were even cool. I talk to nine people that were standing around me. There was one guy from Utah that was freaking cool. I enjoyed talking to him. I thought to myself again, I done it, I got through it again. It helped when the guy from Utah told me "Since you're alone, you can hang with our group. We've got you." That made me feel a lot better.
Now, if you know Harry's tour. You know his slogan for it was. "Treat People With Kindness." And I got a lot of kindness that night. There was one part of the show where Harry says to the crowd that no one knows anyone and for at least five minutes just go for it because we weren't going to see these other people the next morning. He was right!
The whole experience was a eye opener to me. I danced like crazy. I sang as loud as my voice would allow me. I let all my worries and what happened the year before just melt away and lived in the moment. Boy, did I need it! More than anything I needed to let loose and just have the time of my life. I'll admit, I cried at a few songs. Because I had; had such an emotional rollercoaster the year before and every lyric sung was like hitting me in the heart and I took so much joy from it.
So, as a person who has panic disorder, along with other mental disorders, I say go for it. If there is somewhere you want to go, if there is someplace you want to be, if you just want to let loose and be happy, even if it's just for one night. DO IT! You will feel so much better and thanking yourself for it. The thing is you can be happy and things not fall apart. Because that night, I let loose and was happy. Things didn't fall apart. They were life changing.
Now, I still have panic disorder. It's not something that just changes over night. But from that experience, I smile more at people and say hey. I want to go to another concert by myself. Because I want that experience again. I will have that experience again.
Since, I have told you it's okay to let go and be happy. Let me tell you something else. Harry Styles is a genuine and beautiful icon and soul. There is nothing like going to one of his concerts.
You can tell Harry is meant to be up on that stage. He is so proud being up there and getting to perform for people he knows is happy and proud of and for him. Harry sings his heart out. He gets emotional. He is funny. He works the crowd. The man knows what he is doing.
Harry is who someone should look up to. He not only puts out there to "Treat People With Kindness" But he supports the lgbtq community and black lives. He is all about supporting people and letting them be who they are. Even if it's for one night.
With that being said, I will leave you with this. Don't be scared to do things by yourself. Embrace the happiness and letting your worries go away. Be who you are or want to be for that one night or day. If given the chance, go see Harry Styles in concert. You won't regret it.
Thank you Harry Styles for all you do for your fans. It means more to us than you will ever know. Your kindness, your support, and your love for your fans and the people around you has been truly incredible. You literally have no idea how much it meant to me for just one night letting go and having the best night of my life. Every time I think back on it, I get teary eyed because I've never felt more love in a place. You kind sir are beautiful inside and out. You deserve all the best, luck, and love you get in the world. Because you give us, the fans, everything just by being you and singing your heart out; not just on stage but on your album and televised shows.
Much love -J
concert
About the author
I am twenty-four years old and live in Tennessee. I love writing. I am an author. I enjoy word search. I long for people to be kinder to each other. Intimacy is more than just sex.
Reader insights
Be the first to share your insights about this piece.
Add your insights