Harley Benton Sc-450 P90 GT Classic electric guitar review.
A surprisingly low priced gem.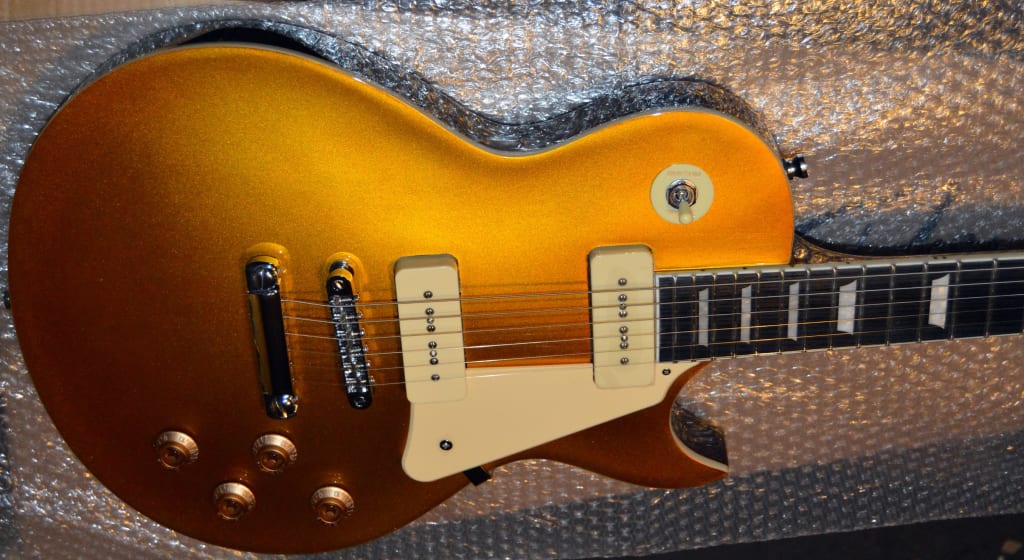 When I first heard about Harley Benton guitars I have to admit I was very dubious, having been stung before purchasing a low priced brand new instrument I trod very carefully.
There is very little information on the Harley Benton Wikipedia as to how and where it all began with their line of low cost guitars and other instruments/amplifiers other than it stating that they are the "House brand" of German based Musikhaus Thomann, more commonly known as Thomann's music shop.
There then ensues a paragraph about their guitars being targeted toward "entry level to intermediate" players and students with only a slight mention about the woods used in the guitar builds.
As such I referred to Google and a quick search took me to their website where I could feast my eyes on an array of beautiful looking instruments, many of them ranging from £69 to £100, Telecaster, Stratocaster, Les Paul, you name it Thomann's brand of Harley Benton have something similar.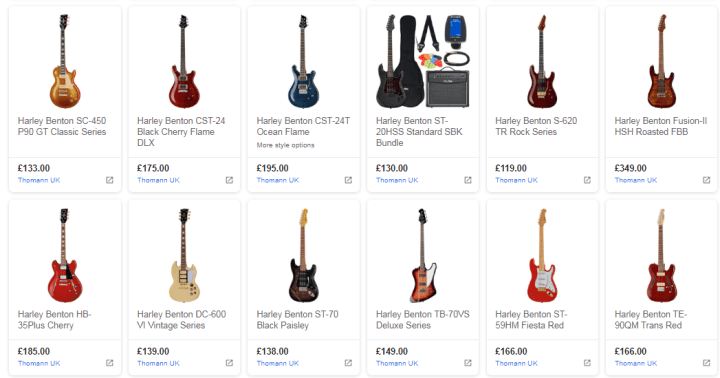 Looks, however can sometimes be decieving as with Kay guitars a Woolworth's brand of guitars from the 60s and 70s, these instruments looked the business but most of them played and sounded awful.

While browsing Thonmann's website I came across the Sc-400 gold top Les Paul style guitar and immediately fell in love with its gold colour and stylish body shape very reminiscent of the type of guitar it was imitating.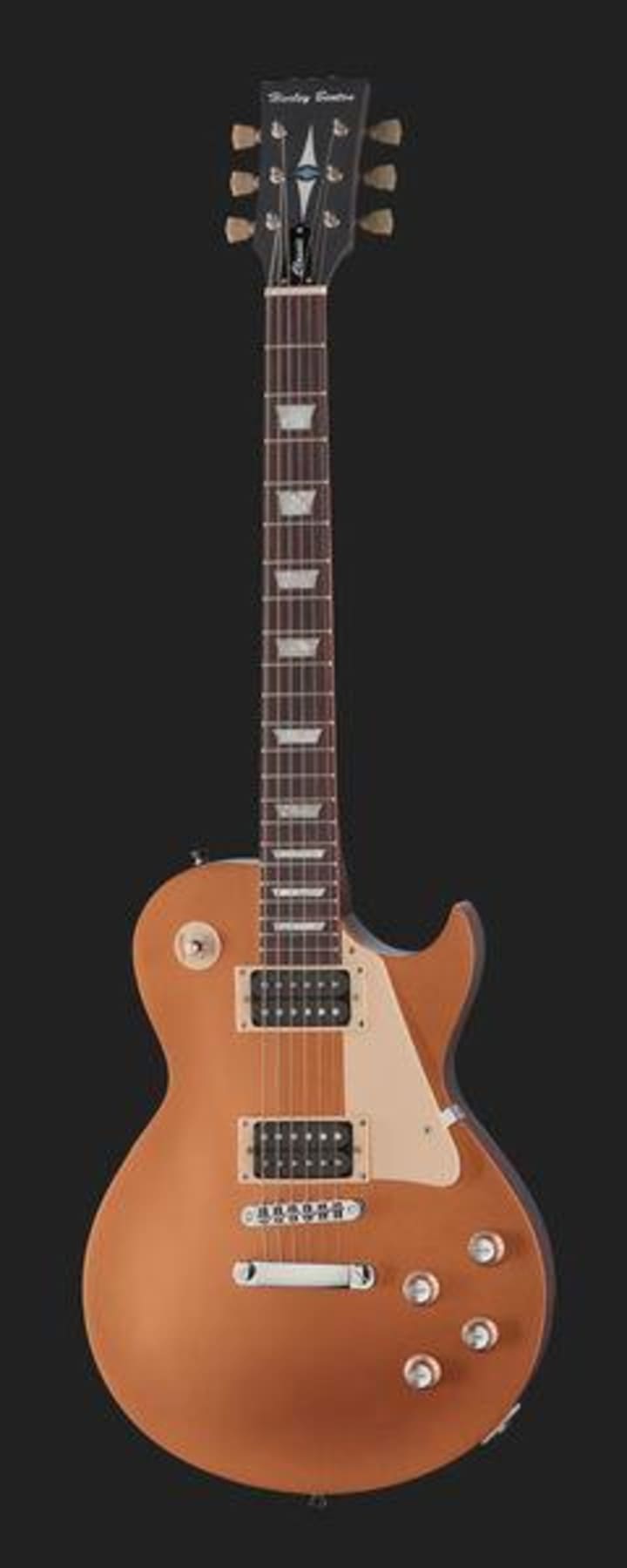 I automatically took to Google once more, copying the text with the guitar make and model and pasting it into the search bar, I was greeted with several videos of people playing the guitar, or in some cases attempting to play it, after sifting through the videos I discovered a couple with very honest reviews concerning the Sc-400.
In one video (which I can't seem to find again) the presenter stopped at the end of his review and said "would I buy an SC-400, no I would spend a few quid more and go for the next model up".
I'm not one for usually taking only one persons say on something and I like to hear what others think about a guitar and so I began a search for the next model up which was the SC-450 p90 GT Classic.
Again I was greeted with several videos and one particular being presented by someone I recognized as being an interviewer, having seen him interviewing one of my favorite guitar players Jen Majura of Evenesance, I knew he was a talented guitarist and very honest reviewer.
Known on YouTube as EytschPi42 this guy gives a totally unbiased view of this particular model and a taste of how it sounds in a recording, I was blown away with how good the p90 pickups sounded through my monitor speakers.
£129 for the brand new model, I checked my bank account having just sold a Washburn Wi14 which I didn't like and unfortunately I didn't have enough money, this wasn't an issue though as I had seen a couple of videos of this model where people had purchased a B stock instrument.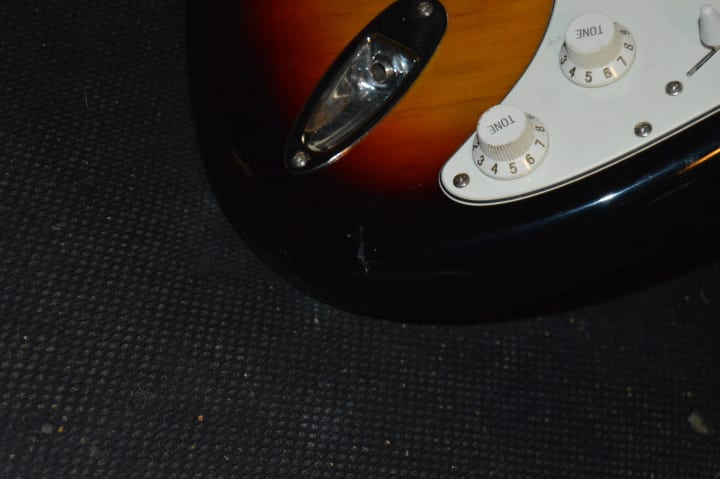 Now B stock usually means there are issues of some kind this could be anything from damage to the headstock or body, scratches, signs of use or in some cases badly in need of repair, usually the price reflects how bad the damage is.
I found a B stock of the SC-450 for £120 on the Thomann website which was exactly the amount I had in my bank account, I immediately ordered the guitar, it was late Friday afternoon by the time I had finished ordering it and I knew that their 2-4 day delivery time would probably be extended wih the weekend and especially with the current World situation and Covoid 19.
4 sleepless nights later ( I know, big kid) it was like waiting for Christmas Eve when I was a little boy, knowing something exciting was coming to me but instead of not knowing what it was this time I didn't know when it would arrive.
Tuesday morning I was awoken by a loud knock and a beaming delivery driver passing a very large box with Thonmann printed on it, I knew exactly what was inside and couldn't wait to open it and feel the instrument in my hands for the first time, this was only the second brand new electric guitar I had ever bought, the first being a Johnny Brook "Rock" guitar which was terrible, you could have got a better tune out of a table leg and a shoe lace than that thing.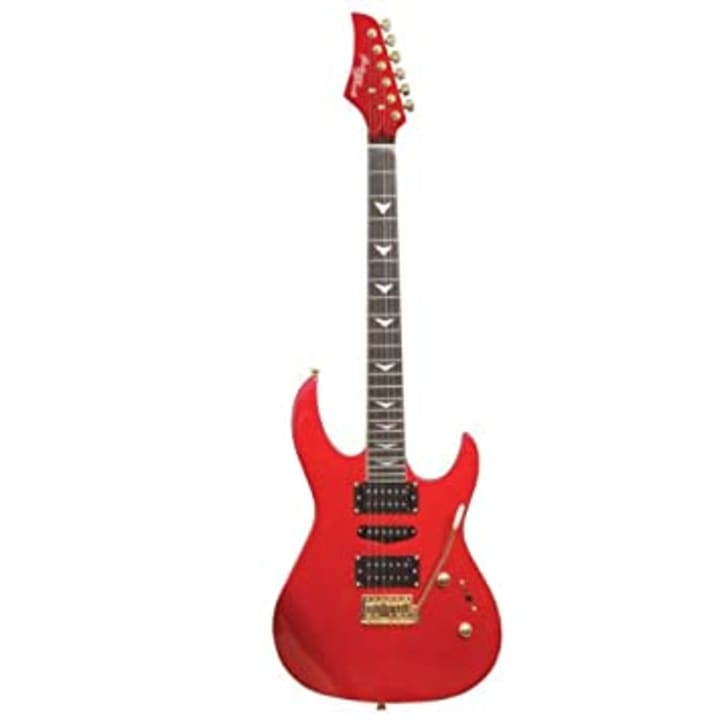 Despite wanting to rip the box open and having waited the rather quick four days for delivery, I actually waited until mid afternoon as I knew I would want to play and my neigbors tend to sleep in, I lay the box on the table and took my pen knife blade to the tape holding the opening together.
Inside was another box this more of a coffin shape and slightly smaller, I retrieved this carefully and discarded the larger one to one side, much to my cats delight who spent the next 10 minutes diving in and out of it while I opened the new box.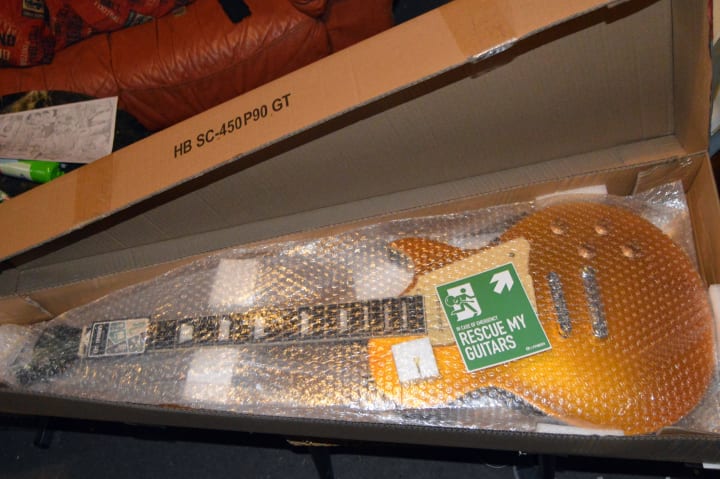 At times like this I wish I had a sense of smell ( long story which I won't go into) as I am sure that guitars when new have a certain aroma to them, at least according to some guitar players, I could see the gold top of the guitar shining through the large bubble wrap, I couldn't help but smile as I lifted the guitar up and pulled away the bubble wrap.
I am sure my readers don't really want a step by step of my day and so I will skip on to some technical specifications.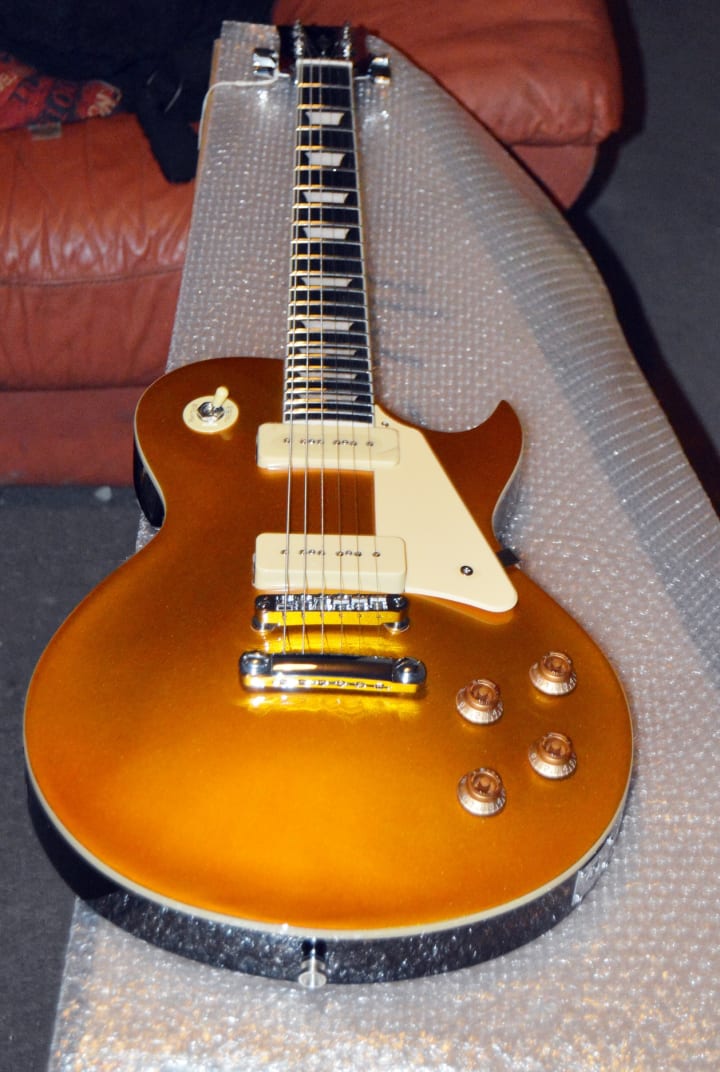 The guitar has an arched top and the body is made from Basswood which is a tonal wood used by many guitar manufacturers in a lot of different models of guitar.
It boasts a very nice C profile neck which is smooth and feels great, there are no sharp frets and the 22 fret roseacre fretboard ,although a little dry, doesn't seem to have any issues, nothing a little lemon oil won't sort out, the fretboard has a radius of 350 mm making the neck a comfortable fit in even my large hands.
Two classic covered p90 humbuckers sound fantastic with the 3 way selector switch in any position, my preference is the neck pickup which has a very warm classic tone ideal for rock or blues, however the center position and the bridge pickup on its own both have their place among a multitude of genres.
The gold top body has an aged looking cream binding which matches the humbucker covers and the scratch plate, the rear of the body appears to be black although in certain light it could be a very dark brown.
Although this guitar comes with what appear to be standard cheap closed diecast machine heads (tuners), paired with the tune-o-matic bridge it stays in tune surprisingly well, even after bending the strings.
Harley Benton supply the guitar with their own brand of 010-046 strings which don't feel too bad although along with the tuners I may be swap these for better ones at some point, but as it comes out of the box the guitar wasn't far out of tune and a few seconds with my Behringer tuning pedal and it sounded amazing.
There are the obvious 2 tone and 2 volume knobs that you see on Les Paul style guitars which are plastic, along with a plastic nut you can see where Harley Benton were able to turn out instruments at a low price, or is it that obvious? to me these along with the tuners are very minor issues, as minor as the single scratch which I found on the rear of the body which made my guitar a B Stock model.
The scratch is so tiny that I almost missed it and I have no complaints what so ever about the quality and playability of this guitar, the above are purely observations and nothing that affects playing, is over bearing or that cannot be sorted out as and when, for now though I am quite happy playing this guitar as it is with no changes to it.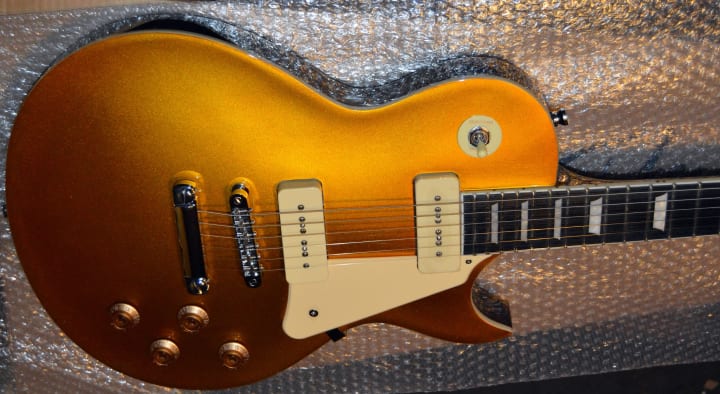 Harley Benton guitars in general are mostly low priced yet all quality playable instruments, there is nothing child like or beginner about the SC-450. It plays as good if not better than any Epiphone I have played and it feels and sounds like a professional guitar should, gigable (if you so wished), recordable, playable and damn does it look good.
The instruments made for Harley Benton are made in a few different factories mostly in China and the Far East and the amount of choice they offer is astounding, people are raving about these quality instruments and from what I can gather Thonmann are doing exceptionally well where their Harley Benton guitars are concerned and causing quite a stir among musicians, this is no surprise to me and I am reminded of another brand of guitars I was once skeptical about, Vintage.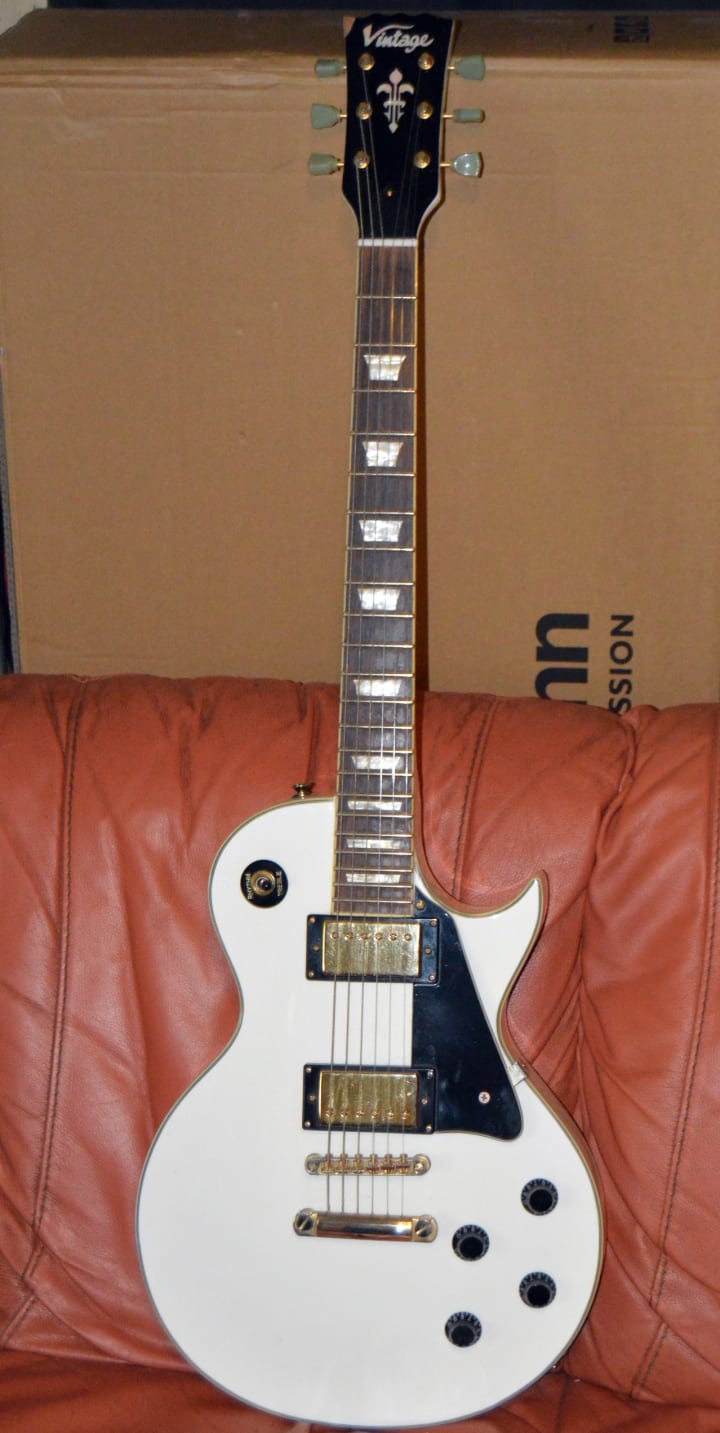 The Vintage brand of guitar were at one time very cheap and the low price put me off them for some time which I admit was very stupid of me, especially as I had owned a string of cheap guitars anyway, over the years the Vintage brand of guitars rose to become equivalent to GIbson's Epiphone and Fender's Squier model guitars.
The Vintage brand of guitar were at one time very cheap and the low price put me off them for some time which I admit was very stupid of me, especially as I had owned a string of cheap guitars anyway, over the years the Vintage brand of guitars rose to become equivalent to GIbson's Epiphone and Fender's Squier model guitars.
I have since purchased a Vintage V-100 and love it but it just goes to show that sometimes the price is right and you don't always get what you pay for, sometimes you get something that is so much better and I can honestly say I can see the Harley Benton range of guitars becoming as popular as some of the more well known brands out there.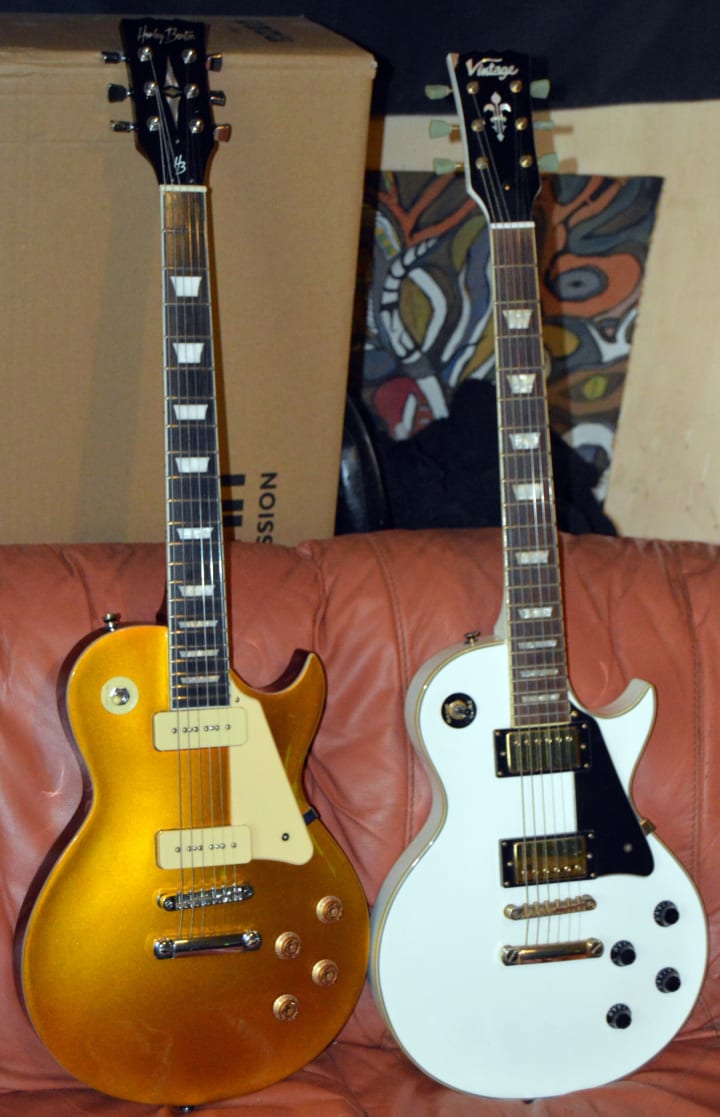 If you are on a tight budget and you want a guitar that doesn't sound like a plank of wood with speaker wire stretched across it via a couple of rusty nails, then I cannot urge you more to give Thonmann a visit and check out their guitars.
None more so than the epic and stunning SC-450 P90 Classic gold top, decide for yourself how good it sounds.
the video below is me playing my SC-450 through a DF-7 distortion pedal, Baby Boom Phase, Blueocean Delay and Orange 35LDX amplifier, recorded on a Nikon D3200 and using a Rhode Nt1 microphone along with Guitar rig vst.
If you enjoyed this review please take a look at my other stories by clicking on my name and visiting my profile, and if you happen to be feeling generous perhaps consider clicking the tip button below.