Fender Richie Kotzen Signature Strat
One of the Rarer Fender Artist Signature Guitars Gets a Test Drive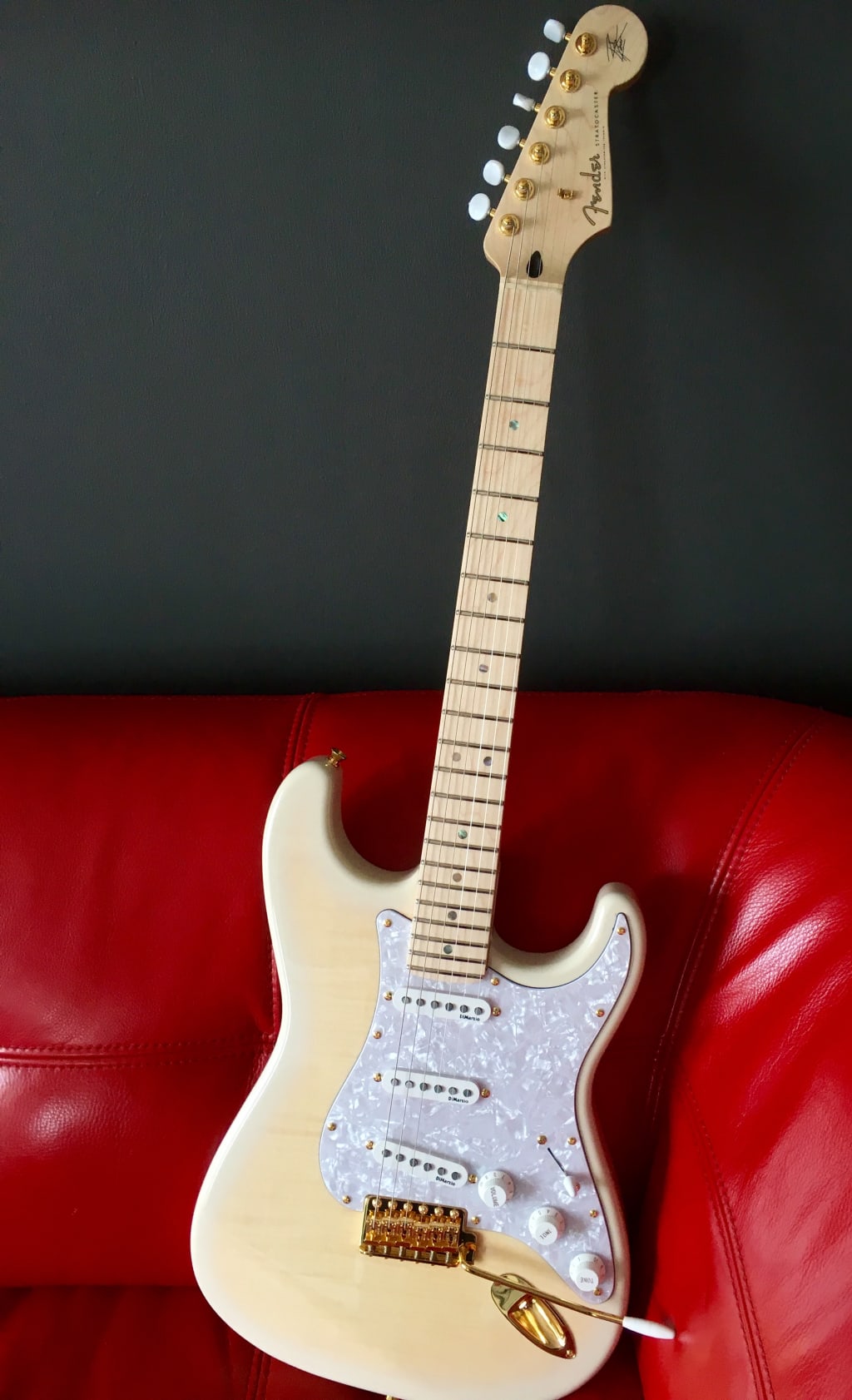 As this is my first missive on here, we best delve into a bit of backstory regarding my love of Fender Japan's Richie Kotzen signature guitars. In my younger days, I grew up playing Ibanez & Yamaha Super-strats. I loved fast necks, big fat frets, Floyd Rose trems, etc.
After a break from playing in the late 90s, I returned to playing guitar about 17 years ago. After a couple of years, I found myself with a pair of rather non widdly Gibson's, a Les Paul Classic & an SG Standard. Then, after joining a two guitar band in the mid noughties. I realised I needed an instrument with more clarity & bite.
I decided I needed a telecaster, but something I could still be me on.
Following a fruitless search of various Tele's of US & Japanese flavours, I saw an article on the Richie Kotzen signature Telecaster & ordered one in April 2005. I didn't know much of his playing then, but the guitars spec looked tempting.
To the uninitiated, Richie Kotzen is a fantastic all round musician who juggles a singer songwriter solo career, along with a shredtastic rock guitar role various bands that include: Mr. Big, Poison, and more recently, The Winery Dogs. For someone who'd started his career playing Ibanez shred machines on Mike Varney's Shrapnel label, it was a surprise to find that Kotzen's signature Telecaster was a mix of traditional vintage features with modern tweak-ability. This collision of the old and new appealed to my desire for a traditional looking guitar, with modern performance.
Because of his superstar status in Japan, originally Kotzen's signature guitars were built exclusively for the Japanese market only and not sold outside of the land of the rising sun, so I had to import the guitar, something that has become easier thanks to the internet.
As fate would have it, the giant Japanese music retailer, Ishibashi, were out of stock with no delivery for three months. So I ended up with a shop soiled one, it had a tiny paint mark at the neck body join the size of a fingernail. Almost invisible to the naked eye. I guess the Japanese consumer is a bit less forgiving than most. At this point, it was 211 Yen to the pound. So a deal was done.
After the guitar arrived, I found that I immediately bonded with its heady mix of old guitar vibe with modern playability. So from 2005-2015. My main guitar was the Kotzen Tele. I recorded the Heroes Of Switzerland album with her doing 70 percent of my parts & the rest my Les Paul Classic.
After such a positive ownership experience, I'd always fancied trying his signature Stratocaster, but pretty much given up on ever buying one, as in recent years the exchange rate has been quite unforgiving to grey import guitars from Japan. When I saw this had now become a limited FSR (factory special run) by Fender into Europe. I jumped at the chance.
How Much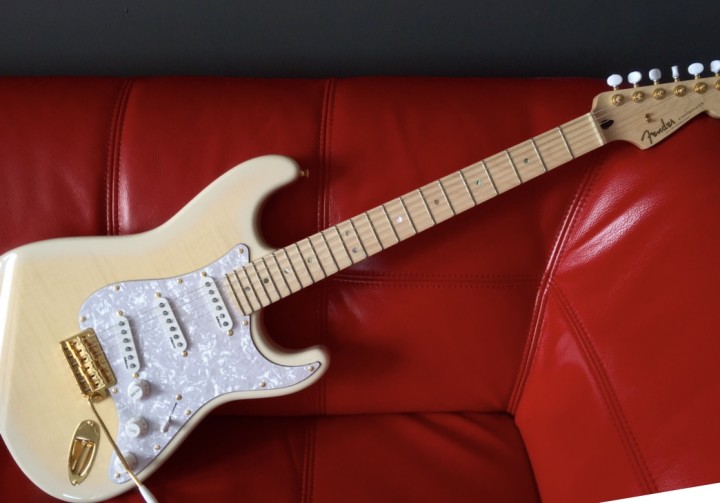 First off, the price: Fender have been shipping the Kotzen Telecaster worldwide since 2015, but they are now a lot more expensive and in the region of £1800 new.
On the Ishibashi website, the Kotzen Strat & Tele are exactly the same price, (around £1200 at the time of writing), but Ishibashi are now banned from exporting new Fender Japan guitars. So to see a new Strat on the market for around a grand was too tempting an opportunity to miss. Normally that's the price of a used grey import on Ebay, so I figured if we didn't bond, I could sell her on without losing any cash.
The Blingtastic Body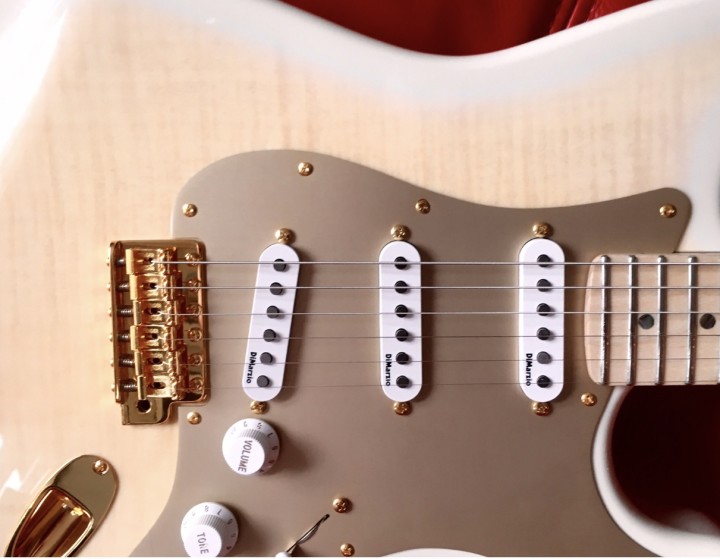 The Kotzen's body is three pieces of Ash with a laminated maple cap. It's not a lightweight body, I keep hearing mentions of swamp ash, but I think it's Japanese Sen Ash. It reminds me a little of a friend's 90s Levinson Blade. At just under eight lbs, it's a medium weight guitar; not too heavy. But not one of the lightest guitars either. The contouring of the body is perhaps a little more squarer cut than a vintage reissue.
What will divide most potential owners is the original see-through white burst finish. Then factor in the gold hardware & pearloid pick-guard. You will surely love or hate it. Personally, I found it all a bit Liberace for my tastes.
In order to try and de-bling the guitar, I bought a gold anodised pickguard from Regent Sound in London's Denmark St for £39 & changed it on the second day of owning it. I now like to think it has a more discreet Gilmour 0001/ Mary Kaye Strat-type vibe.
The Neck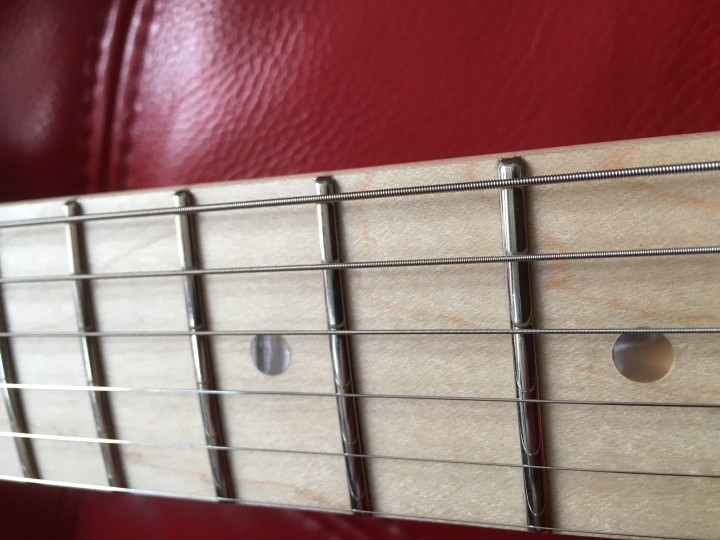 Like its Telecaster sibling, the neck is a beefy piece of maple with a rosewood strip on the back & I suspect the truss rod is in a plastic tube. The profile is what Fender call "Large C" with a Gibson like 12" fingerboard radius & massive Dunlop 6100 fretwire. The quality of the fit & finish on here is as good, if not better than any US Deluxe/Elite or AVRI I've played. The neck is that modern, silky, sealed, bare-looking maple with rolled fingerboard edges. Once again, quality is top notch. This feels pretty much up there with the CS Clapton Strat I recently tried.
I'm surprised Fender don't do more vintage style neck profiles with monster frets & modern radius boards. I get playing fatigue with the rather generic Modern C & I know I'm not the only one. If I was being picky, maybe a 10" radius would have felt slightly nicer for open chords, but the guitar feels fast & lively to play.
Much is made of the Kotzen Telecaster's beefy neck, but although the same dimensions of 648mm with a 42mm width, the neck on this Strat is simply not as deep as its Telecaster sibling. If anything, it's about half an inch shallower.
I've found it quite easy to go from this guitar to another at gigs. So if you're put off by the baseball bat-like reputation of the original Kotzen Tele, this might not be so bad.
I'm pleasantly surprised by how well cut the polyurethane nut is. Despite my dislike of traditional Strat trems, tuning is pretty much spot on. It returns to pitch after repeated abuse without any real issues, which, coming from a Floyd Rose fan like myself, is a huge compliment. The Gotoh machines are compact & efficient, although the pearloid buttons are yet another "Liberace" touch.
Electronics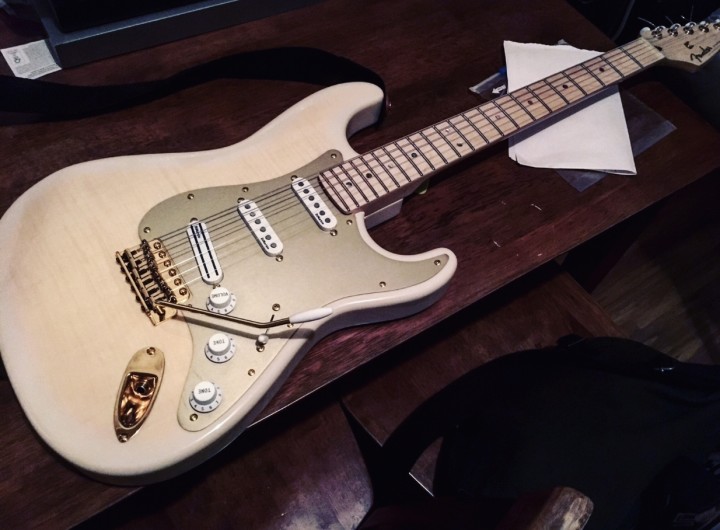 Electronics are normal Strat. Three Dimarzio single coils, one volume & two tones, five-way blade, etc.; but the Dimarzio's are custom spec'd to Mr. Kotzen's requirements. After doing some digging on the net, the best I can gather is that they are based on the hum-cancelling DiMarzio HS-2's without the stacked coil underneath. They are medium gained with an alnico V magnet & very articulate, playing with lots of distortion. With clean tones, I think maybe they lack the punch & bite of other Strat pickups—I'd go so far to say slightly lacking in character? This is disappointing, as I think the electronics on its telecaster sibling work superbly.
Tonally, it does all the Strat things a Strat can do, but perhaps with slightly less snap and punch than some other vintage reissues I've heard. Through my Blackstar Artisan 30, the three Dimarzio's are somewhat undergained by modern standards.
After a few months of owning the guitar, I decided to install a Dimarzio Tone Zone compact Strat-sized humbucker to the bridge & add a coil tap to the tone control. This, for me, has made the guitar far more useable. In addition, I upgraded the bridge saddles and had a brass block fitted to enhance the tone further.
Conclusions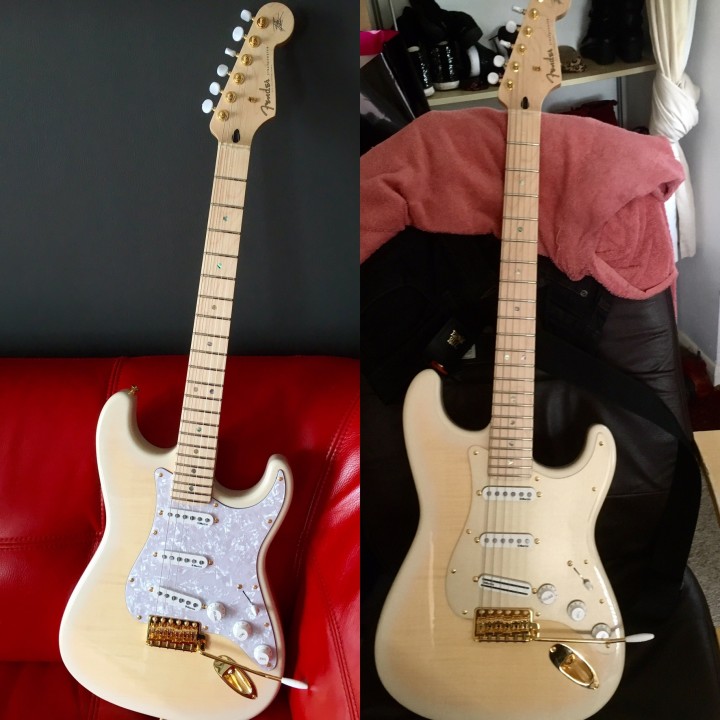 Buying a signature instrument 20 years ago, especially if you're not a massive fan of that player, used to be a difficult proposition; but I think nowadays most signature guitars, unless they are very quirky a la an Ibanez Jem, transcend the aesthetic of the original player they were intended for. As with the Kotzen Telecaster. This guitar has much to offer any player.
Although Fender now make the Stratocaster in a seemingly endless plethora of combinations at every price point known to man, it's worth noting that, aside from the American Hot Rod series of Vintage reissues, there's a real gap in the Fender range regarding a vintage style guitar with modern performance appointments. Granted, you could go down the Custom Shop route, but even then, you'd be looking at £2500 and upwards. For some people, thats just too much.
My only annoyance is that, into the UK, the guitar isn't being shipped with a gigbag or case. So it's worth budgeting another £100 or so for a decent case.
This minor quibble aside, along with Mr. Kotzen's colour scheme & finish choices, this is a great all round Strat for someone who needs a mixture of vintage looks with modern performance, but can't stretch to Custom Shop prices. If like me, you're a player who really doesn't like the rather ubiquitous & generic Fender "Modern C" neck profile. This is a no brainer for its current UK retail of just over £1100. Be quick, though. These guitars will sell out quickly once people realise it will cost about £300+ more to import from Japan.
Below is a short snippet of her in action through a Blackstar Artisan 30 with a hint of delay from a TC Flashback.