Fantasy and Microchips
Jane Badler Shoots from the Hips in the 80's Inspired Music Visual to her Collab with Parralox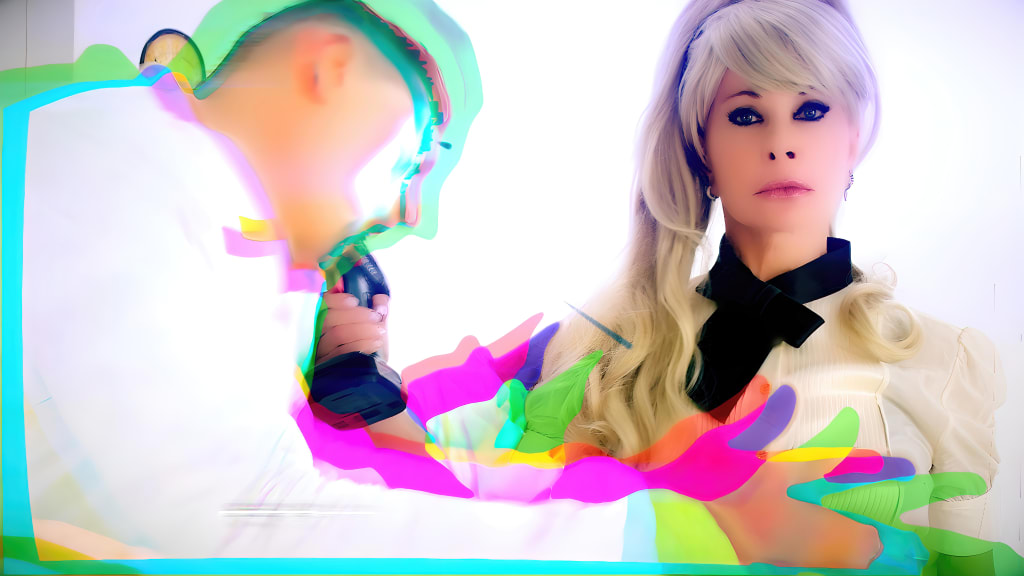 Jane Badler in "Tears of Faith" music video
Jane Badler is no stranger to TV fans. In addition to playing the role of Diana, the antagonist in NBC's science fiction series V, she has starred in One Life to Live, Fantasy Island and opposite Kim Novak in Falcon's Crest. What may surprise fans is that she is a music artist, too.
In fact, Jane Badler is an established nightclub singer in Australia, where she lives, and has released three albums. Her latest collaboration is with the retro pop band, Parralox. Titled "Tears of Faith", the track is a down-tempo electronic dance arrangement about broken relationships and the hope for reconciliation. Its accompanying visual features Jane Badler as the creation of a mad scientist in a humorous Frankenstein meets Reanimator theme. It tells the classic tale of looking for love, finding it, and then being destroyed by it.
We spoke with Jane about the new single and visual and the real-life tragedy that led to the project's long delay.
How did you connect with Parralox for the "Tears of Faith" single?
Jane Badler: I've known John von Ahlen, the band's front man, for around eight years. He is a very special person and when he reached out to collaborate on this song, I jumped at the chance.
Music has long been your side hustle. You released your debut album, The Devil Has My Double, way back in 2008.
Devil Has My Double was a unique collaboration with Jesse Shepherd and his band, Sir. They were a cool underground band at the time, and I was a Hollywood starlet who was looking to resurrect my singing career. The album was done on a shoestring budget but received lots of positive response. Jesse is a quirky original lyricist. I had a ball adding my dramatic flair.
Your last album, Opus, was released in September 2014.
Creating Opus was truly a gift, the whole experience. I had spent a year writing that album with two Melbourne songwriters. I then took the songs to Grammy award winning LA producer Jeff Bova and he connected me with the most talented musicians. My favorite music video, "Losing You" was from that album.
Was it nice to be back in the recording studio?
Every time I am in the studio with a new producer, it is wildly different experience. I have a fairly unique voice; kind of sultry with a Shirley Bassey vibe, on a good day. John von Ahlen is a very technical producer. It was a huge learning curve to use my voice with more of a pop sound and still maintain my authenticity. I was really pleased with the final product and John's vision.
The song is about broken relationships and the hope for reconciliation. Are these things you have experienced in your life?
It's hard to believe anyone could reach my age and not be affected by every aspect of love. I have felt it all: great passion and heartache. Loving deeply is a bit like bungee jumping. The risk of heartache is always there.
In the video, you play the female creation of a mad scientist! That had to be fun!
The director, Leanne Hanley, and John came up with the concept. I loved the costume and the blonde wig made me feel like a demented Barbie! We had lots of fun with the concept and the set. It's really a mad, wacky way of expressing deeper themes.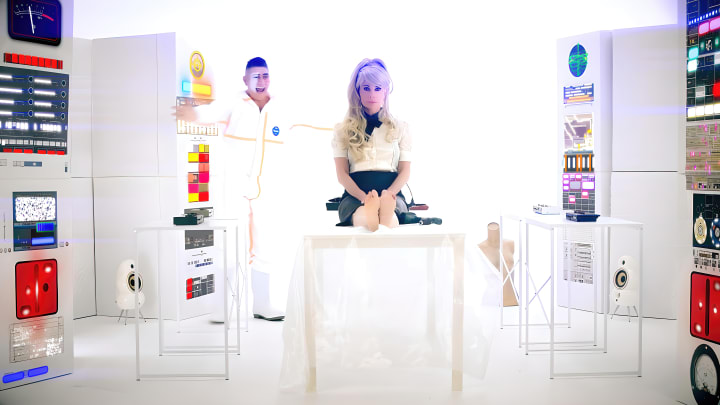 Your acting chops certainly came in handy for the video.
Years in front of a camera create an ease and I just instinctively know what to do, especially with something as fun as this. John gave me a few pointers along the way. It was definitely his baby and his vision.
Sadly, the video's release was delayed as a result of the untimely passing of your son, actor Harry Hains.
My son Harry was such a mix of extremes. He possessed extreme beauty, intelligence and talent. He also struggled with feeling any form of peace. He had an extreme sleeping disorder and used drugs as a way of medicating against the deep pain he often felt. Harry made a huge impact on his LGBTQ+ community in Los Angeles and elsewhere through his courage and fearlessness. I am so grateful that we were able to release his music after his passing.
Did Harry get to see a rough edit of the "Tears of Faith" video?
Harry never did. I'm sure he would have been proud of his mom, though.
What's next for you?
I have two movies that will hopefully be released in the next six months. One is Trim Season, a horror fantasy that I also produced. The other is a comedy called Ricky Stanicky starring Zac Efron and John Cena. I play the wonderful William Macy's wife.
"Tears of Faith" is available on Apple Music, Amazon, Spotify, and all digital platforms now. Visit https://parralox.com.
Reader insights
Be the first to share your insights about this piece.
Add your insights