Fallin' All in Shawn Mendes
Shawn Mendes: The Tour San Diego 2019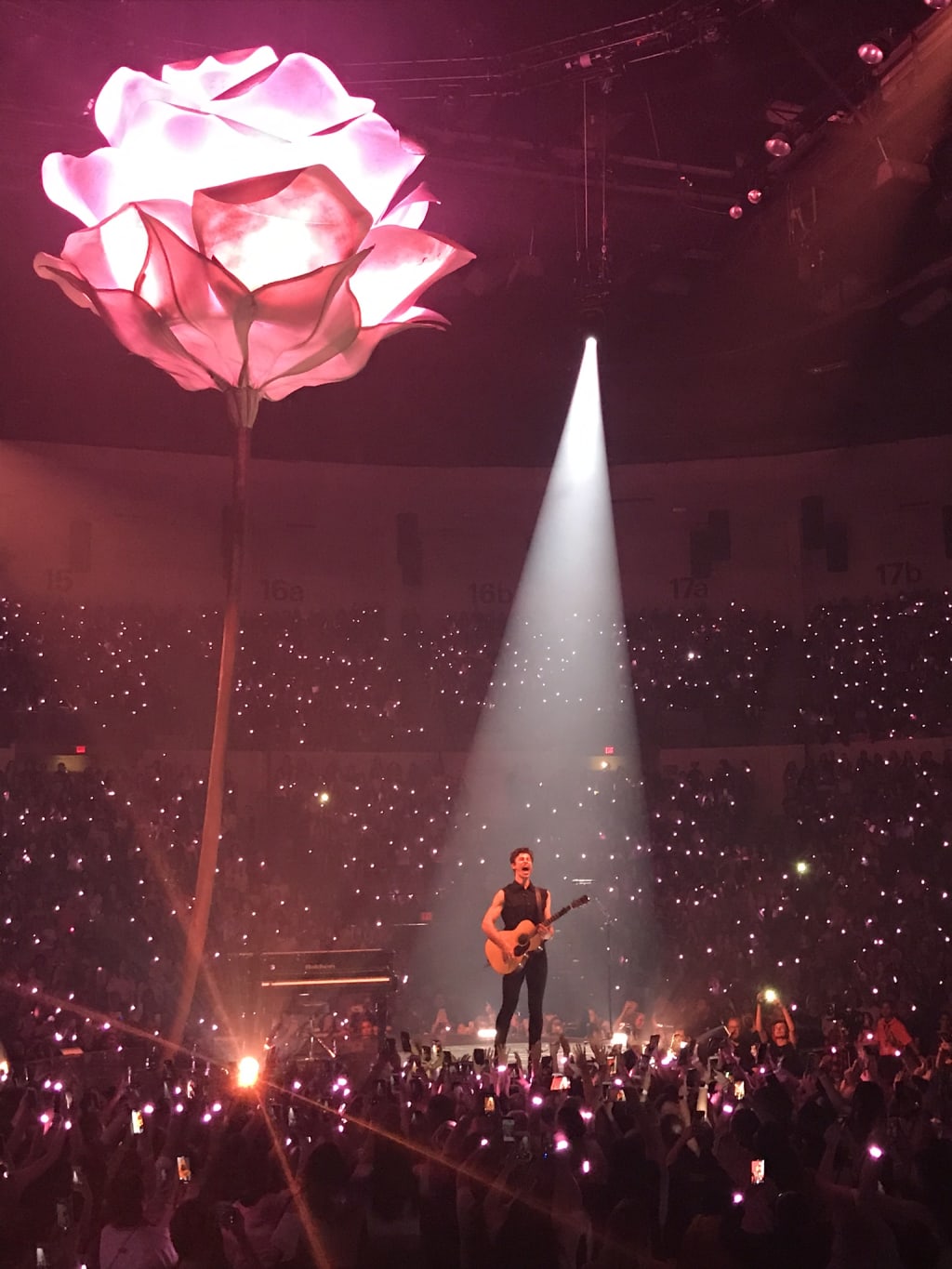 There is something extremely special about seeing an artist live in concert for the first time—especially when you've been wanting to see them for a while. This was the case for me on Monday, July 8th, 2019. I saw Shawn Mendes in concert that night, and it was incredible. He was incredible.
I did not think that I was going to see Shawn during this tour. I did not buy a ticket when they were first released a year ago, and when I decided that I wanted to go to the show, it was sold out. Because I am a stubborn person who has to go to a show once I've made the decision that I need to go, I made every effort to find a ticket. I called Channel 93.3 every night for three days in the hopes of winning some tickets—no luck. I looked for tickets on resale sites, but they ended up being way too expensive for the sections they were being sold for. As a final attempt at finding a ticket, I posted on Twitter under the hashtag #SMTicketHelp in the hopes that a kind soul would be selling one. Now I just had to wait. As time dwindled down and the show day became closer, I was convinced that I wasn't going to get a ticket. Three days before the show, the concert gods were yet again on my side. I received a message on Twitter from a girl who was selling a ticket. She was going to the show in LA instead and offered to sell me her San Diego one. I had secured a ticket was going to see Shawn.
I was going to be attending the show alone, but this wasn't anything new for me—I'd gone to a fair amount of shows alone. I left for the venue with enough time to park and get in line about half an hour before the doors were set to open. I bumped into my friend Kenna and her friend Nicole in line. I bought merch and walked around with them for a bit before we parted ways so I could find my seat. I had no idea where the seat was for the ticket that I had bought, but I was completely satisfied with the seat when I found it. I was pretty close to the main stage and the B-stage was right in front of my face. Shawn Mendes was literally going to be right in front of my face.
Alessia Cara was the opener for the show. She sang her popular songs "Here," "Stay," "Scars to Your Beautiful," and "Out of Love." I hadn't listened to her much before the show, except for when I would hear her songs on the radio. I'm glad that she opened though because she shared a wonderful message with the fans before she sang "Scars to Your Beautiful." She told all us ladies that we were all special and unique and that sometimes our flaws and insecurities are the things that make us the most beautiful versions of ourselves. It was the perfect message to give to a room of young women.
Finally, it was time for Shawn to come out. The lights dimmed and his music started to play. The monitor over the stage began to display beautiful and aesthetically pleasing colors, images, and silhouettes. Shawn walked out from underneath the stage and a roar of cheers and screams erupted from inside the arena. One of the best moments of any live show, no matter how big. Throughout the show, colors and images that matched each song flashed along with the bracelets that they had given each fan at the entrance to the venue. The bracelets and the giant rose on the B-stage flashed and glowed a different color specific to the song that Shawn was singing. It made for an amazingly lit stage, crowd, and Shawn for the duration of the performance.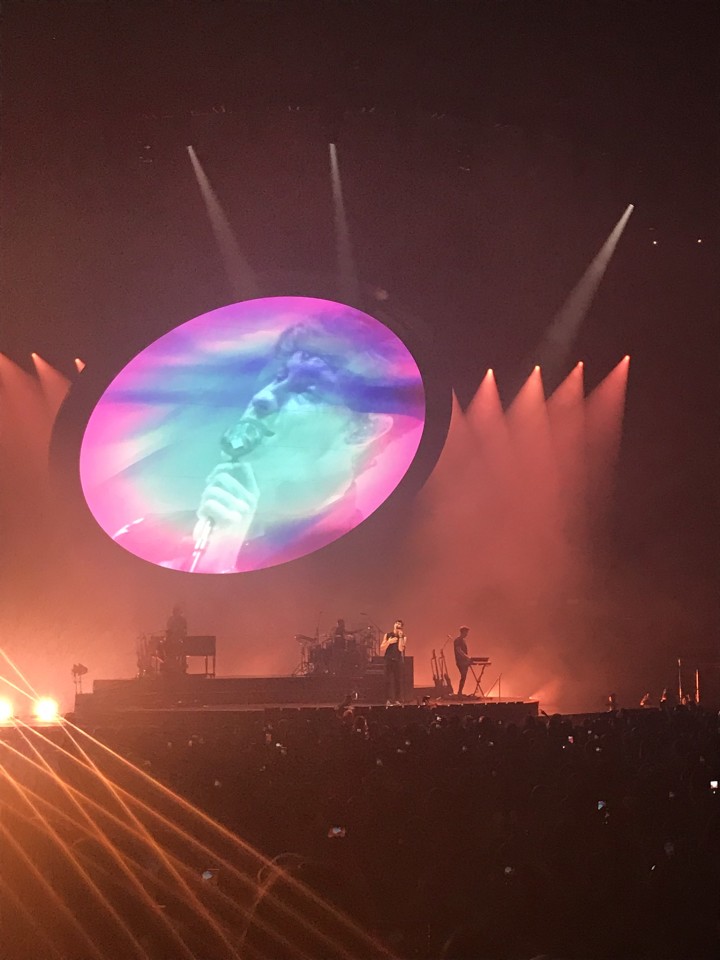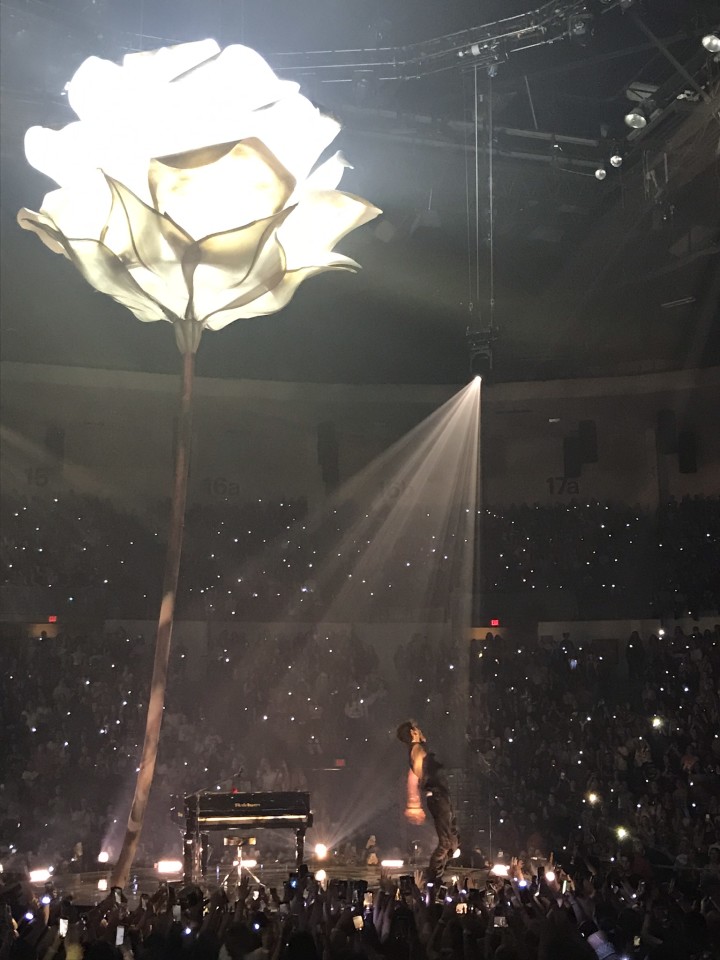 Shawn sang all the favorites: "Stitches," "Treat You Better," "There's Nothin' Holding Me Back," "Can't Have You," and "Mercy." He even catered to the members of the audience that have been listening to him since the beginning with songs like "Ruin," "Never Be Alone," "Life of the Party," "Patience," and "Bad Reputation." And because it is the tour celebrating his newest release, the self-titled Shawn Mendes album, he couldn't forget to play "Lost in Japan," "Nervous," "Why," "Mutual," and my personal favorite, "Fallin' All in You."
Throughout the night, there were special moments that Shawn shared with the audience. When he moved from the main stage to the B-stage, he made sure to high five and acknowledge the fans that he passed by on his way; at this show, he even hugged and kissed a young fan on the cheek that he has engaged with for many years. While on the B-stage, he made sure to wave and smile at the fans that were further away from the main stage. He gave a speech about how everyone in the room that night had the power to change the world for the better after singing the powerful song "Youth," which typically features Khalid. My favorite part of the night was when he sang "Fallin' All in You." This wasn't just because it's my favorite of his songs, but also because right before he started singing it, he told the crowd, "If you are here with a date or you were brought here for a date this is the perfect song for that kiss that you've been waiting for." Then after the first verse and chorus he said, "Alright we're halfway through it, if you haven't yet kissed her, kiss her!" I thought it was beautiful, especially when I saw a couple to my left kiss because Shawn told them to.
I had been wanting to see Shawn Mendes in concert for a while now. I missed him last year when he came to San Diego with Charlie Puth, and a week before the show, I decided that I wasn't going to miss this one. So, spontaneity, I thank you. Because of you I went to one of my favorite concerts of the year so far, and I fell, hard, for Shawn Mendes.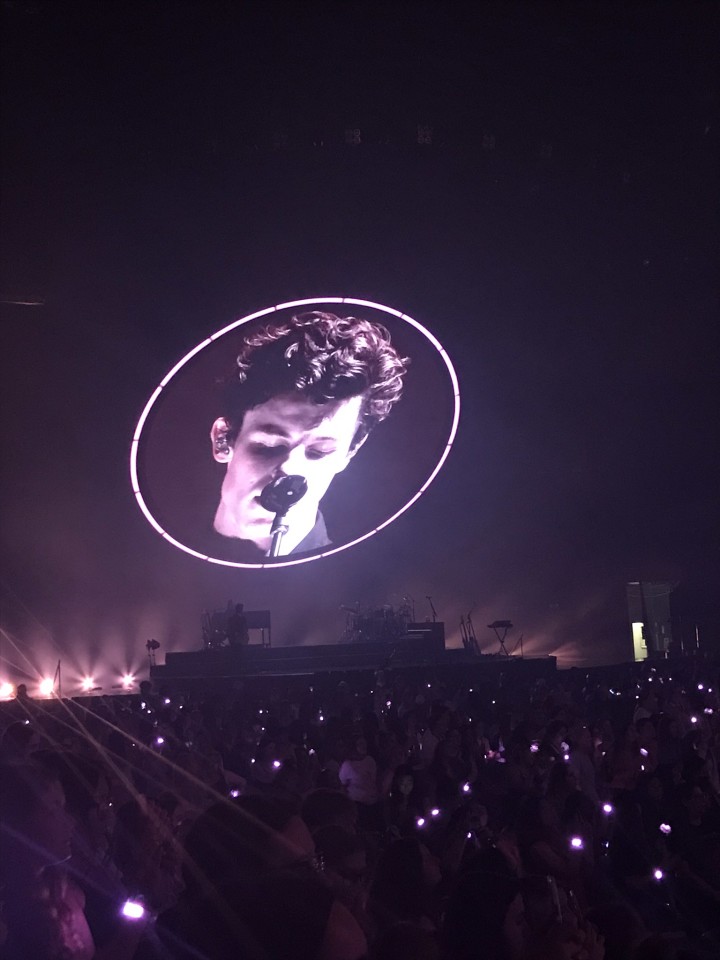 concert