Emo Isn't Dead
A Review of Modern Emo Bands, and How the Scene Is in Full Swing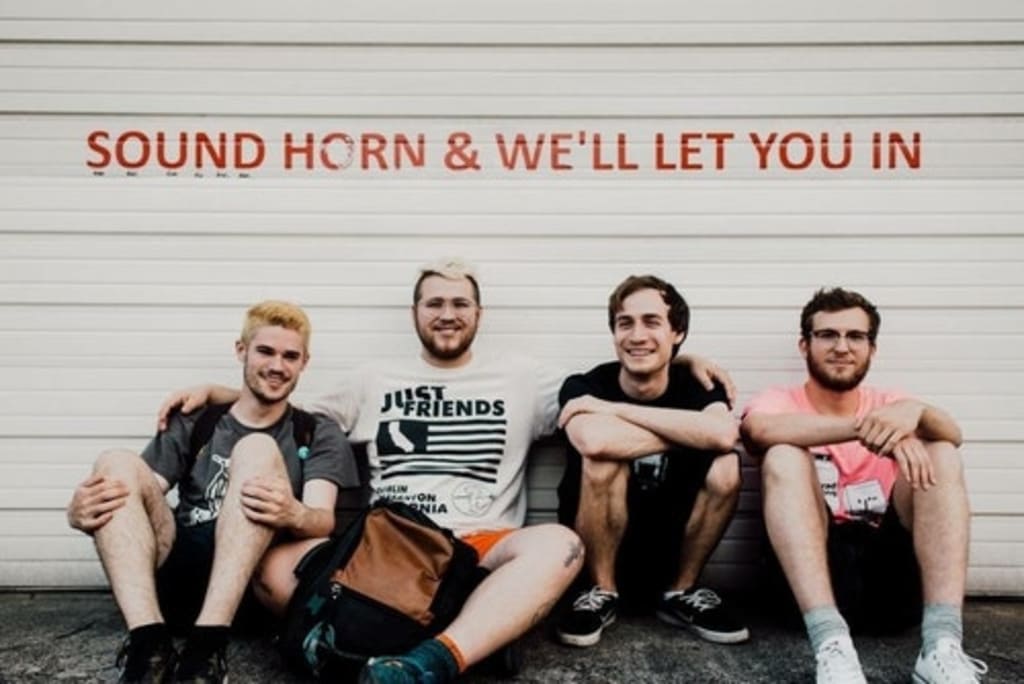 Mom Jeans., a popular emo/sparklepunk band from California.
Ah yes, emo music. For many of us, when we think of "emo" we think the early 2000s, black, and My Chemical Romance. I'm here to tell you that emo music isn't dead—it's actually very much alive. The scene has changed, but it's still going strong with bands like Mom Jeans, Oso Oso, Niiice, and more.
"What is emo, exactly?" you might ask. Well, for the purpose of this article, "emo" will be a catch-all term for what more closely resembles "midwest emo," "emo pop revival," and "sparklepunk" music, but I'm gonna keep it simple with just "emo." In general, the bands I'll be talking about all have an emphasis on sincerity and intricate melodies.
The Revival
When you search the word "emo," you get results from around 2005. To be fair, that's when a lot of the emo movement originally kicked off. Recently, though, there's been a revival of the same sentiment. Bands are confidently writing emotional lyrics, playing twinkly guitar solos, and blasting trumpets to create a new form of emo than we're used to—and it's awesome.
Counter Intuitive Records comes to mind when I think of 2019 emo bands. The label is chock full of revivalists with DIY attitudes who cultivate a scene of loving and unified rockers. Some prime bands that come to mind are Oso Oso and Mom Jeans. The latter is especially prominent in the scene currently, and they've gathered a community of like-minded, kinda sad individuals.
Many of these bands drew influence from older bands like Modern Baseball, American Football, and even early Fall Out Boy. We'll go into those older types next.
Older emo didn't die—it just changed.
As for pre-2019, bands like Modern Baseball and The Front Bottoms kept the emo scene alive, but many didn't realize they were actually part of the obscure genre. Both bands emerged slightly after/around the end of the previous mainstream emo era (you know, the one of long hair and black nails). The already vague genre's scene became a bit muddled and confused as people didn't know what was emo and what wasn't. It all just changed, and the emo genre pretty much became a label for bands with confessional lyrics and guitars.
Despite the discourse around whether they are emo or not, early Modern Baseball and The Front Bottoms helped introduce many young people into the deeper emo scene, me included.
Paramore was there for the long-hair-and-black-nails era and is still releasing music with emo sentiments today. Paramore has been making music for emos ever since they released All We Know Is Falling in 2005, and they haven't really changed in that aspect. They've definitely changed to become a bit more pop-y in recent years, but they still have the sadness that they started with, particularly on songs like Fake Happy from their most recent album After Laughter. It's definitely different, but the band and its emo mentality didn't die (unlike bands like Fall Out Boy and Panic! At The Disco, but I won't really go into that).
Modern Emo Bands
In this part, I'm just gonna name some of my favorite emo bands that are making music today and keeping the genre/scene strong. I highly suggest a listen, even if you're not sure if this kind of music is your thing.
Mom Jeans—A hugely influential band in the scene today. Emo/Sparklepunk. Twinkly guitars paired with Eric Butler's sad, stream-of-consciousness, you-hurt-me lyrics = perfection. Easily one of my favorite bands. Album Rec: Best Buds
niiice—Emo and punk. The vocals have a sort of desperation to them, but they aren't shrill (and that's a good thing!). The members are also super cool people. Helping maintain the MN emo scene with grace. Album Rec: Try to Stay Positive
Pool Kids—Raw, hurting lyrics and good rhythms. Very powerful. One of the best emo bands out there. Songs like Borderline hit you right in the gut. Album Rec: Music to Practice Safe Sex To
Oso Oso—I don't know what to say about this band. Pretty dang good all around! Catchy songs, specifically reindeer games and subside. Album Rec: The Yunahon Mixtape
Retirement Party—Unique and charming. The vocals are really good at encapsulating a lot of bittersweet emotions. Album Rec: Somewhat Literate
Marmalade—Alternating talented vocalists and good guitar work make this band incredible. Very memorable songs. They deserve a lot more attention than they've gotten. Album Rec: Marmalade
Swordfish—A very memorable band, in my opinion. They don't have much music out, but all the songs that they do have are really enjoyable and hard-hitting. Album Rec: Rodia
Graduating Life—Less traditionally emo, more rock, but still has that sentiment. Bart Starr does a great job with vocals and delivers heart-wrenching lines coupled with intense music that make you want to shout about your problems to the world. Album Rec: Freakin' Weekin'
The Front Bottoms—Not so much emo anymore, but they did release an EP with older, remastered, more emo songs recently, so they're on this list. Another one of my top favorites. Album Rec: The Front Bottoms