Easy Two Chord Songs
A list of 15 easy two chord songs to learn on guitar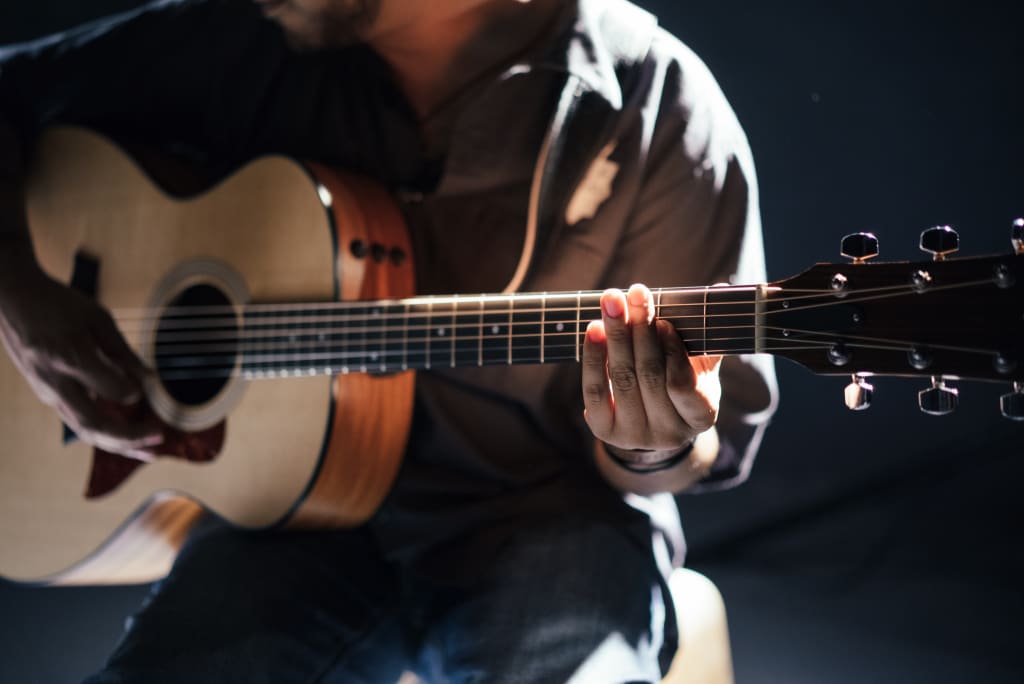 As a guitar instructor, I'm always on the lookout for easy songs I can teach to my students, especially beginners. There's nothing more satisfying to a beginner player than being able to learn and play along with a song they know, and these accessible two chord songs can be mastered by even the newest of guitarists.
About this Song List
This list of 15 songs are songs that only have two chords throughout its entirety. Songs like "Every Rose has its Thorn" by Poison or "Half the World Away" by Oasis do have two chords in their verses, but then add additional chords in the chorus and bridge. Also, I'm careful to list songs that maintain the song's essence if it is only played with an acoustic guitar. Song like "Blurred Lines" by Robin Thicke and "Eleanor Rigby" by The Beatles are two chord songs, but the guitar is not featured prominently in either song so they are omitted from this list. All the songs below are easy to play and are very guitar centric. Whether you are a fellow instructor or a beginner guitar player yourself, this list will give you some great ideas!
1. Billy Ray Cyrus - Achy Breaky Heart: A E
Cyrus's 1992 breakthrough country hit goes back and forth between the A and E major chords, the first two chords almost all of us learn.
2. Bill Withers - Use Me: Em(7) A(7)
This 1972 soul classic vamps between a minor and major chord. The song sounds good with or without the 7th chord variations.
3. Chris Stapleton - Tennessee Whiskey: A Bm (Easy Alternative: Capo 2 - G Am)
Played in dive bars by cover bands across the country in recent years, Stapleton's 2015 song only has two chords (The Bm barre chord can be tricky for beginners, so I've included an easy alternative of chords played with the capo on the 2nd fret to still match the key of the song).
4. Wreckless Eric - Whole Wide World: E A
This frequently covered tune was originally done in 1977 by English New Wave artist Wreckless Eric, who also just plays E and A.
5. Traffic - Feelin' Alright: C7 F7 (Easy Alternative: Capo 3 - A7 D7)
Made more popular by Joe Cocker's 1969 version, this jam tune is just two chords (easy alternative included to avoid the dreaded F chord!) You can play these as simple major chords, but including the dominant 7th better captures the feel of the song.
6. Billie Eilish - Therefore I am: Dm A
This 2020 release by alternative pop songstress Billie Eilish is just two chords, and is a good tune to introduce the D minor.
7. Harry Belafonte - Day-O (The Banana Boat Song): F C (Easy Alternative: Capo 3 - D A)
A traditional Jamaican folk song recorded in 1956 by Harry Belafonte, this fun tune further made popular in the movie Beetleuice is easy to pick up with a capo on the 3rd fret.
8. John Lennon - Give Peace a Chance: Capo 1 - C G
John Lennon's chanty 1971 plea for peace goes back and forth between the C and G chords.
9. Alicia Keys - Fallin': Em Bm7 (Easy Alternative: Capo 2 - Dm Am7)
This 2001 R&B classic gives you good practice with minor chords, whether you decide to use the capo or not.
10. Sly & The Family Stone - Everyday People: G C
An easy to play soul classic from 1969.
11. Jane's Addiction - Jane Says: G A
An alternative hit from 1987, Jane Says offers up a unique sounding two chord progression.
12. Chuck Berry - You Never Can Tell (C'est La Vie): D A
Berry's 1964 song famously featured in Pulp Fiction only has two chords.
13. America - A Horse With No Name: Em D6add9
Don't let the second chord in this 1971 folk classic scare you; it's just as easy, if not easier, to play as all the other chords in this list! Check out the diagram for it below.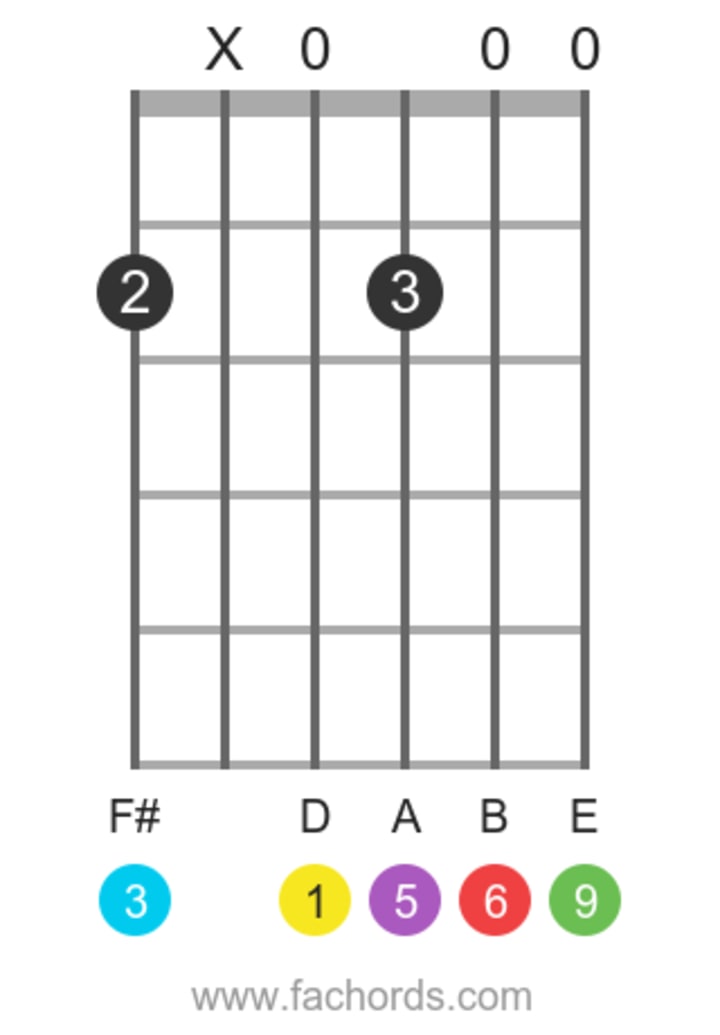 14. Hank Williams - Jambalaya (On the Bayou): C G7
This 1952 Hank Williams classic is only two chords.
15. Bruce Springsteen - Born in the U.S.A: B E (Easy Alternative: Capo 2 - A D)
This Springsteen classic rocked the world in 1984, and is super easy to play with a capo on the 2nd fret.
Of course, there are more two chord songs out there, but this list is sure to help out any instructor or beginner guitarist expand their repertoire. Happy strumming!
Reader insights
Nice work
Very well written. Keep up the good work!
Top insight
Expert insights and opinions

Arguments were carefully researched and presented
Add your insights