Durham's beautiful launderette
Washing by day, music by night at one of Britain's quirkiest venues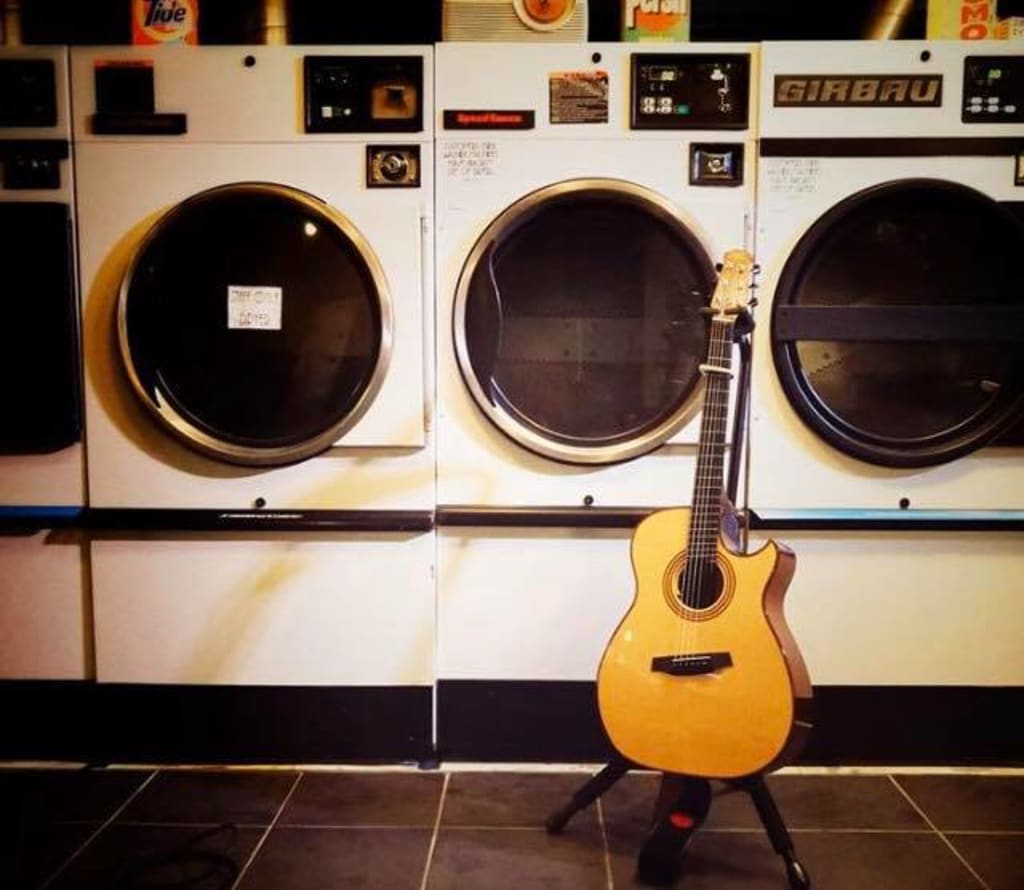 Photo courtesy of the Old Cinema Launderette
By day, the soundtrack is the throb of dryers and the roar of the spin cycle, at night, the Old Cinema Launderette dances to a different beat. The distinctive Durham venue has created a special niche for itself as one of the best bijou concert halls in the country. Quirky and intimate, it's invited an impressive array of artists – from folksters to punks – to put on a show in front of the tumble dryers, earning rave write-ups in the national press along the way.
The story begins with a dollop of serendipity. When Kathy Turner feared redundancy from her job as a teacher, she and her husband Richard felt that running a launderette might be a relatively straightforward alternative career. After scouring town for suitable locations, they found a perfect building on Gilesgate – the former Crescent Cinema, later known as the Rex. For 30 years, from 1928 to 1958, it was devoted to the silver screen, a story that inspired the retro-chic décor of the new launderette.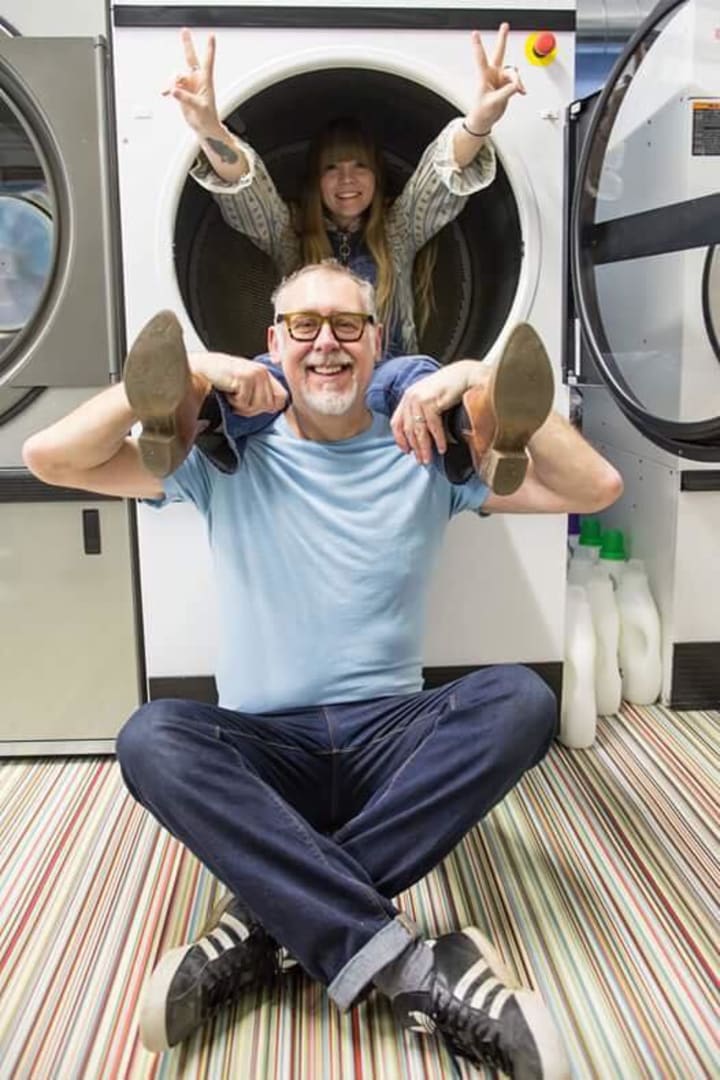 For Richard, the whole concept of a launderette also holds a quirky place in society. From Dot Cotton to Nick Kamen, via a spot of Hanif Kureishi, these palaces of soap powder have exerted a curious pull on the collective imagination, and no matter that stats suggest the irresistible rise of washing machines at home have seen thousands of laundromats close their doors in recent years. With the history and the design concept in place, the stage was set to put a soundtrack to this soap opera.
"We started looking at more of a cinematic vibe and it went from just being a launderette to doing something more creative," he recalled. "I've always loved music, it's been part of my identity since I was a teenager, but we started with poetry before moving on and putting on bands.
"Over the years we've been able to extend in two or three stages and I think we've established ourselves. We were even chosen as the Guardian's favourite small venue in an article they had a couple of years ago."
Today, Kathy runs the laundry while Richard is the man behind Mr Wishywashy promotions, staging gigs at the Old Cinema and beyond.
The Durham scene
Away from the university, Durham can feel like a small, sleepy town. Culturally, it has long suffered in Newcastle's shadow; the big city is better able to sustain venues and attract performers. But when the Old Cinema started up in 2012 it formed part of a small but determined trend, a kind of DIY Durham. As well as a long-awaited theatre, opened at last in 2013, Durham's new culture meant venues in unlikely places: the Fish Tank, above a chip shop; Empty Shop HQ, in an unused space above a baker. Later, the People's Bookshop and the Claypath Delicatessen got in on the act as the Fish Tank and Empty Shop closed down.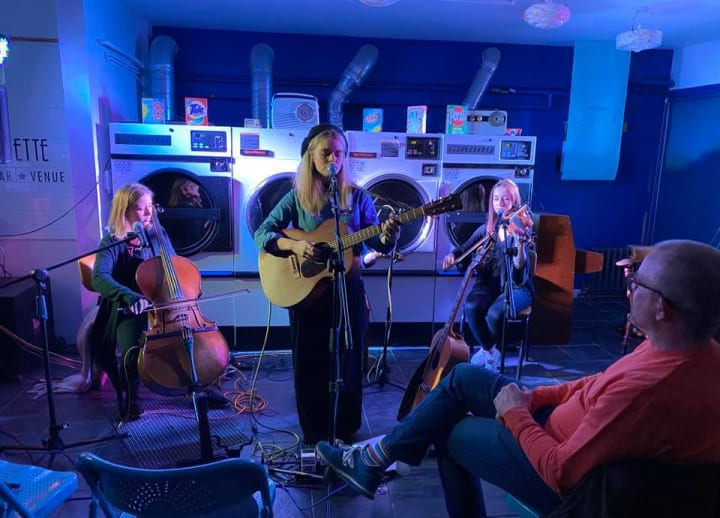 "It's been nice to be part of that little scene," Richard said. "I know the guys from Empty Shop, they maybe had a bit of a cooler vibe, they put on a lot of noisier, punkier stuff. We can't do that because of the flats above us – if we make too much noise, they'll shut us down.
"One time we booked an American rock band and we had to explain to them exactly what would happen if it was too loud, we booked a punk band once and it all went wrong. But we've had the Seahorses in here, we've had some of the old punks who are still going; they can all strip it right back.
"We rarely have anything with drums, anything with a lot of bass, that's the sound that really travels. We just do what we can do. It can be awkward keeping the level down but it's working reasonably well. I work with a sound engineer who understands what's going on and there are times when we're just looking at each other when it's a slightly noisier gig, trying to decide if it's too loud or not."
Lifechanging on Mars
It's a far cry from Richard's teens, when Dunelm House was the university venue – and capable of attracting more exciting acts than the modern-day university can put on.
"I remember one of my first gigs was Siouxie and the Banshees," he recalls. "I went there, this speccy little schoolkid who liked Elton John, and right in front of me there's this punk princess stomping around swearing at everyone! It made an impression.
"And there were other moments back then, like visiting some tedious garden centre with my mother when Bowie's 'Life on Mars' came on the car radio. Life was never the same after that."
Noise restrictions and the small scale of Durham's current venues would rule out a return to gigs on that scale. Richard dreams of setting up a mid-size venue similar to Newcastle's Cluny, but wonders if it would be sustainable in a small town.
Music during coronavirus
Meanwhile, there's a more immediate crisis. The gig schedule came to an immediate end when the coronavirus lockdown came into force in March 2020. While the launderette continues to offer a staff wash service, there was no longer any scope to operate a bar and venue. As the restrictions are slowly lifted and life in Britain returns to a semblance of normality, or at least the much-touted 'new normal' beloved of politicians and pundits, the music is still silent. The next music performance at the launderette is scheduled for September 4, a welcome return to Teesside ukulele player – and fellow 'Life on Mars' lover – Amelia Coburn, but that's a somewhat tentative prospect in current circumstances.
"I almost wish I was in New Zealand right now," said Richard, a former NHS nurse. "It's hard to see how we can get it back to normal. Will it take a vaccine? Will it be possible when infection rates drop right down? But however it happens, we have to do it properly. We can't risk people's health."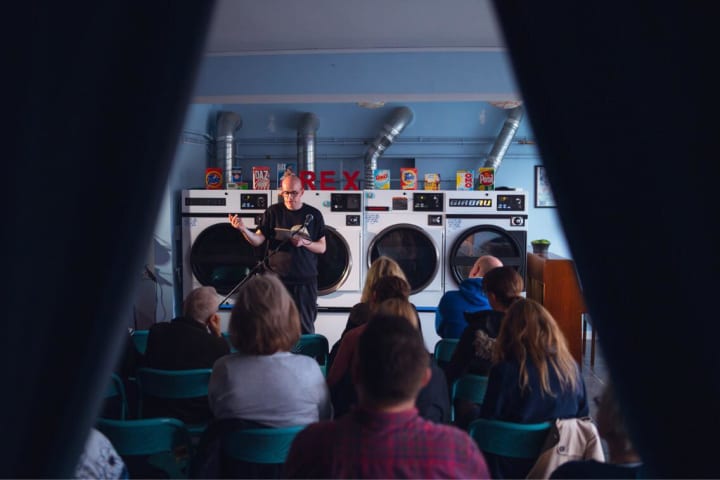 However, the nature of the old cinema makes it hard to adapt to social distancing requirements. "We can get in 55, maybe 60 people, plus two or three in the band," said Richard. "We couldn't do any feasible gigs with social distancing, not even at 1m or half a metre. It just wouldn't work for us, nor for the performers.
"I think the gigs that might start up first may be seated gigs – you have more options to keep space between people there."
Those seated gigs might be more viable at Ushaw College, a former Roman Catholic seminary on the edge of Durham, now reinventing itself as a cultural hub as well as a spiritual one. Richard has been promoting larger-scale gigs there – next month he was due to put on the Blow Monkeys in a special festival performance as part of Durham Brass – and is looking at ways to develop that. Another upcoming event is scheduled in Glasgow, with former REM guitarist Peter Buck unveiling his new collaboration with Luke Haines, the driving force behind the Auteurs and Black Box Recorder. They're due to play at the Flying Duck, a 120-capacity venue that chimes perfectly with the type of show that has inspired Peter's love of music.
"Personally, I like the smaller, more intimate gigs. My favourites were seeing bands like Sonic Youth and Mudhoney at the Riverside in Newcastle. It's that vibe of being close to people, being close to people with a common passion. It's being part of it, being part of a bigger identity."
That passion makes it hard to get excited about the current vogue for socially distanced, online performances. Innovation is admired, but the end result doesn't always excite.
"A lot of musicians are really struggling because government help doesn't necessarily apply to them," Richard added. "People are showing great initiative, whether that's putting on these online gigs or setting up tip jars to help them keep going. It's hard for them until we get back to some sort of normality.
"But to be honest, I've listened to very few online events. NARC magazine asked if I'd be interested in putting on a gig without an audience and it feels like something I should be doing, but it's hard to get excited. It's great that people are trying to make this work, but it doesn't quite float my boat."
As for the future, the recent restrictions may be encouraging people to think locally. Although Richard would like to see that encompass smaller, local venues, he has his concerns. "My concern is that people will be wary about coming to gigs in more enclosed spaces. If you're talking about seeing Springsteen at St. James' Park, people maybe feel a bit safer in that outdoor environment, even if there's a huge crowd. Indoors can feel, not exactly claustrophobic, but it's going to be weird being close to other people again."
Life in lockdown. This is the third of a short series of features about how small organisations and businesses are responding to the COVID-19 restrictions or preparing to reopen when things return to normal. Previously I wrote about REfUSE cafe in Chester-le-Street and Fram Ferment in Durham.

Andy Potts
British-based writer with a passion for sport and travel, music and photography. Proud dad, exploring the world anew through the eyes of a forthright toddler.
See all posts by Andy Potts →