Dr Hook and Shel Silverstein
Sometimes Things Are Not What You Expect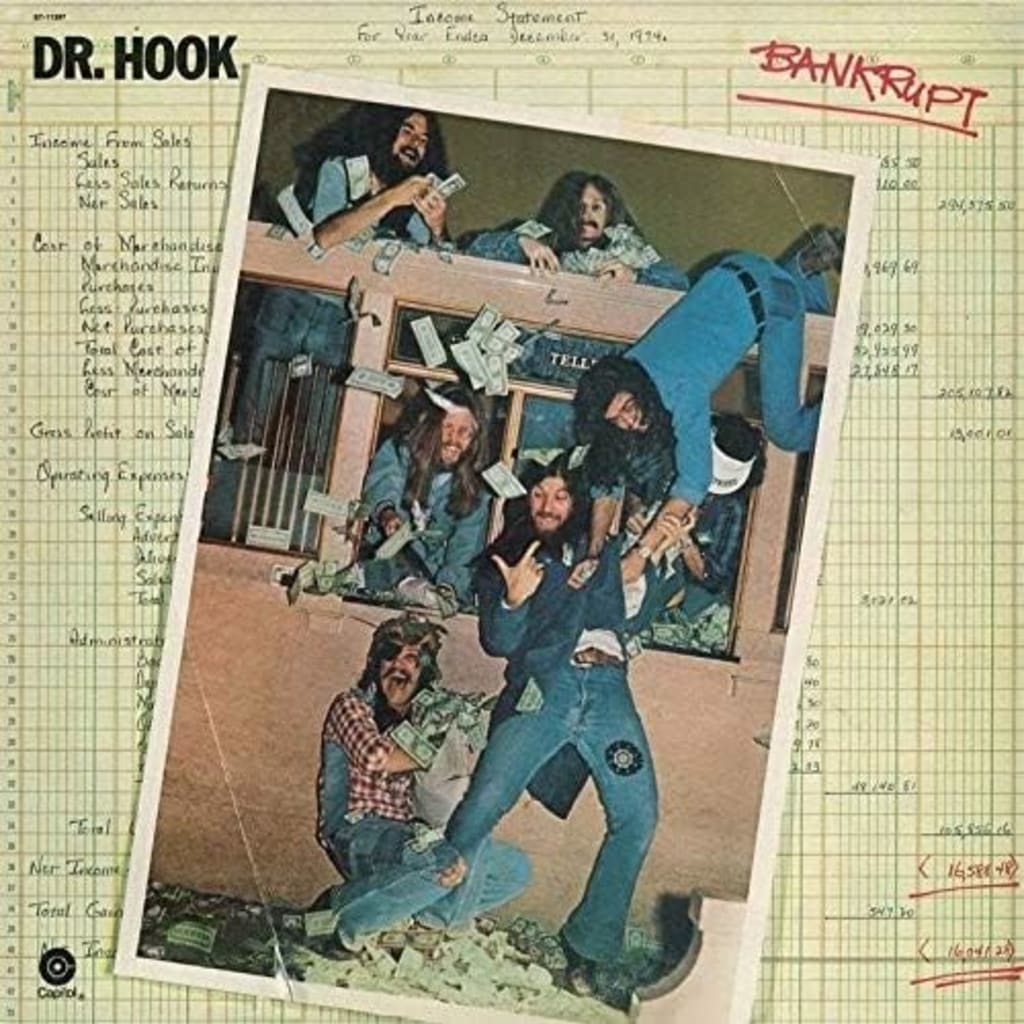 Cover of "Bankrupt" by Dr Hook
Introduction
In the seventies I was in a band called The Bok (that I have mentioned in other posts) and one day I went round to the band leader's house (Andy Marshall) and pulled out three albums wich really surprised me. This must have been 1975 or 1976 and my musical taste was still developing, and though Andy was a year older than me (I think) his tastes were more esoteric than mine on the time.
Here is a piece about my musical history
These were the albums that I pulled out with Andy's responses. I didn't say anything initially.
"Frampton Comes Alive" by Peter Frampton - "Well we all make mistakes"
"Voulez Vous" by Abba - "The opening riff on th etitke track is as heavy metal as you will get"
"Bankrupt" by Dr Hook and The Medicine Show - "Take it home and listen. It is clever and funny and will completely change your opinion of the band"
I had been exposed to the soppy side of Dr Hook on Radio One with Noel Edmonds plugging stuff like "A Little Bit More" and "When You're In Love With A Beautiful Woman", the sort of stuff your parents would like, with a little bit of safe suggestion on the former song.
I got home and put on "Bankrupt" and listened and found it funny and touching with some great songs. I bought my own copy. The Shel Siverstein songs are hilarious and I bout bought his album "Freakin' At The Freakers Ball" which is another brilliantly funny recording.
Checking the titles of their previous albums we see "Belly Up" and "Sloppy Seconds" so you get an idea of what sort of band they were.
You can find most of their music on digital download here and here but I will share a few of my favourites with you to whet your appetite.
"I Got Stoned And I Missed It" from "Bankrupt"
I think we have done this and this Shel Silverstein song certainly broght a big smile to my face and gave me a huge insight into how subversive the band really were.
"Everybody's Making It Big But Me" from "Bankrupt"
Another where we can see ourself in the concept of the song and still makes you laugh, that is the second reason for getting yourself a copy of the album.
"The Millionaire" from "Bankrupt"
I love this song, and again we would all like to be in that position. I fit the "ugly guy" description but don't have the money, but I still love this song so much.
After "Bankrupt" I started investigating their other albums and found even more gems.
"Sylvia's Mother" from their debut album
When I first heard this I dismissed it as standard depressing country music. In the light of what I heard on "Bankrupt" I started to wonder if this was firmly tongue in cheek. It also is cemented in a pre mobile phone era with his wrestling with the operator demanding "40c more for the next three minutes". I now love this song, and this is a live version from Shel Silverstein's houseboat.
"Freakin' At The Freakers Ball" from "Sloppy Seconds"
I am sure you can guess who's pen this came from, and I find it very funny. Lots of "offensive" presented in a fun and inoffensive way. I love it.
"Cover Of The Rolling Stone" from "Sloppy Seconds"
A very funny take on when we don't get what we would really like to have. I am listening to this and smiling and I would be very surprised id the band never appeared on the cover of the rolling Stone.
Conclusion
If you know Dr Hook this may have changed your opinion of them, if you don't know them I hope you have enjoyed this short playlist, and apolgies to anyone who found something to be offended by in here but I am sure most of you will leave with a smile on your face.
Reader insights
Be the first to share your insights about this piece.
Add your insights