Deliberating the Go-Go's Vacation on its 35th Anniversary
The Go-Go's sophomore album was released August 11, 1982 on I.R.S. Records.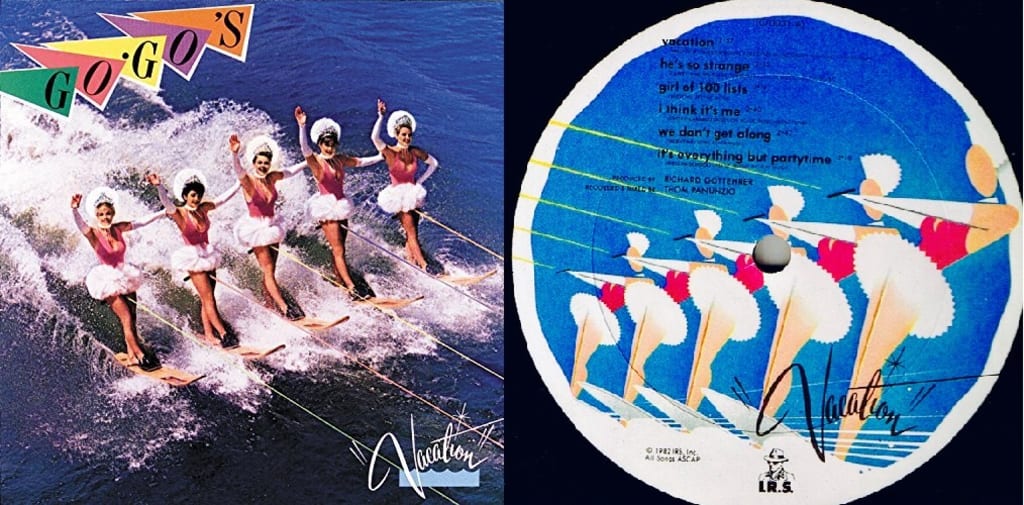 (© 1982 I.R.S. Records) 
After a six-week run atop Billboard's 200 album chart with the multi-platinum debut album Beauty and the Beat, all-girl rock group the Go-Go's hurriedly released the follow-up sophomore effort, Vacation. Echoes of previous singles "We Got the Beat" and "Our Lips Are Sealed" could still be heard across radio airwaves when "Vacation" became the band's third hit single in the summer of '82. The bubbly title track was the first-ever cassette single and was accompanied by its vivid and playful music video, which revealed the band members hamming it up while pretending to be highly skilled water skiers.
During that time, I was wearing out the grooves of the Top 10 summertime hit's 7-inch single, memorizing every word as I sang along with Belinda Carlisle. I played air guitar with Charlotte Caffey, Jane Wiedlin, and Kathy Valentine. I banged out Gina Schock's thunderous drumbeats on any nearby surface, all the while I impatiently awaited the full-length album's release. I remember calling my local Record Bar on a daily basis for updates, as exact record release dates were something of an enigma in the 1980s.
For me, that entire summer revolved around the Go-Go's, from joining the band's fan club, scouring magazine stands for any glimpse of Belinda and company, to recurrent spins of Beauty and the Beat as I counted down the days anticipating the arrival of Vacation. Alas, the day finally arrived when my eyes unexpectedly gazed upon the album's totally kitschy cover art by Grammy-winning designer Mick Haggerty, which seemed to be waving at me from the record store's new release rack. The ride home from the mall was an agonizing eternity as I shuddered with excitement.
When I arrived home, I immediately began to scrutinize every detail of the album's liner notes, while my heartbeat kept time with the beat as I listened to the LP's twelve new tracks for the first time. Vacation continued with the unique sound the band had perfected on Beauty, but this time it was infused with tones of a more polished California surf rock style. And the album's lustrous artwork perfectly matched the music's sound.
Vacation started off strong, but inspiration seemed as if had been stretched thin in order to quickly release a follow-up to the band's best-selling debut. Leftovers from the Go-Go's earlier live setlists unfortunately found their way onto the sophomore effort, effectively diluting what could've been a solid track listing. The obligatory cover tune "Cool Jerk" and the subpar "Beatnik Beach" sounded like fillers included to expand upon the album's abstract beach theme. It resulted in the Go-Go's second studio album sounding like the band members were left scrambling for quality material. Additionally, Jane Wiedlin's heavy reliance on Webster's rhyming dictionary (as evidenced on "Girl of 100 Lists" and "It's Everything but Partytime") certainly didn't help matters. Fortunately, Kathy Valentine was aptly able to pick up her cronies' slack by contributing the effervescent title track, the accidentally prophetic "We Don't Get Along" and the ethereal closing ballad, "Worlds Away."
By the time Vacation was recorded, each band member's contributions had become apparent; Belinda was the voice and "beauty" of the bunch, Valentine and Schock were obviously the most proficient musicians, while Caffey and Wiedlin wrote the lion's share of catchy hooks and (sometimes) biting lyrics.
Album producer Richard Gottehrer seemed too focused on making the band sound like a throwback to the bygone era of 60s girl groups, analogous to the first two Blondie albums. Furthermore, I've always thought "Speeding" should've followed "Get Up and Go" on the album, instead of being relegated as an overlooked B-side. After all, "Speeding" (featured in the 80s cult classic Fast Times at Ridgemont High and its accompanying soundtrack) not only tied in perfectly with the album's theme, but would've been a fantastic choice as Vacation's second single. The much weaker "Beatnik Beach," which hideously sounds like a cheer squad routine, should've remained only as a B-side, allowing room for "Speeding" to make a more cohesive album. Also, swapping the placement of "We Don't Get Along" and "I Think It's Me" would've tightened up the album's first half, which ironically was how the track listing initially appeared on the LP label's first pressing. Luckily, with today's technology, it's now possible to rectify the album's imperfect running order, creating a far more enjoyable listening experience. Of course, none of this kept me from playing Vacation incessantly, nor lining my bedroom walls with enough Go-Go's merchandise to make it look like a shrine to my favorite group.
The Go-Go's engraved a special place on my heart, as it was the first rock band I ever became completely infatuated with, and back then, my fandom was in high gear. About this time, I'd acquired all of the swag known to exist: glossy 8 by 10 photos, posters, magazine covers, postcards, t-shirts and buttons. Then, my fan club kit arrived, which contained a newsletter announcing the dates of the upcoming Vacation Tour of America. This turned out to be my first rock concert (thanks to my dad's willingness to play chauffer and chaperone to a car load of annoyingly excited teens for a 400-mile road trip). Coincidentally, it was a general admission show of which we found ourselves in the front row. The experience was truly unforgettable and has remained as one of my most cherished memories throughout my life. That outing also introduced me to a fellow Go-Go's fanatic who has remained as one of my closest and dearest friends in the years since. In fact, whenever we get together, the Go-Go's still inescapably sneak into our discussions on a regular basis while reminiscing about the good old days. We often laugh about how our front row vantage point ruined us for the numerous concerts which have since followed.
Despite its diverting title, the Go-Go's failed to escape the curse of the sophomore jinx. In hindsight, it's easy to deduce Vacation was a crucial turning point for the band, only hinting at the first signs of trouble which were lurking just around the bend. That was when the first cracks in the band's squeaky-clean facade began to subtly appear. I recall being too naïve to comprehend tales of Belinda's convertible Mercedes-Benz, which her bandmates laughingly dubbed as "the party car." It would be several years later before I understood the true meaning of that veiled reference.
Back in 1982, Rolling Stone declared: "The Go-Go's are safe, wholesome, and proudly commercial," but in reality, they were "twisted, crazy, drug-addict sex fiends," as Jane Wiedlin confessed in 2000 on VH1's Behind the Music series. Unfortunately, Wiedlin's words proved to be true in the following years.
Ultimately, the band's long-term success was derailed by chronic insecurities and egotistical infighting, which were only heightened with Carlisle's well-documented cocaine abuse and Caffey's admitted heroin addiction. But for a brief moment, the Go-Go's reigned supreme as America's (and my) sweethearts.
Through the years, I've remained a fan of the all-girl rock group throughout its numerous breakups and reconciliations. I readily consumed the band's latter output, as well as the individual member's solo efforts. I've also seen them perform live on occasion since my initial show decades ago, and summertime still evokes fond memories of Vacation, but nothing has ever matched the excitement of my first Go-Go's concert in the summer of 1982.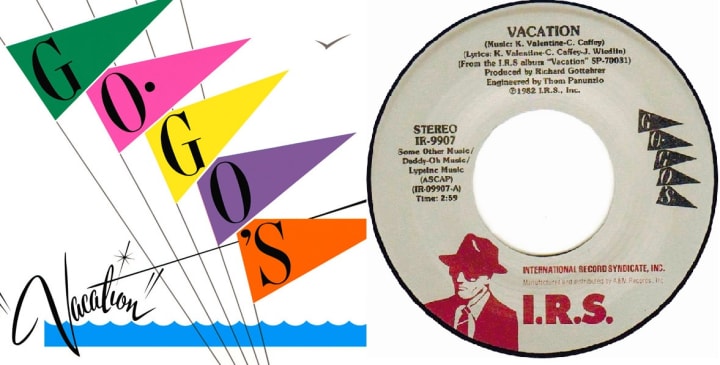 About the Creator
I'm a music journalist, blogger and crate digger. I began writing about music during college and again as a freelancer. Links to my published pieces can be found on my music blog at: popmartzoo.com and/or follow me on Twitter:@popmartzoo
Reader insights
Be the first to share your insights about this piece.
Add your insights