Tori Amos Delivers First Glimpse Inside Native Invader with "Cloud Riders"
Amos' 15th studio album is scheduled to drop on Sept. 8th.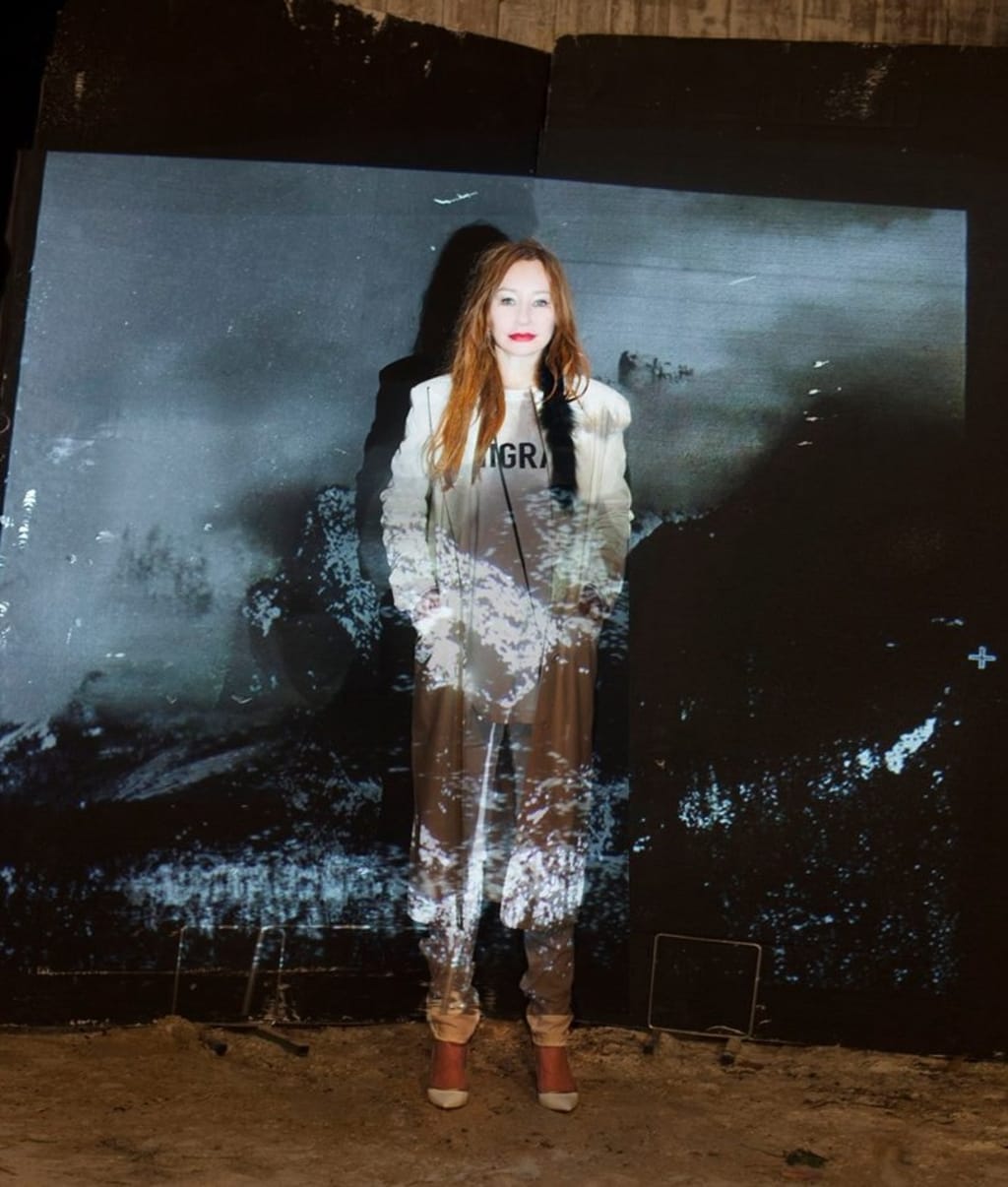 Prolific singer-songwriter Tori Amos recently surprised fans by releasing "Cloud Riders," the first taste of her upcoming album, Native Invader. The introspective new single ponders a turbulent relationship and decrees her unbendable desire to survive its storminess.
Amos previously revealed the future-facing theme of the new album by saying:
"The songs on Native Invader are being pushed by the Muses to find different ways of facing unforeseen challenges and in some cases dangerous conflicts. The record looks to Nature and how, through resilience, she heals herself. The songs also wrestle with the question: what is our part in the destruction of our land, as well as ourselves, and in our relationships with each other?"
The lyrics of "Cloud Riders" seem to fulfill Amos' cryptic promise of Native Invader's subject matter as she sings:
"Standing on the edge of a cliff/ Didn't think it would come to this/ A dead calm before the storm/ Not a sound from their engines/ From the other side, saw a shooting star at 4:22 AM."
And in the line: "Underneath the stars above/I said, 'No, stop, I am not giving up on us/And I am not going anywhere soon," Amos sounds more than ready to stand her ground.
Upon initial listening, the lyrics and melody of "Riders" conspicuously harken back to Amos' Scarlet's Walk era. In fact, it would easily sound at home on the 2002 set, comfortably nestled between "A Sorta Fairytale" and "Strange."
"Cloud Riders" is another excellent addition to Amos' canon of idiosyncratic soul music. Impeccably produced by Amos, "Riders" sonically creates a sublime musical world of its own with featured bits of guitar (acoustic and electric), delicate drums and accentuated organ, effectively leaving us impatiently awaiting the new album's release.
You can listen to "Cloud Riders" during the track's world premiere exclusively at NPR. Stream Tori Amos' new single "Cloud Riders" here.
Native Invader is Amos' follow-up to her 2014 full-length Unrepentant Geraldines, which featured the single "Trouble's Lament" and fan favorites "Wild Way," "Selkie," and "Invisible Boy." Geraldines was Amos' eighth album to debut in the top 10 of the Billboard 200 album chart, continuing the artist's long-running string of best-selling albums since her multi-platinum debut album, Little Earthquakes in 1992. Therefore, expectations are high for the release of Native Invader.
The upcoming album was announced on Facebook, simultaneously with news of 2017's Native Invader Tour, which will include dates across Europe and North America. The tour is scheduled to begin on September 6, 2017 in Cork, Ireland and will conclude in Los Angeles, California on December 3, 2017.
Native Invader North American Tour Dates
October 24 O'Shaughnessy Auditorium Saint Paul, MN
October 26 Orpheum Theater Madison, WI
October 27 The Chicago Theatre Chicago, IL
October 29 State Theater at Playhouse Square Cleveland, OH
October 30 Massey Hall Toronto, ON
October 31 Michigan Theater Ann Arbor, MI
November 2 The Orpheum Theatre Boston, MA
November 3 MGM National Harbor Washington, DC
November 4 Tower Theater Philadelphia, PA
November 7 Beacon Theatre New York, NY
November 8 Beacon Theatre New York, NY
November 10 Atlanta Symphony Hall Atlanta, GA
November 11 Durham Performing Arts Center Durham, NC
November 12 The Ryman Auditorium Nashville, TN
November 14 Mahalia Jackson Theatre New Orleans, LA
November 16 The Pavilion at Irving Music Factory Dallas, TX
November 17 ACL Live at The Moody Theater Austin, TX
November 19 The Paramount Theatre Denver, CO
November 22 Schnitzer Hall Portland, OR
November 24 The Paramount Theatre Seattle, WA
November 25 The Hult Center for Performing Arts Eugene, OR
November 26 The Paramount Theater Oakland, CA
November 28 The Balboa Theatre San Diego, CA
November 29 The Mesa Arts Center (MAC) Phoenix, AZ
December 1 The Theatre at Ace Hotel Los Angeles, CA
December 2 The Theatre at Ace Hotel Los Angeles, CA
December 3 The Theatre at Ace Hotel Los Angeles, CA
Native Invader will include 13 original new songs and will be released in standard and deluxe edition formats. The deluxe edition will contain two bonus tracks: "Upside Down 2" and "Russia." An official press release was recently issued along with the album's announcement, which read as follows:
Tori Amos is one of the most successful, prolific, and influential artists of her generation. Native Invader is Tori's fifteenth studio album, following 2014's Unrepentant Geraldines – her eighth Billboard Top 10 album — and will be made available in various physical and digital configurations, as well as vinyl later this fall. The physical CD package will be available in standard as well as deluxe offerings; the latter includes a hardcover book and two bonus tracks. Native Invader's evocative album cover art was unveiled over Tori's social media platforms on July 6th.
Native Invader will be released on Decca Records. Below is the complete track listing of the album:
1. "Reindeer King" 7:07
2. "Wings" 4:09
3. "Broken Arrow" 5:21
4. "Cloud Riders" 5:23
5. "Up the Creek" 3:22
6. "Breakaway" 4:37
7. "Wildwood" 4:42
8. "Chocolate Song" 4:42
9. "Bang" 6:12
10. "Climb" 4:03
11. "Bats" 4:18
12. "Benjamin" 2:43
13. "Mary's Eyes" 5:19
Deluxe edition bonus tracks:
No. Title Length
14. "Upside Down 2" 3:23
15. "Russia" 2:47
About the Creator
I'm a music journalist, blogger and crate digger. I began writing about music during college and again as a freelancer. Links to my published pieces can be found on my music blog at: popmartzoo.com and/or follow me on Twitter:@popmartzoo
Reader insights
Be the first to share your insights about this piece.
Add your insights