Cheap Trick Still True to Illinois Roots
Over 40 Years Later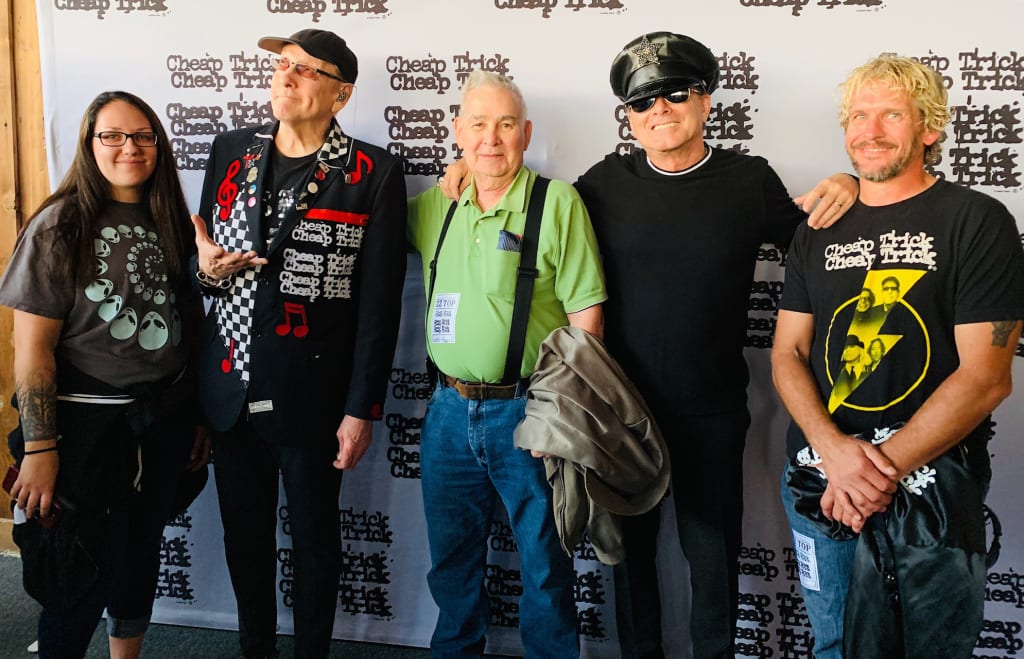 Brittany Lambright, Rick Nielsen, Larry Lambright, Robin Zander, and Scott Lambright. Photo by Marcia Frost.
It's not often a band has staying power for over 40 years. It's even rarer for them to maintain roots in the area they started. Cheap Trick is one of those unusual groups that remains faithful to its history.
I saw Cheap Trick perform in 1978, in Hempstead, NY. It would be many years before I would see them again and it would be all about their home state of Illinois, where I now live.
My first interview with bassist Tom Petersson was in 2016, in conjunction with a story about the band's Midwest roots. There would be another discussion and story a year and a half later. In both cases, I got to see them perform again.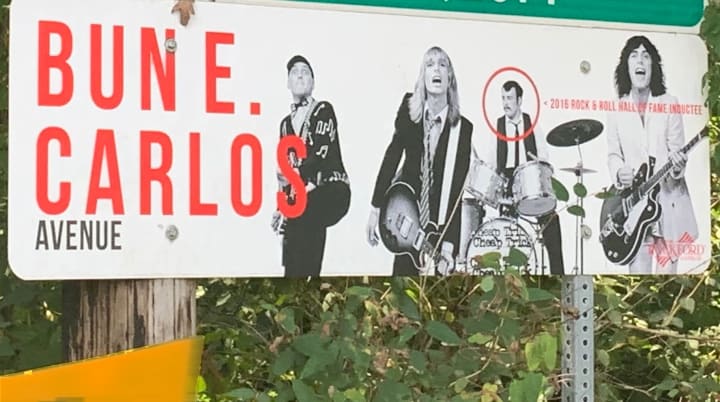 This year it was a different scenario. After a trip to Rockford, I became more interested in the band's history and how involved they were in this area. Then came another opportunity to learn even more: a family friend wanted to reunite with the band that played in a club he owned in the 1970s. The challenge was on.
Petersson, Rick Nielsen, Robin Zander, and Bun E. Carlos formed their band in the Northern Illinois town in 1973. Cheap Trick, who always wrote their own songs credited to all four band members, played around the Midwest until their self-titled debut album in 1977. They took off quickly and were soon increasing their popularity into Japan, where they produced Cheap Trick at Budokan.
Rockford has not forgotten Cheap Trick and the feeling is mutual. In 2016, when the band was inducted into the Rock and Roll Hall of Fame, the town honored them by "officially, unofficially" renaming the city "Trickford." Along with that honor came a website and a fan trail.
Some of the main streets in the city were also named after the members: Spring Creek Road-Rick Nielsen Parkway; Buckingham Drive-Tom Petersson Terrace; Waterview Road-Robin Zander Place; and Parkview Avenue-Bun E. Carlos Avenue.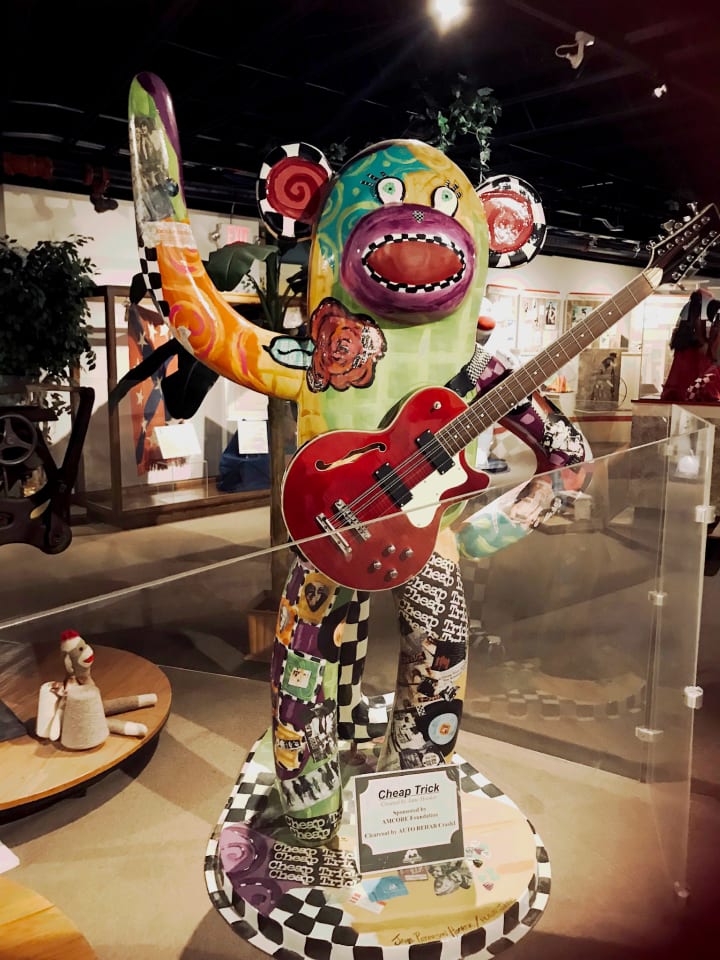 I drove through the town on the Cheap Trick Fan Trail to learn more about the group's ties. Among the stops to hit are: Octane Lounge, where they serve a "Budokan Burger" (a beef patty with white cheddar, roasted red onions, grilled pineapple, and sriracha mayo); the Midway Theater, where the band filmed the "Say Goodbye" video; the Cheap Trick Sock Monkey at the Midway Village Museum; and the Stockholm Inn, owned in part by Rick Nielsen.
It's been nineteen albums since that Rockford start and the band still makes sure they play in Illinois as often as possible.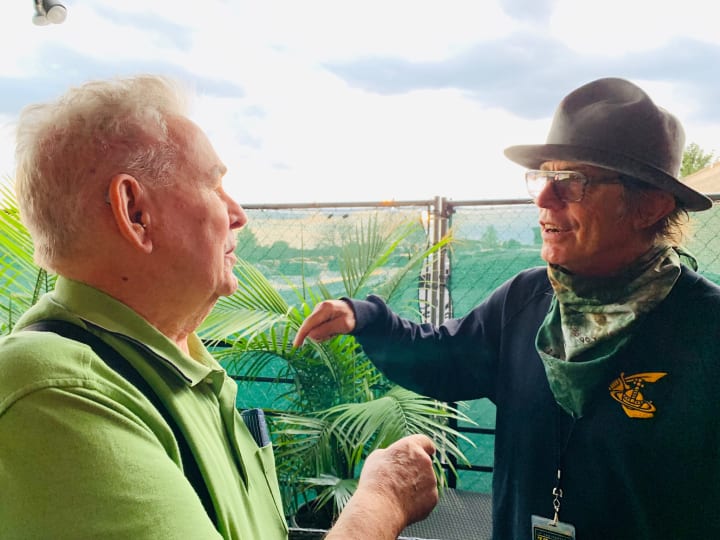 This year's tour for Cheap Trick is with ZZ Top, who happen to be celebrating their 50th anniversary on stage. I was able to go backstage again and then see them perform at the Hollywood Casino Amphitheater in Tinley Park, Illinois.
The trip backstage was a bit of a reunion with a family I am close to, bringing up another Cheap Trick tie to Illinois.
Larry Lambright, who owned the popular club Haymaker's in Wheeling, Illinois (aka Prospect Heights), hadn't seen the band in over 40 years, since they left for Japan to do the now infamous Budokan tour and album. Cheap Trick had frequently played at Haymaker's in 1976-77.
It was quite a reunion for the former bar owner, who is now retired and lives in Central Illinois. Lambright also brought along his son, who had first met the band as a child during their time playing at the bar. One of the conversations with Scott Lambright was appropriately with Daxx Nielsen, Rick's son, who has replaced Bun E. Carlos in the group.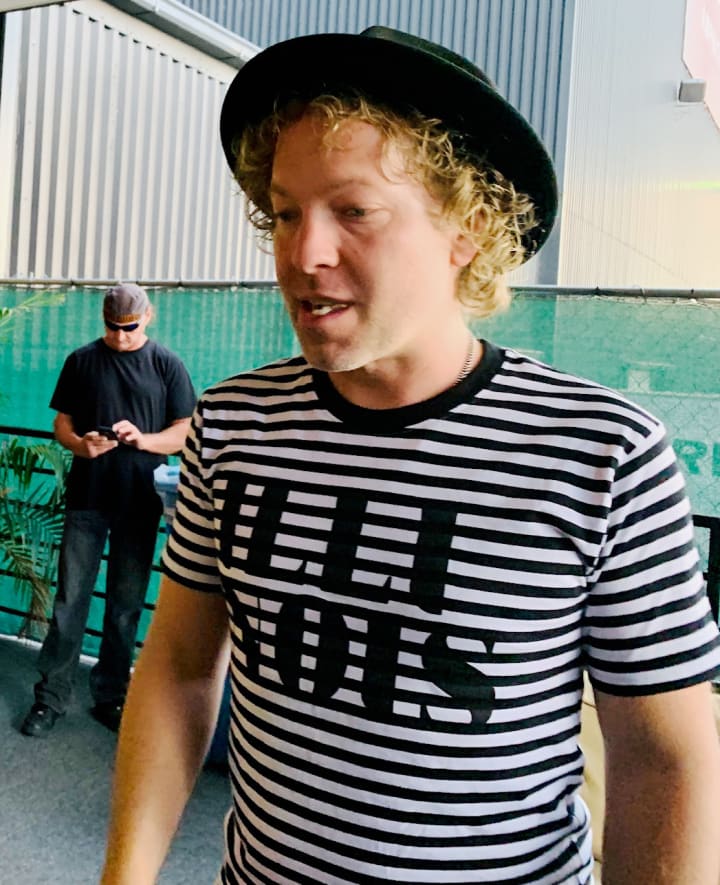 Also along was Larry Lambright's granddaughter, Brittany, who now frequently travels with me as my photographer. The backstage meeting was filled with reminiscing before yet another memorable Cheap Trick concert (my fourth).
It's one time where few arrived late and skipped the "opening" band. It was clear Cheap Trick had as many fans at the Hollywood Casino Amphitheater in Tinley Park as ZZ Top did.
As always, the audience appreciated and sang to their classics, which, as they usually do, started with "Hello There." That welcoming hit was followed by such classics as "Dream Police," "Surrender," "I Want You to Want Me," and the timeless ballad, "The Flame."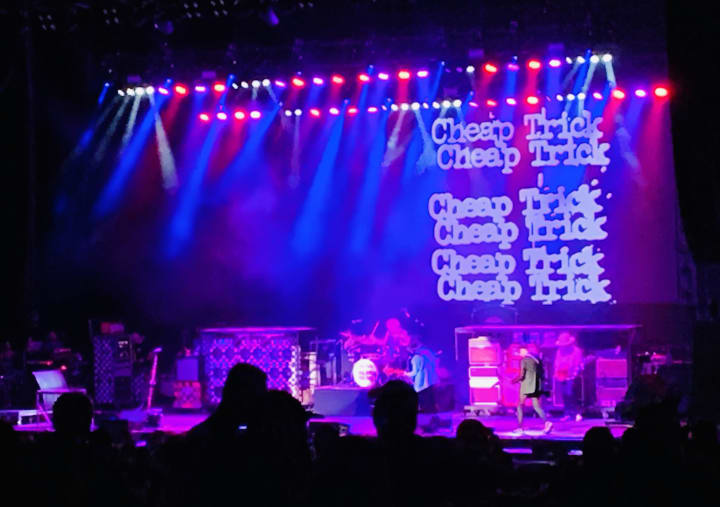 It's clear that Cheap Trick isn't leaving the music world anytime soon, and they'll always be happy to return to their Illinois roots—and friends. I look forward to our next meeting.
About the Creator
I am a well-published lifestyle journalist, who specializes in travel, food, and wine. I also wrote about music as a teen in the late 70s & early 80s. I'm back at it again, mostly writing about the same bands I covered decades ago!
Reader insights
Be the first to share your insights about this piece.
Add your insights