BTS BE: Album Review
The quarantine album we needed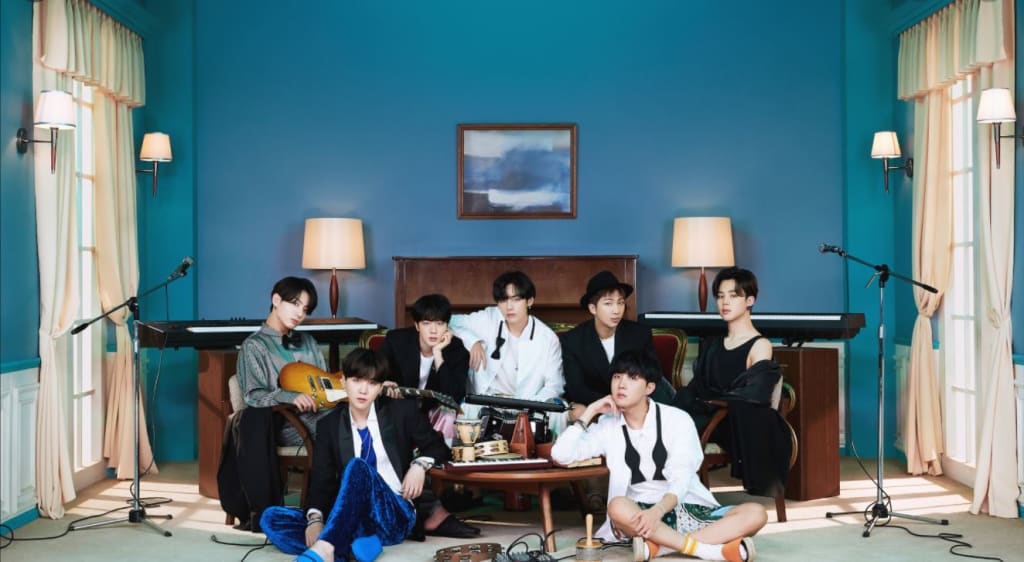 Quarantine albums have been the theme this year, and with good reason. Staying inside and away from others has presented its own challenges, and there are still great artists out there making music to reach their fans. BTS has been missed during this time, and with "Dynamite" being such a mega hit this past summer, the anticipation for this November release has been high. Well, BE is here, and thank goodness for that. With 7 new songs, BTS has come out again with some great music when we need them most.
Life Goes On
I'll just say it from the get go: this song is beautiful. From the vocals and instrumental backings, to the lyrics and music video. This song was the first thing I woke up to in the morning, and I was immediately taken with how relaxing this song is. Overall, the album is mostly on the softer side, and "Life Goes On" is such a great track to start on.
This song is hip hop, it's soft pop, it's a nice blend of things. BTS has been missing out as well with all the lockdowns as a result of COVID-19. This song has some beautiful metaphors about being isolated, coping with a pandemic that suddenly changed our lives on a dime, and having to navigate that change. The video reflects this as well, with the guys hanging out in their pajamas for the majority of the video before singing in an empty stadium at the end.
As I said, the song is beautiful and calming, and it's totally worth looking up the lyric translations for this one. "Life Goes On" certainly has an air of melancholy, but as usual, BTS turns it around to say that despite not being able to see the end in sight, the day will come when the blue sky will appear again; we'll get through the virus and be together again.
Fly To My Room
This is another song talking about the positive things to look forward to in light of the pandemic going on. It was very frustrating to them to have to cancel to their world tour. BTS prides themselves on their connection to their fans, and it's clear in this song they miss that experience. However, they did get to grow even closer to each other during the pandemic, which is at least something good that came out of it. This song is about trying to look for the small positives you can find in isolation while being surrounded by so much negative.
"Fly To My Room" has such an amazing beat to it. The light beat definitely helps put that optimistic spin on life. It's an airy song, with a great uplifting piano backing BTS as they sing. Jimin in particular is my favorite in this song, his higher vocals fit it so well.
Blue & Grey
This is my favorite song on this album. It's the softest of them all, and it's the most relaxing thing I've heard in a while. It has such a soft guitar melody going on, and the vocals are just as soft. I can't pick a favorite, they all sound fantastic. V and J-Hope are always great to hear in these slower songs, but everyone also brings a very emotional side to this song. If you need to relax, this is the one for you.
I have to say, this is also a really sad song. It's about losing your drive, something I'm sure we've all experienced in the past few months. The lyrics are still gorgeous, if a little haunting. It's a sad, blue and grey feeling when an artist loses their creative drive, and you can hear it in each voice as they sing. It's a pretty vulnerable song for BTS, and I'm very happy that they had the courage to put something like this out there.
Skit
This is like a fun little treat. "Dynamite" gave BTS their first #1 on the Billboard Hot 100 chart, and this skit is a few minutes of the seven bandmates talking about that achievement…and of course some other shenanigans. This is just a fun interlude to listen to BTS hang out with each other and have fun. They're a close knit group, and even without speaking Korean, you can hear it in their voices while they talk with each other. BTS occasionally adds skits like this to their albums, and it's always nice to hear what goes on when the cameras are off.
Telepathy
Like "Fly To My Room", the beat behind "Telepathy" is catchy as hell, and it'll get stuck in your head fast. It's like a sister song to "Dynamite". It has that retro, disco-like sound going on. It's a good pick-me-up after "Blue & Grey", once again showing how BTS and their team know how to put together an album. After the skit where they're on the top, this one brings the energy levels way up.
Lyrically, this song is also optimistic and playful. It's all about the memories with fans, and how they can imagine meeting fans for now. It's not the same, but it's all they have, and they love seeing their fans in any capacity. The sentiment behind this one is so kind, and so very BTS.
Dis-ease
"Dis-ease" is a fun song. It's the most hip hop sounding of the bunch. Like the above skit, this song feels like a special treat as well. It sounds like an updated version of some of BTS' earlier hip hop tracks. Not to mention, that beat change at the very end is so energizing, it shocked me when I first heard it.
This song takes the creative burnout from "Blue & Grey" and turns into almost like a stream of consciousness type of song. It also deals with the uncertainty and fears of trying to write music and practice their creativity during the pandemic. Instead though, this one makes a more inspiring approach and shows BTS turning to music in their time of need.
Stay
Buckle up, this is a song for ARMY.
This song has a great uplifting quality to it, making it the perfect song to bring us to the song we already know, "Dynamite". Stay is a great pop song you can sing and dance to, and it has a fantastic beat.
"Stay" is all about the love BTS has for their fans. No matter how far apart they are, and no matter the circumstances, BTS and ARMY are a packaged deal. Of course BTS had to have a song about their loyal fans, they always do. That's why they're so loved. They never forget to include ARMY in their songs, and it shows in the brightness that is "Stay". This is another catchy song, and when we get to have concerts again, this will certainly be one to look forward to.
The album ends off with "Dynamite", which I've already written about here, so I won't go all the way in on that one again. Spoiler alert, it's amazing. Overall I'm always happy when BTS releases new music. This album is smaller than I expected, but I love each and every song on it, and I have to admit I enjoyed it more than Map of the Soul. BE is a great little album, and it's so impressive that BTS can continuously come up with amazing music no matter what.