British Rock Group Cream
The musical story of Cream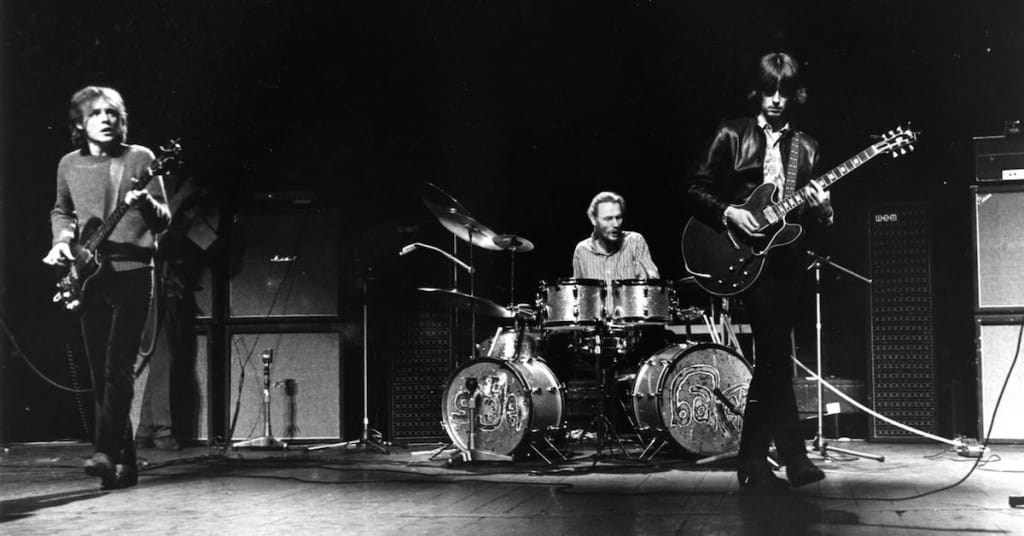 Another British rock group that really rocked the charts with their music was Cream. The boys in the band were Jack Bruce vocalist/guitarist, Eric Clapton Vocalist/guitarist, and Ginger Baker drummer. Their special kind of music consisted of blues rock, hard rock, and psychedelic rock. When Cream came out with their third album titled Wheels of Fire it became the world's first platinum-selling double album. During their time they sold over fifteen million albums all over the globe. Among their songs were traditional blues like "Crossroads" and "Spoonful", modern blues like "Born Under a Bad Sign" and kind of eccentric songs like "Strange Brew", "Tales of Brave Ulysses", and "Toad".
Among Cream's greatest hits were "I Feel Free", "Sunshine of Your Love", "White Room", "Crossroads" and "Badge". This band along with Terry Kath of Chicago and Jimi Hendrix popularized the use of the wah-wah pedal. They were inducted into the Rock and Roll Hall of Fame in 1993 and they were also included in both Rolling Stone and VH1 lists of the "100 Greatest Artists of All Time".
Eric Clapton began his career with the groups The Yardbirds and John Mayall & the Bluebreakers and as a result, earned himself a reputation of being the premier blues guitarist in Britain. When Clapton, Bruce, and Baker came together they created Cream however before coming up with this name they were considering calling themselves Sweet 'n' Sour Rock 'n' Roll. They made their unofficial debut in July of 1966 at the Twisted Wheel, and officially at the Sixth Annual Windsor Jazz & Blues Festival.
Cream arrived in the U.S. in March of 1967 and gave nine concerts at the RKO Theater in New York City and returned to the city in May to record Disraeli Gears at Atlantic Studios. This was their second album and reached number 5 on the charts both in the U.S. and the U.K. Cream played their first headlining dates in the U.S. at the Fillmore West in San Francisco in August of 1967.
Their first album was titled Fresh Cream and included such songs as "Dreaming" and "Sweet Wine".
Then along came their second album Disraeli Gears which rose up on the charts and made them popular. Singles from this album were "Strange Brew" and "Sunshine of Your Love".
Their third album was Wheels of Fire with the singles "Crossroads" and "White Room",
The fourth and final studio album was titled Goodbye or Goodbye Cream. Among the songs were "I'm So Glad" and "Sitting on Top of the World".
It was not long afterward when the band broke up after recording their final album Goodbye in late 1968. Cream went on a "farewell tour" which was comprised of 22 shows at 19 different locations in the U.S. between October 4 and November 4 1968 and two farewell concerts on November 26, 1968, at the Royal Albert Hall. These last two concerts were filmed for a BBC documentary and released on video and DVD titled Farewell Concert. Bruce, Clapton, and Baker reunited for four shows in 2005 in London at the Royal Albert Hall to the great delight of their many fans.
These performances were also recorded live on DVD and CD. This was the first time that Cream played their songs "Badge" and "Pressed Rat and Warthog" live. They were such a success that they chose to give more concerts at Madison Square Garden in N.Y.C. In 2006 Cream received a Grammy Lifetime Achievement Award and released a DVD Classic Albums which told the story of how they created and recorded their album Disraeli Gears. Bruce made the announcement in April 2010 that there would be no more Cream concerts the band would not get together again.
About the Creator
My passions are writing and creating poetry. I write for several sites online and have four themed blogs on Wordpress. Please follow me on Twitter.
Reader insights
Be the first to share your insights about this piece.
Add your insights