Bringin' Da Noise: An intimate look back on *NSYNC's landmark sophomore album "No Strings Attached".
.. and how the 1st phenomenon of the millennium still holds up 20 years later.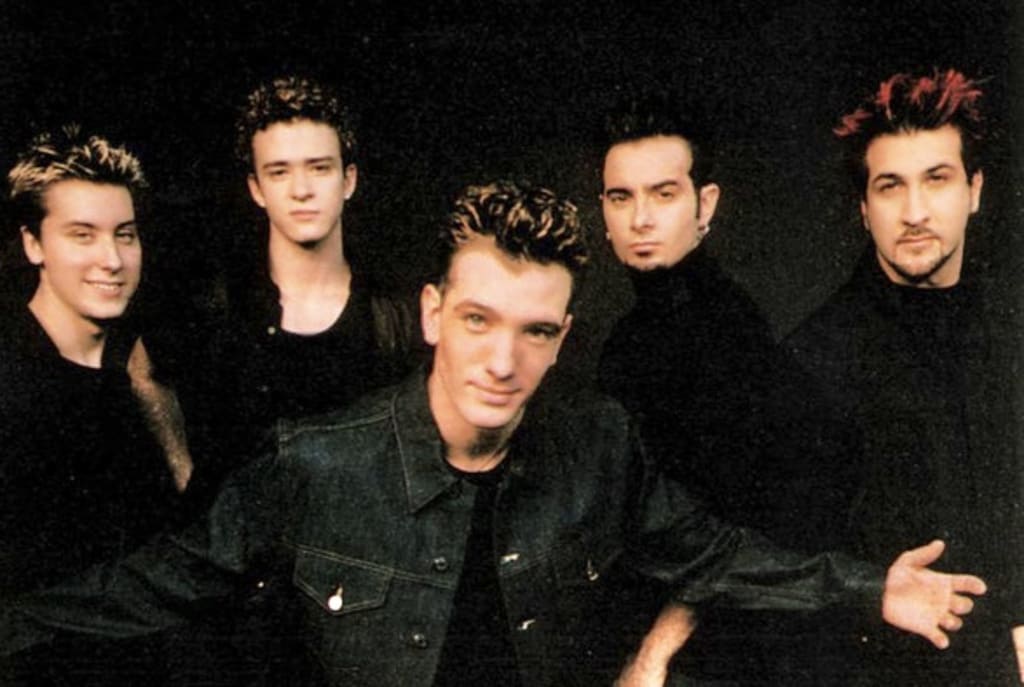 (Courtesy of Jive Records/Zomba Music Group)
If future generations of Pop culture connoisseurs (and those fascinated by them) were suddenly left with the task of choosing the year 2000's most pivotal musical moment, they'd most definitely have their hands full. The beginning of a whole new era plus the beginnings of what would go on to become the music business' largest upheaval since it's inception, the year 2000 was simply a marvel onto itself. It would also mark the year that the scope of the North American teen idol would come to take on a life of its own and that might've all been possible thanks to one album in particular.
After skyrocketing to fame in early 1998 on the back of top 40 hits like "I Want You Back" and "Tearin' Up My Heart" and nearly losing it all in late 1999 in a bitter court battle with disgraced entrepreneur Lou Pearlman, the members of *NSYNC were ready for (and in desperate need of) a clean slate and a colossal creative project to match. Enter Jive Records.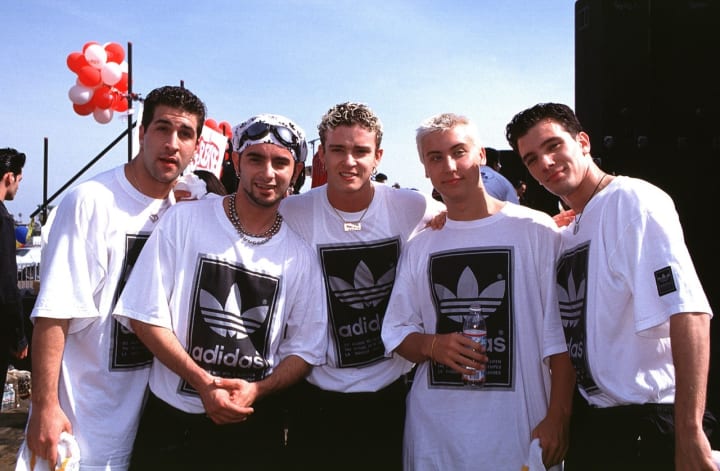 Already adept at launching prosperous Pop and R&B acts like DJ Jazzy Jeff & The Fresh Prince in the 1980s and Aaliyah in the mid-1990s, Jive Records (and their parent company Zomba Music Group) would prove to have both the vision and the budget to finally take the burgeoning brand to the next level and on the morning of January 10th, 2000, that's exactly what they did. And then some. Tense and atmospheric, the LP's lead single "Bye Bye Bye" took the quintet's previous winning and performance-forward formula and revamped and rebooted it exclusively for the digital age. Written by Swedish songsmiths Kristian Lundin, Andreas Carlsson and Jake Schulze, "Bye Bye Bye'' immediately found astronomical success and favorable reviews, setting the stage for their incoming fortunes and skillfully setting them apart sonically from their similarly conceived peers and predecessors.
Sleek, stylish, theatrical and stunning, "No Strings Attached" took Justin Timberlake, Joey Fatone, JC Chasez, Lance Bass and Chris Kirkpatrick from humble boyband next door to inarguable global icons. Released on March 21st and featuring production by industry giants like Teddy Riley, Richard Marx and Babyface, the record demonstrated the band's penchant for blurring previously gelled genre lines and most importantly, their affinity for putting on a grand, spectacular show. Clocking in at a little under an hour, "No Strings Attached" is as careful as it is quick, hitting all of the right radio-friendly notes in breakneck speed but without ever feeling too orthodox, too hurried or too safe. Tracks like "That's When I'll Stop Loving You" and "This I Promise You", the album's third single and foremost ballad, provide a pleasant (if not twee) pause whilst the Chasez-penned "Digital Get Down" still seems rather risqué even by today's standards.
And although the *NSYNC name had already seen its fair share of triumphant chart feats by March 21st (their self-titled debut did go on to sell over 10 million copies in less than three years), no one could've possibly prepared them or Jive Records for what was about to unfold over the following seven days. Formed in 1995 by Kirkpatrick (with the aide of manager Johnny Wright and the aforementioned Pearlman), *NSYNC was an astonishing money-making machine from the get-go, the only problem was that none of the members, their staff or Wright were seeing any of that money themselves. Relations would reach a breaking point four years later and the band proceeded to file a massive (and unprecedented) lawsuit against Pearlman and their former labels Transcontinental Records and RCA. They would ultimately settle out of court but the toll it took on the band was palpable, to the press and their diehard fans. Ladened with the duty of physically (and monetarily) showing their unwavering support and proving their favorite teen dreams' staying power, the young girls would subsequently take to the streets and most notably, the stores. Fueled by a stirring combination of impossibly high stakes, Jive and Zomba's image overhaul and the record's innovative sound, *NSYNC enthusiasts would catapult their sophomore LP to stratospheric and previously unheard of heights selling roughly 2.4 million copies opening week with over 1 million of those copies reportedly being bought on opening day.
But towering sales alone aren't enough to declare the launch of a product a victory, said product must be relevant and luckily the after effects of "No Strings Attached" were in a word.. inescapable. From posters to backpacks, Barbie dolls to card games, hotlines to home movies, bobbleheads, lip balm, watches, sneakers, marionettes, McDonald's sponsorships, Chili's and Budweiser beer endorsements, guest spots on an episode of "The Simpsons" and of course fruit snacks, *NSYNC could be seen through just about any means nationwide and they were equally heard to boot. Boasting a place on Ron Howard's "How The Grinch Stole Christmas" soundtrack, inclusion in promo materials for Clint Eastwood's aptly titled "Space Cowboys" film and three consecutive Top 5 Billboard Hot 100 entries in 12 months cemented their status as a pick amongst casual listeners as well. All in all, *NSYNC were on top of the world but all good things do eventually come to an end, no matter how good.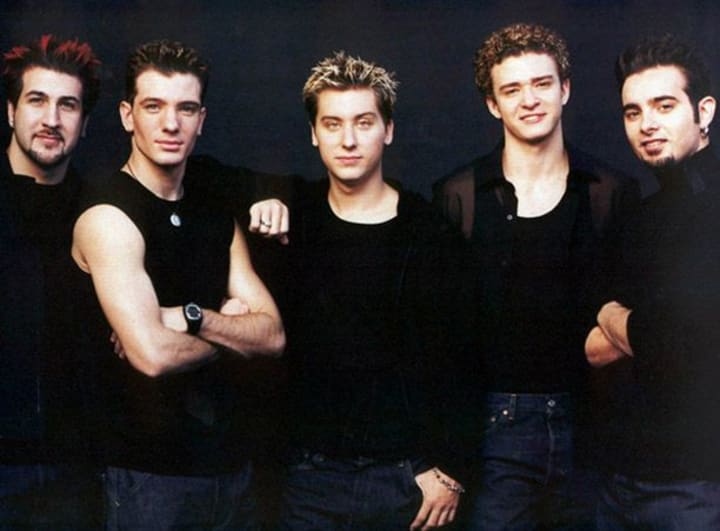 In the two decades since its definitive heyday, Pop superstardom has again gone through another gigantic shift. Where the streets of Hollywood were once filled to the brim with wide-eyed and bushy-tailed hopefuls aiming to be discovered in Motown-style song and dance boot-camps, stars and starlets nowadays now go straight from social media to the center stage. What this means for them has yet to be entirely deciphered but one thing that will never change is our passion for them. Whether young or old(er). Mere months trailing the arrival of her own landmark work "thank u, next", Ariana Grande solidified her reign with a headlining stint at the legendary Coachella Valley Music And Arts Festival in April of 2019 and she brought a couple of special friends along with her to add to the festivities. Joining her for a remix of "break up with your girlfriend, i'm bored" and "Tearin' Up My Heart", *NSYNC (sans Timberlake) performed together for the first time in six years to rave reviews. Unsurprisingly, the internet began to ask; Was this a sign of things to come? Still no official word on if or when there'll be a proper reunion but in a lot of ways, it truly isn't necessary.
Gone but not forgotten, the age of "TRL", Teen People, *NSYNC and "No Strings Attached" lives on. In direct demand, indirect demand or perhaps a mix of both. In millennial a cappella medleys, lip sync battles, concert tours, collaborations and more. In duets with their illustrious late 20-something year old devotees and mix-ups by long revered rock stars. The age of *NSYNC and "No Strings Attached" lives on in part due to its sheer commercial dominance and its ability to still spark a sense of unbridled joy in an everchanging and often bone-chilling social and political landscape. Boybands, girl groups, heartthrobs and celebutantes will come and go but the feelings that they inspire in their legions of admirers across the globe certainly don't. Gone but most certainly not forgotten.. the age of *NSYNC and "No Strings Attached" still lives on. 🎭
-
This writer recommends:
"Space Cowboy (Yippie-Yi-Yay)"- Teeming with hi-tech and futuristic flourishes "Space Cowboy (Yippie-Yi-Yay)" zeroes right in on the electrifying essence of the "No Strings Attached'' era. Big. Bold. Brawny. Timely yet still decidedly cutting edge. An otherworldly verse by the late great Lisa ''Left Eye" Lopes of TLC both grounds it and simultaneously sends it over the top.
"I'll Be Good For You" - A breezy mid-tempo groove gleefully intertwines with the group's trademark five part harmony to create nothing short of amiable magic.
"It Makes Me Ill" - Handcrafted for the ensemble by "Real Housewives of Atlanta" star and Xscape songstress Kandi Burruss, "It Makes Me Ill" strut and stomped its way into becoming a standout on an album full of standouts and continues to wow 19 years after the fact thanks to a fairly clever interpolation by none other than Ariana Grande.
"I Thought She Knew" - Frank and mournful, "I Thought She Knew" brilliantly captures the dazzling depths of *NSYNC's expertise and vocal chemistry. An extraordinary showstopper.
"It's Gonna Be Me" - The inspiration for an invincible viral meme and the #1 song in the country for two straight weeks in the summer of 2000, "It's Gonna Be Me" may not necessarily be the group's most recognizable tune but it's without a doubt amongst their absolute best. Vibrant, robust and cinematic, it's a bodacious and unyielding slice of a now-bygone epoch where fiery pop-stars of all configurations ruled with a resolutely iron fist. Many may (and will continue to) squabble about what decade(s) gave rise to the crème de la crème of modern Pop culture but this smash should be more than enough to convince at least a few critics that the 2000s should very well be at the top of near-everyone's lists.