Blog: John Mayer - World Tour 2019
O2 Arena, London - October 13 2019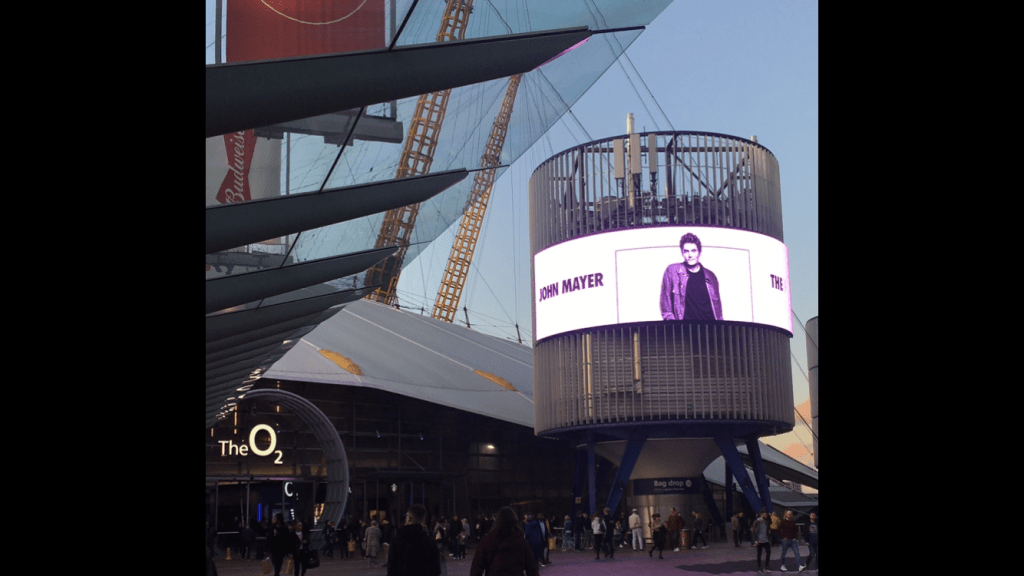 If you want to see some of the most talented musicians in the world. If you want to laugh, dance, smile, cry. If you want to witness a magical night, surrounded by music lovers. There is one thing you need to do, and that is to go and see John Mayer in concert.
The first of his two sold-out dates at London's O2 arena was magic and more. From anecdotes of self-doubt to last minute setlist changes, and everything in between, there was not a dull moment in sight.
Successful enough to not even need an opening act, John Mayer starts the show right on time (which, considering his "rockstar" status, is pretty impressive), singing "Helpless" from his most recent album, The Search for Everything, followed by a timeless hit, "Belief," which hails from Grammy award-winning album, and possibly his biggest ever, 2006s Continuum. Straight off the bat, we are introduced to an immense amount of musical talent all across the stage. His band and singers play in perfect harmony under his faultless voice, and serenade the crowd with such ease. After getting the warmest welcome, Mayer greets the audience, exclaiming, "It's been too long," before heading into some of his most popular hits: "Who Says," "Love on the Weekend," and "Waitin' on a Day."
One of the greatest instrumental moments comes next, after he sings a flawless rendition of "I Don't Trust Myself (With Loving You)," also from Continuum. We witness Mayer stretch himself with his musical ability, showing off his famous "guitar faces" (that are now even memes), and orchestrating an astounding arrangement, whilst keeping the audience locked in effortlessly.
Next, he sings two more songs from 2017s The Search for Everything, "Changing" and "In The Blood," before expressing that he still has moments of self-consciousness, when it comes to singing songs that don't fall within the realms of what he calls his "two and a half hits," as he is scared people "don't want to hear them." Well, London sure proved him wrong with that one, as there were a lot of British accents singing along with him. The confession led perfectly into the next two songs, which may not have been massive hits, but are some fan favourites that expose his voice and lyrics incredibly; these were "I Guess I Just Feel Like," and "Edge of Desire." Following another amazing instrumental, Mayer announces they are taking a short break, and will be back soon. Well known for having two acts on his tour, the interval gives the audience a chance to bask in the amazement of Act One, and also reminisce about the music that Mayer has brought into all of our lives over the past eighteen years, as a timeline of his albums and singles are projected onto the back screen of the stage.
As he re-enters the stage 30 minutes later, with just himself and his guitar, he sings "In Your Atmosphere" and "Daughters," before being joined by band member David Ryan Harris, to sing their rendition of Tom Petty's classic hit, "Free Fallin'." All three songs provide moments of silence, and then ecstasy as the crowd is hypnotized by the performance, but can't contain themselves to not sing along. After previously joking about whether or not he would sing it, Mayer fulfills the audience's wishes by singing one of his biggest hits ever, "Neon," from his very first record, Room For Squares. With everyone up and out of their seats dancing, he keeps with the rhythmic pace, and plays two more recent hits, "Moving On and Getting Over," and "Rosie." The ending of "Rosie" provides what I personally believe is the best instrumental moment of the night. With an almost battle-like atmosphere created on stage between Mayer and bandmate Isaiah Sharkey, every single person in the arena is invested til the very end, showing us once again that he is a force to be reckoned with.
Slowing things down slightly with emotional hit, "Stop This Train" followed by "The Age of Worry," in which the lyrics are projected on-screen for the audience to sing along to (a great idea to connect with and unify the crowd), he then sings one of his very first hits, "Why Georgia," before playing straight into his current single, "Carry Me Away." Getting an incredible reaction from both hits proves how timeless his music is, and how loyal and dedicated his fans are.
The biggest reaction of the night happens next, as shortly after a vocal showcase from David Ryan Harris blows everyone away, the opening chords to "Slow Dancing in a Burning Room" are played. It's one of his "two-and-a-half hits," and it is a total crowd pleaser. An emotional and personal song, its lyrics entrance the crowd as lights start to appear around the arena, whilst couples embrace one another to sway to the music. A long rendition of the song, which includes the most incredible music moments, Mayer ends it with the biggest cheers of the night so far, before praising and introducing the best band in the business. Showing his gratitude for those that lift him up and play behind him each night, he explains that there is no feeling in the world like the ones he gets, feeling them alongside him.
Before long, we are into the final few songs of the night. Another one of his biggest hits, coincidentally also from Continuum—"Waiting On the World to Change"—keeps the audience on their feet and smiling throughout. Whilst Mayer admitted in an interview a few years ago that he doesn't enjoy playing that song as much anymore, you would never be able to tell. He puts just as much heart and soul into those four minutes, as he did every other track. Again, immense cheering erupts as the song ends, and when he and the band thank the crowd and exit the stage, the audience roars with noise for an encore.
And, what an encore it is. Re-entering swiftly, he plays "Gravity," undoubtedly his biggest hit ever. The arena lights up once again, as 20,000 fans sing along to every word. As the song nears its end, Mayer introduces new lyrics about dreaming, and showcases his incredible backing vocalists, Tiffany Palmer and Carlos Ricketts, both of whom blow the roof off the place. Ending the night with "New Light," his 2018 single, it allows everyone to shake off the emotional lyrics of "Gravity" and dance away one last time. The stage production of the entire show is unlike anything I have ever seen, and summarizes both Mayer and his music perfectly. From glitter trees to a JCM (John Clayton Mayer) video disc, it harmonizes effortlessly alongside the music and lyrics—and finishes superbly with the fun and original video for "New Light."
As confetti is released and the band finishes, Mayer continuously thanks the audience, before sharing an unforgettable moment with a fan, whom he passes his guitar to, signed, for him to keep. The personable act is something barely anyone in the music industry would do, and casts a light on his undeniable gratitude for the dedication given by fans over the years.
Exiting the arena, not a bad word is said. I don't think there could be any. John Mayer is one of the most talented musicians in the world. His ability to play all night at the level he does, alongside an extraordinary band, is phenomenal. Not only does he write relatable, emotional, meaningful, and even funny lyrics that encourage people to listen and sing to his records, but he has an effervescent stage presence that keeps your eyes hooked on him, throughout the entire show. There are not many people in the music industry, heck in the world, that can do that. He is truly one of the greatest of all time, and if his music doesn't show you that, just ask any one of the fans, old or young, who allow him to grace the stage every night, and do what he does best.
You can catch John Mayer on tour across the world, until January 2020. All songs and albums mentioned in this blog are available to stream and download everywhere.
Like what you read? Follow me on Instagram @behindthesounds_ for daily country content, and to be the first to hear all about my new blogs.