Blog: Old Dominion - 'Make It Sweet Tour'
Eventim Apollo, London - October 10th 2019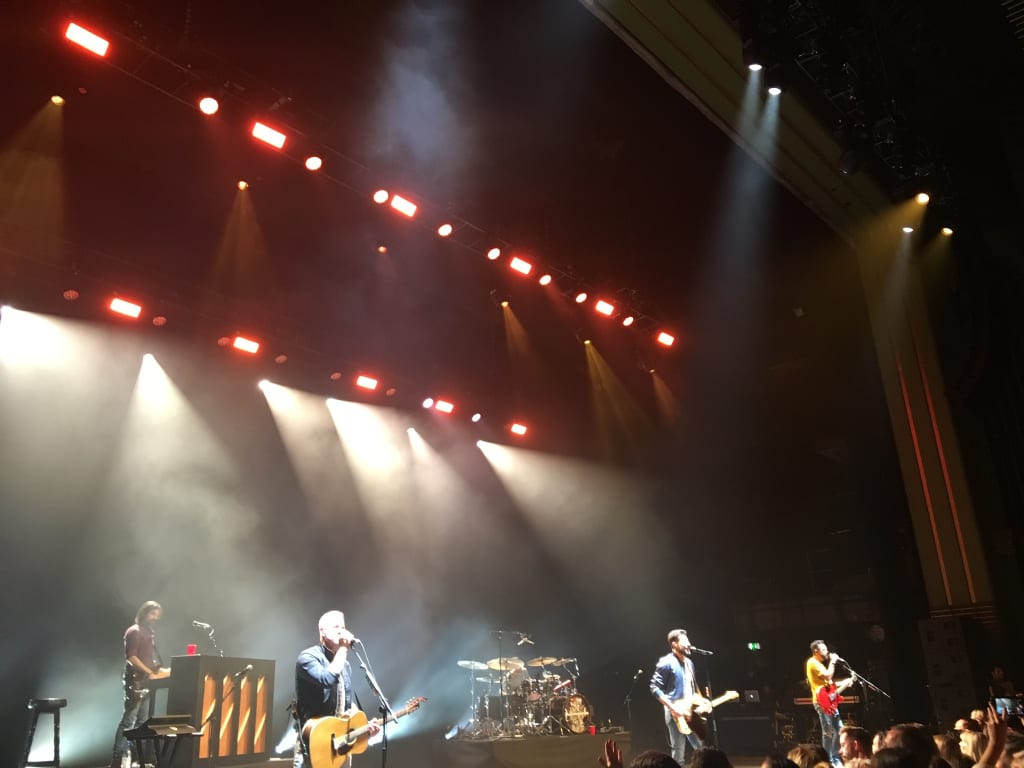 Old Dominion at the Eventim Apollo, London
When Bobby Bones asked Old Dominion at the iHeart festival in September what a typical night at one of their shows was like, frontman Matthew Ramsey replied with "It's just five guys, five friends, up on stage having fun"—and he couldn't of described it better.
Opening the night was Country newcomer Jordan Davis, who wowed the crowd with an array of hits from his Home State album, including number one single "Take it From Me," current hit "Slow Dance in a Parking Lot," and "Leaving New Orleans." The Louisiana native also announced he would be back in the UK soon, playing Country 2 Country Music Festival in March, before playing two unrecorded songs, one of which simply told the story of how he "Met My Wife in a Bar." A total crowd pleaser, Davis was welcomed with open arms, and by the end of his set, the entire venue was filled to the brim, singing along to his very first release, "Singles You Up."
Before too long, it was time for Old Dominion to grace the stage. A pre-show warmup was had with a sing-along to OutKast's "Hey Ya" as the lights dimmed and the band started their set. Kicking off with "Snapback" followed by "Hotel Key" and "Be With Me," the party had well and truly started. Admiring the crowd and their time in the UK, the band then slowed things down with "Still Writing Songs About You" and their current single "One Man Band," which had the entire room singing along. Their self-titled album comes out on October 25th, and we were treated to another track from the record, "Never Be Sorry," along with fan favourites "Nowhere Fast" and "Not Everything's About You."
Next they played "Break Up with Him," which was their first number one as a band back in 2015. Playing up to the English crowd, they flipped the lyrics "rip it off like a band aid" to "rip it off like a plaster," which threw the audience, who then flipped it back to band aid when they took over for the second chorus. The first moment of the show where the audience sings on their own is always a great moment. I looked behind me to the rest of the crowd and up to the balcony, and there was not one person who wasn't singing along with a smile on their face. We were then treated to their latest release off the new record, "Midnight Mess Around," which seems to already be a popular single.
As band members Geoff Sprung and Whit Sellers exited the stage, and the crew brought on three stools; Trevor Rosen, Matthew Ramsey and Brad Tursi took their seats for an acoustic part of the set. Telling stories of their starts in Nashville, to their first number ones as songwriters, and forming as a band, they covered hits from other artists that they have been a part of. This included The Band Perry's "Better Dig Two" co-written by Rosen, Tyler Farr's "A Guy Walks Into a Bar" co-written by Tursi, and Sam Hunt's "Make You Miss Me," co-written by Ramsey. The acoustic set enticed the crowd, and the stories of songs and struggles help you to appreciate the band even more. They ended the set with Michael Ray's current hit "One That Got Away" that Trevor and Matthew co-wrote alongside frequent collaborators Josh Osborne and Jesse Frasure.
As Whit and Geoff rejoined the stage, they kicked back off with "Song for Another Time" and "No Such Thing as a Broken Heart," a song that we all need to hear once in a while, and that is well-known for being the biggest sing-a-long of the night. Throwing it back to their first record Meat and Candy, "Said Nobody" was played next, followed by one of their most emotional records to date "Some People Do." As phone lights lit up the auditorium, Matthew Ramsey seemed choke up as he took a moment to himself towards the back of the stage. Keeping with the theme, they followed the song with "Written in the Sand," one of their biggest heartbreaking hits to date.
In a complete 180, they picked up the pace as Brad Tursi got his shining moment. Singing "New York at Night" from their second album, Happy Endings, Tursi's vocals shone as an incredible change of pace and presentation hit the stage, with red lights setting the mood. The upbeat pace was kept up as they sang "Can't Get You" that was recorded live for their second record. The final track on Happy Endings is one that you can't help but belt out at the top of your lungs, and hearing it live just makes you want to sing it even louder.
Nearing the end of the show, the band covered Kenny Chesney's "Save It For a Rainy Day," which band members Matthew Ramsey and Brad Tursi co-wrote with Andrew Dorff. A live version of the song was recorded on Chesney's 2017 album Live in No Shoes Nation, where Old Dominion opened for the the Country legend during the tour recording. They will rejoin Chesney on his 2020 "Chillaxification" tour with Florida Georgia Line, which kicks off its US run in April. Let's hope they grace us with more collaborations along the way.
Ready to break some more hearts, the 'final' song of the evening is played. "My Heart is a Bar" is one of the most relatable tracks from the new album, and its live rendition was nothing short of incredible. A full choir of fans singing along, and even shedding a few tears, it was a standstill moment and the most memorable from the night. A brief goodbye exit and re-entrance, they graced us with an unheard song from Old Dominion. "Smooth Sailing" is a great record, and a super catchy tune, which makes us even more excited for the album release in just a few weeks time. Ending the night of course with "Make It Sweet," the entire place was beaming, and up on their feet dancing—even those right up in the Gods. Before they joined together on one mic for the final chorus, Matthew thanked the crowd, the absent fans, and of course his fellow band members. There was no better end to the show than seeing exactly what we were told we would see—five guys, five friends, just having a great time.
Whilst I may be biased as Old Dominion are one of my all time favourite bands, I can easily say it is one of the best gigs I have ever experienced. There was not one moment of the night that I wish could have been shorter, or not included. The entire crowd was a delight and everyone seemed to be having such a great time. A fun gig, that still somehow managed to make me cry, the musical talent, songwriting skills and vocals of these five guys are unlike anything else in Country music today. If you get the chance to see Old Dominion, take it. Even if you only know one song, or none at all, I can guarantee you will have a damn. good. time.
You can catch Old Dominion on tour throughout the US and Canada in 2020. Their self-titled album Old Dominion will be released on October 25th.
Like what you read? Follow me on instagram @behindthesounds_ for daily Country content and to be the first to hear all about my new blogs.