Bessie Smith, Empress of the Blues
One of the giants of America's Jazz Age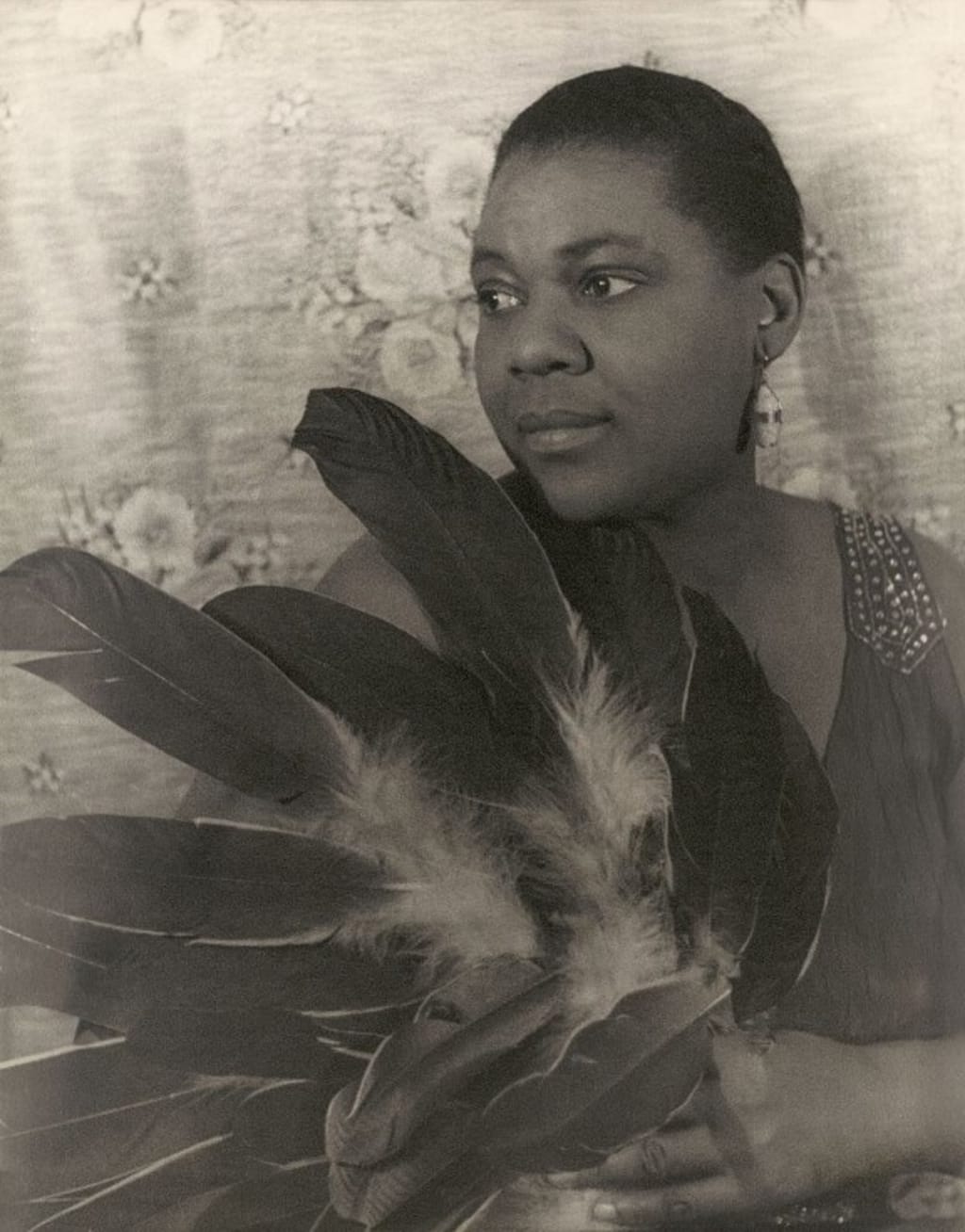 Photo of Bessie Smith by Carl Van Vechten, restored by Adam Cuerden — This Public Domain image is available from the United States Library of Congress's Prints and Photographs division.
The Jazz Age
Jazz music and dance styles became highly popular across America during the 1920s and 1930s, now known as the Jazz Age. America is the birthplace of jazz, and the Jazz Age was a fantastic period that gave rise to many famous singers and musicians performing in that genre.
Empress of the Blues
One of those singers was the extremely popular Bessie Smith (April 15, 1894 — September 26, 1937), whose nickname was 'the Empress of the Blues' (she was also called the Queen of the Blues'). Music historians regard her as not only a major influence on other blues singers and jazz vocalists of her time, but as one of the greatest singers of the Jazz Era, or any era for that matter. Without a doubt, Bessie Smith was the most popular female singer of the 1920s and 1930s.
As an artist, Smith was bold and supremely confident. She embodied the frustrations and hopes of Black Americans at that time. Her emotional intensity and rich contralto voice were breathtaking, and she seldom used a microphone. With her powerful, gorgeous voice, Bessie Smith boldly sang the blues.
Bessie's first big hit was Downhearted Blues, her first commercial release. Reportedly, it sold 780,000 copies in 1923. Although other artists recorded the song before her, Smith's version struck a chord with listeners. That was especially true of her new line in the song, "I got the world in a jug, the stopper in my hand."
As successful as Downhearted Blues had been, Bessie Smith sold many millions of records after signing with Columbia Records. During a four-year period, she sold an astonishing six million records, which made her the Black entertainer who was the highest-paid of her era.
St. Louis Blues
Bessie Smith overcame extreme poverty in her family and eventually became a huge recording star. When the Great Depression happened in 1929, she branched out that year. She appeared on Broadway in Pansy, as well in the film St. Louis Blues, in which she sang the title song written by the famous W.C. Handy.
"I've been poor and I've been rich, and rich is better."

— Bessie Smith
Bessie Smith Performs
You can watch her performance in the film St. Louis Blues here (video from Wikimedia):
And below is a video montage from 1925 of Bessie Smith singing St. Louis Blues, while accompanied by the incomparable Louis Armstrong. The video also shows some great old photos of the author's hometown St. Louis in the early 20th century.
Video credit: Bessie Smith — St. Louis Blues, 1925, YouTube
A Towering Influence
Although Bessie Smith's recording career lasted only 10 years, her incredible body of work shaped the sound of the 20th century and influenced countless performers of popular music. Many women blues greats followed in Smith's giant footsteps. These included performing artists such as Billie Holiday, Mahalia Jackson, Laverne Baker, Dinah Washington, Janis Joplin, and many others. This legacy includes famous current-day performers such as Beyoncé, all of whom owe a huge debt of gratitude to the Empress of the Blues.
It's been a century since Smith started her career as a recording artist. But in her wake, she left a legacy of female singers who are comfortable expressing their needs, whether romantic or otherwise. With no apologies, these singers take their feisty attitude and their voices to their limits.
A Tragic End
Bessie Smith's successful career continued until 1937 when tragedy struck. She was a passenger in an automobile that crashed and killed her at the age of 43. She was buried in Pennsylvania but her grave had no headstone for 30 years. Rock Janis Joplin, who revered Smith as a role model and tremendous influence, helped buy Bessie's headstone in 1971. The headstone reads, "The greatest blues singer in the world will never stop singing. Bessie Smith 1895 - 1937."
But, fortunately for all of us, Bessie Smith's beautiful singing lives on through various media that are easily accessible these days.
"It's a long old road, but I know I'm gonna find the end."

— Bessie Smith
References:
Medium: Bessie Smith, Empress of the Blues. https://medium.com/illumination/bessie-smith-empress-of-the-blues-1e5d45d23517
Albertson, Chris (1991). Bessie Smith: The Complete Recordings, Volumes 1–5 (Liner notes). Sony Music Entertainment.
Davis, Angela (1998). Blues Legacies and Black Feminism: Gertrude 'Ma' Rainey, Bessie Smith, and Billie Holiday. New York: Pantheon Books.
Kay, Jackie (1997). Bessie Smith. New York: Absolute.
Manera, Alexandria (2003). Bessie Smith. Chicago: Raintree.
Oliver, Paul (1959). Bessie Smith. London: Cassell.
Welding, Pete; Byron, Tony, eds. (1991). Bluesland: Portraits of Twelve Major American Blues Masters. New York: Dutton.
Wikipedia, the free encyclopedia. Bessie Smith.
YouTube. Bessie Smith- — St. Louis Blues, 1925
Britannica.com: Bessie Smith | Biography, Songs, Music, Death, & Facts. https://www.britannica.com/biography/Bessie-Smith
NPR: How Bessie Smith Influenced A Century Of Popular Music. https://www.npr.org/2019/08/05/747738120/how-bessie-smith-influenced-a-century-of-popular-music
Mahon, Maureen (2020). Black Diamond Queens: African American Women and Rock and Roll. Durham, N.C.: Duke University Press.
Biography.com: Bessie Smith - Songs, Death & Facts - Biography. https://www.biography.com/musician/bessie-smith
Women's Health: Who Was The Real Bessie Smith From Netflix's Ma Rainey's Black Bottom'? https://www.womenshealthmag.com/life/a34992870/bessie-smith-ma-raineys-black-bottom-netflix/
________________
Thanks for reading. (Copyright Terry Mansfield. All rights reserved.)