Bailey Bryan Doesn't "Own It"
Debut Single Tanks (Review)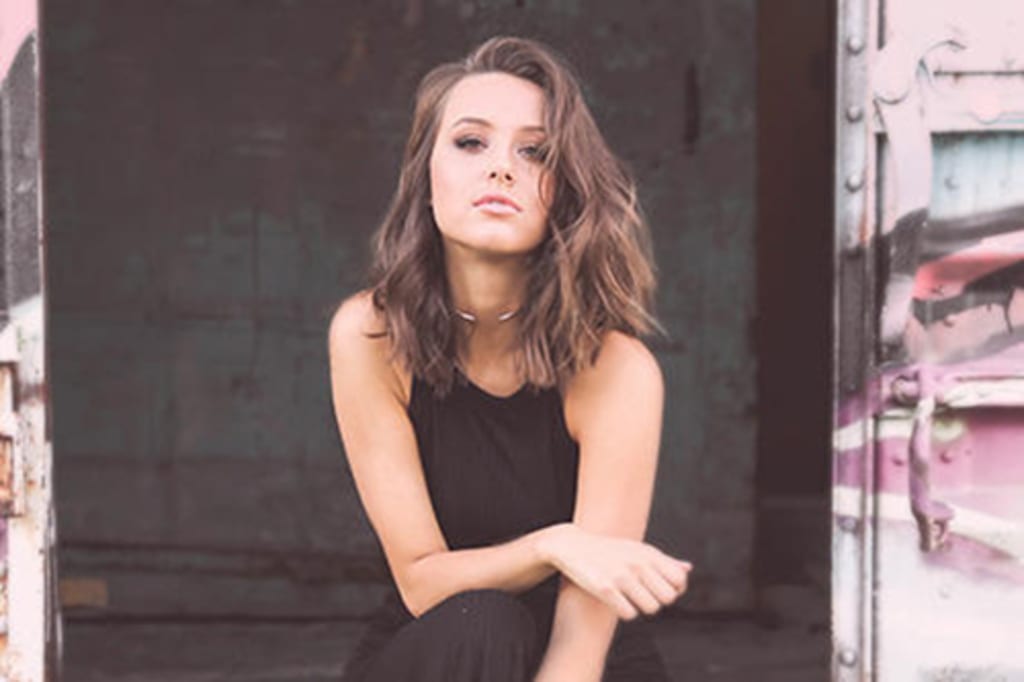 "Own It," debut by 18-year old Washingtonian, Bailey Bryan is another blatant attempt to promote and appeal bad pop music as country to oblivious suburban teenagers throwing a tantrum. And no it's not a cover of Drake's 2013 song with the same title. Even though the song - according to press releases - is supposed to have a positive message, it does not. It advocates to not listen to everybody else (even parents?) and transmits the typical feeling of youth today, that everybody owes them, that they are entitled and that life is gonna be a breeze. Well, hello real world!
Driving to school in Sequim [Skwim] behind tractors is about the extent of her country raising, else she was drawn to the big city to the East, Seattle to indulge in the underground hip hop and alternative scene. She cites Drake, Nirvana, Macklemore and the Red Hot Chili Peppers as influences. She must have heard Drake's song and decided to write her own "Own It."
By 15 she was signed by song publisher Kompass Music and started to make monthly trips to Nashville to write and co-write songs. One of her mentors and co-writer of "Own It" is master tune smith Dennis Matkosky, who had number one hits in every music genre besides Rap and who has worked with everybody from Diana Ross, Cece Winans, Chicago to LeAnn Rimes and Keith Urban. The other co-writer, Casey Brown is currently touring with Rascal Flatts as a band member and according to Rolling Stone magazine, is the one responsible for turning RF on to some EDM beats.
All the press releases and the copycats thereof on their according websites like "This Smells Like Rotten Nashville" praise "Own It" as a ditty of genuine honesty and wisdom beyond the young gal's age. Really? It caters to teen-angst ridden millennials conveying the Kumbaya message about finding your true self. Go for it, and then let reality smack you in the face. The pursuit of happiness is long gone, remember you'll never get out of this world alive.
"'Own It' is so special to me because it's not only one of the most autobiographical songs I've written, but it pretty much embodies the way that I hope to inspire other people with my music," Bryan was quoted on a PR sheet. And it got even worse: "My dream is to see people listening to songs like this one and feeling more understood, and more confident about themselves…not to mention having FUN. I'm so excited that I've been blessed with the opportunity to do that with my music."
For how abstruse the lyrics are from reality, keep on reading; else jump to the video below.
Own ItI'm right even when I'm wrongI break things like hearts and iPhonesPatsy Cline when it's rainingIn the car with my friends, I'm Jay ZCan't dance but I won't stopIn my little black dress and hightopsDon't care but still get jealousWithout GPS, I'm helplessBut I'm not gonna stressI'm such a beautiful mess[Chorus]Who cares what they sayI never listen anywayIn my head, yeah I'm coolGonna keep making my own rulesSo call me crazyDysfunctional, maybeI don't care, I'll show it'Cause I own itOwn it, own it'Cause I own itOwn it, own itOh, ohI'm ambitious but don't like workI write love songs, can't flirtAwkward in conversationBut I'm Shakespeare when I'm texting, haSweatpants but I'm still a ladyTrip and fall in public, gracefullyWild, but I'm nerdyI party hard 'til at least 9:30[Chorus][Bridge]Own your coolnessOwn your crazyOwn your story in the makingOwn your passionOwn your styleOwn your stupidOwn your brave andOwn your wings and your mistakesOwn your styleOwn your stupidWe're not gonna stressWe're all such a beautiful mess[Chorus]
Musically the song is packaged into a mediocre pop jam, with undoubtedly a catchy, but non-distinct groove to it, like every other cookie cutter contribution out of the city on the banks of the Cumberland. Simply forgettable as it sounds like everything else being on the radio these days. Her rather weak, run of the mill voice doesn't help either to promote it. She simply doesn't "Own It" to be a star (yet).
The only thing that may help Bryan is her strong world-wide management company, Red Light Management, who also handles the affairs of douche bags Sam Hunt and Luke Bryan (no relation) - maybe an opening gig on one of these guys' tours may help spread the bubbly message. Her label, Warner Music Nashville (WMN) (together with Indie 300 Entertainment out of New York) lauded the single and that accompanying video as groundbreaking.
That's a bit far fetched, it's a simple video, using a smartphone with app-du-jour Snapchat (et alia) and therefore vertical and not horizontal. How revolutionary to put Social Media in a video? And voila, you have a video with "street cred" appealing to the targeted demographics of a lost youth who's addicted to staring for hours into their electronic gadgets. What's next, a video shot with Going Live on Facebook? That said, it's not to diminish the efforts of video company Green Shoe Studios. They did a superb job, for what they were asked to do by WMN and the management company.
The best part of the video comes at the very end - asking you to slide the button to the right to power the phone (and therefore the video) off. What a relief. I doubt she will be making an impact, even with the major push behind her. The single is expected to impact country radio later this month, but the streaming numbers on YouTube speak for themselves. An audio portion was released seven months ago and has acquired a little bit more than 33,000 streams, about 4,000 more than her now official video in the last four days.
★/★★★★★ (1/5)
About the Creator
Photographer, Journalist, Blogger, Music Business Consultant, Rancher, Cook & Baker, Lover #amucomm
Reader insights
Be the first to share your insights about this piece.
Add your insights