Awesome Sounds Of the Sixties
The music of two great bands Jefferson Airplane and Fleetwood Mac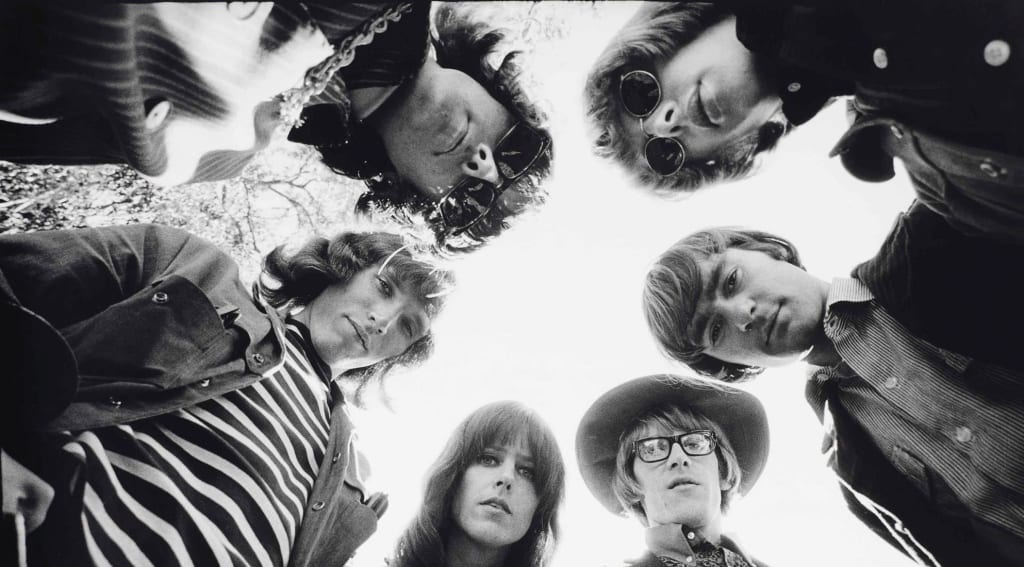 Jefferson Airplane
This rock band came from San Francisco, California and was formed in 1965. Jefferson Airplane was the pioneer of psychedelic rock. One of their best-known records is Surrealistic Pillow which came out in 1967. Rolling Stone added two of their songs from this album on the list "500 Greatest Songs of All Time" – "Somebody in Love" and "White Rabbit".
The group performed at three of America's famous rock festivals The Monterey International Pop Festival in 1967, Woodstock in 1969 and Altamont in 1969. They were inducted into the Rock and Roll Hall of Fame in 1996.
Jefferson Airplane made their first appearance on the opening night of The Matrix in August of 1965. Their very first single was "It's No Secret". Their first album came out in1966 Jefferson Airplane Takes Off and included John D. Loudermilk's "Tobacco Road" and Dino Valente's "Let's Get Together". Also the ballads "It's No Secret" and "Come Up the Years". This album went on to win a gold record award. The band had a change in their line-up when Signe Anderson left and Grace Slick joined them performing for the first time with Jefferson Airplane at the Fillmore in October of 1966.
Their second album was Surrealistic Pillow and it went on to sell over a million copies and was awarded a gold disc. They appeared on several TV shows like The Tonight Show with Johnny Carson and The Ed Sullivan Show. Their most popular appearance was on The Smothers Brothers Comedy Hour where they performed "White Rabbit" and "Somebody to Love". Their third album After Bathing at Baxter's included the songs "The Ballad of You and Me and Pooneil" and "Watch Her Ride". Between 1967 and 1972 they had eight consecutive Top 20 albums in the U.S.
Jefferson Airplane appeared on the cover of Life magazine in June of 1968 with the story "The New Rock". From August to September they had their first major tour in Europe playing with The Doors in the Netherlands, England, Germany, and Sweden. Their fourth album Crown of Creation was released in September of 1968. Songs on the album included "Lather" sung by Grace Slick, "Triad" and "Greasy Heart" a sexual and social-commentary anthem.
After their performance at Woodstock, Jefferson Airplane appeared on the Dick Cavett Show. Their next album released in 1969 Volunteers became gold in 1970 with the best-known songs "Volunteers", "We Can Be Together", "Good Shepherd" and "Wooden Ships". In May of 1971 Grace Slick nearly lost her life in an automobile crash near the Golden Gate Bridge in San Francisco. In their next album Bark which was released in September of 1971, Grace Slick sang a comic song about her accident "Never Argue with a German If You're Tired". This album also included the very last single that hit the charts "Pretty as You Feel".
In 1972 Jefferson Airplane recorded one more album, Long John Silver. That summer they started a tour to promote the album and played a free concert in Central Park, in New York City. They continued to tour the U.S. playing concerts in San Diego and Hollywood, California and Albuquerque, New Mexico. The tour ended with two shows at Winterland in San Francisco, California. These final performances were the last live performances that the rock group made and their final album was Early Flight in 1974. They came together for a reunion in 1988. A film on DVD was released in 2004 Fly Jefferson Airplane and covered the rock group through the years 1965 – 1972.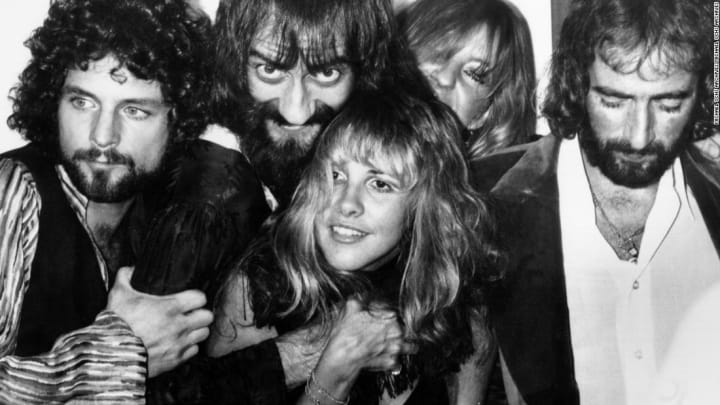 Fleetwood Mac
Fleetwood Mac a British-American rock group got together in 1967 in London, England. The band changed members many times and finally, the only original band member remaining is Mick Fleetwood. The group's biggest success was achieved from 1971 to 1974. Select members of Fleetwood Mac were inducted into the Rock and Roll Hall of Fame in 1998. Overall this group sold over 100 million albums all around the globe.
When the group made their debut they were Mick Fleetwood, Peter Green, Jeremy Spencer, and Bob Brunning. They appeared at the Windsor Jazz and Blues Festival in August of 1967. After this performance, John McVie agreed to sign on as a permanent bassist. Their first album was a blues album titled Fleetwood Mac. There were no singles from this album but the group came out with the following singles afterwards "Black Magic Woman" which later would become a hit single for the group Santana and "Need Your Love So Bad".
Fleetwood Mac went to the U.S. in January of 1969 where they recorded songs on Chess Records. In July of the same year, they were the opening group for Ten Years After at the Schaefer Music Festival at the Wollman Rink in New York City. It wasn't until they released the album Future Games in 1971 that they started getting more and more American fans. It wasn't until 1975 when they had a new line-up and they released the eponymous Fleetwood Mac that they came out with the following hits Christine McVie's "Over My Head" and "Say You Love Me" and Stevie Nick's "Rhiannon" and "Landslide". The album itself reached number one on the U.S. charts and sold over 5 million copies.
One of their most successful albums was released in 1977 Rumours and it received the Grammy Award for Album of the Year. Among the hit singles from this album were "Go Your Own Way", Stevie Nick's U.S. number one "Dreams" and Christine McVie's "Don't Stop" and "You Make Loving Fun". Other songs from the album were Buckingham's "Second Hand News", Nick's "Gold Dust Woman" and the song which was written by all five members of the group "The Chain". Rumours had sold over 19 million copies by 2003 in the U.S. alone and worldwide 40 million copies.
In 1979 Fleetwood Mac came out with a 20-track double album titled Tusk. Out of this album they had three hit singles – Buckingham's "Tusk", McVie's "Think about Me", and Nick's "Sara". The group went on an 18-month tour to promote Tusk. They travelled all over the U.S., Australia, New Zealand, Japan, France, Belgium, Germany, the Netherlands, and the U.K. On this world tour, they recorded the album Fleetwood Mac Live which was released at the end of 1980.
Their album Mirage released in 1982 included the hits McVie's "Hold Me" and "Love in Store", Nick's "Gypsy" and Buckingham's "Oh, Diane". This album was certified double platinum in the U.S. Afterwards the Fleetwood Mac went on hiatus and Nicks, Buckingham, and McVie released solo albums. During this time the members had all sorts of problems of their own. Mick Fleetwood filed for bankruptcy, Nicks was admitted to the Betty Ford Clinic for addiction problems, and John McVie suffered a seizure due to addiction. Rumors had it that the group had broken up.
Fleetwood Mac disbanded shortly afterwards but came together for a reunion and officially reformed in March of 1997. Afterwards releasing more albums and they have been touring and performing ever since to the great delight of their many fans.
60s music
My passions are writing and creating poetry. I write for several sites online and have four themed blogs.
Receive stories by Rasma Raisters in

your feed