Augusta Got Something to Say
Featured Artist: Shaudy Prince... "I am the wave!"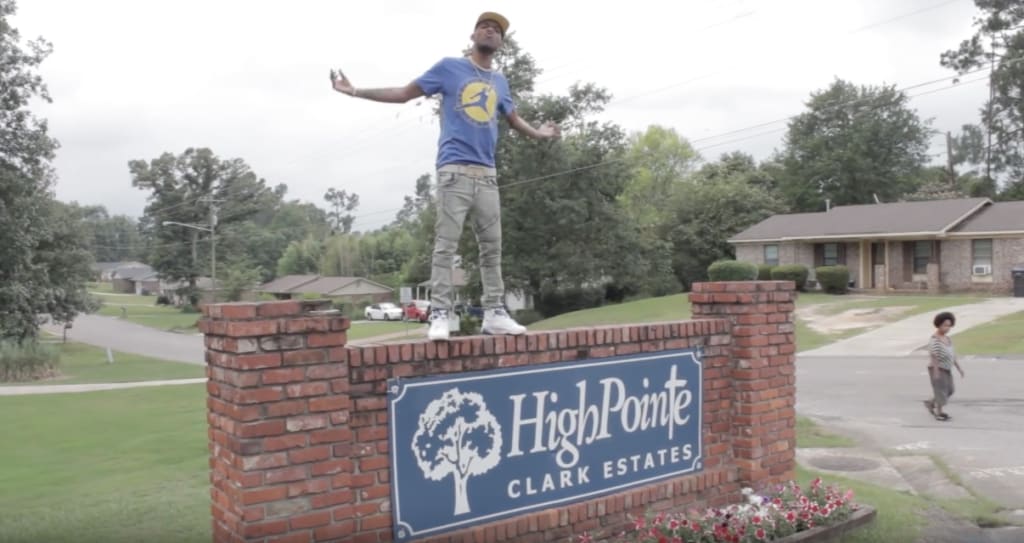 By Janessa Clarkson | February 18, 2019 10:24 |
While enjoying the beautiful scenery from the Main Tower of the Augusta Marriott Convention Center. I was fortunate to have sat down with the Garden City's most electrifying artist, Shaudy Prince!
Engulfed in his high energy and positive vibes I was with "Your Royal Ratchetness" (a title Mr. Prince likes to be addressed by occasionally) in his concierge level suite interviewing him about his recent music, upcoming projects, career advice, and his overall experiences being in the music industry. He did not disappoint...
Thank you for taking the time out of your busy schedule to talk with me, Shaudy Prince! So let's dive right into it. Let's go back to the beginning of your career. How did you decide to become an artist?
Shaudy Prince: I decided to become an artist the moment I saw everybody was becoming rappers… get it? Message!No, seriously though, I decided to become an artist the first day my bro Big Izz took me up to Killa Kuttz Records to rap in front of the twins, Rah and Skywalka.Izz trained me up on some hyperbolic time chamber stuff when it came to rapping. They don't call me the Prince for no reason, I'm like Vegeta when it comes to my flow I'm a force to be wrecking with!Really, it was the whole Uptown musical influence of 5 Dub, Cypress 6, Izz, Skywalka, Rah, and Legend that was the driving force behind the dopest artist whom you are laying your eyes on right now! Yes, I know I'm full of my self, but who isn't nowadays?
It's great you mentioned flow! How would you describe your style of music, or sound? What makes you different from all the other rappers out there?
Well, I created my own sound which is a sub-genre in rap music I'd like to call "Royal Ratchet." It derived from the lifestyle I live, which is making the best out of situations that may not be so great not caring if anybody thinks it's great or not. It's great in my eyes, and that's all that matters. It's about seizing the moment because I created it! It's a mix of royal which is my upper echelon enlightened mind intertwined with my ratchet habits which is your everyday hood affairs that transpired from my surroundings. I didn't become a product of my environment I became the prince of it! That's why when I founded my independent record company I named it "Hood Royalty!"So you see I'm not just a musician, but I am also a brand which is what makes me different from other rappers. I have an actual story to tell, and unlike most rappers, my story is even different! I'm genuinely creating music because I have a passion for it. Even without the money, I'd still be doing what I am doing. I'm not doing what I am doing because somebody else is doing it, I am not a follower. I'm doing what I'm doing because at the end of the day I love doing it. Which is creating!
Wow! that was very heartfelt. So what are you currently working on? Do you have any recent releases?
Right now, as the quarter winds down, I've only been releasing freestyles, and maybe a few singles here and there to gear up for the crazy mixtape releases I'm dropping this year. I'm working on a project called "Jumpman Papi" I'm going mixtape mode, shout outs to Apple Music!I normally do remixes for my day ones because that's what they love from me. That's how I first started building my fanbase by creating my own songs from other rapper's records. The core of my fans know that's how I came into the game!
What about concerts? Do you do any shows or live performances?
Actually, that's what I live for, to touch the stage! Rapping and recording is the easy part, but not everybody can captivate a crowd. I am an entertainer, people who have seen me perform live know about my stage presence and its beauty, but as of right now I'm not currently doing concerts. I want to work more on building my catalog, and providing dope visuals for my Royal Loyals they're who I call my super supportive fan base. Without them, there wouldn't be a Prince nor a Royal Ratchet Kingdom!Honestly, I don't want to do any more shows until I'm touring again, or professionally being booked for an event. I really don't like to just randomly perform live unless there is a demand for my presence to show up by the people.
Being that you're an independent artist, what do you think the pros and cons are signing with a major label? Would you sign a major record deal if the opportunity presented itself?
Pros of signing to a major would probably be having a wider range of who you can reach demographically along with better industry connections that may can take your brand to the next level! Cons are they control most if not all of your intellectual property. That's why you'll hear them say certain things in the media about people trying to buy other artist's catalog.Because of that reason alone, I don't plan on signing with a major label unless it makes sense. I'm talking about making me a whole lot of cents... millions!Actually, if proving myself worthy to the president, I would like to partner with Freebandz the label, but other than that, I'd still proudly be running Hood Royalty Empire, the most irrefutable, indisputable independent record company of our time!
Last but not least: Is there any career advice you would give to the aspiring artists out there? Also are there any shout outs you would like to give anybody as well?
The best advice I could give any artist is make sure you learn the business side of the rap game. Rappers you think are rich whether it's in the music industry, or locally in your city, most of the time will be broke simply because they didn't take the time to learn the business end.I sat down for two years straight before I even decided to step foot back in the game because I really want the money, I want every dime I can get! Everybody has a starting point you're not just going to blow up overnight, and if you do, and you don't know the business, I guarantee your going to be broke again or in debt.As far as shout outs go, I want to give big shout out to my city Augusta, Georgia. I want to give an even bigger shout out to Uptown the Southside of my city, we gone be the next Black Hollywood, or Black Hollyhood, as I like to call it! Also, I can't forget Disgusta, we the new A.U.G.!Lastly shouts out to all the artists I personally see working hard, Brezz, AUG #24, Que, GLYB Marcus, Jah, Gas God Mayo, Jayy Fox, Tay Narly, and GDMF Bubba! Major salute to all of you keep pushing & keep working hard somebody is paying attention.
In closing: I would have to say not only was it a pleasure interviewing Shaudy Prince, but it was an experience as well. It's definitely safe to say that Mr. Prince is someone who is in this for the longevity!
At the end of my notes, I had the opportunity to ask Shaudy Prince did he believe he was at the forefront of a new sound coming out of Augusta and with wit he simply replied: "There's always new waves that start, but you can't go against the current, I am the current... I am the wave!"